Top 6 Ways to Create Multi-Screen Videos - Fast, Simple, 100% Working
Many users have been experiencing troubles in combining multiple videos into one screen similar to Zoom. Let's say, you are making a video for your band of four people, and each one of you records a portion of the song, and you want to make a 4-way split-screen video. Commonly you need an experienced video editor using sophisticated video editors to complete the task. But what if you are on a budget? In this article, we will explore the top 6 ways to combine multiple videos into one screen.

Part 1. Overall Best Software to Create Multi-Screen Videos
Tipard Video Converter Ultimate
If you are searching for a video maker software for Mac/PC that could put multiple videos together, you either have to learn complicated skills with highly sophisticated software or unusable applications. Tipard Video Converter Ultimate stands right on the sweet spot balancing the two poles. You will take almost no time from picking up the basics to produce a well-made multi-screen video.
Key Features
– User-friendly and sleek design.
– Creative pre-made video templates.
– Powerful built-in video editing tools.
– Export to practically all popular video formats.
– HD/8K/4K video resolution support.
Overall Ratings: ★★★★★
How to Put Multiple Videos Together on Mac/PC
Step 1Download Tipard Video Converter Ultimate. After installation, open the program and click on the Collage tab on the ribbon.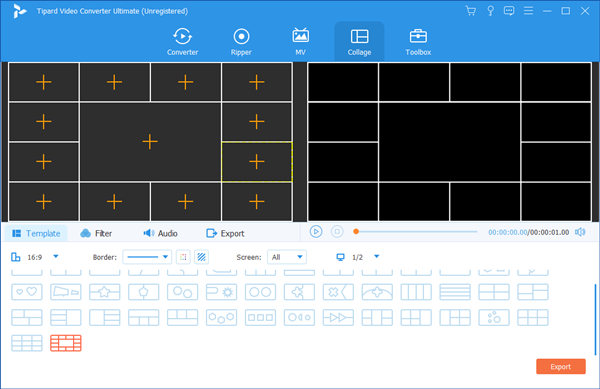 Step 2On the next screen, select any desirable split-screen effect template.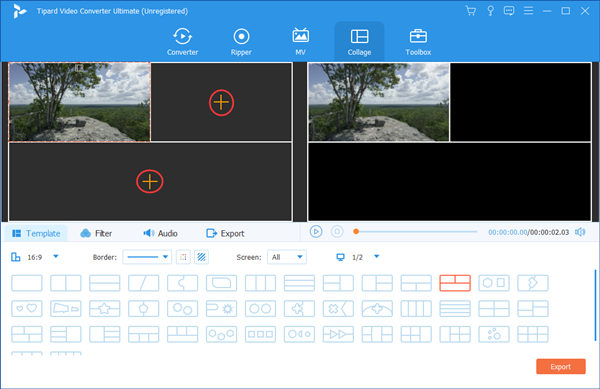 Step 3Keep in mind that the boundaries of each mini-video are adjustable. Drag the boundary line of any video to change the structure of your video collage.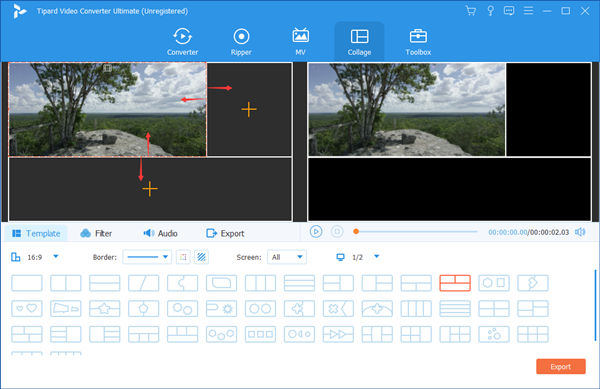 Step 4If you wish to add in more after effects, click on the Filters tab to give the video a different look. A quick preview is available on the right side of the screen.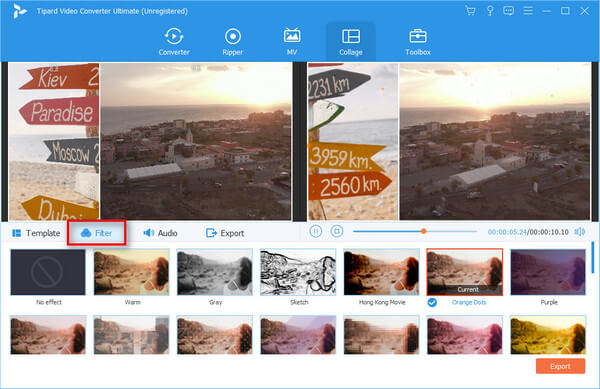 Step 5Move to the Export tab, set relevant variables, and click on the Export button to save the final output.
Part 2. Other Apps to Combine Videos on iPhone/Android
iMovie for iOS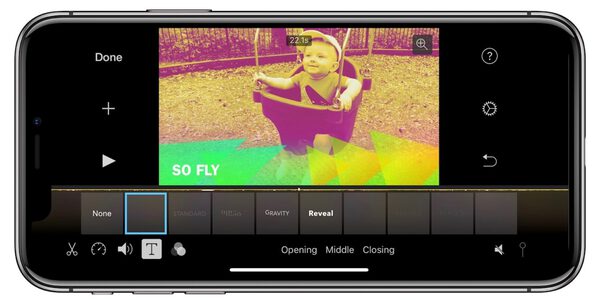 One of the top-rated video editing apps on the App Store brought to you by Apple. Don't expect a more streamlined-designed app that fits your need to combine multiple videos into one screen.
Key Features
– Exceptional video editing tools.
– Effortlessly transfer videos between Apple devices and onto iCloud.
– Frequent updates and strong support from developers.
– Split screen to create multiple screens.
Pricing
Free
Bottom Line
You could hardly find any app that's better than iMovie on iPhone, considering it's free. However, it falls short for supporting iOS devices only.
Overall Ratings: ★★★★✮
How to Combine Video on iPhone with iMovie
Step 1Download iMovie App from the Apple App Store. Open the iMovie app.
Step 2On the main screen of the app, tap on the Create Project option. You would be asked the type of project that you intend to create. Choose the Movie option instead of the Trailer option.
Step 3Import the videos from your Photos Library. Tap on the Create Movie option at the bottom of the screen to proceed.
Step 4Now your multiple movies would be inserted into the iMovie timeline. Edit the movies with built-in effects to put multiple videos into one screen.
Step 5Once you have finished editing the video, tap on the Share button at the bottom of the screen. Tap on the Save Video option on the menu to save your video to the Photos Library.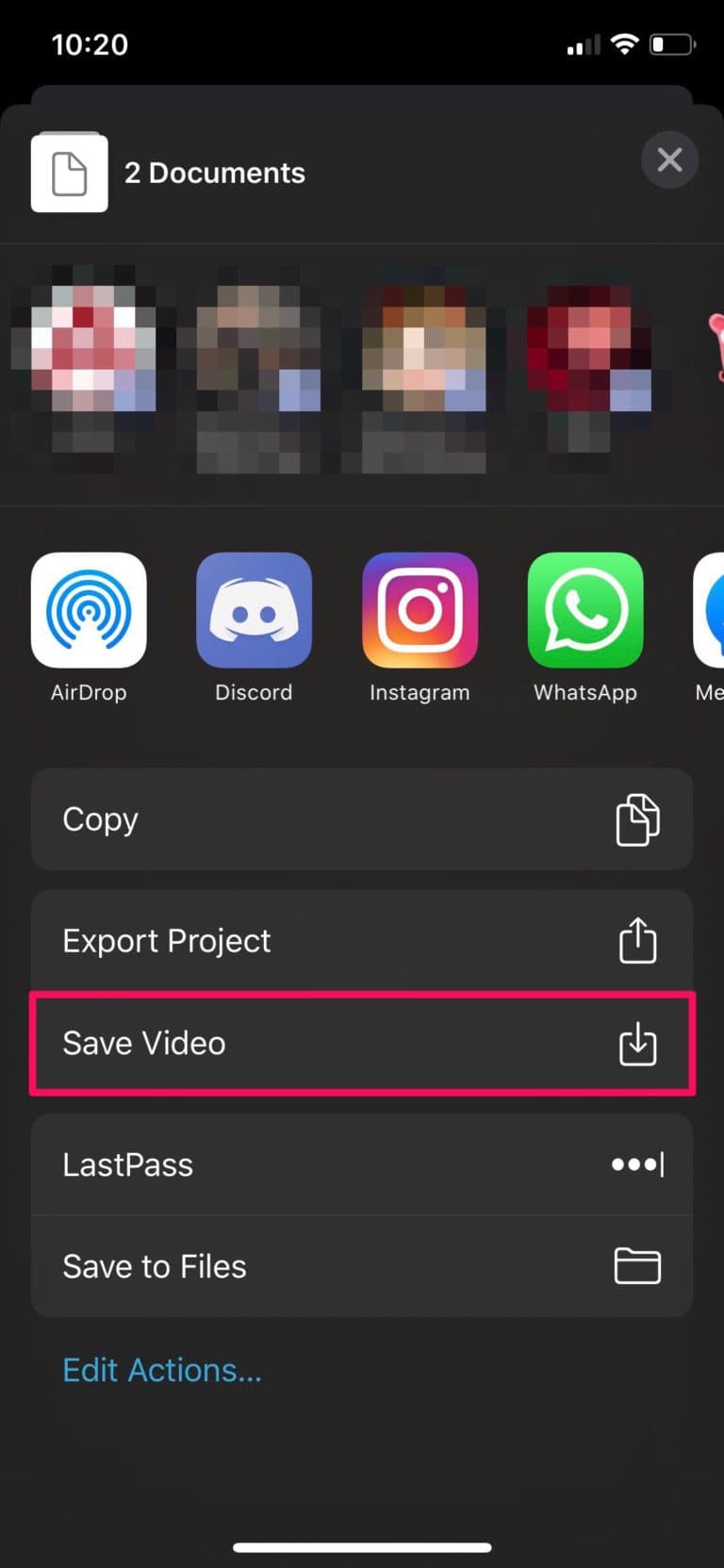 Adobe Premiere Rush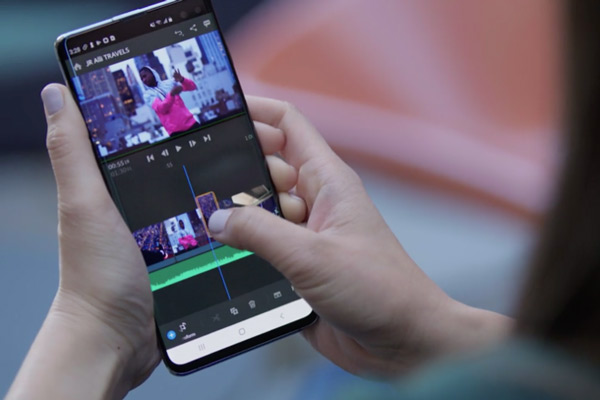 Standing out among the iPhone editing apps for its name recognition, Adobe Premiere Rush is more watered down and touchscreen-friendly Adobe Premiere software that could put multiple videos into one screen.
Key Features
– Easily Import, rearrange, merge multiple video clips.
– Tablet-optimized user interface.
– Multiple motion graphics templates are available.
– Preview Videos before exporting.
– Upload to Adobe Creative Cloud.
– Supports iOS and Android.
Pricing
For $9.99 per month, you get unlimited access to 100GB cloud storage, which also gains you access to Adobe Creative Cloud Libraries and Assets with premade motion graphic assets and patterns.
Bottom Line
As a beginner's video editor, Adobe Premiere Rush does its job well for editing across mobile and desktop devices. However, you might consider charging a $9.9 per month fee doesn't merit for one single mobile app.
Overall Ratings: ★★★★✮
Part 3. FAQs about How to Put Multiple Videos Together
1. Is there a way to combine 4 videos into one screen on Android?
Alight Motion is an equivalent mobile app to professional Adobe software. However, keep in mind it leaves a watermark on your final output.
2. Is there an open-source video editing app to put multiple videos into one screen?
Popular open-source video solution software FFmpeg does have such capacity. It has a filtering library that could create overlays and allow users to put one video over another. As such, you could create a multiple-screen video with 4 or even more components altogether. However, it requires a good knowledge of using the command line, thus it may be not suitable for beginner users.
3. Which Multiple Video Collage App is the best?
It depends on your particular use case. For most people, we suggest using a desktop-based application to create a multi-screen video.
Conclusion
In this article, we have reviewed the top applications for every major platform to create sensational 4-way split-screen videos. Whether you are a professional or a casual user, we wish you could benefit from the knowledge we collected and shared to make your perfect multi-screen video.