MP3 VS MP4 - Compare The Difference Between MP3 and MP4
MP3 is no doubt that the most popular audio format. It was approved in 1991 as a compressed audio file for easily transmitting online. MP3 file keeps the file size to a minimum by reducing the information or sound quality that human ear can't pick up on.
MP4 is one of the most popular file formats for storing video and audio data. Nowadays, users simply take MP3 as audio and MP4 as video. Do you know the real difference between MP3 and MP4?

When you download an audio file from internet and it is in MP4 format, does that confuse you? Here in this post, we like to give you a clear comparison between MP3 and MP4. Through the MP3 vs MP4, you can learn more information about these two file formats.
Part 1. MP3 VS MP4 - Difference Between MP3 and MP4
Before we how you the differences between MP3 and MP4, let's do a quick recap on what MP3 and MP4 are, and how they are used.
What is MP3
MP3 (MPEG-1 Audio Layer 3) is mainly designed to store audio information in digital form, while with a smaller file size. MP3 makes a higher compression than MP2 and MP1 file formats. MP3 provides a simple way to share audio files without sacrificing a noticeable sound quality. MP3 can compress data using a 128 kbit/s setting that results in a file is only about 1/11 the size of the original one. In that case, MP3 soon becomes the standard in audio files.
MP3 takes the audio from an original and uncompressed digital audio file, and then selectively remove chunks of data in a way that the human ear is unlikely to notice. Now the removing process is known as lossy compression that you may hear about it. Through this kind of audio lossy compression, MP3 can offer an acceptable listening experience for users in a quite small file size.
What is MP4
MP4 (MPEG4, MPEG-4 Part 14) is one kind of video version of MP3. It is a widely-used multimedia file storage format. MP4 is a container file that store video, audio, and other data like subtitles. MP4 is compatible with almost all players, devices and operating systems.
Similar to MP3, MP4 file is typically more compressed in a small file size. It is based on the Apple QuickTime MOV format. But you may be confused to see an MP4 file which only carry the audio file. To reduce the confusion, Apple decided to use .m4a file extension for MP4 files that only contain audio and .m4v file extension to indicate video.
Main differences between MP3 and MP4
MP3 is a popular audio compression format that is exclusively used for audio. Comparatively, MP4 is a container format used to store both video, audio and other data that helping play the video.
As a container format, MP4 doesn't have a standard method of coding the audio or video information. MP4 mainly uses the Advanced Audio Coding, AAC to compress audio.
Both MP3 and MP4 formats are highly supported by most devices, media players and systems. But when it comes to a MP3 player, thing will be a little bit different. Many MP3 players can not directly play the MP4 files.
Part 2. How to Convert MP3 to MP4 without Quality Loss
In some cases, you may have the need to convert MP3 to MP4. To do that, you can rely on the professional audio video converting tool, Video Converter Ultimate. It is specially designed to handle all kinds of video and audio conversions. More importantly, it can ensure you that there won't be any sound quality loss during the MP3 to MP4 converting.
Step 1
Double click on the download button above and then follow the instructions to free install and run this MP3 to MP4 converter on your computer.
Step 2
Choose the Converter feature when you enter the main window. Then click Add Files button to add the MP3 file(s) you want to convert to MP4.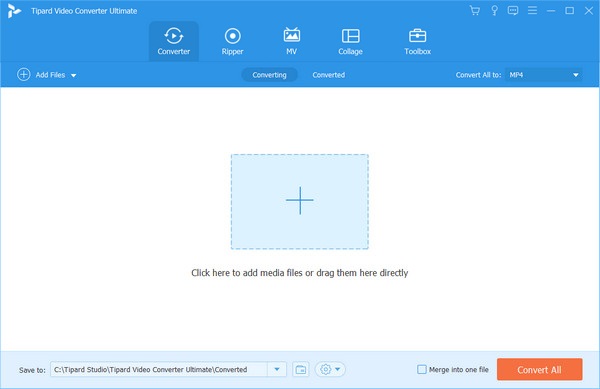 Step 3
You can see a specific format displayed on the right side of the MP3 file. Click on it and then choose MP4 as the output format from the drop-down list.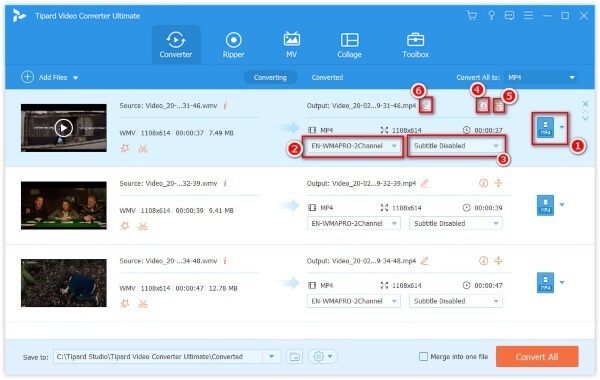 Step 4
This MP3 to MP4 converter is equipped with many editing features like clip, crop, merge, custom effects, enhance quality and more. So before the final conversion, you can edit the added file(s). After that, you can click the Convert All button to start the conversion from MP3 to MP4. Besides this converter, you can also rely on free online converter to convert your MP3 to MP4.
Part 3. FAQs of MP3 VS MP4
Question 1. Are MP4 files bigger than MP3?
As it mentioned above, MP4 is a container file format. That means besides the code for the file, it will also store other related data. So the answer is yes. MP4 files are bigger than MP3.
Question 2. Is MP4 video or audio?
MP4 is a digital multimedia container file format that commonly refers to video. But in fact, it is used to store both video, audio, subtitle, image and other files. You can't simply take MP4 as video or audio.
Question 3. Why many users don't like MP4?
One big disadvantage of MP4 is that it is not easy to edit or update. You can not easily edit the MP4 file in your editor. What's more, you are not allowed to directly check and edit various data in a MP4 file. Also, some people don't like MP4 due to the output quality.
After reading this post, you can learn more information about MP3 and MP4. So you won't simply say MP3 is an audio file and MP4 is a video. Through the MP3 vs MP4 comparison, hope you can better use these two kinds of formats.