Effective Ways to Copy Homemade DVD to Mac Hard Drive in Tipard DVD Cloner, and Tipard DVD Ripper
Having various old DVDs may take up so much room space. Also, some DVDs are hard to play using a DVD player. That is why it may ruin the mood of your movie marathon with your family or friends. If this is your concern, this post can solve it. Keep reading this article because it will present you with a Tipard DVD Cloner and Tipard DVD Ripper. In line with that, follow complete steps to copy homemade DVDs to Mac hard drive using the two programs. Furthermore, this article also presents you with simple steps to save homemade DVDs to Mac iTunes. Thus, after reading this post, you can achieve your goal and enjoy watching your favorite movies from homemade DVD files.

Part 1. How to Copy Homemade DVD to Mac Hard Drive
1. Tipard DVD Cloner for Mac
You may search for a DVD Cloner to copy homemade DVDs to your PC. Thus, this post recommends the Tipard DVD Cloner that is compatible with Mac and Windows. This DVD Cloner can copy DVD-9 to DVD-5 with high media quality. The users can also backup and duplicate DVD files to the DVD folder or ISO image data on the DVD. It comes with a user-friendly interface and functions to copy and clone homemade DVDs. As a result, this tool is suitable for professionals and beginners. Moreover, you can also choose the interface language depending on your language use. The software offers a three-copy mode such as full copy, customize, and the main movie.
If you would like to test the other program features, you can rely on the data below. After a while, please follow the steps to copy the homemade DVD to Mac without difficulty.
Key Features of the Tipard DVD Cloner
1. Can copy numbers and writing speed when copying homemade DVD.
2. Provide source and target size on the color bar.
3. It has an auto-upgrade version.
4. Can burn ISO and homemade DVD folder.
5. Offer a free download version.
6. Compatible with various DVD formats.
How to Copy Homemade DVD to Mac Hard Drive in Tipard DVD Cloner
Step 1Get your Mac and search Tipard DVD Cloner on your browser. After that, click the download button and install it. Launch the program, hit the Source section, and select a homemade DVD disc, or you can open the ISO file.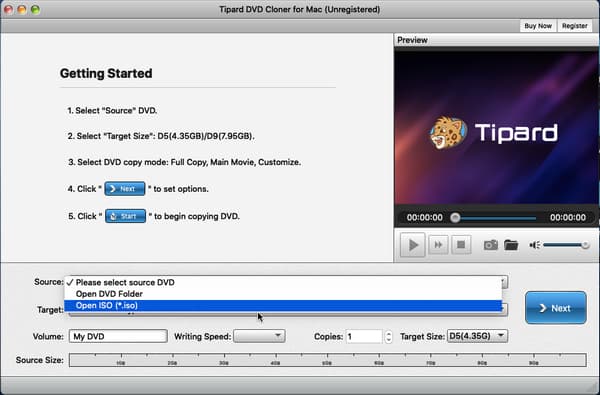 Step 2You can set the target size upon adding the ISO file. After doing so, click what DVD copy mode you need. You can select whether it is Full Copy, Main Movie, or Customize.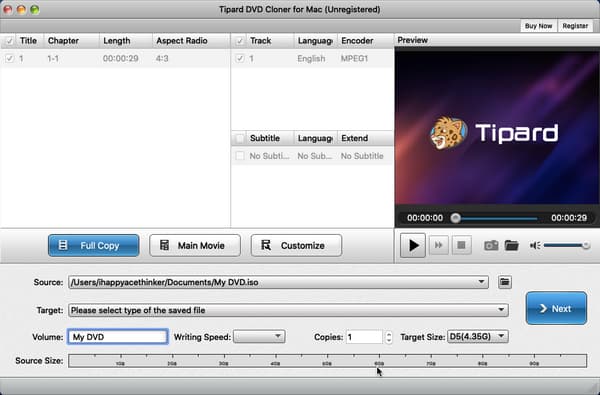 Step 3After selecting the DVD copy mode, you can now hit the Next button.
Step 4Finally, after doing all the modifications. Click the Start button to start copying homemade DVD or ISO files.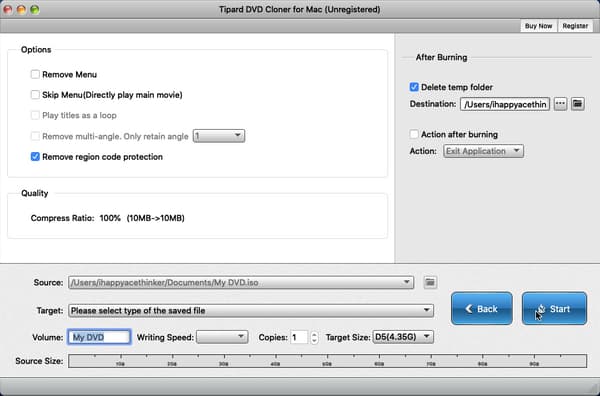 2. Tipard DVD Ripper for Mac
Now, suppose that you are having a hard time copying homemade DVD files, you can rip them through Tipard DVD Ripper. This program supports almost all file formats compatible with Mac. It can extract homemade DVD audio to popular audio files such as MP3, M4A, MP3, AAC, and more. In line with that, it also allows you to convert homemade DVD clips into popular digital devices like iPhone devices, Apple TV, Samsung, LG, media players, and more. Furthermore, the homemade DVD ripping tool allows the user to back up the complete homemade DVD into an ISO folder with the original data.
You can do all the steps as a guide on copying homemade DVD to Mac hard drive using Tipard DVD Ripper.
How to Copy Homemade DVD to Mac Hard Drive in Tipard DVD Ripper
Step 1Launch Tipard DVD Ripper on your Mac after downloading and installing it. Then, tweak the + icon at the center of the screen or click the Load DVD button to inject the homemade DVD disc.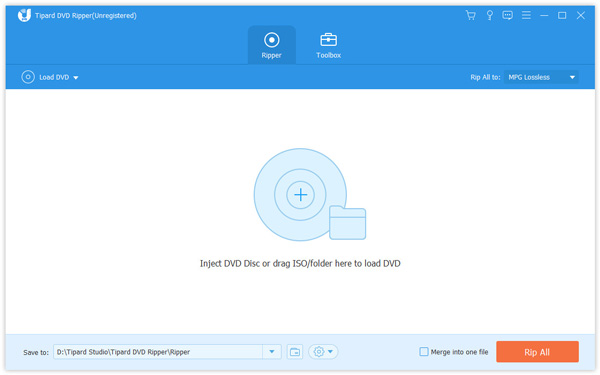 Step 2After that, click the Output Setting to choose the format you need.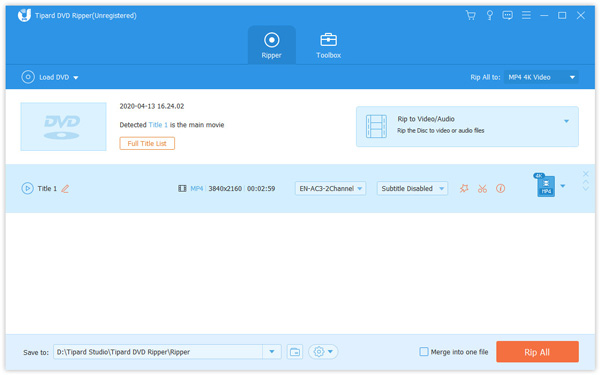 Step 3Then, choose the Video option to see various video file formats. You can also click the Audio and Device option. More so, for easy access, go to the Search box and type the file format you need.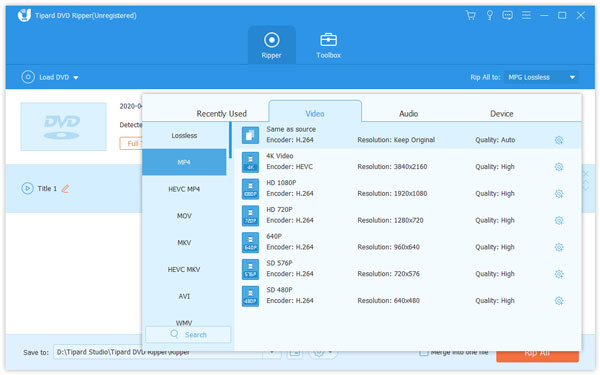 Step 4In the end, you can now hit the Rip All button below the screen to rip the homemade DVD disc. You can choose the file location for your homemade DVD file from the Save to button.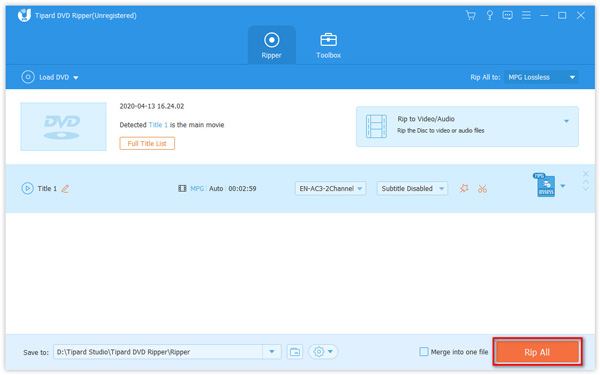 Part 2. Tips: How to Save Homemade DVD to Mac iTunes
Let us now move on to the extra information on saving homemade DVDs to Mac iTunes. Using this program, you can customize all your media data. More so, this software allows you to get and browse your favorite movies, TV shows, podcasts, and music. Now, you might be wondering how to achieve your goal. So, this post will guide you on how to save homemade DVDs to iTunes.
Step 1Kindly open your iTunes on your Mac. After that, you can select the Add File to Library or Add Folder to Library button.
Step 2After choosing a file or folder, then hit the Open button. Suppose that you select a folder, except that all the files will go to your iTunes Library.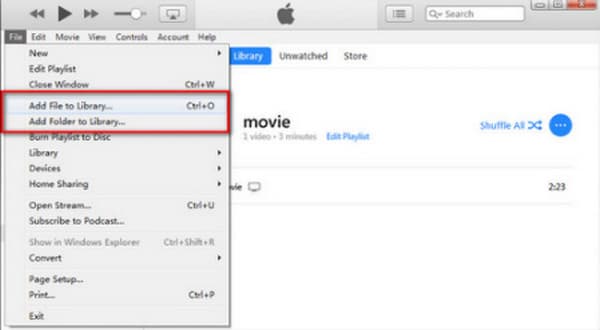 Step 3Finally, you now have homemade DVD files on your Mac iTunes.
Extended Reading:
Convert DVD to Audio – Extract Audio from DVD
6 Best DVD Converters to Convert DVD (Protected/Homemade)
Part 3. FAQs of How to Copy Homemade dvd to Mac Hard Drive
How to insert a DVD into my Mac?
First, you have to put the DVD into your Mac's optical drive. Then, open OS X's built-in Disk Utility app. After that, hit the New Image button from the top. Then, find the DVD from the dialog box. Finally, choose the DVD master from the Image Format menu and save it.
How to copy a homemade DVD file?
To do this, you must turn the homemade DVD's data into your PC file folder. Then, you have to burn that content on a blank DVD. Thus you need a new disc. Concerning that, you need a PC suitable for playing DVDs, whether an external disc drive or an internal player.
Can I watch a DVD file on my mobile phone?
Yes. To play a DVD file on mobile phones, you must use the VLC for Android. This app is the perfect DVD player for Android phones and tablets. It supports almost all file formats such as DVD file formats, DVD ISO, VOB, and IFO.
Conclusion
In the end, you can now copy homemade DVD to Mac hard drive after assessing this article. That is why you must try the Tipard DVD Cloner and Tipard DVD Ripper. Therefore, we expect you to follow all the simple steps above to achieve your goal. Moreover, if this article is beneficial, please do not forget to share it with your friends. Consequently, they can also copy homemade DVD files without difficulty. Now, if you have other concerns please message and contact this website.