123 Copy DVD and Top 5 Alternatives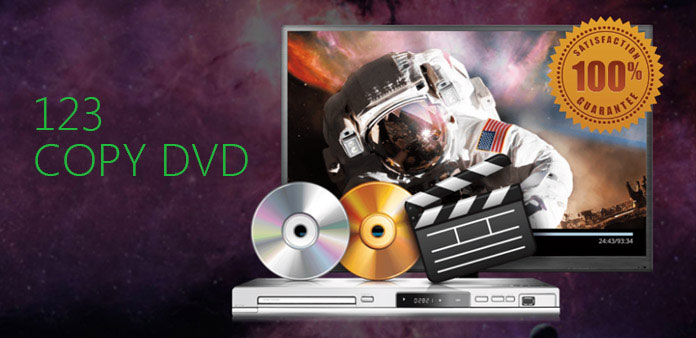 Living in a time when data and information are exploding, your life has been connected with different kinds of DVDs tightly. At this time, you may find that there is one thing really annoying. That is the security as well as integrity of your DVD content. It's easy for you to breakdown you DVDs. Or the DVD content is missing when you haven't noticed it yet. To avoid losing some precious images and important files, you had better find some DVD Copy software to backup DVD content. At this point, the article will introduce 123 Copy DVD as well as 6 alternatives. If you want to obtain more knowledge about these programs in details, just read this passage patiently.
Part 1: A brief introduction of 123 Copy DVD
123 Copy DVD is long-lasting software, which has been created over ten years. It is made for copying DVD contents. With a simple and clear interface, it's easy for you to make perfect copies of any DVD quickly and efficiently. 123 Copy DVD is applied to many systems, including Microsoft Window XP, vista, W7, W8, W10 etc.
Besides, 123 Copy DVD also has some other functions except copying DVD. It has the ability to remove the ads as well as burn Internet videos from websites. What's more, you can turn to 123 Copy DVD for help, if you want to back up your movies, pictures and other important files. To be honest, it is really reliable and functional software with a quite low price of $29.99. Last but not least, there is a 7-day money back guarantee for you if you have bought 123 Copy DVD.
Key Features of 123 Copy DVD
1. It can make exact 1:1 DVD copy of any DVDs to DVD+-RW, Dual Layer DVD+-R without damaging you initial DVD.
2. You can also use 123 Copy DVD to burn ads as well as videos from internet to Apple iPad and iPhone, Apple TV, Android tablets and phones, Blackberry phones and Playbook, Sony PSP, Song PS3, Microsoft Zune, Xbox 360, Xvid, DivX, AVI, Mpeg4, WMV, h.264 etc.
3. Archiving important files, movies, pictures to other disc and DVDs.
4. It can choose the right and readable format automatically when you want to copy the DVD to PC or other devices.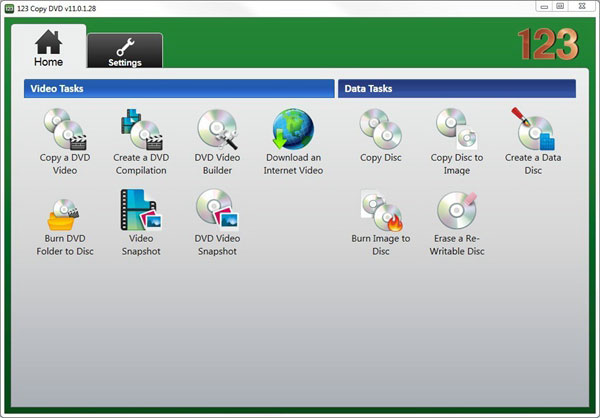 How to backup DVDs with 123 Copy DVD
Step 1: Download and install 123 Copy DVD
Insert the DVD, which you want to copy, and then download 123 Copy DVD to your computer. Tap on "Hard Drive" icon, which lies at the bottom-left of the screen, in order to enter the "Browse For Folder" interface.
Step 2: Begin the process of copying
Crate a new folder and name it according to the DVD content you would copy, thus, you can find it without difficulty. To begin the process of copying, tap on "OK" in the bottom-right corner of the "Browse For Folder" interface.
Step 3: Save the backup to a hard drive disc
Wait for a few minutes, no more than forty minutes, and then you will notice a pop up window in the interface. Click "OK" and save this new DVD copy.
Part 2: Most recommended alternative for 123 Copy DVD
Tipard DVD Cloner is the most recommended one among the other 123 Copy DVD alternatives. You don't have a new blank disc or don't want to trouble yourself to copy DVD to another disc, you can turn to Tipard DVD Cloner for help. Because it can save your disc's ISO files to computer directly and also upgrade automatically. It has much more functions than other DVD copy software. Just check out more detail about the features of the program.
• Make exact 1:1 copy efficiently and easily.
• Copy form ISO files and copy ISO to hard drive. Besides.
• Copy video_TS folder to hard drive and burn DVD folder to disc.
• Compress DVD-9 to DVD-5, crating NTSC disc.
• Create PAL disc and make identical uncompressed copy.
How to backup DVD with Tipard DVD Cloner
Step 1
Install Tipard DVD Cloner
Insert Tipard DVD Cloner to your computer and then register the program. Connect the DVD you want to copy with your computer.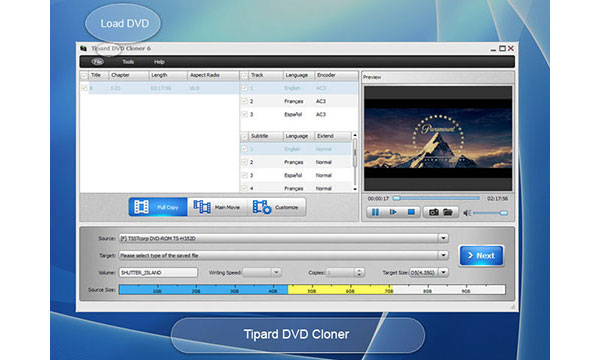 Step 2
Adjust the setting for DVD backup
Select "Source" DVD and then choose your copy mode from the three options "Full Copy, Main Movie, Customize". Click "Next" to set the size of your DVD.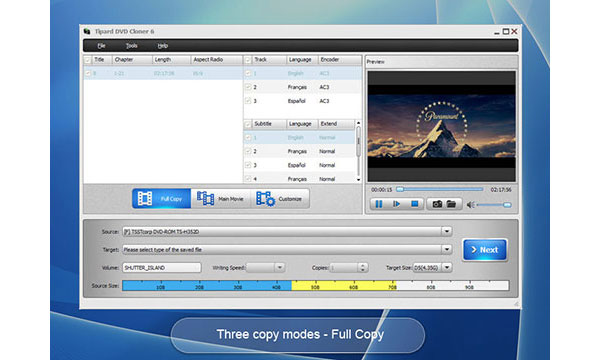 Step 3
Start copy DVD to desired formats
Tap on "Next" at the bottom-right corner and then you will see a window pop up in the interface. Click "Start" to begin copy.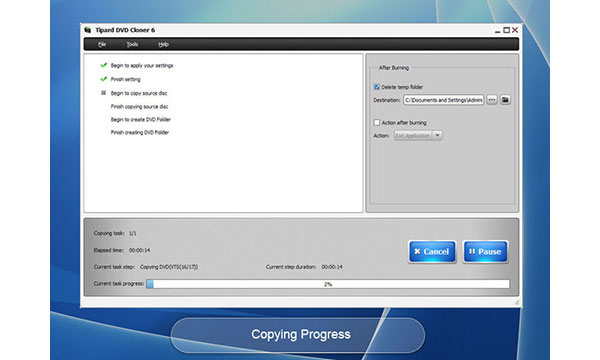 Part 3: Most appreciated 5 alternatives for 123 Copy DVD
To some extent, 123 Copy DVD can meet all your requirements. If you still want to find some other alternatives to copy DVD, I can also give you a concise introduction. As you can see in the chart below, there are five alternatives for you.
123 Copy DVD Alternatives
Price
Pros
Cons
123 Copy DVD
$49.99
1. Copy, backup and burn any DVD disc.
2. Make DVD with 1:1 copies.
1. Blu-ray features are not available for the current version.
2. There is no help function for the program.
Tipard DVD Cloner
$24.50
1. Allow you create ISO image files and copy DVD with ease.
2. Multiple DVD copy modes to personalize DVD backup.
3. Customize the backup within just few clicks.
It takes a little longer to copy the DVD files.
WinX DVD Copy Pro
$35.95
1. DVD backup with 1:1 ratio.
2. Backup DVD from all regions.
3. Smooth performance with low CPU usage.
1. Not available for Commercial usage and only for Windows.
2. Used for Homemade DVD disc only.
DVDFab 10
$49.00
1. Provides 6 different copy methods to copy DVD.
2. Simple interface to make it copy DVD in easy process.
Limited functions compared to 123 Copy DVD or other alternatives.
CDBurnerXP
Free
1. Copy DVD to disc based media for free.
2. Create ISO images and reboot discs that can be used for OS reinstallation.
1. Limited to Windows Operation system only.
2. Cannot detect DVD from External drivers, or even the Internal ones.
DeepBurner
$24.95
1. Perform various burning operations on CD or DVD disc with backup utility.
2. Create bootable CD or DVD for OS installation.
1. Only available for Windows Operation systems.
2. Limited functionalities compare to other 123 Copy DVD alternatives.
Conclusion
When you need to make a copy for the DVD disc, 123 Copy DVD and also some alternatives are highly recommended. You can check out the excellent features as well as the reviews for these programs. Among all those alternatives, Tipard DVD Cloner is the best choice for you. As long as you choose the best alternative to 123 Copy DVD, you will spend the least energy and time to get the best DVD copies.

Click here to join the discussion and share your comments