DVDFab HD Decrypter Review and Best Alternatives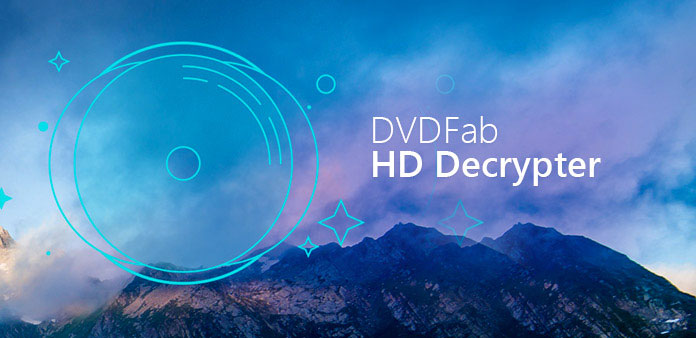 Film studios and publishers aim to protect digital copyright through encrypting DVDs, but it is unfair for ordinary customers. When we bought a DVD movie, we have to right to watch the movie on any devices, such as PCs, laptops and smartphones. Moreover, encryptions and region code may lead to compatibility issues, even though customers play commercial discs on DVD players. Thankfully, DVD decrypting utilities, such as DVDFab HD Decrypter, could help use solve this problem. If DVDFab HD Decrypter is not working on the commercial discs, you should know the alternative program to fix the problem. Therefore, we are going to introduce and review DVDFab HD Decrypter. Plus, you can learn more utilities have features similar to this DVD decrypting application in this post.
Part 1. Introduction and review
DVDFab HD Decrypter, as its name said, is able to remove encryptions and region code from DVD during copying disc content to local hard drive. This DVD decrypting utility is a free portion of the DVDFab application, which is paid software. The features of DVDFab HD Decrypter include:
1. It could break CSS, CPRM, CPPM, RC, RCE, CORE X2 and others protections from DVDs.
2. This utility also has the capacity to remove AACS, BD+, UOPS and BD-Live Blu-ray encryptions from Blu-ray discs.
3. When comes to DVD ripping, it offers two modes: copy full disc or rip main movie.
4. The custom options allow users to personalize DVD content with subtitles, audio tracks and more.
Pros
1. It has an intuitive interface.
2. This utility could break and remove wide range of DVD encryptions and protections.
Cons
1. It only supports limited output format and lack of commonly used videos, like MP4, WMV and more.
2. Some features are only available in paid software.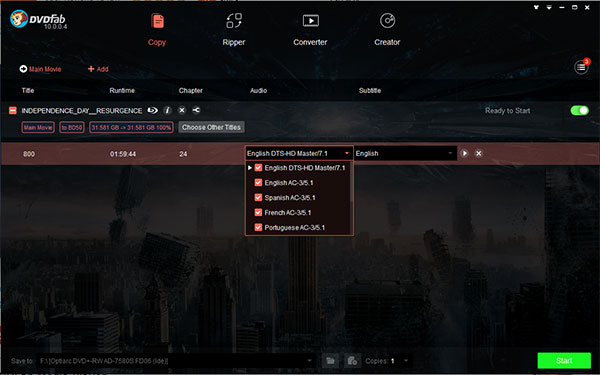 Part 2. Top 5 alternatives of DVDFab HD Decrypter
1. Tipard DVD Ripper
Tipard DVD Ripper is more cost-effective, compared to other DVD decrypters available on markets. DVD Ripper has integrated more useful features and advanced algorithm. Moreover, it is a cross-platform utility available to both Windows and Mac OS X.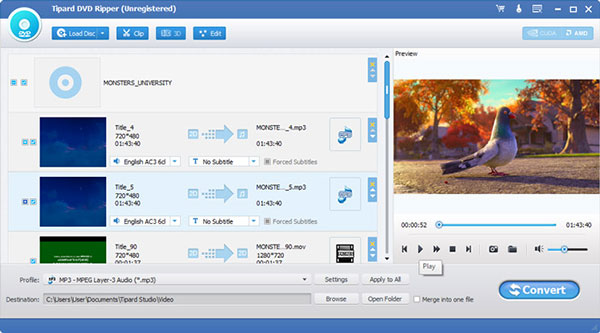 1. This DVDFab HD Decrypter alternative has the ability to rip any encrypted DVD to local hard drives.
2. You can transcode protected DVDs to more than 300 video and audio formats, including MP4, MKV, MOV, AVI, FLV, WMV, MP3 and more.
3. It is able to encode commercial DVD movies for mobile devices and game consoles.
4. The built-in video editor provides multiple video editing tools to personalize DVD content, like trim, crop, merge, watermark and more.
5. More importantly, DVD Ripper could remove encryptions and rip DVDs without quality loss as soon as possible.
6. DVD Ripper also offers extensive custom options for advanced users. And for ordinary people, the presets feature could simplify the process of DVD decrypting and ripping.
In a word, Tipard DVD Ripper is a legal and worth-to-trust program.
2. RipIt
RipIt is a simple DVD decrypting application. Similar to DVDFab HD Decrypter, RipIt could break encryptions and make a copy of DVDs to hard drives. Its simple features include:
1. This utility is able to rip most commercial DVDs in Apple supported DVD drives.
2. You can copy the entire DVD to local hard drive as ISO image.
3. It also allows users to convert ripped data to video files compatible with Apple TV, iPhone and iTouch.
Pros
1. The output quality is good.
2. RipIt will optimize videos for Apple devices.
3. It is easy to use. All you need to do is one-click, then this utility will rip the DVD content and remove encryptions automatically.
Cons
This DVD decrypting program does not provide custom options.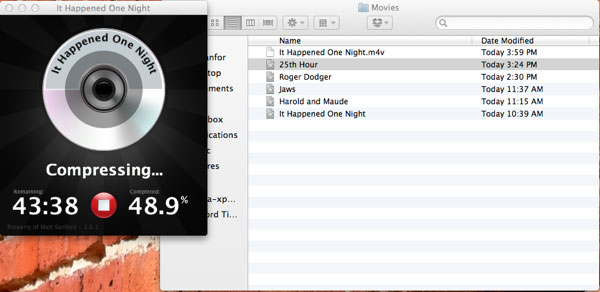 3. Magic DVD Ripper
Magic DVD Ripper is a commercial DVD ripping program. This program is more than a DVD decrypting utility, such as DVDFab HD Decrypter. It overall features include:
1. Remove all encryptions and protections from DVDs, including CSS, region code, Sony ARccOS, and more.
2. Rip commercial DVD movie to variety of video formats, such as MP4, WMV and AVI.
3. Backup the entire DVD to hard drive with menus, subtitles and other data.
4. Compress or split DVDs.
Pros
1. The interface is straightforward and easy to navigate.
2. The decryption feature is great and able to break the latest restrictions.
Cons
1. The output formats are limited.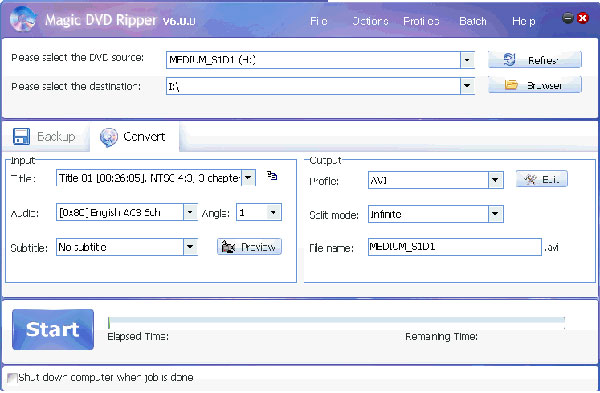 4. DVD Decrypter
Even though DVD Decrypter has not updated since a decade agoe, its excellent features still attract many users. And this free-of-charge DVDFab HD Decrypter substitute is a good start point to remove restrictions of DVD.
1. DVD Decrypter could break encryptions and region code from most commercial discs.
2. You can rip and copy the entire commercial DVD to PCs for burning or backup.
3. It also supports to burn ISO to DVDs.
Pros
1. The concise interface makes this utility easy to use.
2. It is free to use without ads.
Cons
1. It only works well on Windows 7 and earlier.
2. DVD Decrypter cannot handle the latest encryptions.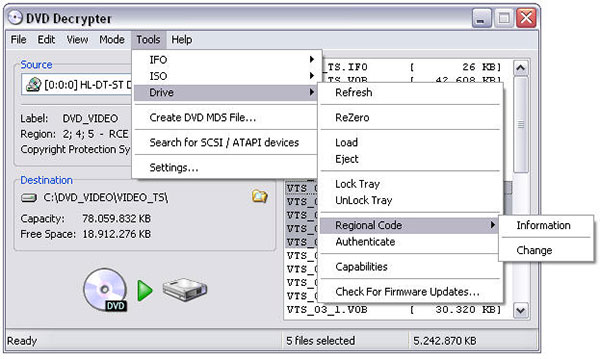 5. FFmpeg
FFmpeg is an open-source alternative for DVDFab HD Decrypter. It is a video converter compatible with Windows, Mac OS X and linux. Its basic features include:
1. It has the capacity to remove restrictions from any DVDs.
2. You can break encryptions and rip DVD content to hard drive with command line or the GUI features.
3. The output formats supported by FFmpeg include AAC, mpeg-4, wmv3, ProRes, QuickTime, SWF, Speex, FLAC, VP9 and more.
4. Users could edit videos before ripping.
Pros
1. FFmpeg is freeware.
2. Users could use command line and GUI.
3. It has plentiful custom options.
Cons
For beginner, this utility is too complicated.
Conclusion
In this article, we shared the introduction and review about DVDFab HD Decrypter based on hundreds of user reports and lab testing. Although it is a freeware, you have to purchase the paid software, if you want to use more features. In response to shortcomings of DVDFab HD Decrypter, we identified and recommended top five alternatives for customers. RipIt is the simplest alternative and Magic DVD Ripper is the best paid substitute. DVD Decrypter is the best choice for beginners and FFmpeg is popular among tech savvy. If you tend to discover a smart DVD decrypt tool, you should try Tipard DVD Ripper.

Click here to join the discussion and share your comments