ConvertXtoDVD Review and Best Alternatives

ConvertXtoDVD developed by VSO Software is DVD burning software that gives you necessary tools to convert media files to DVDs. Today, most DVD drives on PCs have the capacity to burn DVDs. But only hardware is not enough to create high quality DVDs. You also need a powerful DVD burning program. There are many DVD burners on market and ConvertXtoDVD 7 is one of DVD burners available. So, you may wonder: is ConvertXtoDVD a trustable DVD burner? To find out the answer, we investigated hundreds of users and executed testing in our lab. In this post, we tend to share the introduction and review about ConvertXtoDVD. If you need more choices, you can learn the best alternatives of ConvertXtoDVD as well.
Part 1. Introduction & review
Video files are usually larger than other documents, so you'd better to convert videos to DVDs rather than store them on your computer. ConvertXtoDVD could help you to simplify the process of burning videos to DVD.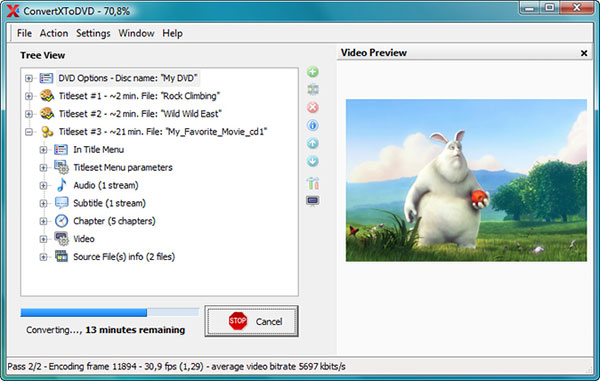 Pros
1. ConvertXtoDVD is easy to use. You can find all necessary options and menus on single interface, like add videos, create menus and preview the output.
2. Before burning videos on DVDs, you can add subtitles and audio tracks, enhance images, trim or merge video clips and apply watermark.
3. This DVD burner is able to add chapters to the video files based on detailed information during DVD burning.
4. ConvertXtoDVD could not only convert ISO and DVD folder to DVD, but also support to burn digital videos on DVDs, such as AVI, MP4, MKV, MPEG, MOV, VOB and more.
5. This DVD burn has the ability to produce great output quality.
Cons
1. This DVD burner does not support Windows 10 and Mac OS X.
2. It is paid DVD burning software and the price is expensive.
3. Conversion can take a while.
Part 2. Top 5 ConvertXtoDVD alternatives
1. The best alternative of all
A great DVD burner could meet the requirements of both novice and advanced users. So, it should be easy to use and provide extensive custom options. Fast burning speed and highest output quality are important factors as well. By comparison and testing, Tipard DVD Creator is the best alternative of ConvertXtoDVD.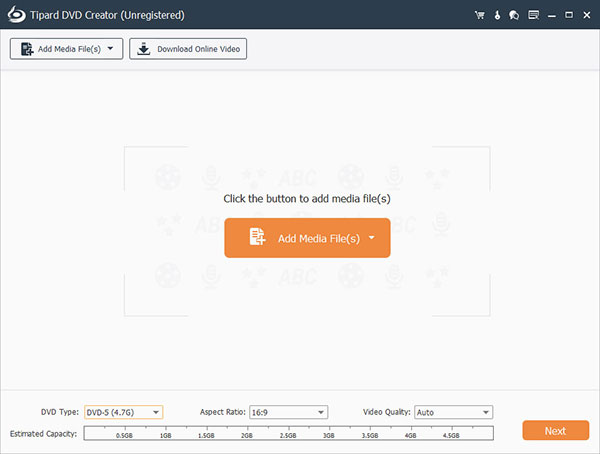 1. This DVD burner supports a wider range of input formats, such as ISO images, DVD folders and dozens of digital video and audio formats.
2. DVD Creator provides many menu templates to create customized DVD menu. And you can blend audio tracks and subtitles to DVD within this program.
3. Within DVD Creator, you can edit video clips with trimming, cropping, watermark, video effects and filters tools.
4. The biggest advantage of DVD Creator is to produce highest output quality possible.
In a word, Tipard DVD Creator is a worth to use DVD burning software.
2. The best alternative for Windows 10
ConvertXtoDVD Windows is not available to Windows 10. But if you want to create DVDs on Windows 10, you can use CDBurnerXP. This DVD creator allows you to burn various files on DVD quickly and easily.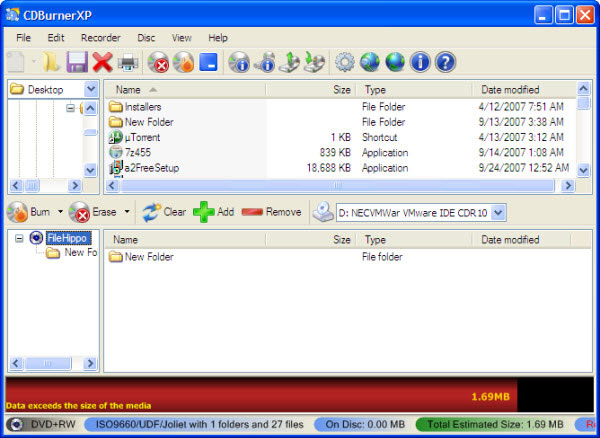 Pros
1. CDBurnerXP is a stable DVD burner and able to generate high quality DVDs.
2. You can use this DVD creator on most Windows operating systems, from Windows XP to Windows 10.
3. It could not only burn DVDs and H-DVDs, but also create Blu-ray discs.
4. CDBurnerXP has a portable version that permits you to burn DVDs without installation.
Cons
1. CDBurnerXP provides extensive configurations, so novice may be confused and feel frustrated.
2. This program needs Microsoft .NET Framework.
3. The installation file contains adware.
3. The top alternative for Mac OS
Although the Disk Utility could help you burn ISO images to DVDs, you may still need third party DVD burning software and their extensive features. Burn is a predominant DVD burner for Mac computers.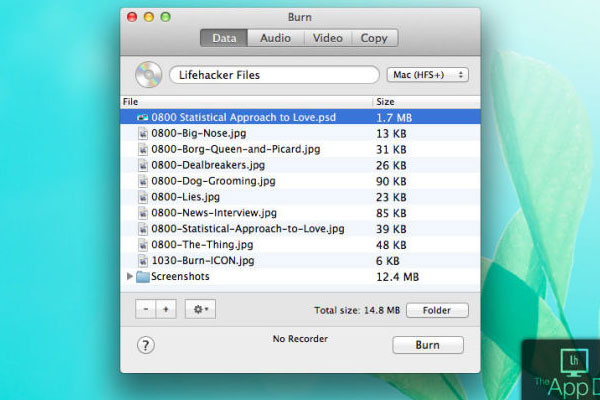 CDBurnerXP is a quick and easy solution to write audio and music to discs and create playable CDs on Windows 10 to Windows 7.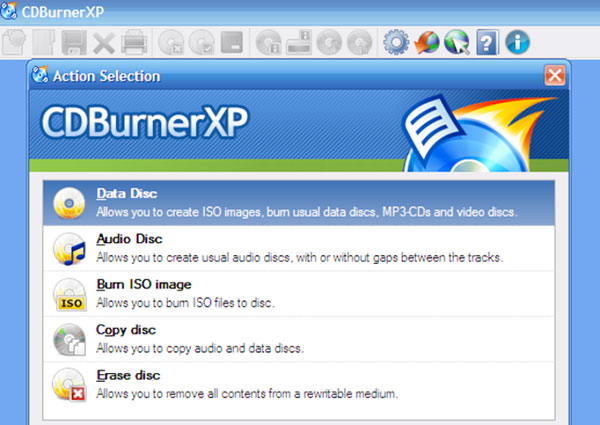 Pros
1. CDBurnerXP is a freeware and everyone could use it to burn CDs on PCs.
2. It has a concise interface. That makes it easy to find the option you are looking for.
3. The built-in audio player allows you to preview the music files before burning them on CDs.
4. Besides audio CDs, CDBurnerXP also supports to burn data, ISO files and videos on discs. You can also rip content from CDs as well.
5. The read and write speed of CDBurnerXP is rather impressive. It spends shorter time to create a CD than most CD burners in our test.
6. There is an online help feature that introduced all the features of this CD burner.
Cons
1. This CD burner requires Microsoft .NET Framework.
2. This freeware contains adware and junkware.
The top cross-platform CD burning software
ImgBurn is one of the most popular CD burning software that supports both Windows and Linux. Another reason that ImgBurn is popular among music enthusiasts is free of charge.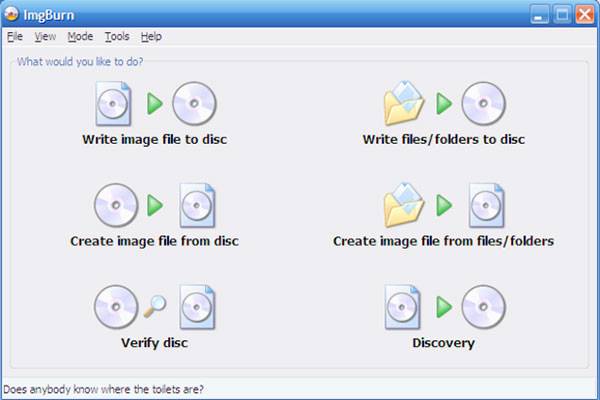 Pros
1. ImgBurn is able to burn CDs, DVDs, HD-DVDs, and Blu-Ray discs with ISO images, folders and media files, if you have appropriate hardware and system capacities.
2. This CD burner is a lightweight program. Even when it works, ImgBurn only seizes a little CPU and memory.
3. In addition to create CDs and DVDs, ImgBurn has the capacity to extract ISO images from CDs and DVDs.
4. ImgBurn provides extensive custom options, such as write speed and other parameters, which allow you to control your CD burning process.
Cons
1. The complicated settings make novice frustrated.
2. This CD burner cannot compress CDs or DVDs.
3. If you do not uncheck during installation, ImgBurn will install adware by default.
The best open-source CD burner
K3b is open source CD burning software for Linux. Unlike most Linux programs, K3b has a graphical user interface to help users create music CDs with audio files or CDs.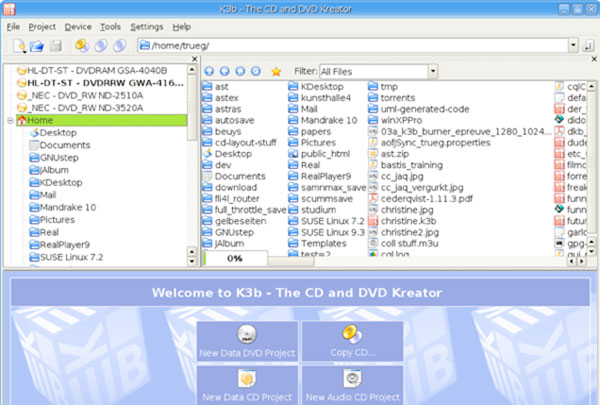 Pros
1. K3b has the capacity to create audio CDs, video CDs and video DVDs; and rip audio CDs.
2. For it is an open source program, you can burn audio files to CDs with K3b without paying a penny.
3. K3b is not only a CD burner, but also a CD and DVD copy program that allows you to copy a CD to a blank CD directly.
4. This CD burning application has many default settings, so beginners will not confused. And advanced users could customize these settings as they wish.
5. Its well-designed interface and features simplifies the process to CD burning.
Cons
1. K3b is only available to Linux.
The best free CD burner
As its name said, Free Audio CD Burner is a dedicated freeware that burn audio files to CDs.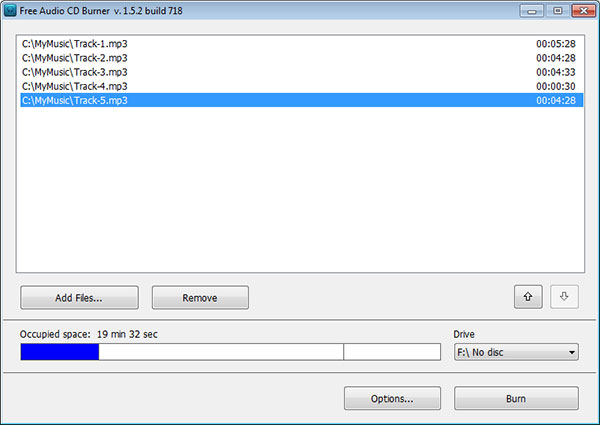 Pros
1. Free Audio CD Burner supports almost all audio input formats, like MP3, WAV, AAC, M4A, WMA, FLAC, RAW, AU, MPC, AC3 and more.
2. It has an intuitive interface without any unnecessary decorations. You can find all the features directly.
3. Free Audio CD Burner spends shorter time to burn audio files to CDs in our test.
4. Users could decide to burn a track to CDs or copy a CD to a new one.
Cons
1. This CD burner cannot import playlist.
2. During installation, many sneaky attempts to install adware.
The top paid CD burning app
Nero 9 is one of the most famous CD and DVD burners around the world.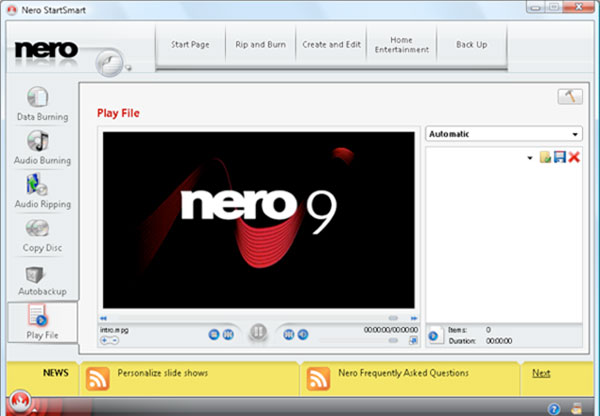 Pros
1. Nero 9 is a versatile CD burning program that supports to burn CDs, DVDs and Blu-ray discs.
2. Nero 9 is not only a CD burner, but also a CD ripper and CD recovery tool.
3. With Nero 9, you can enjoy faster burning speed and smooth user experiences.
4. This CD burner also has the capacity to transcode for portable devices.
Cons
1. Its price is too expensive and unaffordable.
2. It takes longer time to set up.
3. Nero 9 seizes too much CPU and crashes occasionally.
The best DVD burner
Currently, more and more singers publish music videos that blend music and images together. Extracting music from videos may damage to audio quality. The better solution is to burn music videos on DVDs with the best DVD burners, like Tipard DVD Creator.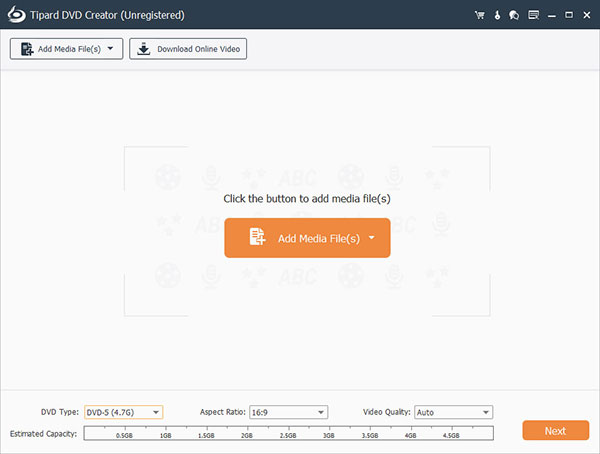 1. Tipard DVD Creator supports write ISO images, DVD folders and almost all media formats, including MP4, MOV, MPEG, FLV, WMV, MKV, AVI and more, to DVDs.
2. The built-in advanced technology allows you to copy encrypted DVD to blank DVD in 1:1 ratio.
3. Users could enjoy the easy-to-use video editing tools to crop, trim, merge, watermark, add effects and filters to videos before burning.
4. DVD Creator use advanced algorithm to enhance images and keep the original quality during DVD burning.
Conclusion
Based on the introductions above, you might learn the advantages and disadvantages of top 5 CD burning applications. When you need to create audio CDs, you can choose an appropriate one according to your situations and requirements. CDBurnerXP is the best CD burner for Windows computers, including Windows 10. And ImgBurn supports both Windows and Linux. Free Audio CD Burner is a dedicated audio CD creator and the best free CD burning software. Although Nero CD burner is more expensive than other CD burning software, users could get extensive features and better outputs. Finally, if you want to create audio DVDs, we recommend you to use the best DVD burner, Tipard DVD Creator.

Click here to join the discussion and share your comments