CloneDVD and Best Alternative software to Copy DVD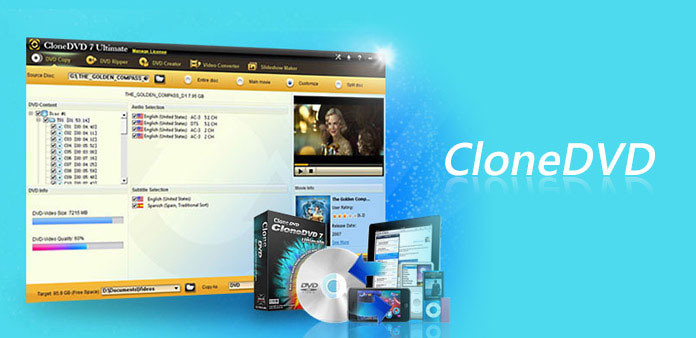 CloneDVD is developed by SlySoft. As a solid application, you can use it to back up your favorite DVD, rip DVDs to digital videos or make DVD copies. When you choose a utility to clone DVD, you must want to use an appropriate program. There are many DVD copy software on market, How to find out the most appropriate one is still a challenge to ordinary people. Therefore, we have collected millions of users' reports and tested the most popular DVD copy software available. In this post, we will share the review of CloneDVD and the best alternatives.
Part 1. CloneDVD review to know more about it
When we test DVD copy software, we usually concentrate on the cost, the GUI, stability, video edit, input sources, output quality and more. Based on our survey, it is one of the best DVD copy software, although it has some shortcomings.
Pros

1. You can copy a DVD in 1:1 ratio, rip or create DVD. It also supports to build slideshows.
2. it works well on Windows operating systems without hanging, crashing or errors.
3. This DVD copy software supports multiple threads, so it can clone DVDs faster.
4. it is able to copy a DVD to a blank disc or to computer in various file formats.
5. The intuitive interface makes CloneDVD accessible to the average users.
Cons

1. Compared to its features, the price is apparently higher.
2. it does not embedded CSS decryptor.
3. During clone DVD, CPU consumption is significant.
4. The image quality of outputs is poor.
Considering there are several shortcomings, we tend to recommend some best alternatives in this part.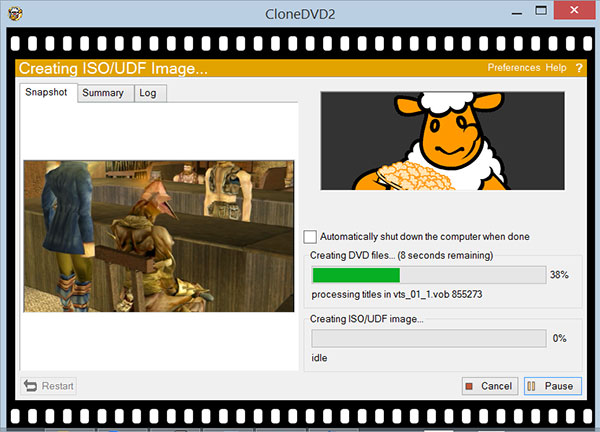 Part 2. The best free CloneDVD alternative
No. 1. Tipard DVD Cloner
Tipard DVD Cloner is one of the best DVD copy software on market, which allows users to back up DVD to DVD, ISO file, media folder or video and audio files.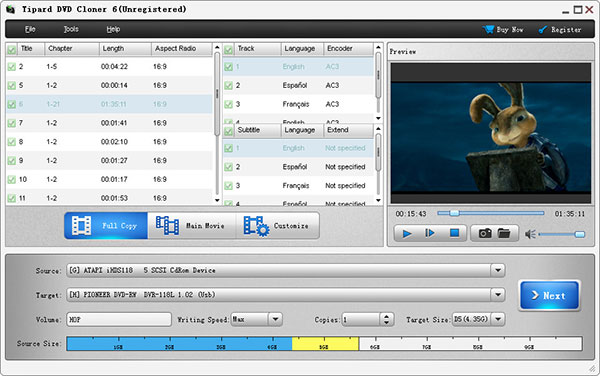 1. DVD Cloner is able to copy DVD-9 to DVD-9 or DVD-5 to DVD-5 in 1:1 ratio and copy DVD-9 to DVD-5.
2. It supports to back up DVDs to DVD folder or ISO images on local hard drive and burn ISO image or DVD folder to discs.
3. The biggest advantage of this alternative is to copy DVD with original image quality.
4. Since it has a straightforward interface and well-designed features, you can get user-friendly experiences during DVD copying.
5. DVD Cloner has the capacity to expand the potential of hardware and accelerate DVD copy process.
In a word, DVD Clone is worth to use, no matter your computer runs Windows or Mac OS.
No. 2. Burn4Free
Although Burn4Free is a freeware, its excellent features make this DVD copy application professional rank. And Burn4Free is a good choice for beginners.
Pros

1. Burn4Free has a concise interface. All features you need to copy DVD are on the interface.
2. The DVD copy speed is rather high. You just need to wait for a while to back up a DVD to your computer or a blank disc.
3. You can back up videos, audio tracks and data from DVD to computer as ISO image.
4. This CloneDVD alternative is totally free and without adware, virus or spyware, if you download from trustable sources.
Cons

1. The output quality no as good as other best DVD copy software.
2. There is no helping document.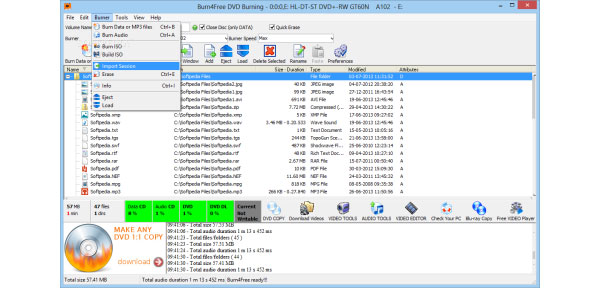 No. 3. DVDFab
DVDFab is a dedicated DVD copy program for Windows users. You can try free trail for 30 days and the full version needs to pay for $59.00. Although this CloneDVD alternative is a little expensive, it is still one of the best DVD copy tool.
Pros

1. With DVDFab, you can copy any DVD to hard drives, like standard DVDs, HD DVDs, Blu-ray DVDs, and so on.
2. DVDFab allows you to decide to clone DVD in 1:1 ratio or back up DVD with compression.
3. Compared to other DVD copy tools, DVDFab provides more custom options to copy your DVD, like merge, clone, full rip and more.
Cons

1. For beginners, DVDFab is too complicated to copy DVDs. The custom options will make average users frustrated.
2. The DVD copy speed is slower than other best DVD copy tools.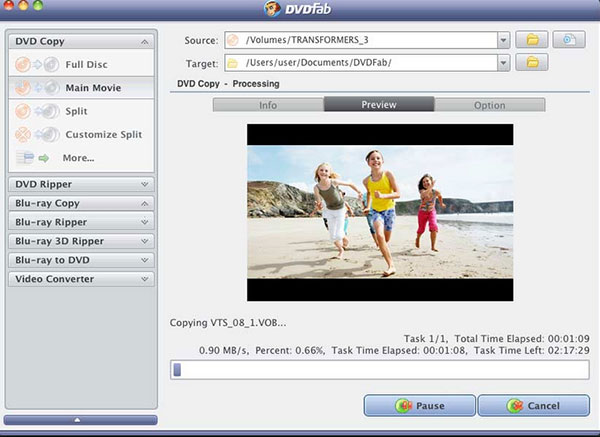 No. 4. Express Burn
Express Burn is a high-end application designed to copy DVDs on Mac OS X quickly. For advanced Mac users.
Pros

1. DVD copy speed is the biggest advantage of Express Burn. And it is the faster DVD copy tool based on our testing.
2. Express Burn supports copy audio, video, or other files to various CD, DVD and Blu-ray disc formats.
3. In addition to copy digital files to DVDs, the built-in Copy Disc feature allows you to copy DVD in 1:1 ratio.
4. Its alternative is able to copy plentiful video file formats to DVDs, such as AVI, MPG, VOB, WMV, MP4 and more.
5. Express Burn offers extensive custom options and you can decide the output quality as you wish.
Cons

1. The price is expensive and unaffordable.
2. It cannot remove copy protections from commercial DVDs or compress video files to smaller discs.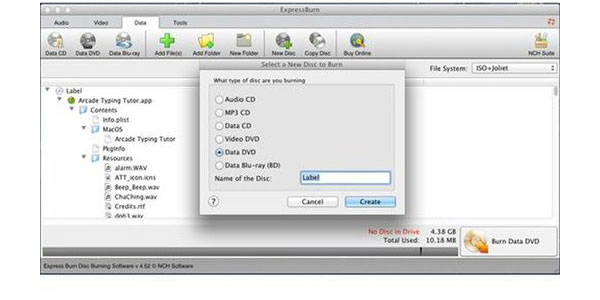 No. 5. DVD Cloner 2017
DVD Cloner 2017 is another CloneDVD alternative available to Windows 10. As its name said, DVD Cloner 2017 is able to clone any DVD to disc.
Pros

1. This DVD copy application supports to copy encrypted and commercial DVD or Blu-ray disc to a blank disc.
2. Developers update and maintain this DVD copy tool regularly, so you can enjoy its solid functions well.
3. DVD Cloner 2017 is compatible with most Windows operating systems, from Windows 10 to Vista.
4. In addition to copy a DVD to a disc in 1:1 ratio, this DVD copy tool has more abilities, such as extracts ISO image or video files from DVD or writes ISO files or other data on DVDs.
Cons

1. The workflow to extract ISO images from discs is rather complicated.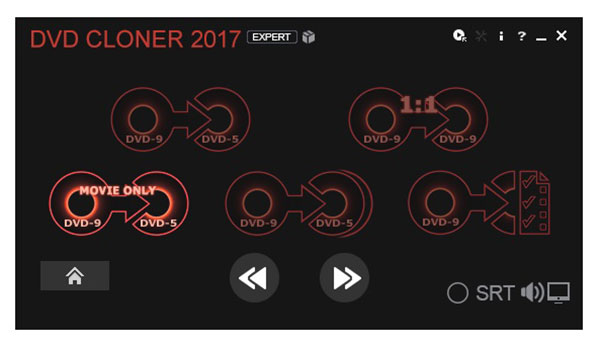 Conclusion
In this introduction, we shared the review about CloneDVD. Although there are some shortcomings, it is still one of the best DVD copy software on market. If you are searching for another choice, you can learn more information on the second part, the best alternatives of CloneDVD. Burn4Free is a free-charge DVD copy tool that could provide the basic capacity to copy a DVD. DVDFab is the best alternative for Windows users, although the price is a little high. Express Burn could help Mac users to copy DVDs easily. And DVD Cloner 2017 is the best choice for Windows 10. For the people looking for a smart choice, Tipard DVD Cloner is the best alternative. You can enjoy the highest quality of outputs with DVD Cloner.

Click here to join the discussion and share your comments