4 Easiest Methods to Convert 8mm Video to DVD

Some old formats of video, like 8mm, have their unique charms. But the main problem they face now is less and less equipment can be used to watch them. What is more important, as the time pass by, the VHS 8mm video might be damaged forever. If you want to save or backup your 8mm videos, the most important thing you need to do is convert 8mm video to DVD. Here we recommend 4 methods to turn VHS 8mm to DVD with efficient.
Method 1: Capture 8mm tapes to DVD on computer
There are many ways to capture videos from 8mm tapes to computer. The first way we recommend to you is converting 8mm video to DVD by digital camcorder. If you have a digital camcorder with analog pass through or capture ability, you can use the camcorder to convert the analog signal on-the-fly which can be captured by a computer. You can follow the steps what follows to convert 8mm video to DVD.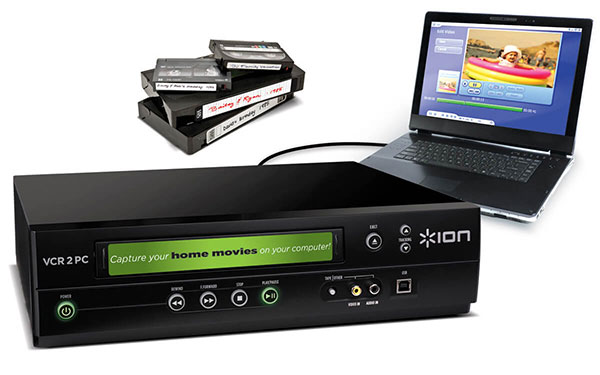 Step 1
Connect camcorder to computer
Connect your wanted 8mm tape camcorder to your capture card on a computer.
Step 2
Run the software
Launch the video capturing software on your computer. First of all, make sure you have enough space on your hard drive.
Step 3
Insert the 8mm tape into camcorder
Insert the 8mm tape into the camcorder and find the tape spot where you want to begin this conversion.
Step 4
Select output format
Select "Options" or "Settings" in the capturing software. Make sure your wanted output format in "capture format". For example, you can choose MPEG-2 as your format because it is the best format to burn to DVD.
Step 5
Start capturing
Select "Capture" on the capturing software and press "Play" on the camcorder. When it is finished, the captured video will be saved on the computer's hard drive.
Method 2: Convert 8mm video to DVD with Tipard DVD Creator
When your 8mm tape is captured to your computer, you need a DVD creator to convert the 8mm video to DVD. Tipard DVD Creator is highly recommended. It provides the best solution for you to create DVD with any video formats, even downloaded online videos and recorded videos. Apart from making DVD, it also allows you to edit DVD video effects with trim, crop, watermark and filtering effect to make your video better and special.
1. This DVD creator supports a wider range of input formats, including MP4, MOV, MPEG, FLV, WMV, MKV, AVI and more.
2. You can add audio tracks and subtitles within this application before DVD creating.
3. There are many free customized DVD menus, frame, button, text and more templates you can apply on personal DVDs.
4. The built-in editing tools could help you trim, crop, merge or add effects on video clips.
5. DVD Creator is compatible with both Windows and Mac OS, like Windows 10 and latest version of Mac computers.
6. The biggest advantage of DVD Creator is to enhance the video quality as possible.
7. The intuitive interface layout useful functions orderly, so you can convert 8mm to DVD easily and quickly.
How to Convert 8mm Film to DVD
After 8mm tapes are captured to your computer, you can use DVD Creator to burn a DVD with video clips. To start copy 8mm to DVD, you need to insert a blank DVD with enough storage space into your DVD drive.
Step 1
Launch the software and open it
Download the right version of DVD Creator according to the operating system your computer runs. Follow the instructions to install this application on your computer and open it.
Step 2
Load the captured 8mm film
Unfold the Plus menu and click on the Add Videos button on the top of the interface to import the 8mm films to the program. Or you can simply drag and drop the 8mm video clips into DVD Creator.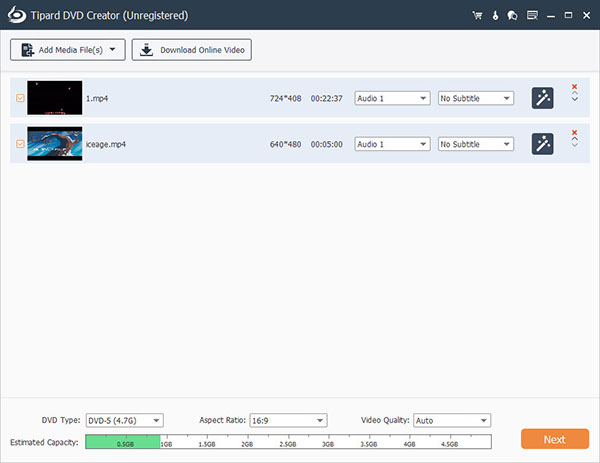 Step 3
Edit the captured 8mm film
Go to Editor by clicking on the Edit menu on top ribbon and adjust the 8mm films as you wish. DVD Creator also provides some filters and effects for videos and. In the Audio window, you can adjust the parameters related to audio tracks. Go to the Menu tab, choose a DVD menu from the template list and customize it with your picture, music and text.
Step 4
Convert 8mm film to DVD
In the Destination drop-down list choose your DVD drive. Then go to Preview tab to check the output. If you are satisfied with the previewed 8mm film, click on the Burn button to convert.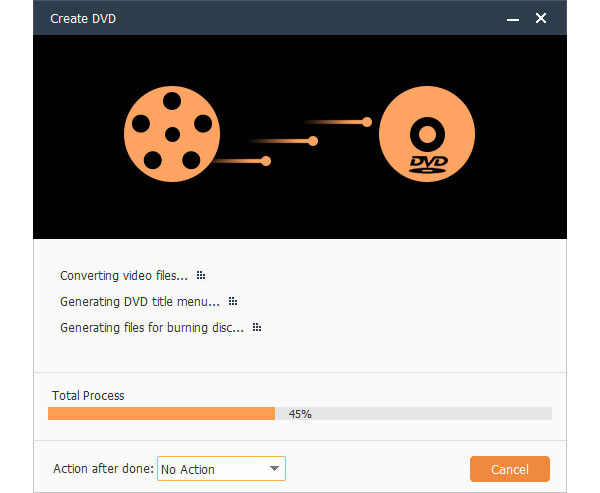 Method 3: Copy 8mm tapes to DVD with DVD Recorder
For some people, they still have working camcorder now. However, there are less chances to make new 8mm video. If you still have working camcorder and DVD recorder, to save your 8mm tape, you can copy 8mm video to DVD in this way.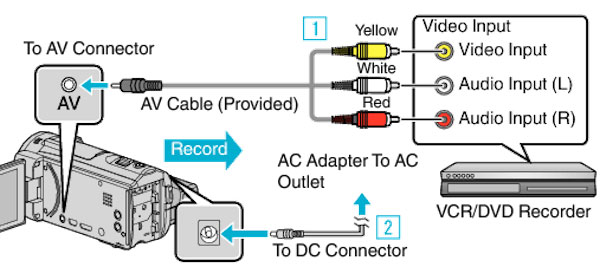 Step 1
Connect camcorder to DVD recorder
Plug the camcorder directly into the DVD recorder. In order to get the signal from inputs to record on tape, you must make sure you switch the DVD recorder to AV inputs.
Step 2
Plug cables to AV outputs and inputs
Plug the camcorder provided Audio/Video cables to the AV outputs of the Camcorder to the AV inputs on DVD recorder, switch the DVD recorder to AV-in, Line-in, or Aux in.
Step 3
Put 8mm tape and a blank DVD
Put the 8mm tape to be copied to DVD in the camcorder, and then put a blank DVD in the DVD recorder.
Step 4
Convert 8mm video to DVD
DVD recorder will take a few seconds to start the recording process. So that you need to press record on the DVD recorder first, then press play on the camcorder.
Step 5
Stop both camcorder and recorder
During the conversion, you can watch your 8mm tape on TV. When your recording is done, stop the DVD recorder and camcorder.
Method 4: Convert 8mm tapes to DVD Transfer Service
Southtree is the website provides the transfer service of converting 8mm tapes to DVD. After you submit you order on it, they will send the barcode stickers and instructions to you. Just send the 8mm tapes to them, they will convert 8mm video to DVD for you perfectly. In addition, you can get 25% off when you submit your first order.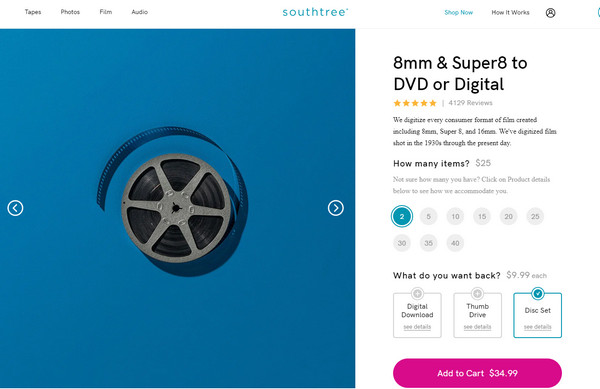 Step 1
Place your order
After opening this website, click "Convert Tapes" button in the top of interface. Set the amount of you tapes to DVD and choose "Videotape to DVD" in next showed window. It costs $15 each tape. Then click "Order Now".
Step 2
Confirm your order
Confirm the quality and total summary, click "CHECK OUT". Select digital optional and then choose shipping options. You need to enter your name, email and address, etc.
Step 3
Submit your order
Click "SUBMIT ORDER". Once you submit your order, the website will mail your address barcode stickers and instructions on how to pack and ship your order to them.
Conclusion
Don't worry about converting 8mm video anymore. Apart from the 4 solutions we mentioned, there are also many other ways to transfer 8mm video to DVD. You can choose the most suitable solution from the four methods what we mentioned above to convert 8mm video to DVD. Hope this tips can help you achieve the goal when you need it.

Click here to join the discussion and share your comments