Introducing the 3 Effective Ways on How to Make a Video More Clear on Desktop, iPhone, and Online [2023]
Do you want to discover how to make a video more clear? We cannot always avoid shooting blurry movies because sometimes, we fail to adjust the camera's focus. And due to a shaky gadget while filming a video. That is why this post will help you in resolving your issue. As a result, it offers three effective ways on how to make a video more precise with less effort. Moreover, it will guide you on successfully doing it specifically on a computer, an iPhone device, and online or over the internet.
Therefore, stay in tune and keep reading this piece to discover how to make videos clearer without affecting the video quality.

Part 1. How to Make a Video Clearer on Computer
Tipard Video Converter Ultimate is a video editing program that can restore and make the video clearer. The good news is that it is available as a free download, allowing you to install it on your computer and use it for free on Windows and Mac platforms. The software enables you to convert videos to 8K/5K/4K/HD resolution. And as a result, you are able to enjoy watching all your video files on your computer. In some cases, We can't ignore the fact that some software on the market contains viruses and spyware, but Tipard Video Converter Ultimate is reliable and safe to use. The program guarantees that it is free of viruses and malware and that it will not affect any of your personal information. And since we are talking about how to make a video more clear, the good news is that this application features a Video Enhancer tool that can help you restore the quality of your films.
If you want to put it to the test, we will lead you through the steps. But first, you should go at the most critical features of this fantastic software.
Leading Features of the Tipard Video Converter Ultimate:
1. It comes with a Toolbox.
2. It offers a straightforward and user-friendly interface.
3. It is capable of converting over 500 different formats.
4. You may use it to create your music video.
5. It is capable of converting files at a 70x faster rate.
6. It allows you to produce lossless duplicates of handcrafted items.
7. It can convert homemade DVDs into video or audio files.
How to make a video more clear in Tipard Video Converter Ultimate?
Step 1Use your browser to search for Tipard Video Converter. After that, go to the website and select the appropriate download option for your computer. Then, launch the software and look for the Toolbox above the interface. After that, select the Video Enhancer tool.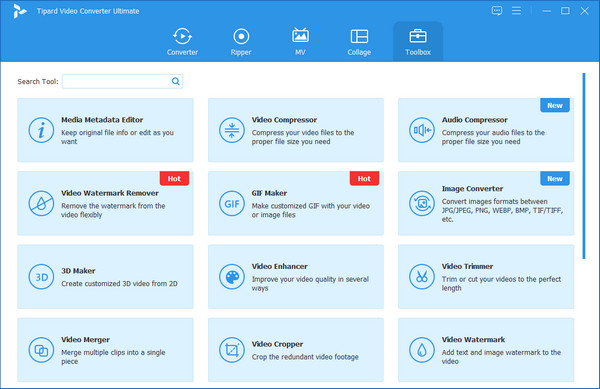 Step 2Then, you will see a new window that has (+) plus icon at the middle on the screen. Click it to add a video file that you can increase video resolution.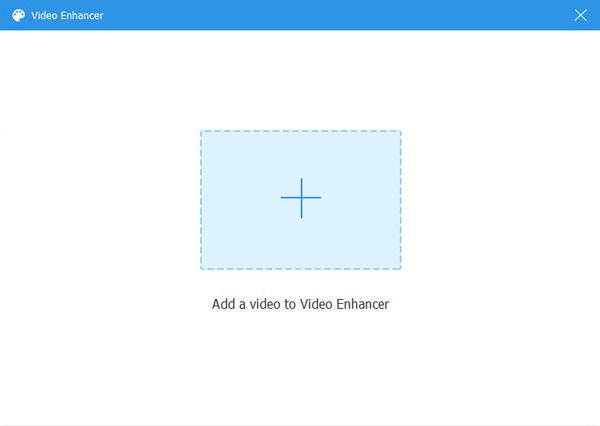 Step 3After adding a video file, a new window will appear with different options to increase video resolution. Thus, you can tick all the boxes to apply changes.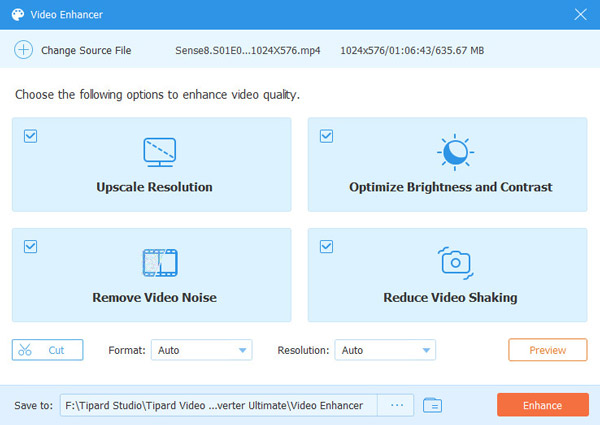 Step 4After checking all of the boxes, click the Preview button to see a glimpse of your new output. Pick a good file location for the latest products, and then hit the Enhance button if the movie is better in your assessment. Hang on a second for a brand new video output to develop.
Step 5Lastly, you can start playing or viewing your new movie file with a Tipard Blu-ray Player. And the best part is that this media player can play back all your video files seamlessly.
Part 2. How to Make a Video Clearer on iPhone
You can easily make an engaging, proficient movie directly on your iPhone with iMovie. After creating a movie project, you can select video files to add to the app. The media browser will present all of the video clips from iMovie and any video clips from your photo collection. So, kindly follow the simple steps below on how to make a video clearer on iMovie.
How to make video clearer on iPhone using iMovie?
Step 1Search for iMovie in Safari or the App Store. Then go to the page, click the download option, and then start the program. It will take you to the main interface as soon as you activate it. After that, The (+) icon will appear, with Create Project beneath it. Click it to upload a file.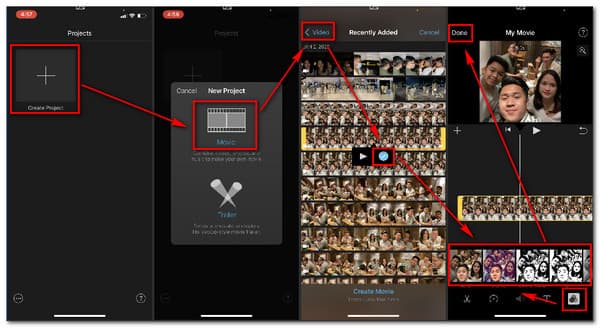 Step 2A new window will open once you click the (+) symbol. From there, select the Movie option to access your video file collections. To go to the following step, select a video file and click this icon ☑.
Step 3Finally, you can modify your video after selecting a video file. iMovie, on the other hand, does not allow you to modify brightness, contrast, color, saturation, or shadow, among other things. However, by selecting the Effect option, you can apply a filter to it. To save changes, click the Done icon on the upper-right side of the screen after applying effects.
Part 3. How to Make a Video Clearer Online
Furthermore, we offer further advice on how to make videos more clear online. Suppose you hurry or do not have enough space on your smartphone or PC. In that case, we can recommend a great video quality enhancer online and provide instructions on enhancing your video quality through the internet. You can accomplish it by following the instructions below.
Step 1Look for Clideo in your browser. Upon launching it, click the + Choose File button to start.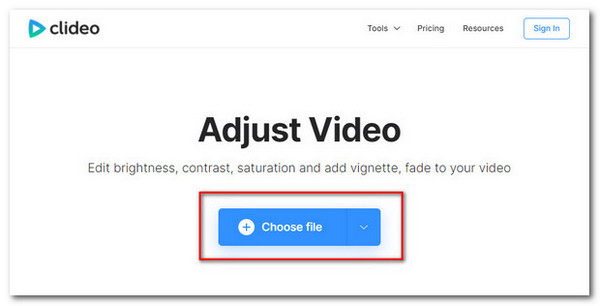 Step 2After uploading a video file, you will see options for brightness, contrast, saturation, hue, fade, and vignette. To make the video clearer, you can modify each parameter by adjusting the slider.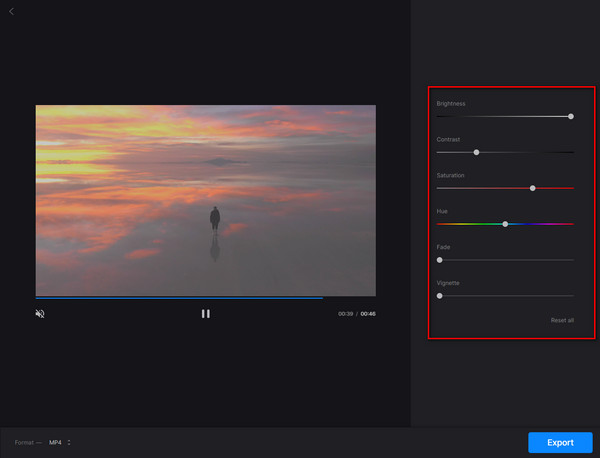 Step 3Lastly, click the Export icon to save the file to your file folder.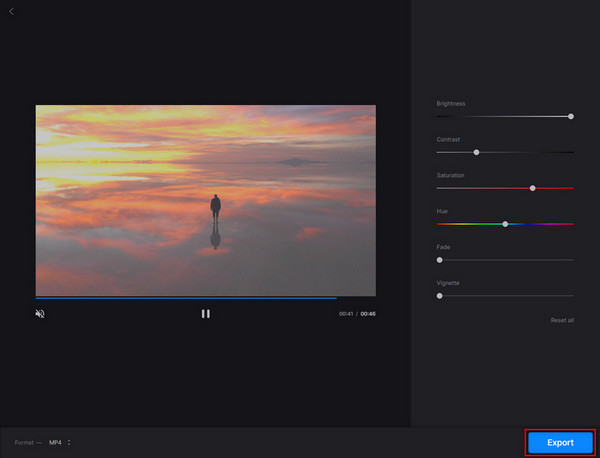 Part 4. FAQs
What is the top editing software to make a video more clear?
Tipard Video Converter Ultimate is a program that we suggest. This program is ideal for making your videos clearer while preserving video quality. It also has a free download on Mac and Windows.
Is it possible to repair an unclear video on an iPhone?
Certainly, yes. And iMovie is the best app for it. With its Rolling Shutter option, iMovie can remove this distortion. See the steps above.
Why are iPhone videos so pixelated?
Apple supervises the transport of Text message videos from iPhone to iPhone, ensuring that films of any size are delivered and received in their original quality. Even when sending relatively small video clips (between 15MB and 20MB), they will be compressed on one end and remain compressed, resulting in a blurry, unwatchable video.
Conclusion
Finally, we hope that by following the steps above, you now understand how to make the video more clear. As a result, having a great and clear tape that you can enjoy playing and viewing is now achievable. Furthermore, please share this information with your friends if you find this helpful information.
Also, if you have any more questions, please do not hesitate to email or call us. Rest assured that we will answer you.