How to Improve Video Quality for TikTok using Tipard Video Converter Ultimate: Presenting you with the Basic Steps [2023]
Do you enjoy posting videos on your TikTok account and want to publish them in high quality so that they appear on the For You page? However, after uploading them to TikTok, the video quality may suffer in certain situations. As a result, you may want the best video editing software to post videos to TikTok without affecting their quality. Consequently, this post will show you how to improve video quality for TikTok using the best video editing software. But first, you might be asking why your TikTok videos are getting worse in quality. That is why this article will enlighten you on the possible causes of low-quality TikTok videos. We will introduce the Tipard Video Converter Ultimate after you fully understand the reason for the low-quality video. This software is the most trustworthy and reliable video converter and editing program, allowing you to increase the quality of your video files for TikTok. Furthermore, to properly achieve and solve your problem, we would like you to know that this post will walk you through how to improve video quality for TikTok.
In addition, we will give you the best TikTok video quality settings so that you can maintain high-quality videos. Consequently, do not even skip reading this guide to the end if you want to attain high-quality videos on TikTok.

Part 1. Why is My TikTok Video Quality Bad
Since you like to upload videos to TikTok, you sometimes suffer from low video quality after uploading them. You might be asking now why this is happening. TikTok videos become blurry and grainy once you upload them because you enable the Data Saver feature on the app.
When the data saver is on, the standard quality of the videos you post to TikTok will decrease. Disable this option to boost the video quality; you will view high-quality TikTok videos with proper video settings and post them to TikTok.
Part 2. How to Improve Video Quality for TikTok
Tipard Video Converter Ultimate is a popular video converter and editor that can repair fuzzy video and movie files. This one comes with a free trial edition that works with Windows and Mac operating systems. For that reason, you may install it on your computer for free. Tipard Video Converter Ultimate also includes a Toolbox with various tools such as Media Metadata Editor, Video Compressor, 3D and GIF maker, Video Enhancer, Video Trimmer, Video Speed Controller, etc. Video Reverser, and so on. You can also use this program's Video Enhancer Feature to increase video quality for TikTok.
Furthermore, this post provides a list of the program's essential features, after which you may follow the instructions below on how to improve video quality for TikTok in Tipard Video Converter Ultimate effectively.
Leading Features of the Tipard Video Converter Ultimate:
1. It can play 8K/5K/4K/HD videos.
2. It is capable of converting and supporting over 1000 different formats.
3. It can convert files at a 70x quicker rate.
4. It allows you to create a music video.
5. The application is free from viruses and malware.
6. It offers an easy-to-use UI.
7. It is capable of ripping and copying homemade DVDs to your computer.
8. It supports GPU acceleration.
9. It includes video editing capabilities such as cropping, watermarking, and other features.
10. It provides both a free trial and a paid version.
Step 1Download Tipard Video Converter Ultimate and proceed to Toolbox
Go to your browser and type Tipard Video Converter Ultimate. Click the main page and directly hit the download button compatible with your operating systems, whether Windows or Mac. Please install the video converter program on your computer and launch it. After that, proceed to the Toolbox and select the Video Enhancer feature.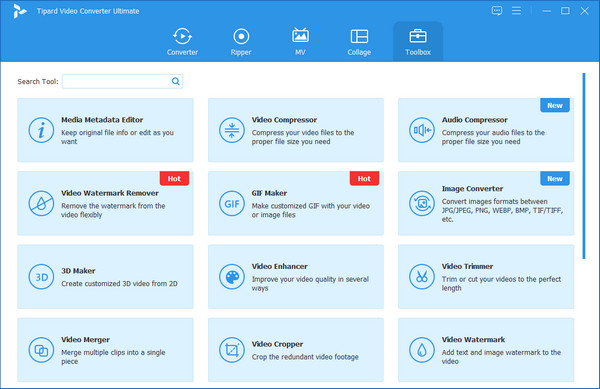 Step 2Upload a Video File
After clicking the Video Enhancer feature, a new window with a plus (+) icon will pop up. Click it to upload a video file that you want to enhance. Then wait for a few seconds to proceed to the next step.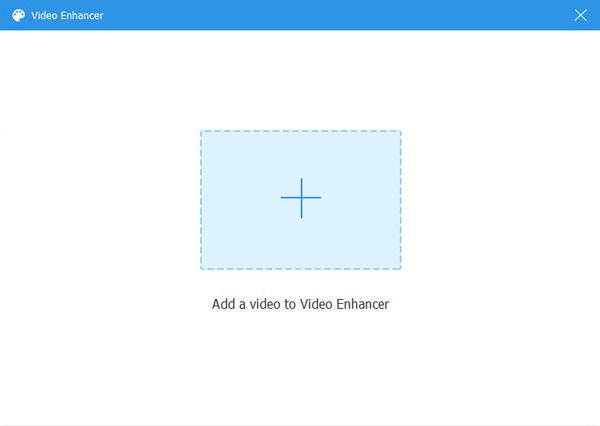 Step 3Apply Video File Modifications
Upon uploading a video file from your computer's file folder. The software will show you another interface that provides various options to improve video quality. You will also see that each choice has a box next to it. And to successfully apply changes, kindly tick all the boxes.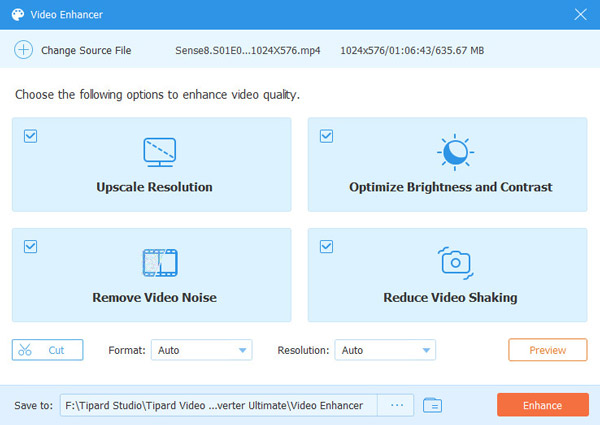 Step 4Save Video File Modifications
After doing so, you can click the Preview button to see the preview of your video. Then, you can choose a file location from the Save to section. After that, you can save the new video output by clicking the Enhance button. Wait for how many seconds, and have the latest video output.
Step 5Upload New Video File on TikTok
Finally, you can now have your new video output from Tipard Video Converter Ultimate and upload it to your TikTok account. Enjoy your TikTok high-quality video. You also can use video quality enhancer online to increase video quality for TikTok.
Part 3. Best TikTok Video Quality Setting
After knowing the reason for the low TikTok video quality, this article will also give you tips on having the best TikTok Video Quality settings.
Suppose your TikTok videos are grainy when you upload them. In that case, it's most likely because the app's Data Saver function is active. And to resolve the issue, you must disable TikTok's Data Saver option.
Step 1To do this, you can click the Me icon at the lower navigation bar to access your profile.
Step 2Then, in the right-hand corner of your profile, click on the three dots, then on Data Saver, and finally turn on the button to turn it off.
Part 4. FAQs of How to Improve TikTok Video Quality
Why is my TikTok video stuttering?
Unfortunately, if your wifi signal changes or abruptly drops out, the data is never sent to your device, resulting in a stuttering video. Thus, it would be a big help if you had a strong internet connection to play TikTok videos seamlessly.
How to recover TikTok videos that are not playing on iPhone?
To do this, kindly enter the PIN and allow the system to reconfigure all the settings. After testing procedures, your TikTok videos should operate properly. But if your TikTok videos are no longer working, you will need to delete the TikTok app and reinstall it. Then you can now use it and try watching TikTok videos on your iPhone.
What is the most satisfying video resolution for TikTok video uploads?
The most satisfying and highest resolution for TikTok upload is 1080p resolution.
Conclusion
Finally, it is possible to increase video quality for TikTok using Tipard Video Converter Ultimate. This software will not fail you to achieve your goal with your blurry videos. But we want you to completely and correctly follow all the steps above to resolve your issues. We hope you now fully understand how to improve video quality for TikTok without any confusion. So, please do not forget to share this article with other people to help them.
Moreover, we would like you to know that we will entertain you if you have another concern. So, please call or message us immediately.