How to Watch Jurassic World on TV with DRM Free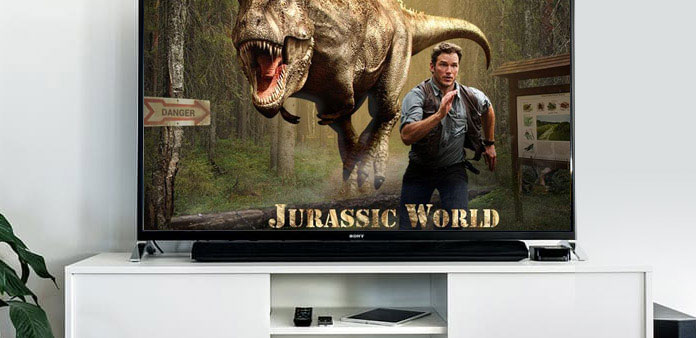 "Jurassic World is one of my favorite movies, which I used to watch Jurassic World online with my friends. What should I do if I need to enjoy the movie on my smart TV?" – Doe Jone.
At present, smart TVs become more and more common in our daily life. We prefer to watch some latest movies on TV to enjoy the high definition display, especially for the science fiction films Jurassic World. Compared to enjoy Jurassic World online, you can get a stunning effect to watch Jurassic World in 3D or on big-screen TV. If you want to enjoy the movie in high quality at home, you can find the different methods to watch Jurassic World from the article.
Why we love Jurassic World?
Chris Pratt might one of the reason we love the series of Jurassic World. Of course, there are more other reasons that you should take the series of movies into the must watch list.
1. Excellent performance: in the films of Jurassic World, every character does a good job. And the protagonist Chris Pratt has became a Hollywood icon with his outstanding performance.
2. Creative plot: a theme park, built on the original site of Jurassic Park, creates a genetically modified hybrid dinosaur, which escapes containment and goes on a killing spree. And an exciting adventure is going on.
3. Awesome special effects: this movie makes those dinosaurs realistic and you will fell afraid when the dinosaurs attack toward you. Imagine it, watching these movies on your own TV, with the 3D effects, is quiet an enjoyable thing.
3 Easy ways to watch Jurassic World on TV
Just as mentioned, Jurassic World has some outstanding effects. When you wanna enjoy the Jurassic World on TV, you should pay special attention to the DRM protection. Here are the solutions you need to use for watching Jurassic World on TV.
1. Convert Jurassic World with Tipard Video Converter Ultimate
If you have already rented Jurassic World from Apple, or find the movie online from video streaming sites, you can use Tipard Video Converter Ultimate to download the movie or turn the file into a DRM free movie. Just learn more detail about the process to convert Jurassic World movie with DRM protection into a DRM free one.
Step 1
Import the rent file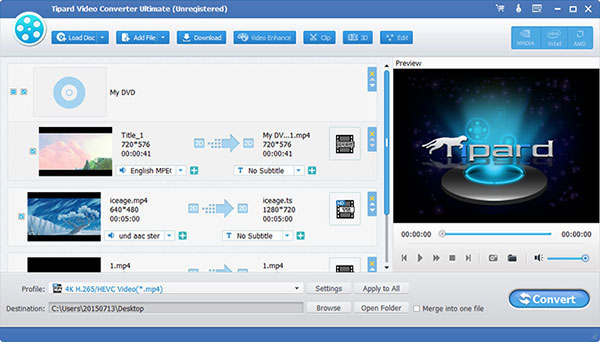 Once you launch the program, you can click Add Files on the main surface to import Jurassic World. If you rent a DVD file, you can load the Jurassic World movie with Load Disc button.
Step 2
Choose output format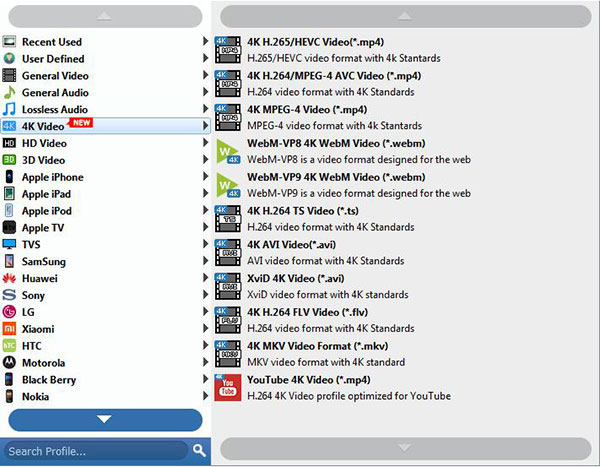 And then choose the format as MP4 if you wanna to play Jerassic World on TV. MP4 format compatible with most of the devices, you can enjoy the DRM free MP4 on smartphone or other devices as well.
Step 3
Start conversion
You can adjust the other parameters before conversion. After that click the Covert button to begin converting. It takes a few minutes to convert the Jurassic World movie to MP4 for TVs.
Step 4
Stream Jurassic World on TVs
In order to transfer the converted movies to TVs, you need a USB device. Copy it to the USB. But if your TVs do not have a USB port, you can also stream movies to TVs via Chromecast / Roku / Plex / Nexus Player / Sony Bravia TV, etc.
2. Download Jurassic World movies to TVs
When you just find the Jurassic World on some online video streaming sites, you can also use Video Converter Ultimate to download the file for you. And then you can convert the movie to MP4 or other compatible format to your TV accordingly. The section will take YouTube as an example.
Step 1
Copy URL of Jurassic World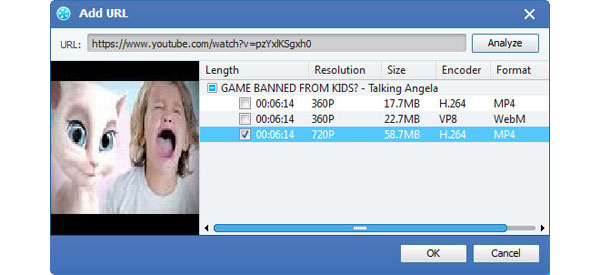 First of all, click the Download button in the toolbar. Then copy the link of Jurassic World movie from YouTube. And then the program will analyze the movie automatically.
Step 2
Choose the output format
And then choose the output format from the Profile menu, or even adjust the parameters from Settings in order to get the desired files quality of Jurassic World on your TV.
Step 3
Export the Jurassic World to TV
At last, click the OK button to download the movie from online streaming site.
After you get the converted movies or videos, you can use USB device to import videos to TVs. And you can enjoy the Jurassic World on TV.
3. Get Rid of DRM Protection for Jurassic World with Tuneskit
There is another easy way to remove DRM of Jurassic World, which enable you to watch Jurassic World on TV. Tuneskit is the desired program that works on Windows and MacOS. The program will regularly be updated to the latest version of iTunes and is lossless. Just learn more detail about the process to get the file on Mac OSX. tuneskit
Step 1
Import Jurassic World to the program
Open iTunes and make sure that you have downloaded the videos. And the video is authorized to play on your computer. And then you can open Tuneskit to import the file. After importing this movie, Tuneskit will scan your iTunes library and choose the videos you want. Now, they are on your list.
Step 2
Start conversion
Click Convert button and the conversion process will begin. The conversion will take a few minutes and it all depends on your processor. After this process, you can click the Converted button to view the converted Jurassic World movie. You will find you have a DRM free from your iTunes video, and can now watch it wherever you like.
Step 3
Watch Jurassic World on TV
Streaming movies to TVs is an easy work for you. You can use USB devices to stream to TV. And you can watch Jurassic World with DRM free on any device with ease.
Conclusion
Besides watching Jurassic World, you might also wanna watch other movies on TV. The first thing you should do is getting the resource of the movies. You can purchase or rent from some places. And then you can use Tipard Video Converter to remove the DRM files for you or download the files for you with ease. Just enjoy the smart widget to download Jurassic World on any other device as well. If you have some opinions about the video converter, you can share more detail about the programs and the process in the article with us.

Click here to join the discussion and share your comments
How to Watch Jurassic World on TV with DRM Free