3 Best Ways to Root Android Phone Effectively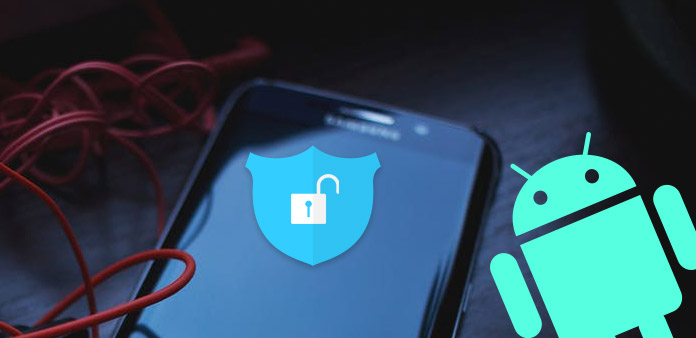 Rooting Android phone is attractive to the Android users. It will open a new world with more possibilities. After rooting, you can customize all applications on your Android phone, including pre-installed ones. Actually, most pre-installed software is useless and occupying memories. So it is a good way to boost memories as well. Moreover, the built-in software will run in the background. These programs are the killers of battery life and data flow. Therefore, it will also save us a lot of money too. However, it sounds a professional task and too complicated to ordinary people. Don't worry! This post will introduce how to root Android smartphone in details.
There are some root Android phone software in the market, like Towelroot, Kingo Root, and KingRoot. These root Android phone Apps support Android phones from most brands, including Google, HTC, Huawei, LG, Sony, ZTE, Samsung and more. And they will make the rooting process easier than you thought. If you choose other rooting programs, you can learn from this section as well, for their usages are similar.
Part 1. How to root Android phone with Towelroot
Unlike other rooting tools, Towelroot will root Android phone on your handset without other digital devices. Just check the detail process as below.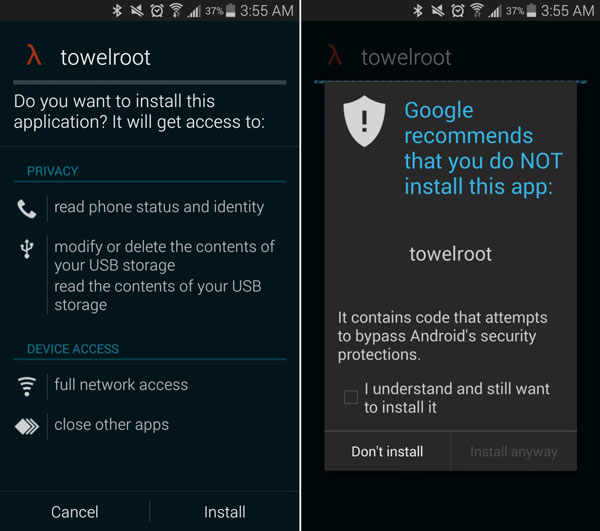 Step 1
Make sure your Android phone is fully charged.
Step 2
Open Settings application and located to Developer Options. Then check OEM Unlocking options.
Step 3
Back to Settings menu and access Security option. Check the option of Unknown Source.
Step 4
Download Towelroot APK file from its official website. Open the APK file and Install it on your Android phone.
Step 5
After Towelroot installed successfully, open it and tap on the button Make it ra1n.
Once your handset restarts, you can use root checker apps to check if Android phone is rooted successfully.
Part 2. How to root Android phone with Kingo Root
Kingo Root is a computer based rooting Android phone software. You need a computer to help you complete the rooting process.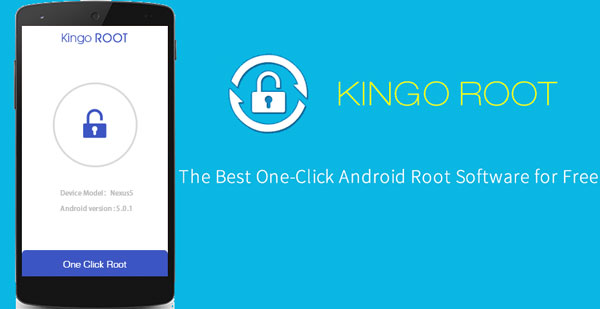 Step 1
Download and install Kingo Android Root app to your computer and open it.
Step 2
Turn to your Android phone and check both USB Debugging and OEM Unlocking options in Developer menu that belongs to Settings application.
Step 3
Connect your handset to computer through a USB cable. Once Kingo detects your Android phone to root automatically, the request message will pop up and ask whether you want to root this phone.
Step 4
Press ROOT button, Kingo will activate the rooting process. The whole process will take a few minutes. During rooting, keep your handset connected to computer and do not do anything on your phone.
Step 5
When the process completed, ROOT SUCCEED window will show up. And then you can check the root status of your Android phone.
Part 3. How to root Android phone with KingRoot APK
If Kingo and Towelroot do not support your Android phone, you can try KingRoot. It supports to root a wide range of Android phones. KingRoot provides two methods like desktop program and app. We choose app in this section, for it is easier.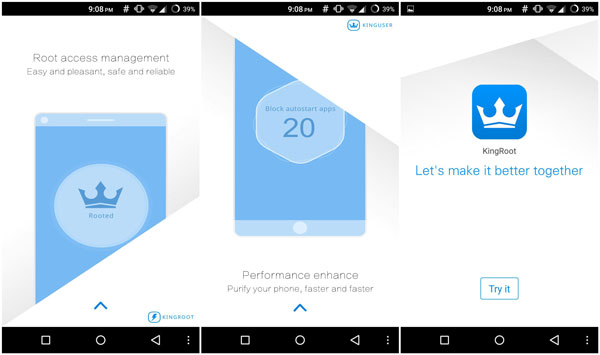 Step 1
Check OEM Unlocking options in Developer menu and Unknown Source in Security menu. You can find these menus in Settings application.
Step 2
Access KingRoot website in your mobile browser and download KingRoot app.
Step 3
After download KingRoot.apk file, install it on your smartphone. Open KingRoot app on your smartphone, the message Root access is unavailable will appear.
Step 4
Tap on Try to Root button beneath the message, KingRoot will start working. You can monitor the process in real time with percentage during rooting.
Step 5
Once the rooting process completed, the message Root successfully will show up. Then you can restart your Android phone and check the root status.
Part 4. Unroot Android phone If you Need
Every coin has two sides, so does rooting Android phone. The biggest problem is cybersecurity. We all know that people can control Android phone completely after rooting. On the other hand, hackers could enjoy such privilege at the same time. Moreover, some legal applications will read and export more personal information after rooting. So you may want to go back and unroot Android phone.
How to unroot Android phone
There are many file managers available to Android phone. We use ES File Explorer as the example.
Step 1
Open ES File Explorer on your rooted Android phone.
Step 2
Located to system and then bin folder.
Step 3
Search for the file called su. and delete it. If there is no such file, just skip to next step.
Step 4
Open xbin folder that belongs to system and delete the file named su.
Step 5
This time go to app folder that is also in system and delete the file labeled Superuser.apk.
Step 6
Then restart your Android phone. If you check root status, you will discover that the phone has been unrooted.
Conclusion
This article has introduced how to root Android phone. The biggest advantage of rooting is let you control your phone totally. But you have to take the greater cybersecurity risks. So before rooting, you'd better to back up your Android phone. Tipard Phone Transfer will help you backup quickly and effectively. After preparation, there are many rooting tools available to Android users. We introduced how to use Towelroot, Kingo Root, and KingRoot to root Android phone. You can make your decision depending on your situations. If you want to go back after rooting, the last section introduced a simple way to unroot Android phone.