Top 10 Root File Managers for Android Device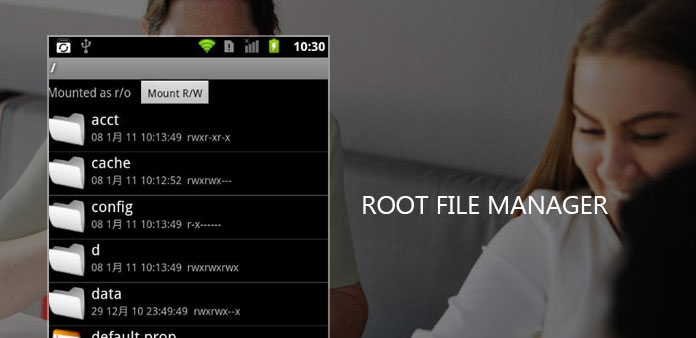 Many people choose to root Android devices for get more right of controlling; however, rooting alone cannot obtain the privilege you expected. So, you can try some root file managers. Generally speaking, people root their Android phones to remove pre-install apps, transfer apps to SD card, expand internal memory and enhance smartphone performance. Almost all those functions need a powerful root file manager. Therefore, we are going to show you how to manage your files and apps on a rooted Android phone with best root file managers. If you just rooted your Android device, you will find this root file managers are useful.
Part 1: Top 10 Android Root File Managers
Top 1. ES File Explorer
ES File Explorer is one of the best root file managers available in Google Play Store. This free app not only contains all basic file managing functions, but also has the capacity to control any apps on a rooted handset.
1. Access, sort, transfer, rename, copy and paste, remove, backup, or restore any files and folders on rooted Android devices.
2. Compress files and folders or unzip compressed files.
3. Encrypt files and folders with password.
4. Mange media files and transfer them to cloud services, such as photos, music and videos.
5. Hack game apps or transfer apps from internal memory to SD card.
You can explore other useful features of ES File Explorer on your rooted handset.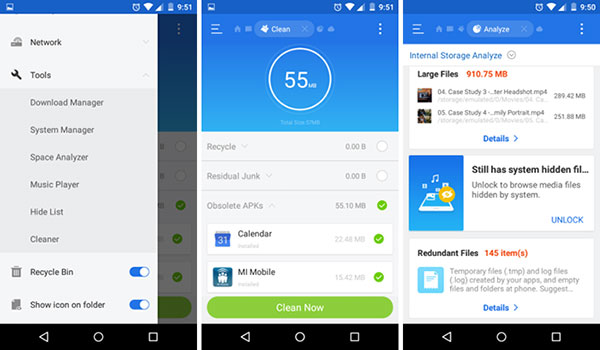 Top 2. Root Browser File Manager
When you are looking for someone root file manager app for Android,Root Browser File Manager is the one you should never miss, it is powerful and effective with so many functions.
1. Change various file permission on your smartphone or other devices, it can even alter ownership.
2. Send all file or batch of files by email so you can easy control date.
3. Create some kinds of new directories and alter those files in ang way you like.
4. Perform all the basic copy, delete, rename, even move functions of your file on device.
5. Add and install all files anywhere you want to on device.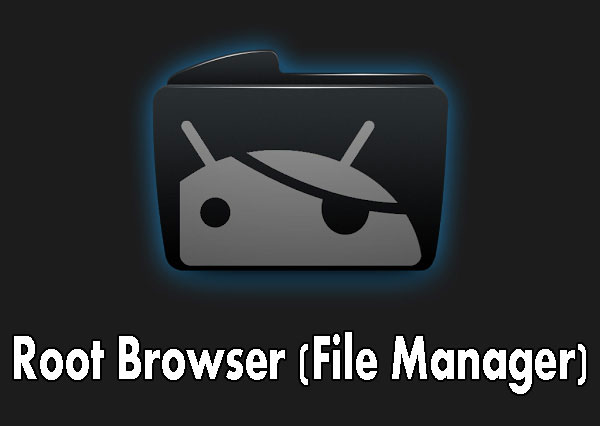 Top 3. Root Explorer Apk
Because Android smartphone might be slow when you are using, so, a good root file manager for Android device is necessary, Root Explorer Apk could help you on it. With its functions, your Android will have good performance.
1. Easily navigate between different locations with only one-click.
2. Support Google Drive, Box, Dropbox, Network (USB), etc.
3. Create and extract zip or tar files on your phone.
4. Build in Text Editor, SQLite database viewer.
5. Send files by email or Bluetooth, etc. Create home screen shortcuts to files and folders.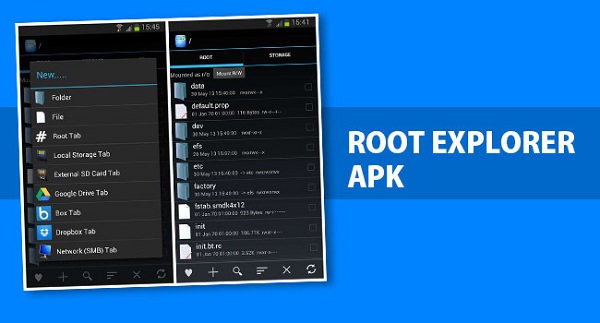 Top 4. Root Explorer
Root Explorer has been one of favorite root file managers for a long time, although it is a paid app. It is a versatile file manager for the rooted users, which allows you to access the whole of Android's file system with ease.
1. Change the file properties, such as owner, permissions and more.
2. Select and adjust multiple files at once, like rename, remove or transfer in batch.
3. Compress files or extract files from RAR archives.
4. APK binary XML viewer
5. Transfer files to SD card, PC or another Android phone.
6. Stream videos to external devices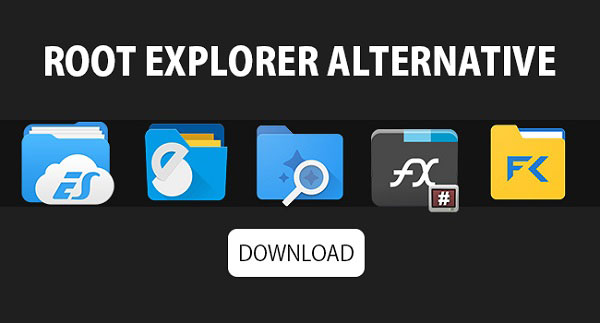 Top 5. Root File Manager
Root File Manager is another excellent file manager for rooted Android devices. Its basic features include:
1. You can rename, copy, move or delete any files and folders with Root File Manager.
2. This root file manager could unzip compressed files.
3. It has the capacity to display thumbnail of pictures for sort and management.
4. Users could share, transfer or export files within this app directly.
5. Root File Manager supports multiple languages.
6. It allows you to adjust file properties.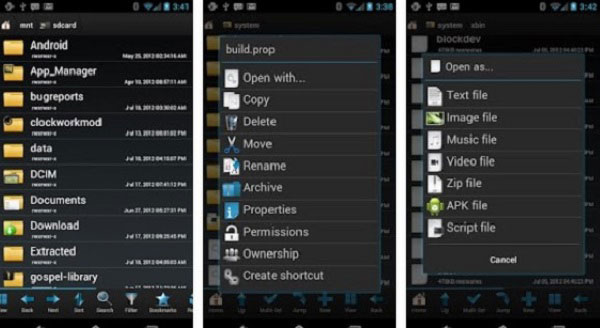 Top 6. X-Plore File Manager
Unlike other root file managers, X-Plore File Manager has dual-pane and allows you to manage files on two windows at once. Its principal features include:
1. It allows you to access major cloud services and transfer files to them directly.
2. The dual-pane makes file and app transfer more directly.
3. Within X-Plore File Manager, you can edit system apps easily.
4. It supports various file types and network storage, such as FTP, SMB and DLNA/ UPnP.
5. X-Plore File Manager also has a built-in hex editor.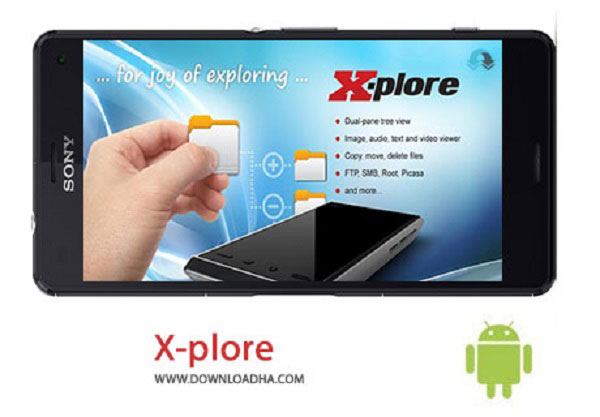 Top 7. Solid Explorer
Solid Explorer is a new app among root file manager, but it has grown in popularity. Its key features include:
1. It allows you to access all files and folders on rooted Android devices, such as game app files.
2. You can transfer, move, rename, delete files as you wish.
3. This root file manager also has the ability to compress or decompress files.
4. It could stream videos to Chromecast.
5. This app supports FTP, SFTP, WebDav, SMB, and CIFS.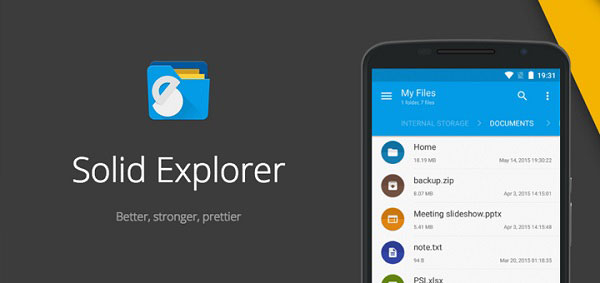 Top 8. File Explorer Root Browser
File Explorer Root Browser is the fully features root file manager, which take full control over the Android device and root files and folder.
1. Explorer and access all of your Android's root directories and subdirectories with the advanced root browser.
2. Access and share the files to Box, Dropbox, Google Driver and One Driver.
3. Customize the colors, themes, icons, layouts and icons.
4. The advanced root browser includes SQLite database editor, APK analyzer, multi-pane navigation and more.
5. The root file manager APK also has audio/video/app managers.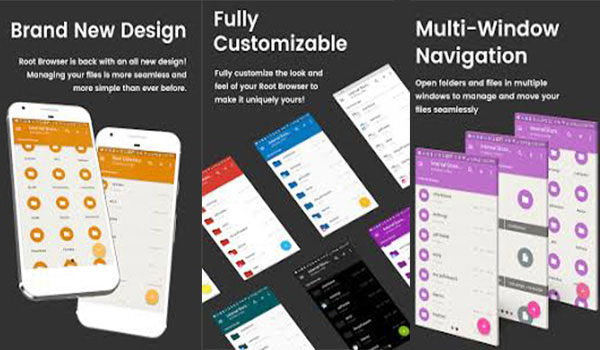 Top 9. File Manager
File Manager + is the root file manager for Android developed by Flashlight+ Clock. And then you can manage your files and folder in device, NAS and cloud service.
1. Manage the files on both the local folder as well as the cloud storage.
2. Support all the explorer action, such as open, search, navigate directory, copy and paste, cut, delete, rename, decompress and organize.
3. Full control over media files, major file formats as well as APK files.
4. Access remote or shared storage, such as NAS and FTP server.
5. Analyze local storage to clean up the useless files.

Top 10. File Explorer
File Explorer of NextApp has a Material design UI and new ways to transfer files between Android and computer. Just check the features of root file manager as below.
1. Multiple Windows support, which enables you to view two windows at once.
2. Support for most file archive formats.
3. Access to network computer, including FTP, WebDAV, and SMB.
4. Browse audio content, playlists, albums and artists.
5. Connect to cloud service to backup files and folders.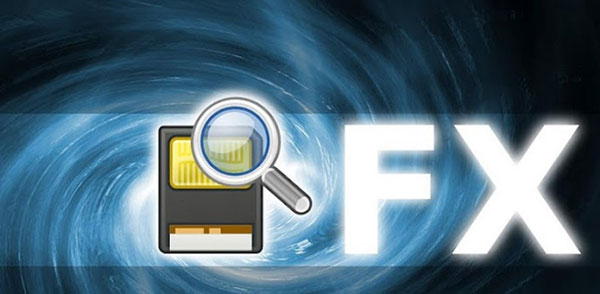 Part 2. How to use Root File Manager – Root Explorer
1. Change folder properties
Step 1: Swipe the toolbar from left, open Tools menu and choose Root Explorer.
Step 2: Choose Mount R/W to mount system files as R/W within the Root file manager.
Step 3: Select a system folder and tap on the Properties. Then you can change permissions as you wish.
2. Uninstall pre-install app
Step 1: Open Root Explorer from Tools section and choose Uninstall system app from the floating window.
Step 2: When the system app list shows up, choose any app you want to uninstall and tap on the Uninstall button.
3. Backup and restore app
Step 1: If you are not sure, you can back up the app and data before uninstall. On the Root Explorer window, choose Backup app and data. Select the system app you want to back up from the app list.
Step 2: When you discover you need this app after uninstall, you can restore it from backup. Go to Library and choose Apps, touch address bar to switch to Backed-up Apps. Then you can choose the app and re-install it with cached data.
4. Edit hosts file
Step 1: Similar to Windows, Android has a hosts file for mapping host names to IP address as well. Editing hosts file could block or unblock certain websites. Locate to the Hosts file within this root file manager.
Step 2: Select the hosts file, tap More on toolbar and choose Open As a text file. Then you can edit the hosts file as you wish.
Conclusion
After rooting an Android device, you will need a powerful root file manager to help you access root. There are many file manager apps on market. It is a waste of time to test every app and discover the most appropriate one. In this post, we have identified and share top 5 root file manager apps available in Play Store. You can browser the introductions and comparisons above and make a better decision. Moreover, to help you understand how to manage files on a rooted Android phone, we also posted a tutorial in the first part.