How to Restore Mac to Factory Settings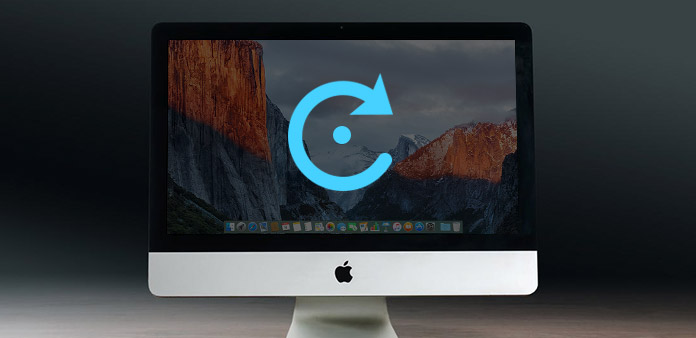 Restoring Mac to factory settings is a useful way to solve a series of problems. For example, you find your computer has been running slower and slower. A lot of factors could cause such annoying phenomenon, like virus, system problems, incompatible applications, and so on. It is a waste of time to investigate every factor. Retrieving Mac to factory settings seems more quickly. On the other hand, resetting to factory settings is a good way to clean our personal information from the system. After resetting, even data recovery software can not recover the personal information. So resetting factory settings could protect our privacy as well. Easy said than done! It is still a difficult task for ordinary people to restore Mac computer to factory settings. Therefore, this article just introduces how to restore Mac factory settings in details.
Part 1. Backup Mac hard drive
MResetting Mac to factory settings means to wipe all files, data, information and applications out of your Mac computer. So you may need to back up some important files or clone the whole computer to an external drive or other devices. There are many backup and hard drive clone programs, like Carbon Copy Cloner. You can find the similar process to use these programs, check out more detail about the process as below.
How to clone Mac hard drive with Carbon Copy Cloner
Considering most new external drives use Microsoft Windows FAT32 or NTFS file system, you have to reformat your external drive first. Visit the Disc Utility in OS X and reformat the external drive with Apple's HFS+ file system.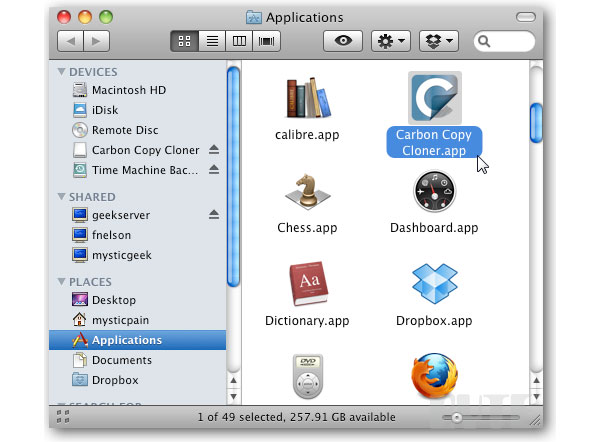 Step 1

Plug the external drive to your Mac computer. When the window pop up and request Do you want to use to back up with Time Machine, select Don't Use.

Step 2

Press GO on the ribbon of Finder and open Utilities. Find out Disk Utility and open it before restore Mac to factory settings.

Step 3

In Disk Utility, select your external drive on left section, choose 1 Partition in Volume Scheme and drop a name of the external drive on the right panel.

Step 4

Press Options and check GUID Partition Table in options box. Click on OK to back to Disk Utility and press Apply. Select Partition in the confirmation dialog to reformat the external drive.

Step 5

Open Carbon Copy Cloner in Applications folder after installed. Choose Macintosh HD in the drop-down list of Source Disk. Select your external drive in Target Disk drop-down list. And pick up Backup everything in Cloning options.

Step 6

Press Clone button on the bottom and enter your user password to start cloning.
Part 2. Turn off Programs
In order to restore Mac to factory settings successfully, there are some preparations besides backing up data of your Mac, like Turn off FileVault, Disable iCloud and De-authorize iTunes.
Turn off FileVault
The function of FileVault is to encrypt files on your computer. When you reset Mac to factory settings and wipe files from Mac computer, FileVault may become an obstacle. So you'd better to turn it off. On the other hand, you already back up your files to external drive, so you do not need to worry about security issues.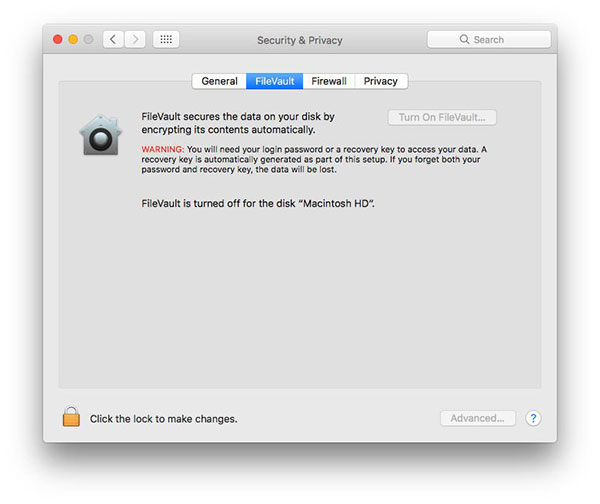 Step 1

Launch System Preferences and select Security & Privacy

Step 2

Choose FileVault tab. If it shows FileVault is turned off for the disk, you can skip to next section. Otherwise, click on lock icon on the bottom and then press Turn Off FileVault.
Disable iCloud
iCloud is a dedicated cloud service that Apple provides to every Mac and iOS users to expand their memories. We usually store many files in iCloud and allow iCloud to synchronize these files to Mac computer. If you do not disable iCloud, it will restore the files to Mac computer automatically after resetting.
Step 1

Return to System Preferences and Choose iCloud.

Step 2

Click on Sign Out Now. Then you can erase personal data.
De-authorize iTunes
We usually link Mac computer to iTunes account. Then we can play music and enjoy movies that in our iTunes account. If you do not de-authorize iTunes on your Mac computer, after reset Mac computer to factory settings, it still could visit contents in your iTunes.
Step 1

Open iTunes application.

Step 2

Navigate to Account and select Authorisations.

Step 3

Tap on De-authorise This Computer and type in your Apple Account to confirm De-authorise.
Part 3. Reset your Mac to factory settings
During the whole process, make sure your Mac computer connects to Internet, so you can download the latest version of Mac OS. Remember that not enter your Apple ID and password during install process.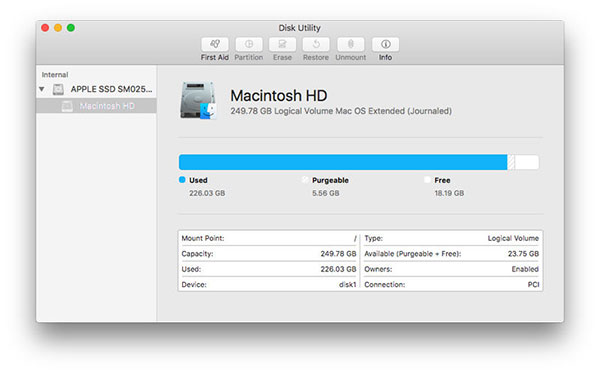 Step 1

Restart you Mac computer and press Command + R to activate the Recovery Mode Utilities window.

Step 2

Choose Disk Utility and press Continue to go on.

Step 3

Then Select Macintosh HD and tap on Unmount.

Step 4

Open Erase tab and click on Erase button to clean hard drive permanently. When completed, quit Disk Utilities.

Step 5

Then click on Reinstall Mac OS and follow the onscreen instructions. Even though you do not prepare to sale your Mac computer, recover Mac to factory settings has other benefits. We might install some programs and then uninstall. That process will produce many problems, like virus infection, wrong codes, and so on. And sometimes, you cannot upgrade latest version of Mac OS successfully. These problems could slow down your computer's speed gradually. At this time, it is an all-in-one solution. After restore the latest version of Mac OS, you can enjoy a perfect Mac computer again. And you can restore the necessary files to your computer, because this article has told you how to back up your Mac computer before resetting.
Recommend: Tipard Windows Password Reset Platinum
If you've forgotten or lost your Windows password for a local account and need to sign back in to your device, there are multiple ways to perform a password reset in Windows. One of the most efficient ways is to use a Windows password recovery tool, like Tipard Windows Password Reset Platinum to perform the task. Tipard Windows Password Reset Platinum can quickly reset Windows local user password and local administrator password for Windows OS 10/8/8.1/7/Vista/XP. In addition, it offers two resetting methods. You can choose to reset password with a bootable CD/DVD, or reset password with a bootable USB drive. In this way, you login on your Windows computer again.
Conclusion
This article introduced how to restore Mac to factory settings in details. That is a useful skill for Mac users. Apple has released Mac Book Pro in 2016. The touch bar version attracts a lot of people. They upgrade their Mac computers to Mac Book Pro. Most people choose to sale the old Mac computer online. However, when you give your Mac computer to a straighter, you may put your personal information in other's hand. That sounds too dangerous.