Nook vs Kindle – Use Less Money to Get Better Reading Experience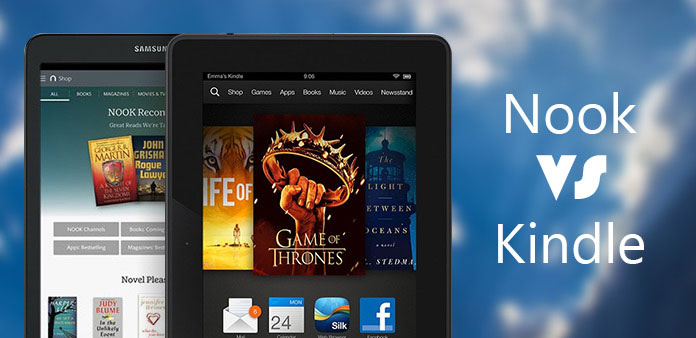 The main reason people prefer an e-reader instead of a tablet is to avoid distractions outside. With long battery life and high resolution screen displaying, eBook readers have gained many loyal users. At present, there are two well-known reader brands, which have established complete eBook libraries and e-readers in real products. So here comes the question, which e-reader is better, has been the frequently asked question online.
Many Nook and Kindle users have shared their personal reading experience of Nook or Kindle. To offer readers simple and useful information of Nook versus Kindle devices, I collect mainstream comments and translate in personal expressions of Kindle Paperwhite and Nook GlowLight Plus. Therefore, you can compares following items, which may work as important references, during Nook and Kindle comparisons.
Part 1: Basic Information of Kindle and Nook Comparison
Before the battle of Nook vs Kindle begin, I want to explain reasons to set Kindle Paperwhite and Nook GlowLight Plus as represents. The primary explanation is their similarities, including price, weight, screen size, battery life and screen resolution. For people who focus on other e-reader points, things may become easier to solve. As a result, I search and record latest 2017 Nook vs Kindle items, with which you can get a brief realization of them first.
| | Kindle Paperwhite | Nook GlowLight Plus |
| --- | --- | --- |
| Price | $119.99 | $129.99 |
| Screen size | 6.7 × 4.6 × 0.36 inches | 6.4 × 4.7 × 0.34 inches |
| Weight | 7.2 ounces | 6.9 ounces |
| Resolution | 300 ppi | 300 ppi |
| Battery life | Weeks | Weeks |
| Connectivity | Wi-Fi & 3G | Wi-Fi |
The selling point of Nook GlowLight Plus is its waterproof screen. There is a test about the Nook waterproof performance – the researcher put the Nook GlowLight Plus under water for 30 minutes, with its screen opened, and nothing damaged. As a result, you can bring the Nook e-reader to beach or even shower, for people who are addicted to reading all day long. And now, I will analyze features and specific items above, to offer you a real Nook vs Kindle customer report.
Part 2: The Nook and Kindle Comparison Side by Side
1. Battery life
The report from the official Nook and Kindle sites announces that their products can last up to 6 weeks for a single charge, based on the assume of 30 minutes reading time per day, without wireless connection and one page refresh per minute. If you jailbreak e-readers to watching videos, then the battery life will reduce fast as digital tablets do. The built-in reading light enables readers to against dark surroundings or even black room. In addition, the Amazon Kindle Oasis can hold up to 8 weeks in the same situations, of course, it is much expensive than Kindle Paperwhite and Nook GlowLight Plus do.
The battle of Nook vs Kindle: Both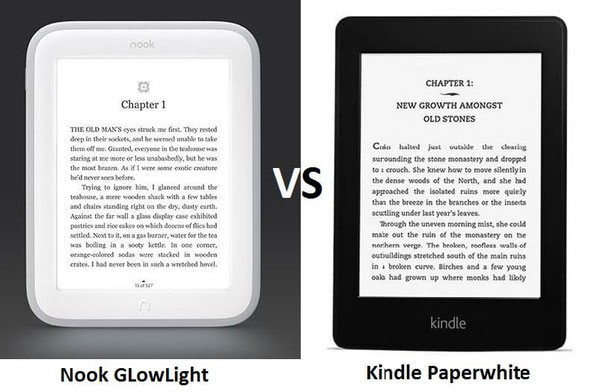 2. Connectivity
Though there are many places, which offer wireless connections already. But nobody can stay with Wi-Fi all the time, right? What if the wireless connector has broken, or you can going outside, and need to purchase latest eBooks from online store? The 3G connection setting enable users to have one more method, to face emergency cases. Therefor, if you are people who like traveling and use e-reader as major fun to kill time on the road, then choosing Kindle Paperwhite is better.
The battle of Nook vs Kindle: Kindle
3. Price/ Cost
You can get the result from the tablet above that Nook GlowLight Plus is $10 higher than the Amazon Kindle e-reader does. For most readers, the first thing after ordering e-reader online is to buy the book cover online as fast as possible, to prevent anything potential hurt. Well, maybe not everybody needs to do this, but I am not rich enough to afford a second e-reader, so. If you order the Kindle Paperwhite book cover on Amazon, it will cost you $39.99, and Nook GlowLight Plus cover for $24.95. Moreover, many people reflect that the prices of books sold in Barnes & Noble are much higher than Amazon Kindle store does.
The battle of Nook vs Kindle: Kindle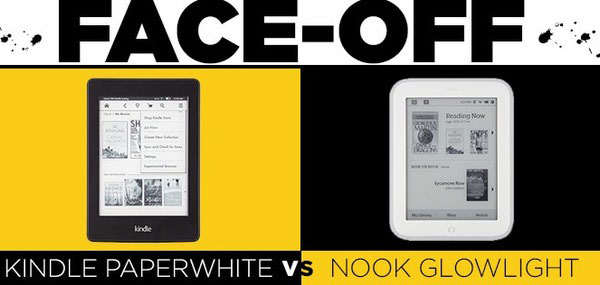 4. eBook Format Support
I know there are many eBook file format converters online and offline, in free or paid versions. And once you bought eBooks through the associated eBook store, it does not matter actually, but it just convers certain users without much deeper usage. For people who have the need to sideload documents, the wider file format choices can simplify eBook conversion processes.
Kindle: AZW3; AZW; TXT; PDF; MOBI; PRC; HTML; DOC; JPEG; GIF; PNG; BMP
Nook: EPUB; PDF; JPG; GIF; PNG; BMP
The battle of Nook vs Kindle: Kindle
5. Anti-Glare
Anti-glare is the useful function to help you prevent the reflection of sun and strong light. Not like normal iPad tablets, your screen will not be darken even though you hold Kindle Paperwhite to read under the shiny sun. So the black and white screen is more suitable for outside reading.
The battle of Nook vs Kindle: Kindle
Part 3: Which E-Reader to Choose – Kindle Paperwhite or Nook GlowLight Plus
After comparing so many aspects of Nook vs Kindle about differences and similarities. You can get the primary impression which one is better, Kindle Paperwhite or Nook GlowLight Plus. Whether to choose depends on your specific necessaries actually. If you love to read something during bathing, then using Nook GlowLight Plus is water-free, you do not have to be careful to lose the fun of reading. In conclusion, it is hard to tell who is the winner for everyone, but you can select and set it to be the winner of your reading tablet.