Install Google play on Kindle Fire with/without Rooting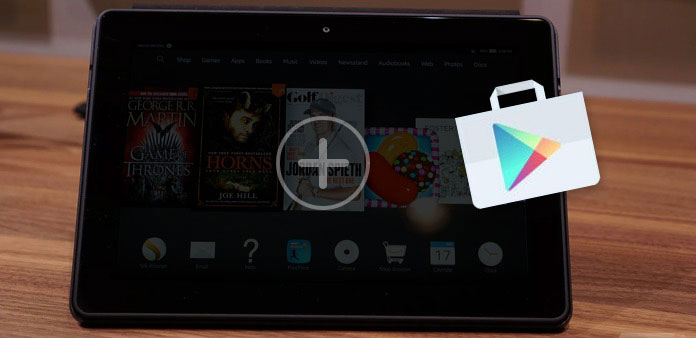 The original purpose of most people to buy Kindle Fire is to get better reading experience, with long battery life and high-resolution screen. Though the Kindle Fire support users to watch videos and listen to music, installing applications from Google Store could make full use of built-in Kindle Store.
The old-timey fact is that only you boot the Amazon device before, can you install Google play on Kindle Fire. So if you have not jailbreak your Kindle Fire, you did not have opportunity to download and install any Android app.
At present, there is also new released method, to install Google play on Kindle Fire without rooting either, no PC and rooted Kindle Fire device. To get step-by-step Kindle Fire Google play installation, you can follow the Google play on Amazon install guide here.
Part 1. Think Twice Before Rooting Your Kindle Fire Device
The original Kindle Fire device is similar with the small library, with thousands of eBooks gathered together. There are no more extra applications for you to surf the Internet, or chat with friends. It is the Amazon reading tool mainly designed for people who have the difficulty to focus on reading. But if you want to root Kindle Fire and install Google play on it, think twice before jailbreak.
Pros: change your Kindle Fire into the standard Android version, and remove lockscreen ads, with which you have the right to customize the screen background image. And it becomes easy to set your Kindle Fire as second Android tablet as well.
Cons: you will lose the warranty after you root your Kindle Fire, or things will even be worse, you may brick the Amazon Kindle Fire device.
So even though whether to install Google play on Kindle Fire without rooting or not depends on you, it will be better if you have considered all above conditions.
Part 2. Get Google Play and Install Android APKs with Rooted Kindle Fire
Through this way to install Google play on Amazon Fire stick, you need to root Kindle Fire first, if you have no idea how to root Amazon Kindle Fire in easy steps, you can read the articles by tapping the above hyperlink for help.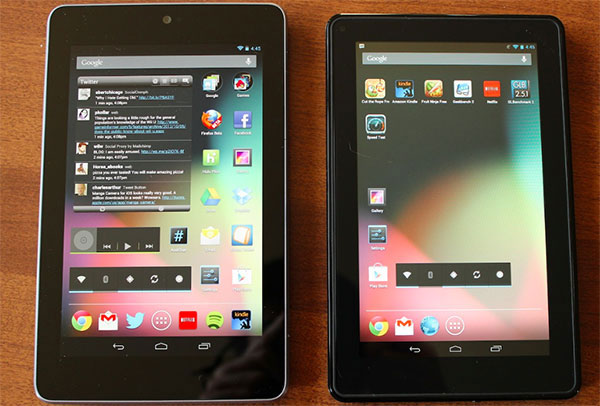 Android applications you need to download
Google Service Framework; Google Login Service; Google Play Service; Vending; Google Play Store; ADWLauncher EX
Download all of these applications together and put them into one folder for easier organization later. In addition, ES File Explorer is a quit good choice, to mange all files in order.
Process to install Google play on Kindle Fire after rooting
Prepares: Go to Settings, to find Security and then enable Apps from Unknown Sources.
Step 1

Prepare to install Google Service, Google Login Service and Google Play Service under Apps list in ES File Folder.

Step 2

Install Vending apk later. Follow the steps to click or tick related options: Fast Access > Tools – Root Explorer > Mount R/W > Path / > / system > RW. Now you can click Vending apk and paste it by /system/app path.

Step 3

Install Google play store apk, and when you see the window names replace application, tap OK to move on.

Step 4

Install ADWLauncher EX apk. Press the home button, and you will see the pop up window, choose ADWLauncher EX and tick Use by default for this action option below.
Then your Kindle Fire has installed Google play store already. With all these finished, you can download and install any application from Google play without limitations.
Note: For people who may want to go back original Amazon Kindle Fire style, just choose More > Applications > Third party applications > ADWLunucher EX > clear data.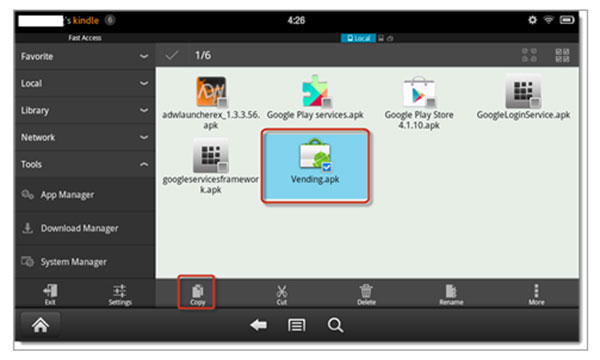 Part 3. Install Google Play on Kindle Fire without Rooting
If you hold the opinion that rooted Kindle Fire may not be better than original Kindle Fire, then there is another way to download and install Google play without rooting, to get rid of unsafe factors. The only thing you need to prepare is USB lightning cable and Mac or Windows computer. And I am sure that everybody can prepare them without too much effort.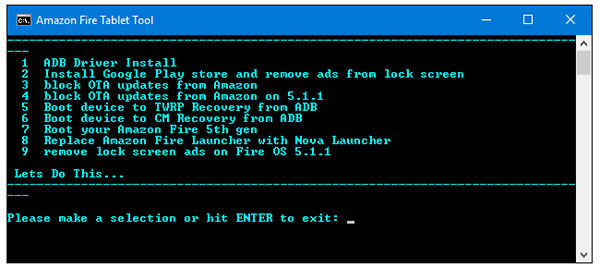 Process to install Google play on Kindle Fire with Mac or Windows computer
Prepares: Go to Settings, to find Security and then enable Apps from Unknown Sources.
Step 1

Enable developer options by Settings > Device Options > Serial Number > Developer Options in order, and you can enable ADB by Developer Options and Debugging options by the way.

Step 2

Connect your Kindle Fire with computer, and download RootJunky's SuperTool, to confirm and continue ADB debugging mode. Now launch the first batch file to run1-Amazon-Fire-5h-gen.bat.

Step 3

Then you will see Amazon Fire Tablet Tool window, with the blur list shown on your screen. Press 1 and hit enter to move on. At this time, you can see the second screen, press 1 and enter key as well. When you see the third window, hit any key to continue.

Step 4

The Windows device manager will run automatically, and you need to open Universal Serial Bus Devices. Right click it to get Update Driver Software. Later, choose these options in order, Browse my computer for driver software > Let me pick from a list of device on my computer > Have Disk > usb_drivers >android_winusb.inf > open > OK.
Though the screen with codes seems kind of serious, but if you read carefully, you will find that these are not hard to understand. No extra requirements just press single keys, and then you can install Google play on Kindle Fire without rooting within several minutes.
No matter you install Google play store to have fun because of its long battery life, or for higher reading experience, hope you can enjoy the Amazon Kindle Fire as expected. If you have anything unclear, feel free to contact us, or to leave your questions below.