Learn New Features of Super-size iPad Pro from Apple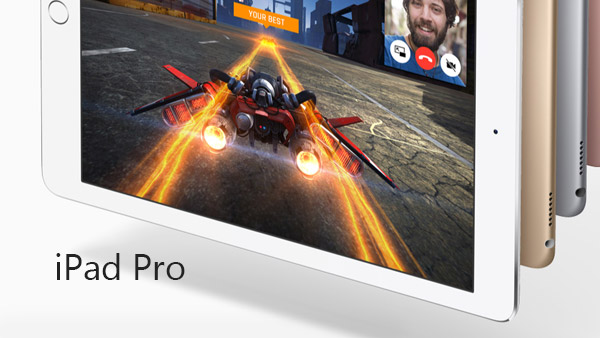 On September 10, 2015 of the Apple press conference, Apple officially released the iPad Pro which is long-awaited by Apple fans.
Apple CEO Tim Cook said "It's the biggest news in iPad since the iPad" at its launch event in San Francisco, the large iPad Pro is a new 12.9-inch tablet and powered by the new A9x 64-bit chip. It's thin as the iPad Air. Besides, running on Apple's latest software – iOS 9, working with a stylus – Apple Pencil, equipped with a smart keyboard accessory. It was launched alongside an updated iPad Mini 4 and has lower pricing for the rest of iPad line-up. Let us know iPad Pro in details.
Exterior Design
The new iPad Pro has the design of 12.9-inch screen which can have a full size keyboard on it. The 12.9-inch screen boasts a 2732×2048 pixel resolution Retina display which is big enough to view two app side by side. It feels like a laptop with the big tablet. In contrast, it's not exactly for taking on the go due to the huge size. The new iPad Pro weigh 1.57 pounds (713 grams) which has the same weight as the original iPad. It's at 6.9 mm thick which has a little cumbersome to hold it with one hand.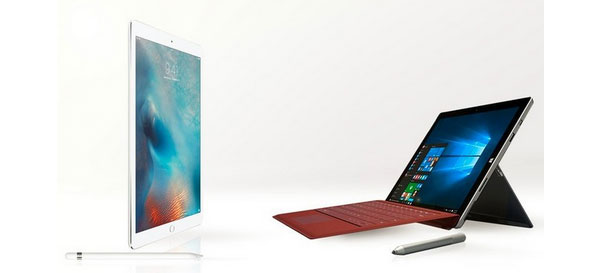 New Function Deployment
In terms of performance, the new iPad Pro processor uses A9x, which has twice times faster than A8x. And the A9x chip will perform 1.9 times faster than its smaller counterpart, with graphics performance faster than 80 percent of portable PCs, according to Apple. It also can offer you about 10 hours of battery life.
In addition, the new iPad Pro also joined the newly designed Cover. This is an external physical keyboard in addition to protection features. This Keyboard of Cover not only has a stable button design, iPad Pro also can judge for them whether to start virtual keyboard or a physical keyboard through magnetic link.
The iPad Pro also supports a pressure sensitive stylus, its nib is set precision sensors, which can capture a variety of actions, such as the pressure, tilt and tap. It also supports you use when your finger touch iPad Pro simultaneously. Pencil's life time can last several hours which supports the insertion of iPad Pro to charging. And the powerful Apple Pencil can promise more accuracy for graphics and photo work.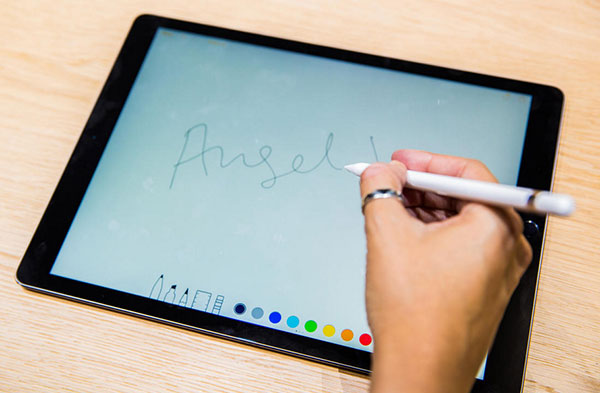 The smart keyboard, especially for iPad Pro, it is made from woven fabric and when unfolded as a cover, it reveals a physical keyboard that magnetically attaches to three small circles on the side of iPad Pro. According to Apple said, the iPad Pro is well suited to run Microsoft Office Software and dedicated apps from Adobe.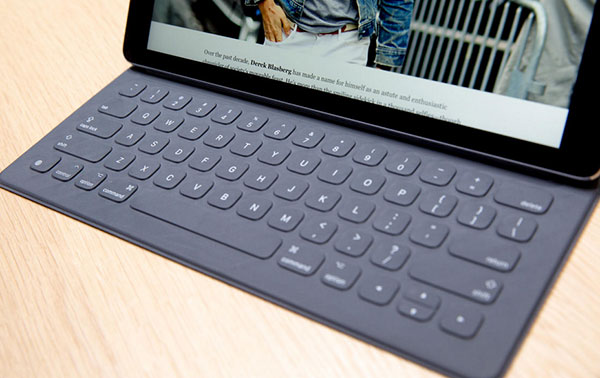 Operating System
iPad Pro equipped iOS 9 operating system, and add new function of Split View, etc.
Storage and Price
The Apple iPad Pro has several colors, such as silver, gold, and space grey. The iPad Pro will start at $799 with 32 gigabytes of storage, $ 949 for the 128GB, $1079 for the 128 GB LTE model launched in November. In addition, the keyboard will start at $169 and the pencil will cost $99.
Let us expect the sale of iPad Pro and try its new feature.