Compare Apple iPad Pro and Microsoft Surface Pro 3: Learn Differences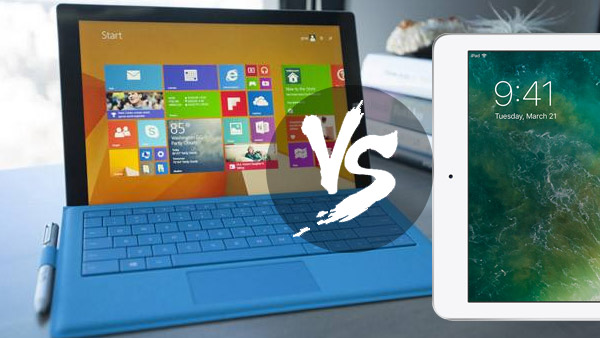 Apple's new fall conference gives us the largest of the Tablet iPad Pro by far, It increases a large performance coupled with designed stylus and keyboard units specially, Apple aims to provide users with better productivity Creation tool. We will think of Microsoft Surface Pro 3 with the launch of iPad Pro. Which products you prefer? Let us look at the following comparison.
With the development of iPad, many people prefer it on work, entertainment and education according to its feature released on conference. We all know the idea of a tablet is pushed by tablet-makers since even before the iPad's original introduction, as useful as a laptop.
The Apple's CEO, Tim Cook announced, the new iPad Pro is an unveiling a new, larger version of the tablet. iPad Pro equipped with a smart keyboard, which looks like the Microsoft Surface Pro 3, and they work similarly on some degree. What's more, the iPad Pro also adds a 12.9-inch, higher-resolution screen designed to be use with two hands, active stylus dubbed Apple pencil, you also can use new feature-packed versions of Microsoft Office, Adobe Photoshop and other APPs. Many people think iPad Pro is a laptop replacement.
Microsoft Surface has a larger 12-inch display and high screen resolution. It is easy to set up and use with a new kickstand, it also provides the keyboard, remains a best-in-class example. It also includes a digital pen. Microsoft start to lean even more toward the laptop side, with a new kickstand and touch cover that allow you to work at almost any angle. Microsoft is said to be planning an October 2015 introduction of its next table, which is very likely to be called Surface Pro 4.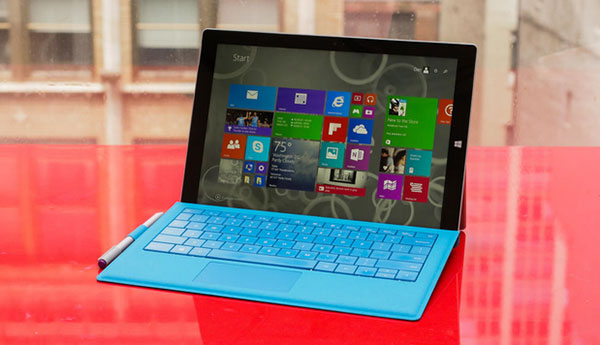 As a professional tablets and hybrids which use Microsoft Windows, these devices can run exactly the same desktop applications as laptops and desktops.
For both devices, let us compare their features between iPad Pro and Microsoft Surface Pro 3.
Base model price (in US dollars, plus keyboard and stylus if available)
Apple iPad Pro: $1,067 ($799 + $169 + $99)
Microsoft Surface Pro 3: $928 ($799 + $129)
Screen size/resolution:
Apple iPad Pro: 12.9-inch; 2,732×2, 048
Microsoft Surface Pro 3; 12.0-inch, 2,160×1, 440
Processor:
Apple iPad Pro: Apple A9X
Microsoft Surface Pro 3: 1.5GHz Intel Core i3
Storage/RAM:
Apple iPad Pro: 32GB/RAM unknown
Microsoft Surface Pro 3: 64GB/4GB
Weight:
Apple iPad Pro: 1.57 pounds (713 grams);
Microsoft Surface Pro 3: 1.76 pounds (798 grams); 2.42 pounds with keyboard cover
Battery life:
Apple iPad Pro: 10 hours (Apple estimate)
Microsoft Surface Pro 3: 7:28 (CNET battery drain test)
Apple iPad Pro:
Potentially able to replace laptops and hybrids for many productivity tasks, but it remains to be seen if it feels practical for all-day, every day use, or if app switching and file management will be awkward.
Microsoft Surface Pro 3:
Works better when paired with its keyboard cover, as Windows still feels more at home on a laptop or desktop than a slate, but it offers the best of the Windows experience in a very portable package.