Forgot iTunes Password – Retrieve and Reset New Password With Ease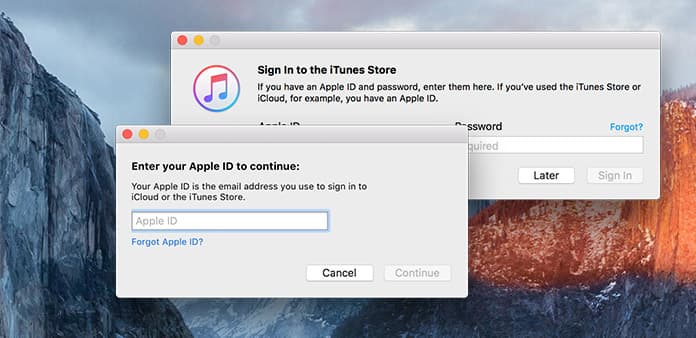 Passwords are the keys, which is the only way to open the door. If you forgot iTunes password, then you will fail to open purchased audios. As many people prefer to use their Apple ID as iTunes usernames, thus, things will be even worse. You cannot get attach to the APP Store, FaceTime, iCloud and all Apple products. As a result, it is emergence to retrieve iTunes password. Or to be more serious, you need to reset a new iTunes password, which can be easily remembered. After you recovered iTunes password or Apple ID, it is necessary to record them on paper. In case you lose Apple ID again.
Retrieve iTunes Password by Email/ Answer Security Questions
There are several ways to find Apple ID password, even though you have no idea about it. If you want to figure out iTunes password on PC or Mac computer directly, sending email is the first choice. Or you can choose to answer security questions to retrieve Apple account. As for me, when I fill in the security question blanks, I will always write some strange answers. Thus, sending email to get Apple ID password will be better.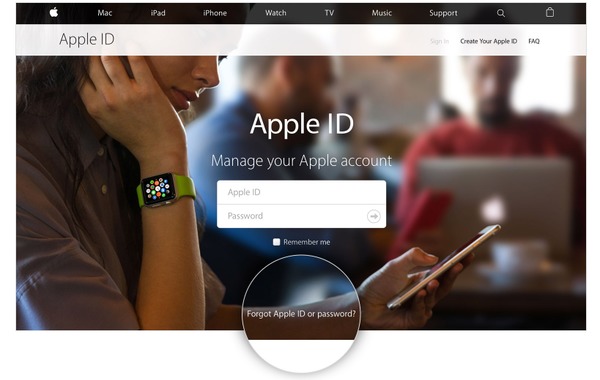 Step 1
Turn to the Apple ID page, and then choose Forget Apple ID or Password.
Step 2
Type your email address associated with the Apple ID. (If you forgot Apple ID account, you need to click the blue sentence first)
Step 3
You will face two choices, whether to Get an email or Answer security questions. That depends on you. Click Continue to move on.
Step 4
If you choose email verification, you need to turn to your email box. Or you have to select the birthday first, and then answer the following two questions.
After you reset iTunes password, you have better sign in the Apple ID again. Set to remember the new Apple ID password if you are sure nobody will use your computers and mobile phones.
Reset iTunes Password via Two-factor Authentication
If you enable two-factor authentication before, you can try a new way to find iTunes passwords. At this time, you have more devices to operate. You can insist to work on website or use iPhone or iPad. Though it may be little different during changing iTunes password.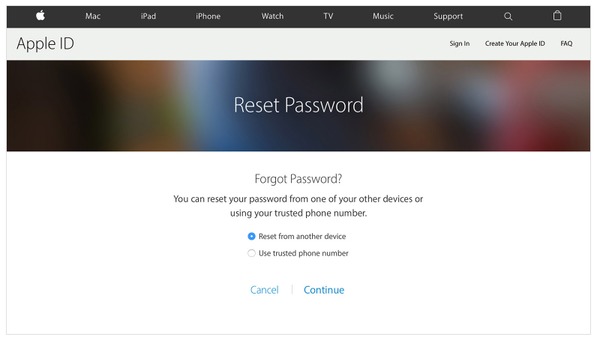 Step 1
Turn to the iforgot page of Apple ID, fill your Apple ID username (usually to be email address) to reset Apple ID password.
Step 2
Click Reset from another device or Use trusted phone number.
Step 3
Choose Allow no matter which iTunes password retrieve method you prefer.
Step 4
Tap Start account recovery to follow step-by-step Apple password reset guide to change it manually.
As for resettinging iTunes password on your trusted iOS devices, you can get two ways. The common process is to go to Settings to find iCloud. Application. Click Forgot Apple ID and password option to follow the guide. Or you can fill in your Apple username, choose Password & Security and then click Change Password to create a new Apple password.
Rediscover iTunes Password using Two-step Verification
If you have set the two-step verification to protect your Apple ID, then you can reset iTunes password in another way. There are two steps you need to do during changing it. The first one is select the trusted devices, and then reset new password. The only situation you will fail is that you cannot enter the trusted device. No matter you lost recovery key or access, it means you are refused to update password in Apple devices.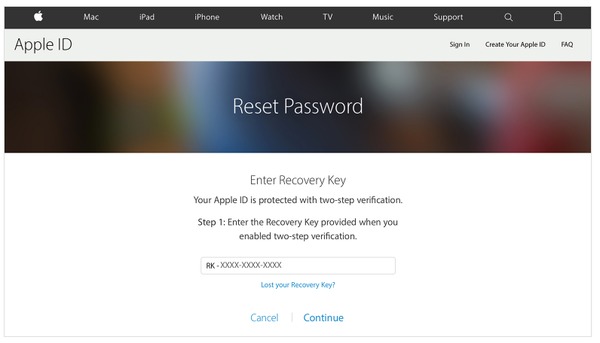 Step 1
Search Recovery Key of Apple ID website, type your Apple ID account first.
Step 2
Choose one trusted device to receive the verification code, click Next to continue.
Step 3
Type your verification code, next select Reset Password to change new one.
You can store the changed iTunes password by Password Manager, or write down on the notebook to store. To make sure the new iTunes password works, you need to sign in with iTunes to check.
Change Apple ID Password/ Find Apple ID Account
For people who want to change Apple ID password, there are several ways for them to choose. But if you just want to figure out the forgot Apple ID password, think twice before updating the password. To avoid someone who register the Apple ID password long time ago, it is necessary to point out some tips.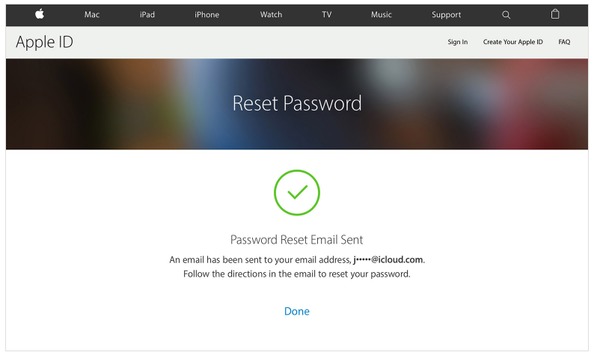 ◆ The new Apple ID password must contain at least eight characters, one number, one uppercase letter and one lowercase letter.
◆ Remember not to use space or repeat the same character three times.
After knowing that, if you still insist to change Apple ID password, just follow the bellowing guide to operate. Resign in all Apple products to update and check its correct.
Step 1
Find the Apple ID account page to sign in. this process based on you have retrieved your Apple ID password.
Step 2
Click Change Password from the Security section.
Step 3
Fill in the original Apple ID password, and type the new password, do not forget to confirm.
Step 4
Choose Change Password to finish.
Find Apple ID Account
Things seem to be solves. There is no need to worry about Apple ID password. But what about Apple ID account? If someone forgot Apple ID account and password permanently, does it mean that he or she cannot be an Apple user? Be patient and repeat the guidance, you can retrieve your Apple ID account too, just as easy as resetting iTunes password.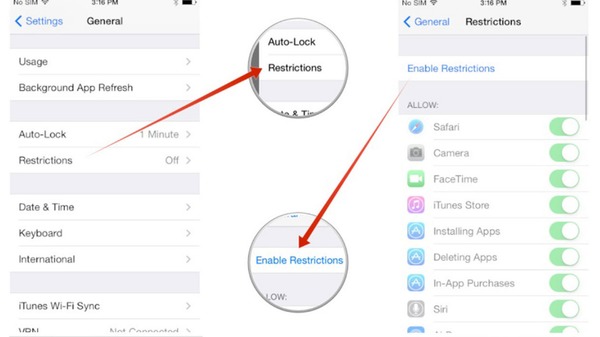 Step 1
Find your Apple ID account website.
Step 2
Choose Forgot Apple ID or password option below.
Step 3
Select Forgot Apple ID icon.
Step 4
Type your first name, last name and email address to retrieve your Apple ID account.
Actually, you can open all Apple applications to view whether you have been signed. Go to Settings on iPhone, iPad and iPod touch, or find Apple menu on Mac computers. Choose View Apple ID to know. Moreover, if you purchased audios in iTunes before, you can get Apple ID account information by purchases.
Parental Controls to Lock APP Store with a Password on iPhone and iPad
It is the way to prevent your kids view or purchase something improper or unnecessary. Unless you type the password, or they cannot attach anything you prohibit. Therefore, you can feel free to leave your iPhone to kids, with nothing out of security. Now it is time to use restrictions to set the password for iTunes and other applications on APP Store.
Step 1
Go to Setting and then choose General.
Step 2
Click Restrictions icon, after that tap Enable Restrictions below.
Step 3
Set the Restrictions Passcode in four numbers.
Step 4
Select Require Password option to set whether to work 15 minutes later or immediately.
In my viewpoint, choose Immediately will be better, which can protect your credit card completely. It is a nice idea to extend your iPhone's security. When you lose your iPhone on subway stations or other places with many people, the constrictions can help to lock certain important applications in a degree. The only thing you need to keep attention is, remember your parental controls password.