Apple iPad Pro VS Microsoft Surface Pro 4 – Which Tablet is Better in Commercial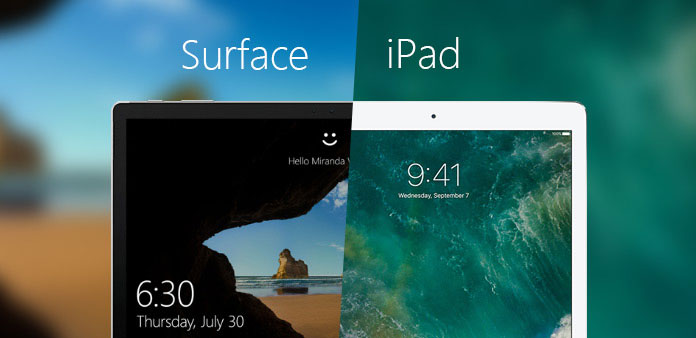 Apple iPad Pro and Microsoft Surface Pro 4 play an important role in business and productivity. If you just compare iPad Pro and Surface pro 4 from the outlook, it is hard to tell which will be better. So to make it clear which tablet brand is more suitable, and what its advantages are, you can read the following iPad vs Surface review of pros and cons. It can be your important considerations for further iPad Pro or Microsoft Surface Pro purchasing. To begin with, I will show you some obvious comparisons of iPad Pro and Surface Pro.
Part 1. The Comparison on Basic Features
#1. iPad Pro
Display: 9.7 inch/ 12.9 inch
Size: 9.4 × 6.6 × 0.24/ 12 × 8.7 × 0.27
RAM: 2 GB/ 4 GB
Storage: 32GB/ 128 GB/ 256 GB
Port: lightning
#2. Surface Pro 4
Display: 12.3 inch
Size: 11.5 × 7.9 × 0.33
RAM: 4 GB/ 8 GB/ 16 GB
Storage: 128 GB/ 256 GB/ 512 GB/ 1TB
Port: USB 3, Mini DisplayPort, microSD card reader
And the price of iPad vs Surface Pro varies too, because of the above tablet comparisons. iPad Pro has 4 colors to choose, from silver, space gray, gold and rose gold. But you have to buy Apple pencil for $99 in addition. And iPad Pro charges from $ 599 to $ 1129, refers to storage, display and connectivity. As for Microsoft Surface Pro 4, you can get surface pen in the box, and the prices start from $799 to $ 1699.
1. Performance and Portability – iPad Pro VS Surface Pro 4
2. Keyboard and Pen - iPad Pro VS Surface Pro 4
3. Battery and APPs - iPad Pro VS Surface Pro 4
4. Tipard Video Converter Ultimate
Part 2. iPad Pro VS Surface Pro 4 in Performance and Portability
From the above iPad Pro and Surface Pro 4 versus lists, you can see that Surface Pro 4 has larger RAM and storage room, for people to store more files. Of course, you can enlarge iPad Pro storage with extra purchase, to satisfy documents storage space. But the RAM of iPad Pro vs Surface Pro indicates you that Microsoft Surface Pro enables users to run more applications simultaneously.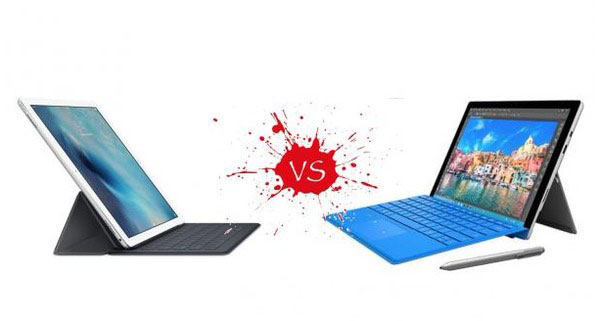 As for design of Apple iPad Pro and Microsoft Surface Pro 4, there are still some differences you can distinguish, for people who are chasing more designable interface and tablets. iPad Pro has round corner and lighter appearance, versus Surface Pro 4, just similar with other Apple devices. And Surface Pro is a common rectangle digital device. So if you hold iPad Pro versus Surface Pro 4 long time to compare, it is true that iPad Pro is better to hold.
Part 3. iPad Pro VS Surface Pro 4 in Keyboard and Pen
Only with keyboard and pen can a tablet be consisted into lightning PC. For iPad Pro users, buying additional Apple pencil and keyboard is necessary. Apple pencil looks like real pencil for you to draw. Therefore, you can design with Apple pencil accurately. Moreover, Apple pencil announces that users can get gorgeous color saturation and resolution, to view vivid images. And the pen of Microsoft Surface Pro 4 seems kind of rough of nib. But you are able to set customizable settings with Surface pen, such as turning the on-screen pointer and etc. in addition, Microsoft Surface Pro pen has eraser button and other functional features. Therefore, the pen comparison of iPad Pro versus Surface Pro 4 is hard to tell. It depends on which part you aims.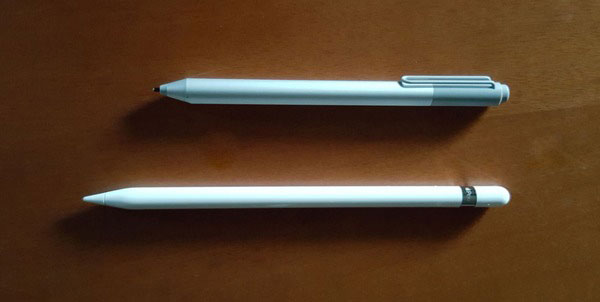 Apple iPad Pro will charge you $149 or $ 169 for two tablet sizes. Your iPad Pro's smart keyboard cover does not offer touchpad. The Surface Pro 4's keyboard costs $129, and you can similar experience of typing on laptop. With built-in touchpad and backlit keyboard setting, Microsoft Surface Pro 4 keyboard has more competitive ability, compares with iPad Pro's keyboard cover.
Part 4. iPad Pro VS Surface Pro 4 in Battery Life and APPs
Apple iPad Pro announces that it will work up to 10 hours, while Microsoft Surface Pro expresses that the video playback will up to 9 hours. It may not be clearly enough to show iPad Pro vs Surface Pro tablet result, thus, there is a research for you, to know the real hours two tablets can work, in daily life. The researchers open Wi-Fi and start surfing the Internet continuously, to test battery ability. The brightness is 150 nits, and other unnecessary apps are closed. The battery research shows that Apple iPad Pro 9.7-inch tablet can work 10 hours and 53 minutes, and the 12.9-inch iPad Pro lasts 10 hours plus 4 minutes. As for Microsoft Surface Pro 4, it can run only for 6 hours and 4 minutes. So in case you have emergency commercial work to do outside, taking the Surface Pro charger will be better.

iPad Pro runs iOS 9.3 operating system, thus many people install apps just as other iOS mobile devices do. The real fact is that you can get millions of applications from the App Store, and it is cheaper than Android alternatives. In addition, there are many apps aims for touchscreen devices. As for Microsoft Surface Pro 4, the operating system is Windows 10. So you can install Windows desktop software on Surface Pro 4 tablet for easy taking in commercial work. As a result, the winner of iPad Pro vs Surface Pro 4 of battery and apps is Apple iPad Pro.
Part 5. Tipard Video Converter Ultimate
Tipard Video Converter Untimate is the all-in-one desktop video downloader and editor. You can download HD movies from YouTube and other popular video sharing sites, after that, it is very easy to covert videos into multiple output video formats. Even though you want to save music, Tipard Screen Capture can help you extract audio from videos and DVDs in original quality. Moreover, there are many fun video convert features you have not know about Tipard Video Converter. If you want to have deeper understanding and interest about video conversion, you can read the following description and try to convert and edit online video by yourself.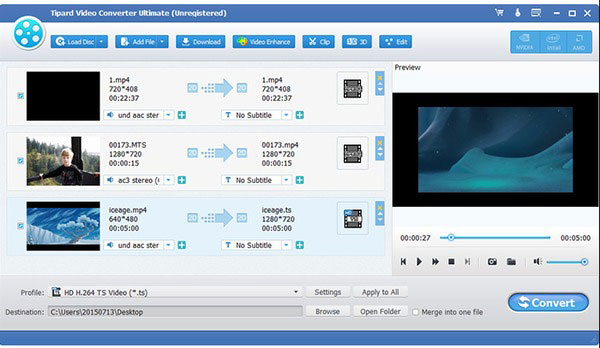 It is annoying to watch movies without subtitles. Even though the charts are clear, some people still enjoy the fun of reading subtitles below, including me. So when you meet downloaded videos with wrong subtitles or none, you can search for appropriate subtitles and synchronize subtitle formats in .srt, .ssa and .ass. Later, Tipard Video Converter supports users to add external audio track in multiple way. Of course, the input soundtrack formats contain MP3, WAV, AAC and etc.
After downloading online videos, you can use built-in edit tolls to rotate video, as well as enhancing video quality by one click. Furthermore, you can get basic video edit filters in here too, to remove black bars, add watermark, adjust brightness, contrast, saturation and more. In Tipard Screen Capture, the video conversion and audio conversion have multiple output formats supported. So feel free to convert output formats.
As for DVD video converting, Tipard Video Converter Ultimate allows users to rip and convert DVD to HD MP4, MKV, AVI and most popular video formats. In Conclusion, Tipard Video Converter Ultimate can convert not only videos online, but also DVDs and downloaded movies. You can also install Tipard Video Converter Ultimate on Microsoft Surface Pro 4 for relaxing and basic video editing.