Open iPhone 4 - Replace Battery and Remove SIM Card Easily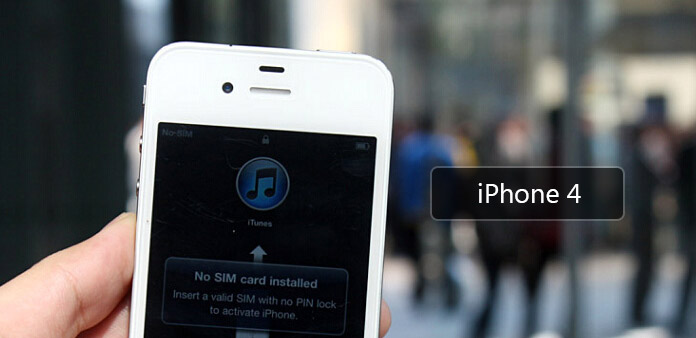 At present, you can see that iPhone 8 has announced that it will be released in September of 2017. No mater how carefully you treasure your iPhone 4, it is unavoidable to face the problem of replacing parts. No matter you want to change screen or replace a new battery, the first thing is to open iPhone 4. Actually, I replaced the battery several weeks ago. To prepare for replacing the new battery, I watched many iPhone 4 opening tutorials, which seem to be easy. So I bought screwdrivers from Amazon and start to open iPhone 4 to change battery. To my surprise, things still not be easy for me, with three pentalobe screws unmoved, I fail to open the iPhone 4 battery. But I get detail realizations about iPhone display. It is fun to open iPhone 4 and you will feel great achievement if you change batteries and SIM cards successfully.
1. Replace A Battery on iPhone 4
The time you cost on opening iPhone 4 for battery changing depends on your manual skills. Someone may spend 5 minutes to replace iPhone 4 batteries successfully, while others may take more than an hour. It is very common to the change iPhone 4 battery, instead of replacing a iPhone charger. You can test by plugging another iPhone charger, if the discharge phenomenon still exists, it is time to get a new battery.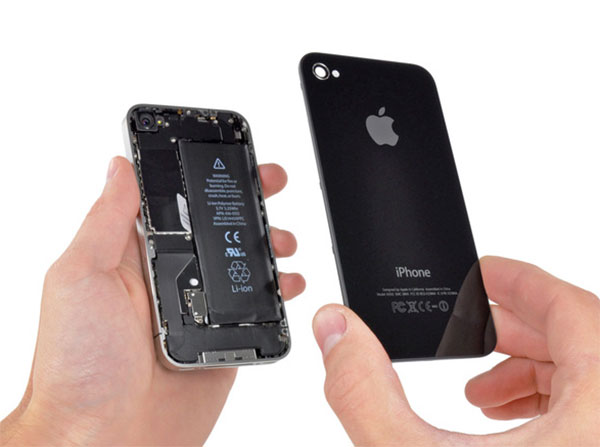 • Prepare a battery from Apple manufactures (to avoid explosions like Samsung), screwdrivers (P2 Pentalobe Screwdriver and Phillips #000 Screwdriver) and opening tools. Remember to turn off your iPhone 4, to protect your security.
• Use screwdrivers to remove the screws at the bottom, there are two screws at present.
• You can use thumbs and fingers to slide the back plate, or to use small suction cup to pull the rear plate.
• Use screwdrivers to remove all screws. Some of screws may hide without notice, thus, be patient during opening iPhone 4 back cover.
• Pick a plastic opening tool to pry up the battery connector. Lift it up slowing. The battery connector is on the lower part.
• Take out the battery out and replace a one with the plastic tab, to make sure your battery has been put carefully.
• Reassemble your iPhone with screws and rear cover again. Turn on your iOS device again to test whether you succeed or not.
Do remember to throw the old battery into the certain battery collection area, or it will be very harmful to the environment. As for open iPhone 4, you can pull off the back cover, or use the small suction cub to pull the front glass. The two methods are both correct to open iOS 4 devices.
2. Remove SIM Card from iPhone 4
No matter you want to resell your old iPhone 4 or just changed a new phone number, the key point is to remove SIM cards. To protect your personal information security, you had better check again on the iPhone 4 without SIM card. To prepare removing SIM card, you need to have a paperclip or needle, to pull out the small SIM card easier.
• Straight up your paperclip, if you use the needle, then ignore this step.
• Find the SIM tray on the right side, use the straight paperclip or needle to insert into the pinhole.
• Grab the SIM card from the tray to pull it out, and the inset the SIM card to the new mobile phone.
During opening iPhone 4 of resetting SIM card to the new mobile phone, make sure the gold surface to the ground. Press with little pressure to lock it perfectly. When you are in emergence with iPhone passcode forgotten situations, you can pull the SIM card to another mobile phone.
3. Open iPhone 4 Totally to Handle Display
If you have changed a new iPhone, do not sell the old iPhone 4 directly, there is another interesting you can do. Do you ever feel confused about the mobile devices? Such small device will take a huge part of people's life. How does it work, or what does it been consisted of? It is a good excuse to take apart iPhone 4 and get fully realization about mobile phone display. Use tools to open iPhone 4 and discover by yourself. Moreover it is still not safe enough even thought you deleted all personal data before selling. There are many data recovery editors, which can recover and read your information.
Things you need to prepare before:
• Mobile opening tools; SIM card eject tool; spudger;
• P2 pentalobes screwdriver; Phillips #000 screwdriver; 2.5 mm flathead screwdriver.
iPhone 4 Decompose Processes
The main parts you will get are iPhone 4 LCD screen, screen protector, GSM display and midframe. It is similar with separating toys as childhood experiences. Take care to turn off your iPhone before getting assembly iPhone 4 display.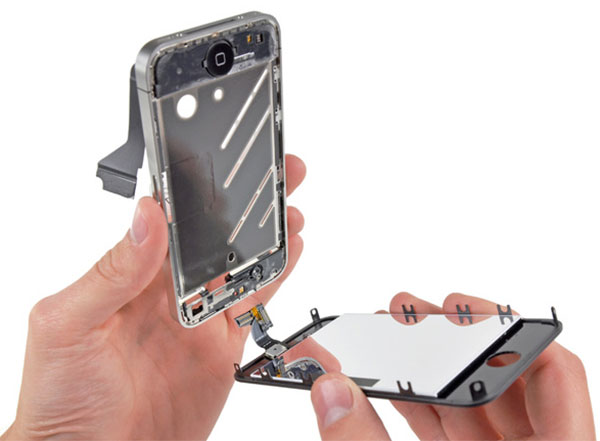 
• Remove tow screws with Phillips #000 screwdriver, and then push the rear panel first.
• Use small suction cup or straight paperclip to life the iPhone 4 back cover.
• Apply 2.5 mm flathead screwdriver to remove screws on the top of the battery connector.
• Use one plastic opening tool to pry up battery connector.
• Grab the plastic pull tab to life the battery slowly.
• Use SIM eject tool to take out SIM card.
• Remove other screws with related screwdrivers.
• Use the plastic opening tool to pry up the dock cable connector.
• Peel the dock ribbon cable off gently, do not damage the logic board.
• Use the plastic opening tool again to take apart the left mainboard step by step, as well as the front glass.
Then you can get all opened iPhone 4 separates. If you still have some interest towards it, you can join them together. Even if you fail, there is nothing you will lose, right?
4. Deal with Stripped Screws
As for someone who uses incorrect screwdrivers to remove screws, the screw will be tough and harder to remove. If you do not have proper screwdrivers nearby, here are some small tips you can use to open iPhone 4, with scuffed screws. The one way you can try is to put one elastic or rubber band on the top of the screw, and then remove with screwdrivers. You will find that you can catch the screws again. Or you can use scissor to engrave or enlarger screws. The other different to operate method is using gluewater. Pouring little 502 gluewater on the screw and then put your screwdriver on it, to stick them together. Wait for few minutes and then pull them out together. Be careful do not swarm gluewater with your opened iPhone 4.