Easiest to Transfer Music from CD to iPhone (iTunes included)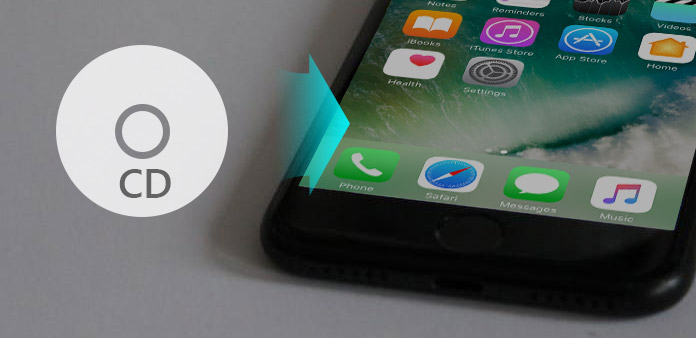 It is true that iTunes has large amounts of songs in high quality. But for people who are music fanciers, downloading iTunes songs is a costly expense per month. In order to save money on iTunes music purchasing, there is one good idea to transfer music from CD to iPhone, which aims to rip DVD music and copy to iOS device for free. The first answer jump to most people' s mind is iTunes I guess. Well. You can import songs from CDs and import to iTunes library, but your previous songs will all be removed. Sounds terrible, right? Actually, There is another good iPhone file transfer software to help you manage iOS data between another iOS device and computer in easy way. They are both good methods to copy CD to iPhone, you can read and choose the better one to apply.
Part 1. Rip A CD First (Essential Part before CD Songs Transferring)
The first step is to rip CDs to music files, including iTunes and later iPhone transfer. It is also available to rip a CD with Windows Media Player. But considering somebody who uses the Mac computer and no Windows Media Player installed, I would show you methods to processes of ripping CDs with iTunes, which has better compatibility.
Step 1: Insert the audio CD into the CD/ DVD drive of your computer, and then run iTunes.
Step 2: Choose the CD icon on the top left corner of iTunes toolbars.
(You will see the prompt asking you whether you like to import the CD to into your iTunes library or not. Select Yes if you want to rip all songs on the disc.)
Step 3: Or you just hit No to select selective CD songs to iPhone later, tick grey checkmark before songs to remove. (Additional)
Step 4: Select Import CD option on the upper right corner, and fill in the Import Settings to change personal preferences. Later, choose OK to move on.
(You can choose AAC Encoder, MP3 and other audio file formats.)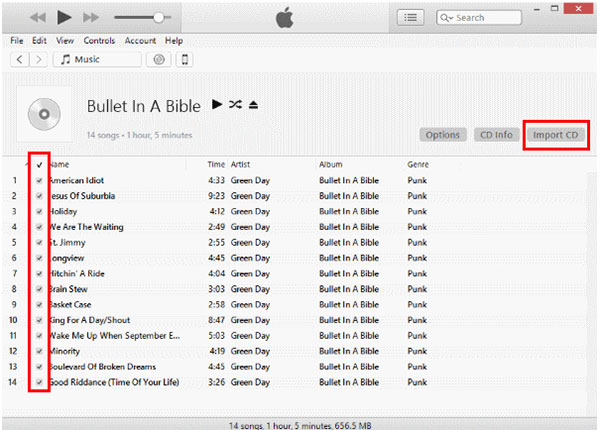 Wait few minutes to rip CDs to songs to the iTunes library. For some old CDs, during your CD ripping with iTunes, you may receive the prompt with an exclamation mark of fail to work. Then remove DRM from CD is the job you have to do before transferring CD to iPhone.
Part 2: Rip A CD and Transfer Music from CD to iOS Devices
It is Tipard iPhone Transfer Ultimate that can copy and transfer CD songs to iPhone directly, all your iPhone data will be safe. And you can transfer not only music to another iPhone, but also contacts, photos, videos, albums and etc. With lossless and safe CD songs transferring, and editable filters to manage with, everybody can put a CD on iPhone easily.
Support iOS Device: iOS 6.0 and higher versions (iOS 16 included)
How to Transfer Music from Computer to iPhone
Step 1: Connect your iPhone with the computer by USB cable.
Step 2: Choose Media on the left pane, and then select certain songs or playlists.
Step 3: Select the file or folder you want to transfer to iPhone through the pop-up window.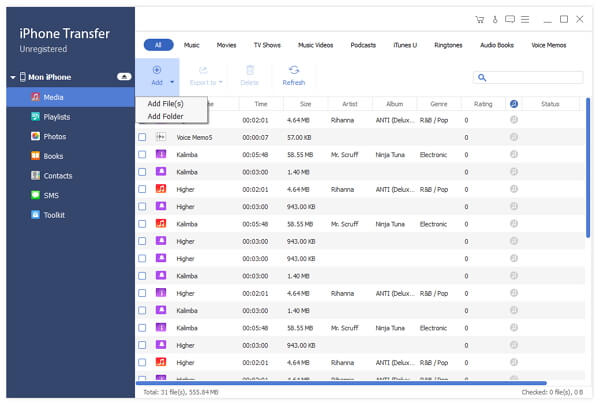 As you can see, there are so many file types you to transfer to iOS device on the left pane. And iTunes and iCloud storages are supported to transfer with by one click. Therefore, it is quite easy to import songs from CD to iPhone without erasing files.
Part 3: Download A CD to iPhone by iTunes
If you do not care erasing files in iTunes library after using iTunes to transfer CD to iPhone, iPad and iPod, then you can continue processes in part 1 to copy CD songs to iPhone after CD ripping. Let's see, the final step of CD ripping in part 1 stops in CD music ripped in iTunes library, and the following steps will go on with it.
Step 1: Make sure the USB connection between iPhone and computer still work.
Step 2: Choose Music option on the top right portion of iTunes interface to see all your ripped songs from CD in iTunes library.
Step 3: Drag music to your iPhone on the right pane directly, from left to the right.
Step 4: Eject the Apple device and pull out the USB cable.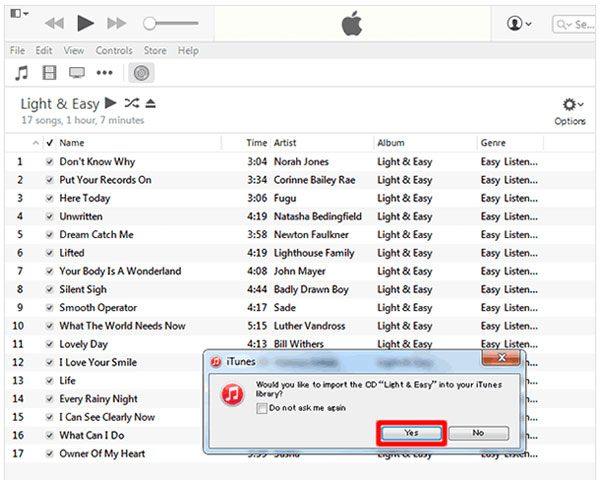 Now, you can get transferred CD to iPhone songs existed only on your iPhone, because other files have been removed automatically. Well, it is a free iTunes clean job in another degree.
Conclusion
When you rip CD to music files, there is one thing you must do is DRM removal from CDs. It seems not normal but actually there are some debates in some countries that, whether it is legal to copy CD music to iPhone and other tablets. Because the meaning of DRM is to protect intellectual properties mainly, once you decrypt CDs, you have offense others' benefits already. But no accurate legal items have announced it is illegal to transfer CD music to iPhone yet. As it is unavoidable to do CD DRM removal, the only thing we can do is to enjoy ripped CD songs personally, not for commercial usage.
As for above CD to iPhone converter and transfer software, it is obvious to get the result that Tipard iPhone Transfer Ultimate does a better job than iTunes, leastways your iTunes files will be not erased. At last, no matter which CD to iPhone transfer method you choose, hope you can enjoy CD music freely.

Click here to join the discussion and share your comments