7 Best EPUB Reader Apps to Read EPUB Files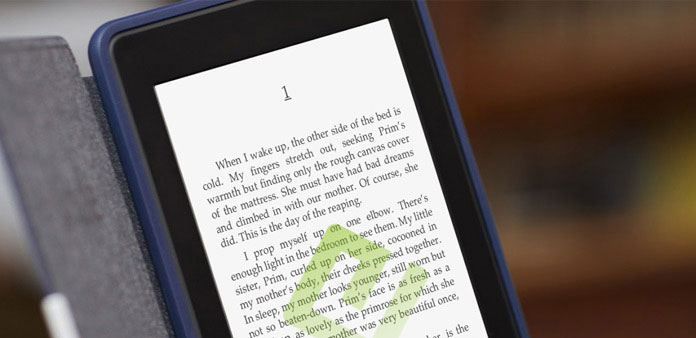 If it is the first time you Kindle or other eBook reader, you should be confused with the EPUB format of the eBooks. What is an EPUB format? What are the best EPUB Readers to take full advantage of these files? When you have similar problems, you can learn more detail about the queries from the article.
Part 1. What is an EPUB File?
The EPUB file is a kind of popular and freely available eBook standard, short for electronic publication. It is an open standard format, which can support more hardware eBook readers than any other similar file format. It has been around for a long time, due largely to its flexibility, and you may find many apps to help you handle these files.
An EPUB book with text and images is kind of digital book in ePub format but not sold by or made for Amazon. If you are fond of reading eBooks but always find some unfortunate DRM existing in between you and those files. Getting an ePub file without effort isn't always simple.
Part 2. EPUB Reader for Windows
When you have some eBooks in EPUB, the first choice should be reading them on Kindle, which compatible with the EPUB file. But if Kindle is not available, computer is another device to enjoy the eBooks with a nice view experience. Just check out the programs that you can enjoy them on Windows.
1. ePUB Reader for Windows
ePUB Reader for Windows is the suitable program for read eBooks, which supports viewing ePUB files. It not only allows you to read your collection of digital books, documents, and comics, but also converts ePUB files to PDFs. The most importantly, this demo version of the Windows program contains all the features of the full program. On the right is the page of ePub file and on the left is the table of contents. With this table, you can select concrete pages and chapters of the ePub. It has controlled to zoom in or zoom out up to 400%. Therefore, it is great for viewing eBooks with the program.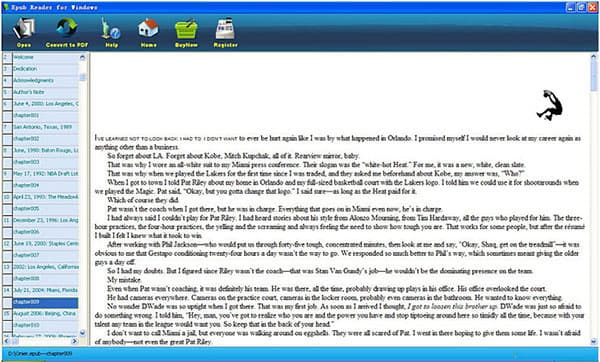 2. Icecream Ebook Reader
Icecream Ebook Reader enables you to read books as well as manage your books collections in your personal library. The EPUB Reader supports EPUB, MOBI, DJVU, FB2, PDF, CBR and other popular formats. You can use the program on Windows 7 or Windows 8 to turn pages, use bookmarks, search for the library, add notes, translate text, track reading process and more. Although it is the beta version, it is one of the best EPUB Readers that turn computer screen into a convenient top-notch ebook reader.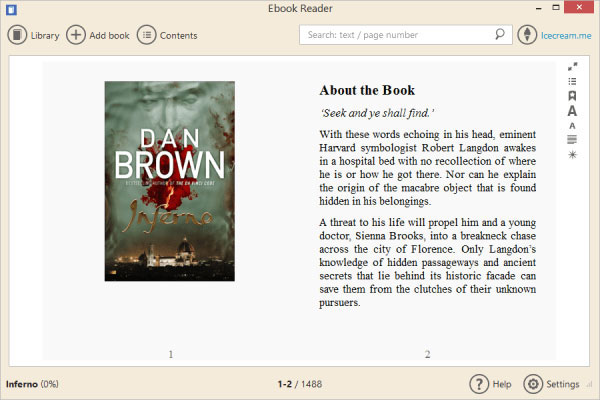 3. FBReader
FBReader is one of the most popular open source EPUB Readers. It is compatible with Android, Linux, Mac, Windows, Blackberry, Symbian and other platform. The program not only supports EPUB file, PDF format, FB2, HTML, PLUCKER, PALMDOC, MOBI, CHM and other format. Just as the other open source program, FBReader is easy to use program with some basic and easy functions. The only shortage for the program is that the program does not render the coding syntax as good as the other applications.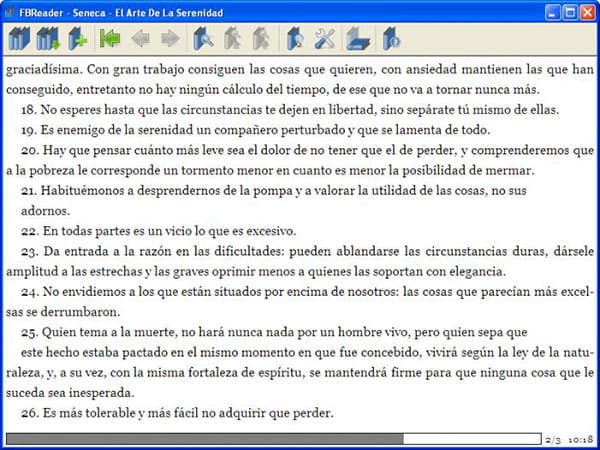 Part 3. EPUB Reader for Android
If you want to read the DRM-protected books on android, you can install an EPUB reader app for android with the feature. You need to remove the books DRM on your computer and then you can transfer the DRM free books to android devices for reading with any ePub apps. That's why the download tool is only for windows or mac version.DocProtect allows eBook publishers to generate an Android app from their EPUB file with a few button clicks, which combines the EPUB document and reader into a standalone app that can optionally including device specific licensing.
4. Google Play Books
Google Play Books can be simply described as GPB, which will deliver ePub or PDF in a DRM-free format if the publisher allows it, but that isn't a guarantee. It is evaluated as the best one on the Store by some installers. First of all, you can find that it is just so easy to upload. You can scroll vertically in ePub format and rest the book (tablet) on your belly and read only from the top half of the screen. You can download a lot of free books from the reader or upload ePub files. Books are available on all devices, including iOS and windows (chrome browser). If you also have the Google Survey Rewards app (and you should) you can earn Google Play credits and eventually buy a book with those credits.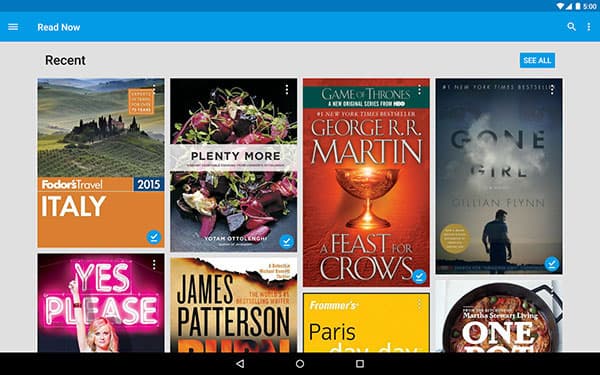 5. Calibre
However, the problem is that many apps as tools to help you make a convert do always not exist for Android. While its purpose is preparing new books for the different ebook retailers, Calibre is able to convert nearly about anything to ePub or convert any non-DRM epub file to mobi format, then you can simply read the book using Kindle for Android, or Kindle for PC, etc.. You can choose to store locally or use cloud storage once you have an ePub file, and this process makes sure that you can move the books to and from whatever service you want and not have to worry about DRM problem.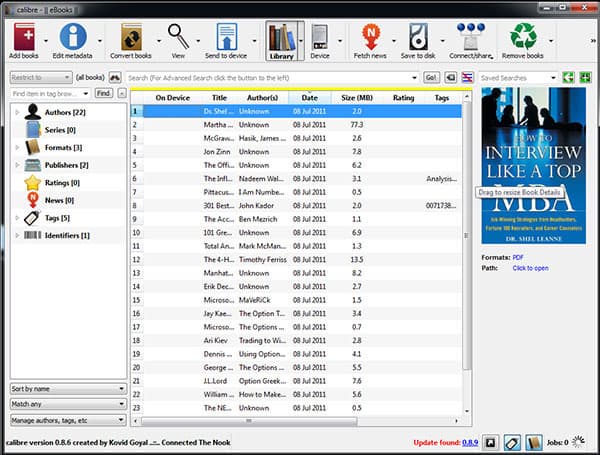 6. Moon+ Reader
Moon+ Reader is a free program as an e-reader with a massive file support list, which includes ePub, Mobi, CBZ, and ZIP. The app uses Material Design for its UI and looks fantastic, with cloud storage support for Dropbox and Google Drive, so you can store you eBook library elsewhere and read in EPUB file. Moon+ Reader offers an intelligent paragraph mode. If you read on your phone or tablet a lot, a Pro version that includes widgets for your home-screen and reading statistics can be particularly interesting. Moon + Reader is also helpful to view and edit a PDF on your note.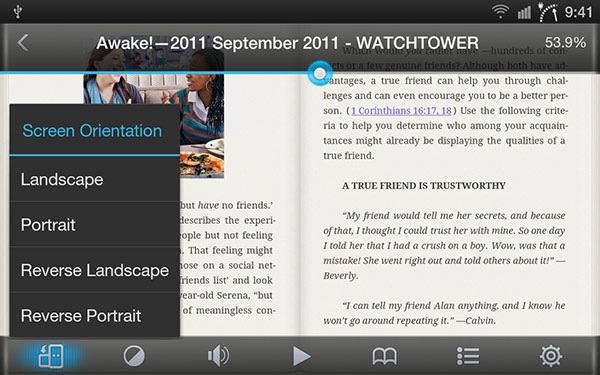 Part 4. How to open ePub Files on Your iPad
When talking about EPUB Readers, most people would say that I like Kindle or I like iPad. However, when you use an EPUB file, you may have a question that how can I read them on my iPad?
7. iBooks
If you are using a Apple's Pages word processing program to create your guide to the iPad, you can find a lots of iPad apps to open ePub documents. Apple's free iBooks app can be the one of the best and easiest to use for many formats. So you can firstly get an iBooks app for free in the App store on your iPad. Take making a conversion from computer to iPad for example and the steps are as below.
Step 1

Launch iTunes and find it on your computer.

Step 2

Drag and drop the it onto your library in iTunes on your computer.

Step 3

Connect your iPad to your computer and check under the "Books" tab in iTunes to be sure this ePub is selected for syncing. (Be careful that those books are selected to be copied over to the iPad. )
Connect your iPad to your computer and check under the "Books" tab in iTunes to be sure this ePub is selected for syncing. (Be careful that those books are selected to be copied over to the iPad. )
Conclusion
If you just come across the EPUG files, you can use the Kindle to read the format without problem. Of course, there is other EPUB reader that helps you achieve the goal from Windows or Android. If you still have any other problems you do not know how to solve about the ePub file, please do not be hesitated to tell us. Hope you may have a pleasant experience when reading epub eBooks.

Click here to join the discussion and share your comments