Adobe PDF Converter – Easy Ways to Convert PDF Files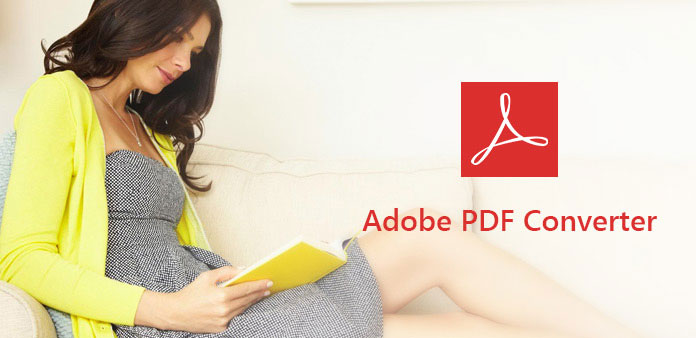 As PDF (Portable Document Format) is the standard file format of electronic documents, thus, it is very common to see PDF documents in business work. Therefore, opening PDF files and converting PDF to word or other Microsoft documents is the essential skill for you to equip. And today I want to introduce some good PDF converters, with which you can save half time to finish the same work.
Part 1: Adobe PDF Converter – Create PDFs and Export to Word
Adobe Acrobat DC is the combination of PDF converter, PDF editor and PDF viewer. You can do almost all PDF file work with the Adobe Document Cloud service. And they are all under standardized PDF filters. So what can you do with this Adobe PDF Converter?
1. Main Features of The Adobe Acrobat DC
Let us see the new released PDF converter features first. The new Adobe PDF Converter allows users to batch convert documents to PDF files in high quality, with all internal links, hyperlinks and tables of contents being available. Moreover, you can reset preferences of converted PDF documents too, to create PDFs in rich assessable. After the PDF conversion, you are able to copy highlighted text and save Direct in the Signatures Panel below.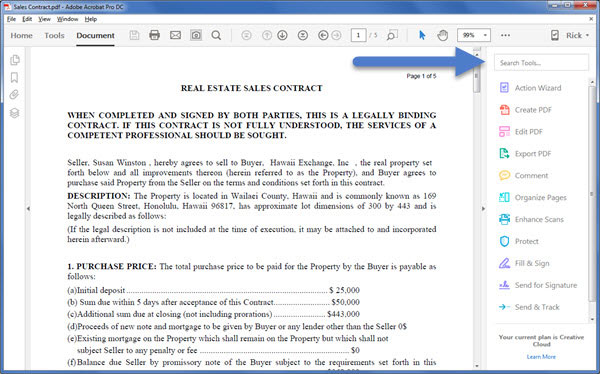 Then how about filters to create PDFs with the Adobe PDF Converter?
The first and attractive point I want to show you is professional PDF conversions. You are able to convert Word, Excel and PowerPoint to PDF on the go. There is no limitation for you to create Microsoft Office files into PDFs on desktop merely.
Secondly, the snapshots and HEML pages can be converted into PDF archives too. Of course, it is quite easy to print PDFs by selecting Adobe PDF as your printer. What about various documents, spreadsheets and emails? The smart idea is to merge files into one PDF document for further usage. All your converted PDF files are validated and standardized by ISO. Therefore, feel free to use Adobe PDF converter to export PDF files.
And then, the instant paper document editing and e-signatures are also available for people to apply. With all these Adobe PDF converter features have known, now, it is time to test.
2. How to Convert A Word/ Excel/ PPT to A PDF with Adobe Acrobat DC
Step 1

Open your Microsoft document as usual.

Step 2

Choose Create PDF in the Acrobat ribbon.

Step 3

You can set the password and file permission to restrict others from copying.

Step 4

Hit OK and rename your new created PDF file, to save as the desired location.
How to Convert A PDF to The Microsoft Word/ Excel/ PowerPoint
Step 1

Upload the PDF document in Acrobat DC.

Step 2

Select Export PDF option in the right pane.

Step 3

Set Microsoft Word or others as your output file format and location.

Step 4

Choose Export, and rename your converted PDF file to save as the certain folder.
If your PDF document contains scanned text, the Adobe PDF Converter software will run text recognition automatically, and you do not need to do extra options. Just wait few seconds, and then your Word file can be reconverted from PDF file again.
Part 2. Tipard PDF Converter Platinum – The Comprehensive Adobe PDF Converter Alternative
Though Acrobat DC is professional enough, its monthly charged service may not suitable for everyone. Thus, I recommend you the Adobe PDF converter alternative software, which can work both on Windows and Mac platform. Tipard PDF Converter Platinum is able to convert any PDF file (including textual and non-textual) to the file format you need, to Microsoft Office Word, Excel, EPUB, HTML, PPT, image and etc. Moreover, with the support of OCR tech guarantee, there are more space for you to choose PDF conversion mode and other preferences. To offer you clear impression, I sort out some represent PDF filters and features you can get, from the Adobe PDF converter alternative.
1. Main Features of Tipard PDF Converter Platinum
1. Support any PDF to file conversion, including Microsoft Office. EPUB, HTML, image formats and etc.
2. The advanced OCR tech supports users to have options and rights to choose PDF conversion mode and other accurate settings during PDF output.
3. No quality damage and keep all information of original files , like text, image, watermark, color and more.
4. Free page range and Multilanguage support, to translate and arrange PDF documents all over the world.
5. Convert PDFs to various documents and image formats, based on user-friendly interface.
6. Play and preview the whole or specific page of your PDF documents.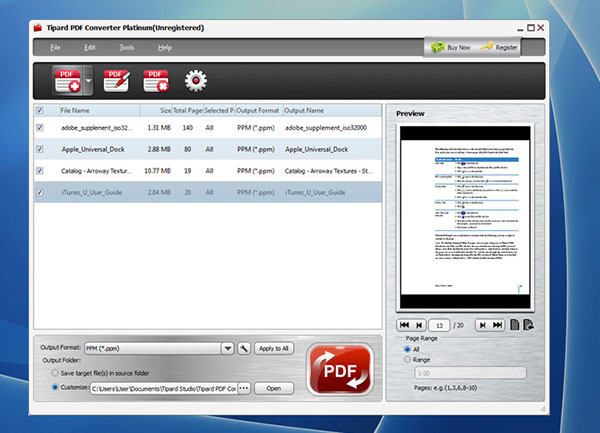 2. How to Convert A PDF File to Word
Step 1

Choose File and import your PDF file.

Step 2

Select Word Output Format below and customize Output Folder.

Step 3

Hit PDF big red icon besides to start PDF to Word conversion.
If you have various PDF files need to be converted into the same file format, then hit Apply to All button on the top, to batch convert PDF files.
Part 3: Online PDF Converter to Convert Files to PDF Free
For people who do not open and convert PDF documents frequently, there are also two good online PDF converters, to replace Adobe PDF converter free.
1. PDF Converter
Once you drag Word, Excel, PowerPoint and other files into the PDF Converter menu, you can get converted PDF files automatically.
And there are also separate PDF converters, to change PDF file format among Microsoft documents and Image files in free way.
PDF Converter Link: https://www.freepdfconvert.com/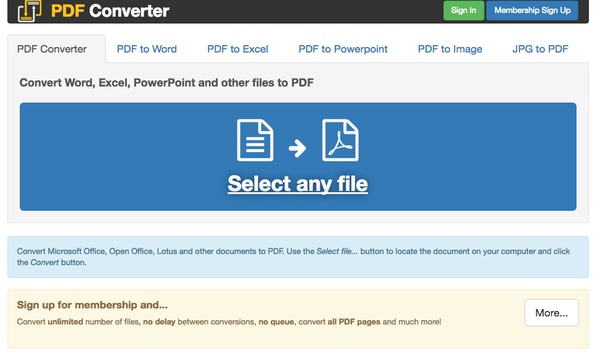 2. Online-convert.com
Online-convert.com supports users to convert documents and images from PDF files too. And you can even convert the webpage to PDF by providing the URL. Moreover Dropbox and Google Drive two cloud storage programs are allowed as well. There are optional settings you can apply to PDF conversions, which are OCR and Source Language.
Online-convert.com Link: http://document.online-convert.com/convert-to-pdf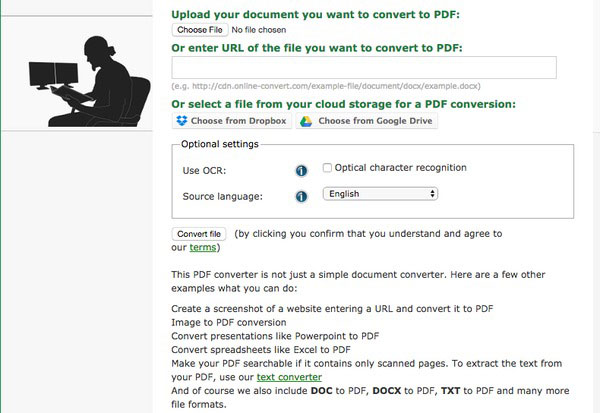 With above Adobe PDF converter and its alternative, both amateurs and professionals can convert files to PDFs or from PDFs, in free or higher standard status. You can choose according to your personal needs.