Top 5 Free Android Screencast Apps
Although the screen size of smartphones is bigger and bigger, it is much smaller than PC. It is inconvenient to operate these handsets. And sometimes we need to capture mobile phone's screen to share with friends or create tutorials. Shooting computer's screen is easy; however, it is still a challenge for most people to take an Android screencast on computer. To meet such demands, numerous programmers have developed several dedicated applications to let you control your Android handsets on computers. Therefore, this article will introduce the best software and their powerful features.
Recommend: Tipard Screen Capture
Tipard Screen Capture is an excellent screen recorder. After you control your Android phone with mobile device management apps, like Android @Screen, you can utilize Screen Capture to take Android screencasts.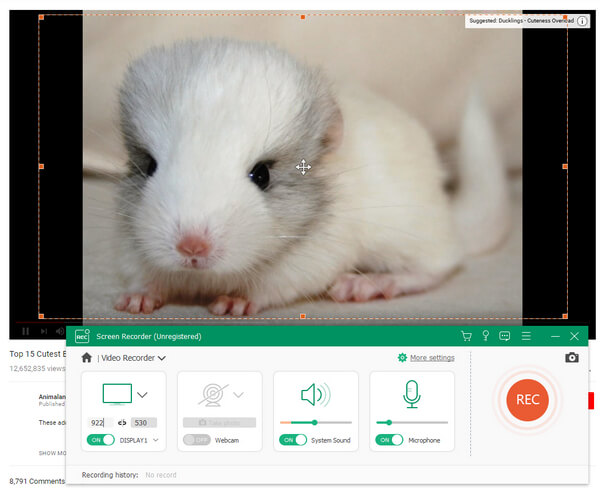 The impressive features of Screen Capture include:
1. Screen Capture is one of the easiest screen recorders. The concise interface makes navigation easily.
2. The biggest advantage of this Android screen recorder is to capture the screen with the highest quality. When you capture Android screen on computer with Screen Capture, you do not need to worry about the problems about frames missing or images blurring.
3. Users could customize and control the screen size to cast.
4. It supports to record sound with screen shooting. You can enable system audio or microph audio. The former will record the sound from your Android phone; the latter will capture your voice through microphone.
5. Screen Capture is compatible with Windows 10.
The top 5 free Android screencast
Considering most mobile games are not available on computer and other requirements, screencast Android phone on computer is essential.
Android screencast
Android screencast is a specialized program to control your Android handset on your computer. It is an easy-to-use application. After installed the Android SDK and connected smartphone to computer with USB cable, you can run this screencast application on your computer. Android screencast is based on Java, so you have to install Java Runtime Environment before using it.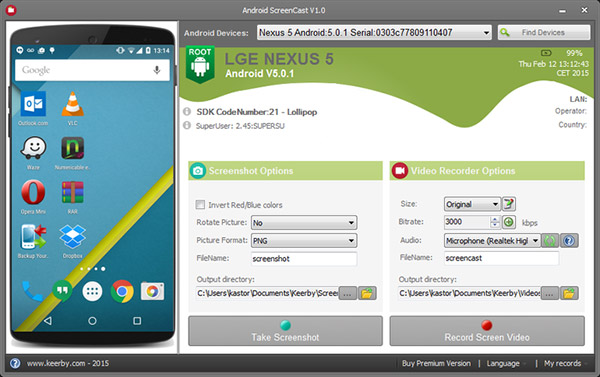 1. It allows users to use mouse and keyboard to control their Android phones on computer.
2. It has the ability to capture Android phone screen and mobile games to video files.
3. Users could visit Android phone apps and browse files on their computers.
4. If you use it to capture mobile phone screen, you do not need to root your Android phone.
5. Android screencast is compatible with Windows, Mac OS and Linux.
6. This screencast application also supports the horizontal display mode on computer.
Webkey
In some situations, like app testing, smartphone's little screen seems to be an obstacle to handle it successfully. And it is more convenient to control the handsets through web browser or computers. This Android screencast app is such kind of application. People could use it to control Android devices on computer freely. All you need to do is to install Webkey app on your Android phone and visit the web address it provides.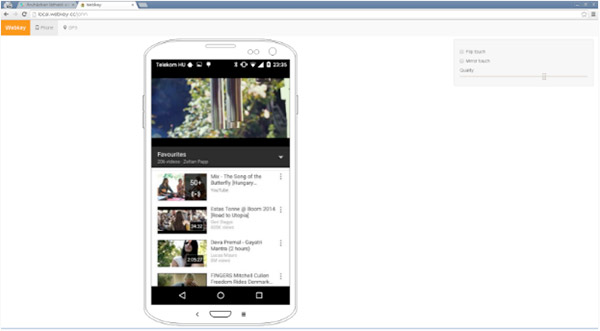 The principal features of Webkey include:
1. This app has a good compatibility. It allows users to control Android phone through any browsers on any systems, like Windows, Mac OS and Linux.
2. Webkey is a user-friendly app that could remotely control Android devices through internet.
3. It supports wide range of phone features, like importing and exporting files, reading and writing SMS, reading smartphone's GPS information, contacts management and so on.
4. Users could take screenshots of Android phone on computers.
Ashot
Many technology bloggers need to take smartphone screencasts. And some mobile gamers also have the demands to capture mobile game videos. A powerful Android screencast application is important to them. Fortunately, Ashot could meet all their requirements.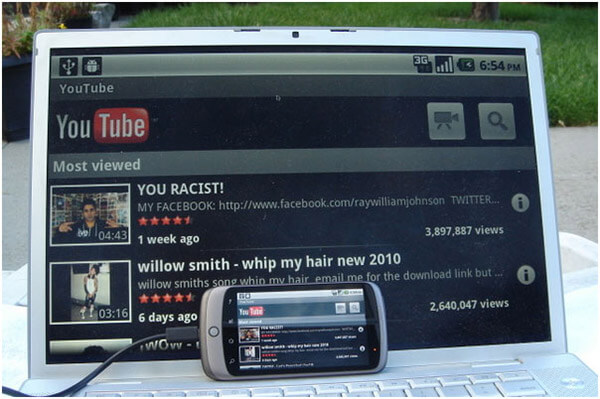 1. It is a totally free and open-source application.
2. Ashot is compatible with most Windows systems, including Windows 10.
3. This program takes up only 2.9 MB space.
4. Ashot is an easy-to-use program. After installed it on your computer and plugged Android phone to computer with USB cable, you can control the smartphone on computer completely.
5. Before taking screenshots or recording screencasts of your Android phone, you can adjust the display by Ashot.
6. This application use cable to control the smartphone, so it could work without internet connection.
MyMobiler
MyMobiler is another free Android screencast program. The biggest advantage of MyMobiler is to support wide range of Android phones. Although Android devices all run Android operation system, different smartphone brands will add some unique features. MyMobiler is compatible with almost all Android devices.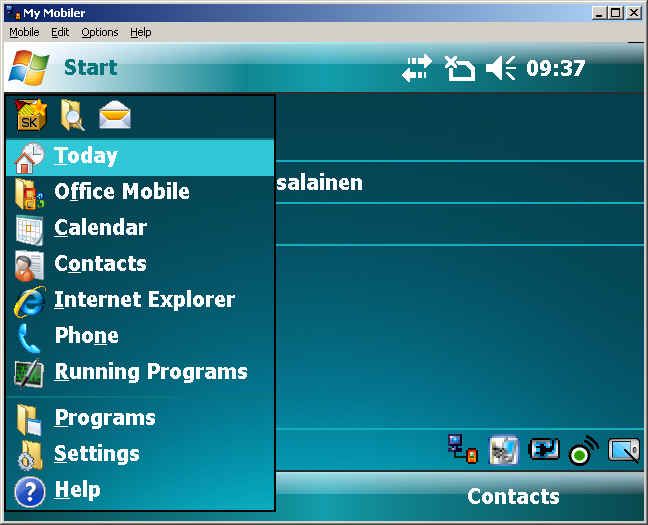 Other useful features of MyMobiler include:
1. This program allows users to control Android phones through USB connection or Wi-Fi. Users could decide the connection method depending on situations.
2. Users could monitor their smartphones with MyMobiler.
3. MyMobiler also supports users to control their Android phones by mouse and keyboard.
4. It has the ability to capture the screen and videos of Android phones on computer.
5. Users could manage and transfer files between Android devices and PC through MyMobiler.
6. If you need to send a long text, it is more convenient to type it on computer and copy to Android phone with MyMobiler.
Parallels 2X MDM
Parallels 2X Mobile Device Management is one of the most popular Android screencast programs. And it allows users to take control of their Android devices freely. You have to connect your computer and Android phone to the same internet connection. Then you can use mouse and keyboard to control Android phone through browser on computer.
The basic features include:
1. Users could organize, manage and transfer files between Android phone and computer remotely.
2. Through web browser, you can view and edit all files and information in your smartphone, including images, videos, music, contacts and more.
3. Parallels 2X MDM supports to send, receive and manage SMS within browser directly.
4. This application also has the ability to record screen of smartphone to video files.
Conclusion
This article introduced top 5 free Android screencast programs. These programs are developed with different program languages. Some applications are based on Java. So you have to Java Runtime Environment and Android SDK before use it. Other programs are based on C or C++; you can use them directly after installed. The connection methods are different as well. Some programs support cable connection, like Ashot. And others could connect Android phone and computer through WiFi and internet, like Webkey. Parallels 2X MDM and MyMobiler allow users to link smartphone and computer with USB cable or Wi-Fi. If you have a higher requirement about the quality of screencast, you can try Tipard Screen Capture.