Where and How to Get Free Ringtones for iPhone – Get 10 Best Answers Here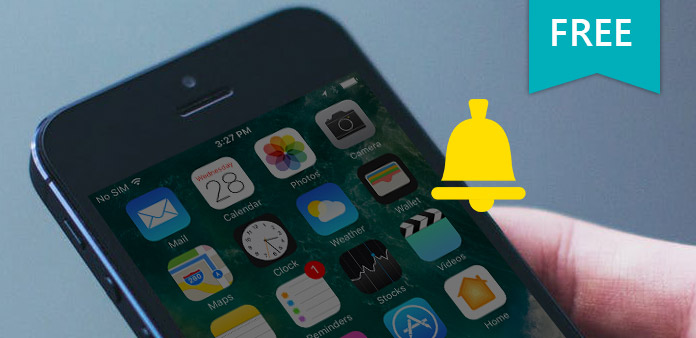 Have you still set the default iPhone ringtone as yours? It is quite awkward when the iPhone is ringing, and dozens of people look down to check whether it is his or her call. To avoid encountering similar situations, here are top 10 programs for people to get free ringtones for iPhone and Android, including free iPhone ringtones online sites.
Part 1: All-in-one iPhone Ringtone Maker- Extract Ringtones from DVD Files
What if the free to download iPhone ringtones are not unique enough, cause others may set the same ringtones and it is still awkward use resemblance phone call ringtone. Due to customize ringtones from any video and audio files, Tipard iPhone Ringtone Maker comes out, for people to create personal ringtones easily, through the all-in-one iPhone ringtone maker.
What can you get from the ringtone customizer
1. Extract iPhone M4R ringtones from any songs and audio files conveniently.
2. Create iPhone ringtones by downloaded videos and DVD albums.
3. Customize iPhone ringtone freely through built-in filters, and fade-in & fade-out effect.
4. Four interface language support, to change into English, French, German and Japanese.
5. Preview-listening and directly export iPhone ringtones to iPhone, iTunes and Windows computer.
How to customize free music ringtones
Step 1
Import audio/ video files.
Hit Add File/ Disc button to upload your ringtone sources, including audio files, DVD discs and downloaded online videos.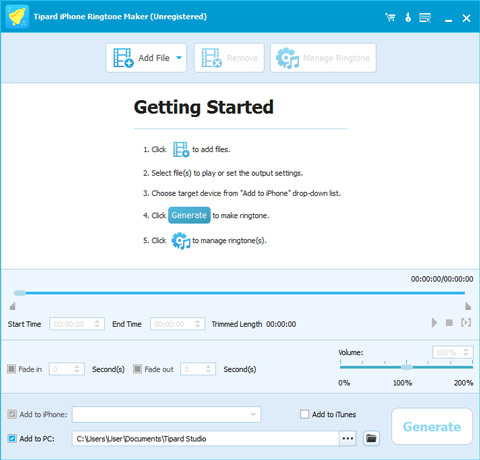 Step 2
Edit and generate audio tracks.
Choose Edit drop-down menu, to use ringtone-editing filters, to set Start Time, End Time, adjust Volume, customize Fade in and Fade out effect, with different seconds. Later, tick Add to iPhone or Add to PC, with related output folder, or you can tick Add to iTunes option to sync ringtones. At last, hit Generate.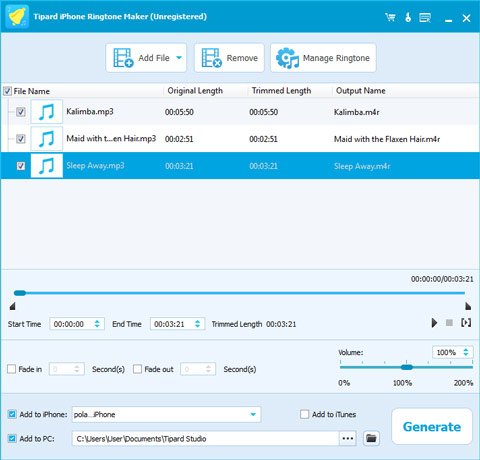 Wait few seconds to create and convert files, and you can see the whole process through the progress bar and Show details option if necessary. In addition, Show Preview is also available.
Part 2: Top 5 Free iPhone Ringtones APP
The followings are top 5 free iPhone ringtones for iPhone apps, for iOS users to get free ringtones. Some of them may contain ads and not easy-to-use interface, compares with purchased iPhone maker applications.
Top 1: Create Ringtones
Record music through the iPhone's microphone to catch sounds around, or you can email friends to send created free iPhone ringtones, calendar tones and etc. Therefore are basic ringtone creating filters for you to use here. Moreover, the free ringtone for iPhone time last up to 40 seconds, or you have to pay $0.99 to upgrade.
In-App Purchase: Yes
Note: No DRM protected music supported for iPhone ringtones creating.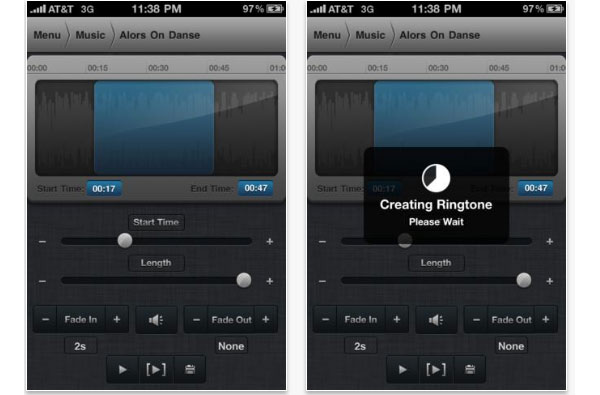 Top 2: Ringtone Converter
Create unlimited free iPhone tones from your music library up to 30seconds. The user interface is sleek and easy to use. Ringtone Maker supports users to set new created ringtones as default ringtone into contact, or you can share to more people as well.
In-App Purchase: No
Note: Ad contained.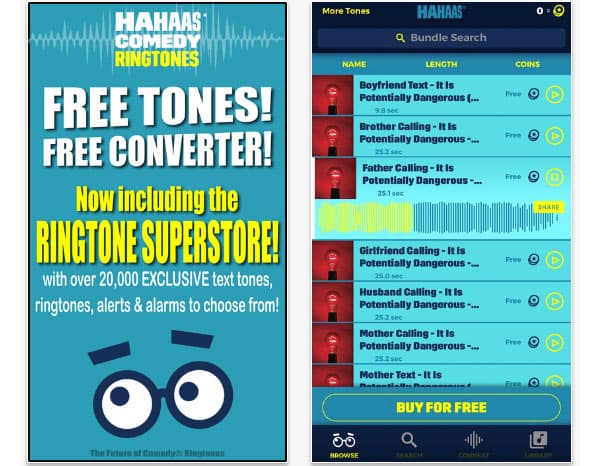 Top 3: Ringtone DJ
Get free ringtones for iPhone mix here, to customize ringtone waves, and do other more audio settings here. There are two choices for you to create iPhone ringtones, with in-app purchase items contained. Of course, you can get better ringtone mixing filters, to record scratches, do voice recording, pitch changes, and add more audio effects.
In-App Purchase: Yes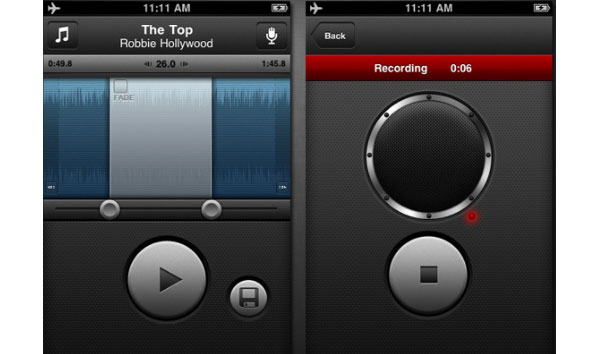 Top 4: Ringtone Maker Free
Load iPhone ringtone sources from CD or audio/ video files directly. The Ringtone Maker application on iPhone is the tool for people to edit ringtones from your current media files. No potential purchase items to urge you spend extra money, so you can get free ringtones for iPhone without iTunes and computer here.
In-App Purchase: No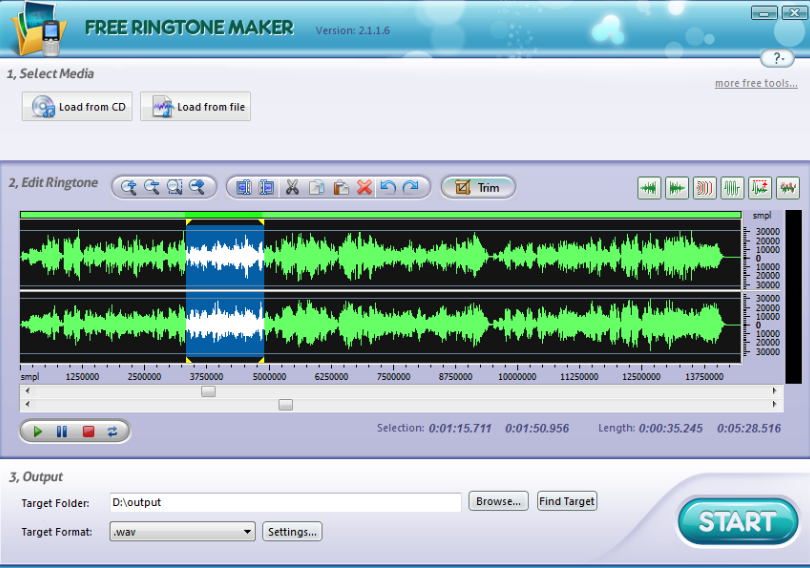 Top 5: Ringtones for iPhone
Similar with other iPhone ringtone maker applications, Ringtones for iPhone supports users to create import audio sources from in three ways, by iPhone's music library, non-music sounds like people's voices and pre-made ringtones provided from the built-in editor. Therefore, no matter which audio sources you prefer, there is always one suitable iPhone ringtones for you.
In-App Purchase: Yes
Part 3: Top 5 Websites of Free iPhone Ringtones to Download
Online free iPhone ringtone sites is the choice for people to get pre-made resources, no need to cost time on designing and editing audio tracks. Actually, some of these iPhone sources are cool, with various themes to choose form.
Top 1: Zedge.net
You an search by tags to get free ringtones for iPhone online under various categories, like classical, rock, country and etc. There are three ways for you to own free iPhone ringtones, by downloading directly, sending via email and scan a QR mode. If you have no idea which ringtone types to select, then come to Popular and Recent to consult others' choices.
In-App Purchase: Yes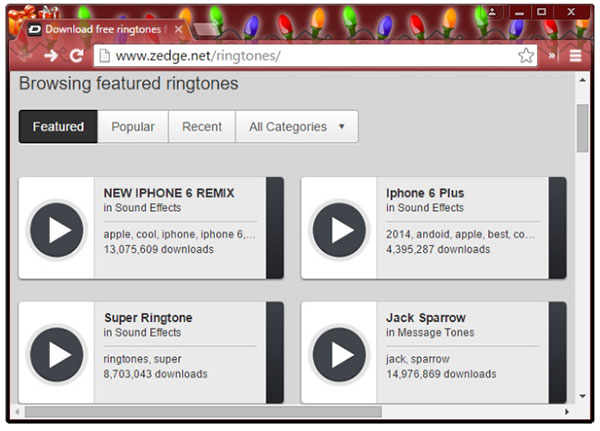 Top 2: Mob.org
It is the ringtone downloading website without charging you a penny, totally free iPhone ringtones. And you can search sounds under the list of genres or artists, to download free ringtones for iPhone straight to phone. In addition, Mob.org offers games, wallpapers and apps for you to apply for free.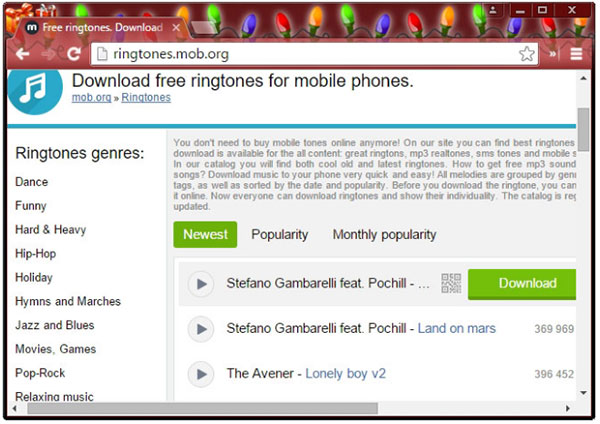 Top 3: Mobcup.net
There are two main aspects offered in Mobcup.net, which are mp3 ringtones and m4r (iPhone) ringtones. The former takes larger amount in Mobcup.net than M4R ringtones online. All those iPhone freetones are in high quality.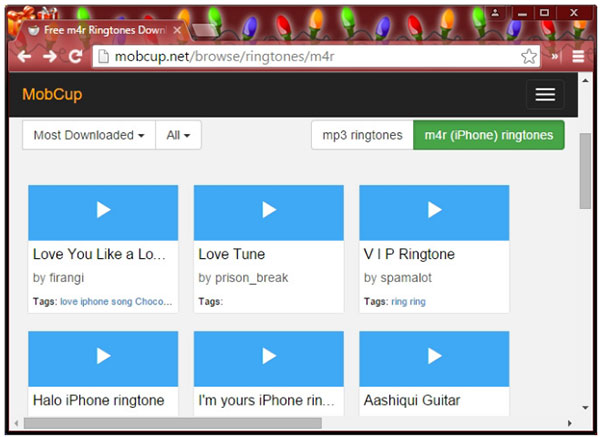 Top 4: iPhone Ringtones
No need to register or installation, all you need to do is to click and download free iPhone ringtones online. Apart from iPhone ringtone genres, you can see latest and top rated ringtones, as well as alarm tones and iPhone wallpaper for free download.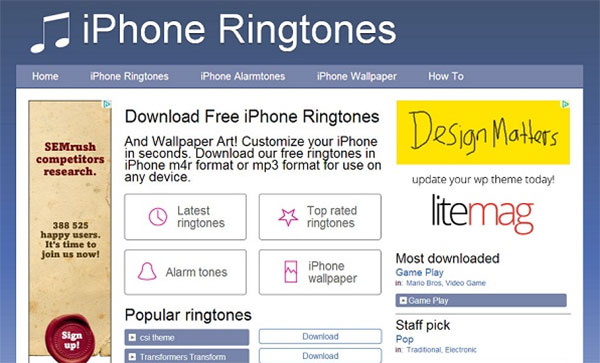 Top 5: Mobile 9
Mobile 9 is more like a community for people to download free iPhone wallpapers, ringtones, games, videos, screen savers and etc. the first time you run Mobile 9, you need to enter your device name, for Mobile 9 to navigate, of tons of varieties. Once you fill out the short registration form, you will be he Mobile 9 member and have access to your iPhone or Android compatibility checker.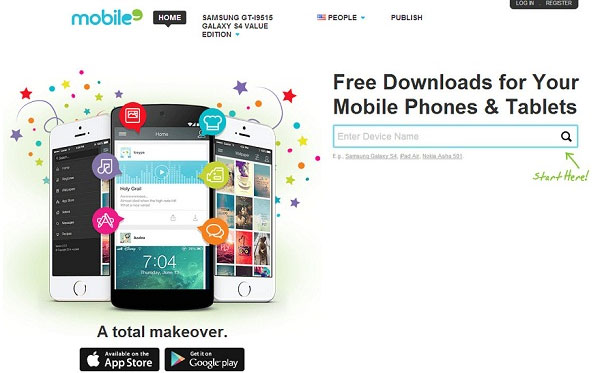 Conclusion
All the ringtone download websites and creators are free to use. Thus, you can pick pre-made free ringtone for iPhone, or to customize unique iPhone ringtones, with the audio sources above or from your personal music library. Hope you can get satisfying ringtones on iPhone without purchasing.