How to Transfer Music from iPhone to iPhone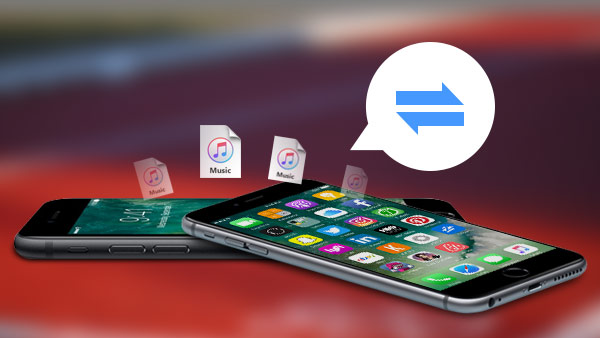 In daily life, we would always face with problems when we need to transfer music from iPhone to iPhone. For example, when you were talking with your friends and wanted to share music with each other. What can you do? Or you have just bought a new iPhone. You attempt to move the music in your old iPhone to new one. How can you make it? These problems once trouble us a lot. In the following, we would find some possible solutions. We will then explore these solutions and see if they really work.
Method 1: Transfer Music with iTunes
If you have purchased all the music in your iTunes, your songs in the old iPhone would have backup in the iTunes. Therefore, you need transfer your songs from iTunes to your new iPhone. You can follow these steps:
1. Before transferring music to iPhone, download iTunes and make sure your iTunes is the latest version.
2. Connect the iPhone to your Mac.
3. Click "Entire" music option to sync all music. Click selected playlists, artists, albums, and genres to sync particular music.
4. Click the "Apply" button to start.
One thing to mention, the sync process will delete all the original music in your iPhone. So this is how you transfer music from iTunes to iPhone.
Problem B is solved now. What about problem A? After several tries, the author finds that it is impossible to transfer music from iPhones to iTunes. Checking it online, Google says Apple prevent transferring music from iPhones to iTunes intentionally to protect copyright of music. Alas, the method seems not to work. So what can we do?
For a simple solution, you can use iPhone Music Transfer to help you transfer songs from iPhone to your iPhone 12/11/XS/XR/X/8/7/SE/6 with just a few clicks. Following is the guidance for you.
Methods 2: Transfer Music without your iTunes
iPhone Music Transfer can do the followings things.
1. Copy music/video/photos and other files to iPhone/iPad/iPod in one click.
2. Transfer files between iOS devices such as iPhone to iPhone directly, and sync to iTunes.
3. Support all popular iOS devices, including iPhone, iPad, and iPod Touch.
How to Transfer Songs from iPhone to iPhone Directly
Step 1
Download and install iPhone Music Transfer
Step 2
Connect your two iPhones to computer
Plug in your iPhones with computer. Wait for minutes for the software to recognize your iPhones. Then select the iPhone device to transfer the music. You can then find the software to display the major information of your devices as following.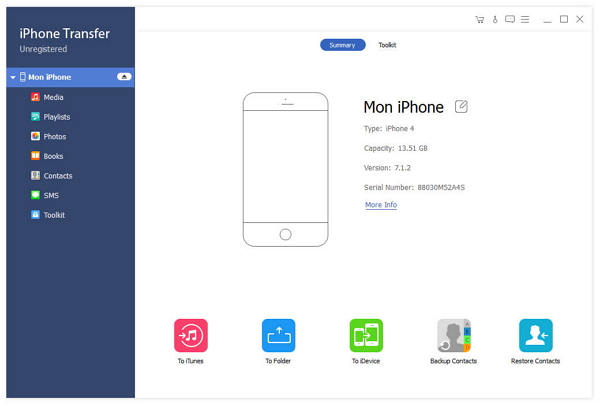 Click media button, you will find all the media has been carefully categorized. So you choose different media types. Now click music category and choose the music that you may like to transfer.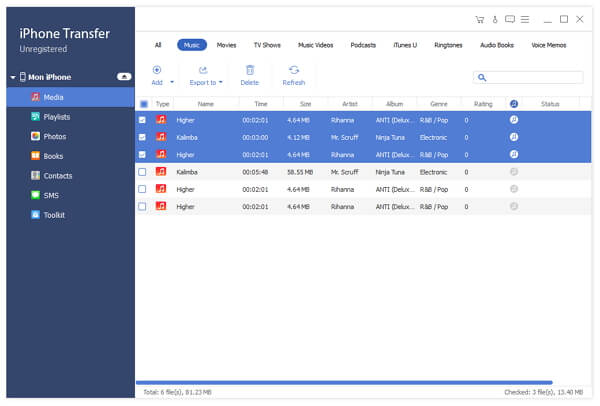 Step 4
Transfer music from iPhone to iPhone
Click "Export to" button and select to export to another iPhone. You may find it is not only capable of transferring music between iPhones but also adding files to your iPhone or deleting any files. Then you could just nest on your sofa and enjoy your favorite music.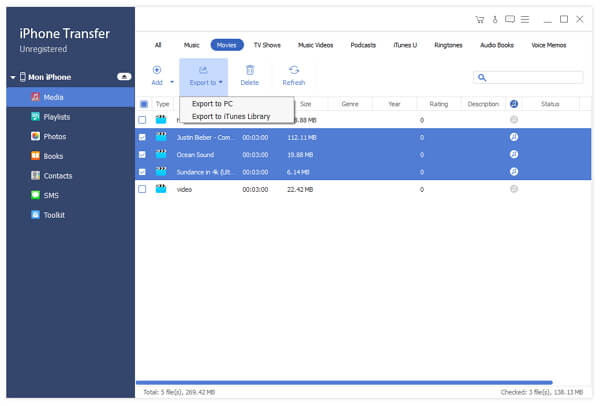 You May Like the Hot Software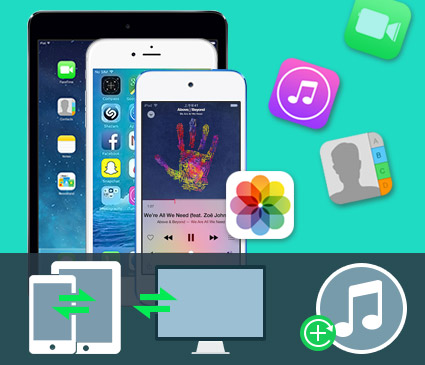 Transfer music and other data between iPhone 12/11/XS/XR/X/8/7/SE/6, etc. and computer with few clicks.
Migrate music and more data between iPhone and other iOS device like iPad, iPod.
Copy music from computer to iPhone, sync to iTunes.