How to Stream Anything from Your Android to Apple TV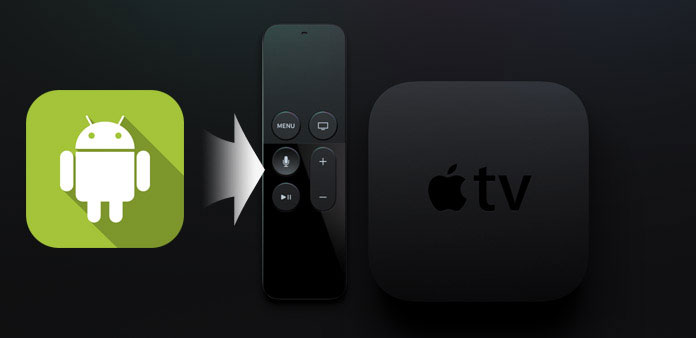 In order to enjoy videos taken on smartphone on Apple TV, you can use AirPlay to stream from iPhone to Apple TV. How about streaming from Android to Apple TV? Nowadays, users need interoperability among their devices. The fast development of diverse ecosystems of connected devices, including iPhones, Android phones, smart TVs and a cacophony of gadgets produce many kinds of needs. To satisfy those needs of a large number of modern families, ways to stream from Android Phones to Apple TV emerges, as the times require. So, what if one wishes to achieve transferring? In what follows, I am willing to recommend 5 applications to enjoy Android content on Apple TV.
Method 1: Stream content from Android to Apple TV with Double Twist
Double Twist is an excellent Android to Apple TV app, which can imitate perfectly Airplay of Apple for playlists, music, and video as well as other image files. It also plays an important role in podcast manager and syncing one's iTunes media collection. The excellence of Double Twist is that it can stream content from Android to Apple TV that is compatible with the AirPlay standard and connected to the same Wi-Fi. Just learn more detail about the specific steps to stream to Apple TV from Android device.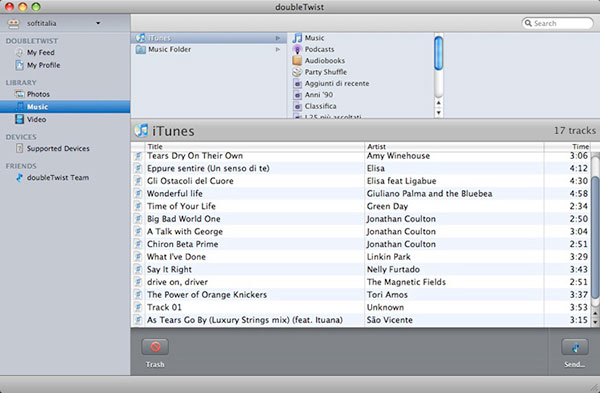 Step 1: Active AirPlay in Settings
Go to "Settings", and then scroll down to choose "AirTwist & AirPlay". And then you can tap on "Enable streaming" and approve the current Wi-Fi network. And then you can active AirPlay in "Settings".
Step 2: Stream content from Android to Apple TV
Just tap on the new Wi-Fi like icon, which will bring up a dialog with the choice to play in the Android app or to stream to the Apple TV. And then tap on a Double Twist icon to select Apple TV for output.
Step 3: Play Android Video on Apple TV
Once you stream from Android to Apple TV, you can find Wi-Fi like icon glows blue, which indicate that Double Twist are streaming video to Apple TV. You can sue the similar method to stream music to Apple TV from Android phone.
As for streaming photos, the only difference is that you need to use the "Share" feature to select "Double Twist AirTwist". Now you can stream everything in Apple TV for Android content.
Method 2: Stream Video from Android to Apple TV with Twonky Beam
Twonky Beam is a free app that makes users discover and stream online content from a tablet or mobile Android device to Apple TV. Not only does it work with a large number of living room devices, but also it can work across operating systems, brands as well as industry standards to set up gap amid mobile devices and the living room. In order to give Android users better experience, using the most proper playback device, it can boost photos or music from phones or tablets in the home network.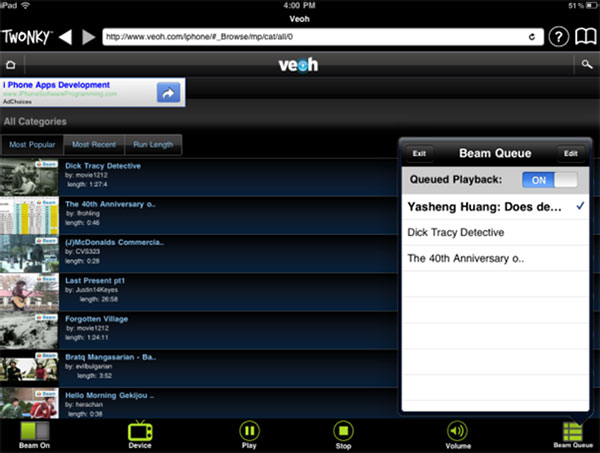 Step 1: Install Twonky Beam on Android and Apple TV
Twonky Beam is a browser wrapped in a media sender, which plucks video, audio and photos from a web page on your smartphone or tablet and stream across your home network to your smart TV or media streamer.
Step 2: Choose the Android content from Apple TV
Once you start the Beam, the program provides the Android content on the same network, tapping the tagged videos, audio files or photos will send it to your TV or playback device with DLNA technology.
What is more, you can also stream video from Android tablets to Apple TV. And then you can queue up videos in a playlist, which you can choose the content to playback with ease.
Method 3: Stream files on Android into Apple TV via AllStream
Acting as a transmitter, the excellent application offers the perfect and practical functions of AirPlay to its users, which offers users many a choice about their music player, like Google Play Music, or others when streaming from android devices to Apple TV. In spite of this, there is also a significant thing users must be aware of - a payment of 5 Euro is indispensable if users wish to enjoy possessing this application for a specific amount of time. Plus, here are some easy introductions to follow.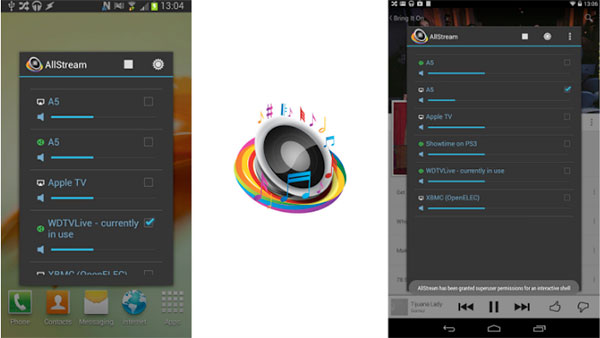 Step 1: Connect Android and Apple TV with same Wi-Fi
Open the app and connect to the same Wi-Fi network as your Apple TV. After you finish it, you will see your Apple TV (or other AirPlay receiver) in the connections menu.
Step 2: Select Android content to stream to Apple TV
And then you can select photos, videos or music you want to stream. After that AllStream does the rest to achieve move everything you choose to Apple TV.
The Android to Apple TV application is able to use both AirPlay and DLNA connectivity. It has the ability to stream to any existing AirPort Express, Apple TV, XBox 360, PS3, XBMC, or Samsung Smart TV.
Method 4: Stream from Android to Apple TV with AirPlay Media Player
AirPlay Media Player can easily search, find, and browse videos, photos, or music and watch on Apple TV from your Android phone. Also, you are allowed to share your favorites from YouTube, Facebook or other online websites with your friends. Besides, it owns the ability of creating and managing playlists. The most salient feature is that no installation is needed except this app. Together with a few ways to make it easier for you to use.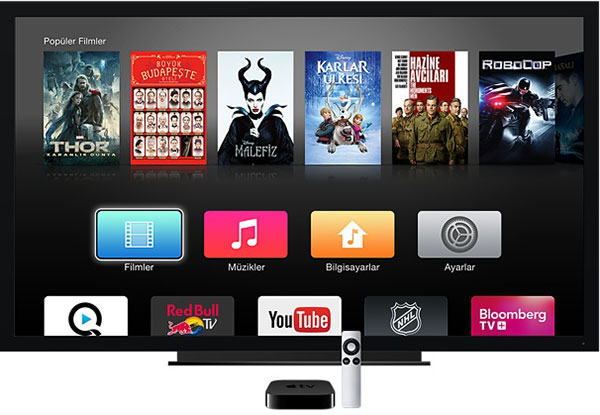 Step 1: Start with updating Apple TV
Android 2.1 and later versions is a must. Also, Zappo TV account is required. It is of great importance for you to upgrade to the latest iOS version and please make sure AirPlay is set to "ON" in the menu of your Apple TV!
Step 2: Stream from Android to Apple TV
Set "Required device verification" option to "Off" under AirPlay settings. Use AirPlay functionality to stream content from your Android phone to an Apple TV.
Method 5: Stream Items from Android to Apple TV with AllCast
AllCast allows streaming the stuff from your android device to Apple TV, such as Airplay. AllCast Premium includes no advertisements, no splash screens and no limits on video lengths. AllCast also offers DNLA support that allows it to communicate with the Apple TV, Chromecast, Amazon Fire TV, Xbox 360 and One, Roku, WDTV and other DLNA compatible devices.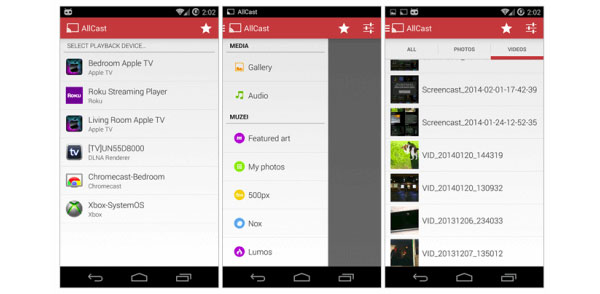 Step 1: Connect Android and Apple TV to the same Wi-Fi
When you need to stream from Android to Apple TV with DLNA, you only need to connect Android phone and Apple TV with the same Wi-Fi. And then you have prepared your devices accordingly.
Step 2: Extract Android items to Apple TV
The program is also able to Allcast stream content from Google Drive and Dropbox account, along with any other storage device. You will surely achieve shifting anything from android to Apple TV.
AllCast Receive App just make your Android device a streaming target, which let you stream videos and photos from Android tablets to Apple TV with ease. Just make sure you have rooted Android phone as for the application.
Conclusion
As I mentioned above, you are bound to grasp some key points from those apps. Methods I come up with are much easier and more convenient to you. So in the next time, when you are wondering how to stream from android to Apple TV, review my article, and it will help you solve many arduous problems.