Top 10 Spyware Apps for iPhone You Should Know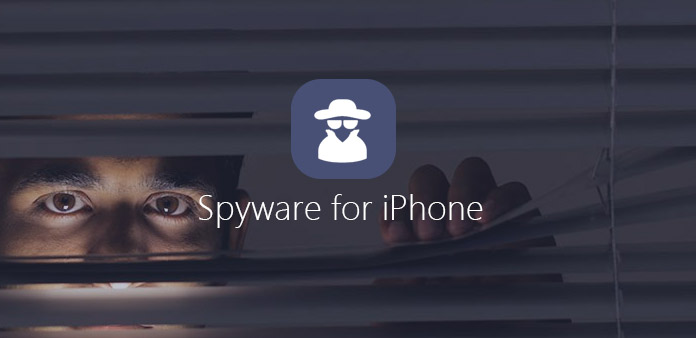 Do you want to be monitored? Obviously everyone's answer is no. No one wants to live under someone's eyes. And now a pair of invisible eyes is entering your life on the sneak. With the development of technology, some spy apps cause invasion of privacy. Some people use them to track your activity on your iPhone. What's more, they can view all your records on iPhone. After reading this post, you will be familiar with the spyware for iPhone and learn the method to get rid of these files with ease. "If you know your enemies and know yourself, you will not be imperiled in a hundred battles". As the saying goes. If you still have any query about spyware removal for iPhone, you can leave a comment in the article.
Part 1: Top 10 spy apps for iPhone
If you find the following spyware for iPhone, you should remove them directly from iPhone as soon as possible.
1. mSpy
mSpy can be used to many types of devices. And it offers you the highly effective monitoring features. Once you install mSpy on your iPhone and run it, the spyware for iPhone starts to record all your activities on your iPhone and upload all the data to your online account. For iPhone users, you can download it without jailbreak. However, it also has drawbacks at the same time that you have limited features if used on a non-jailbreak iPhone. You can only track call logs, SMS, Contacts, browser history, Events and Notes.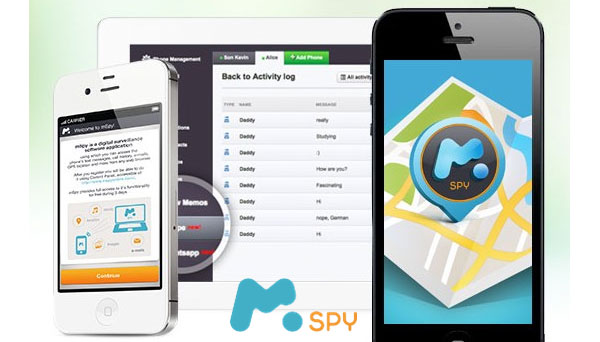 2. Spyzie
Spyzie is a kind of web based iPhone and Android spy tool. It can locate your place and monitor you. Specially, when it spies on an iPhone, it doesn't need to install app. All you need to do is to create a Spyzie account and verify the Apple ID connected to the target phone. After that, you can monitor call logs, SMS and iMessages, locations, browser history, bookmarks, WhatsApp messages, contacts, apps, photos, videos, calendar activities, reminders and voice memos. And lots of applications are allowed on Spyzie except Facebook messenger.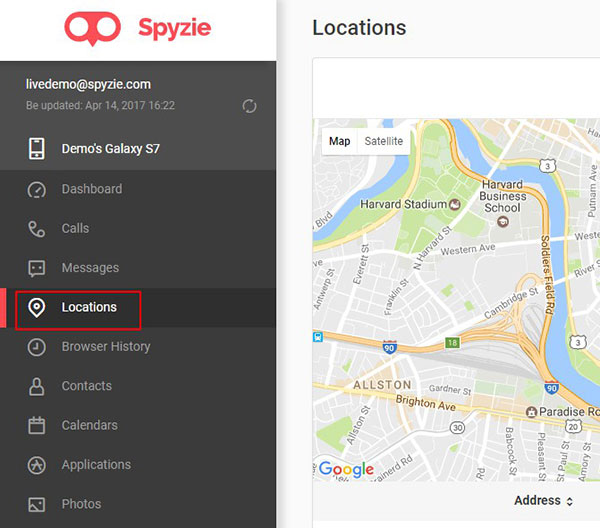 3. SpyEra
SpyEra is a good choice for someone who wants to spy on people especially your spouse. The spying app for iPhone will help you record you all the incoming and outgoing data in target iPhone, from email to SMS logs, from Facebook posts to Skype conversations. SpyEra offer all the things you want to know. Moreover, it has tracker feature which can track your real-time location. The most outstanding part is when the people you are monitoring change his/her SIM card, you will receive notification. Also, it needs iPhone to jailbreak before downloading it. And people won't find app icon on their screen.

4. FlexiSpy
If there exists iPhone spyware that has great value, FlexiSpy may be one of the good options. It has more than 150 features including call tracking, call interception, instant messaging monitoring, SMS tracking, multimedia monitoring and location tracking, and so on. Under this monitor of spyware, I believe nothing can escape from their control. And also it has to jailbreak the target iPhone.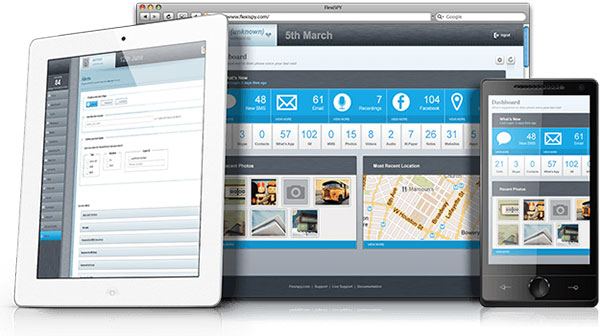 5. XNSPY
XNSPY is a good cost performance product with excellent high efficiency and good features. First of all, it is highly compatible with all Android and iOS devices. This mobile motoring app offers you a real-time monitoring and lets you to access even the deleted data off a monitored device. Moreover, you are allowed to spy on phone logs, track social media, get location history or even download all the phone logs from the monitored device.

6. Mobistealth
Mobistealth is excellent iPhone spy software to help you secretly monitor the cell phone of someone. It can silently record all the activities on the phone and send the data to your online account. With the help of Mobistealth, you can easily get phone surroundings, email, text messages, GPS locations, browser history, call details, photos, instant messenger chats and more. Otherwise it can work stealthily in the target phone that the users will not notice there is spy app in his/her phone.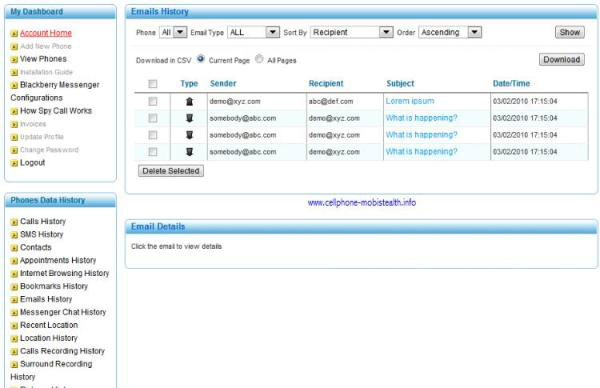 7. SpyBubble
SpyBubble is one of the best spywares for iOS you must need to know for its powerful features. This motoring app allows you to spy on almost all activities on target person's iPhone. SpyBubble lets you to monitor browser history, call and SMS activities, photos and videos tracking, environment recording, and WhatsApp chat monitoring. What's more, the most remarkable feature is GPS tracking. It sends the real-time location to you accurately.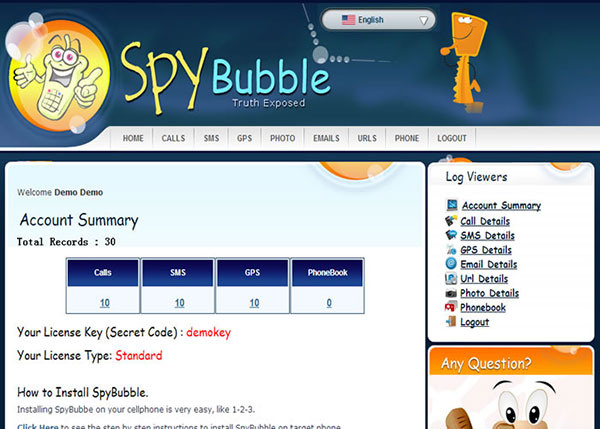 8. The TruthSpy
Another powerful spyware for iPhone is The TruthSpy. It is suitable if you want to monitor your children in case of that they access dangerous things. It can help you record any phone call, control camera, or read every single message. Besides, it has GPS tracking to spy on people's location and track target person's social media activities. What's more, it supports iPhone, iOS and Android mobile device.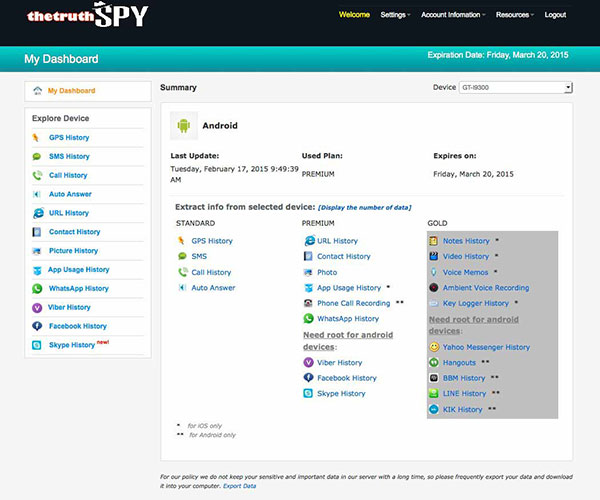 9. MobileSpy
If you want to spy on someone, you can download MobileSpy the target person's iPhone. When you finish installation, it will work on background and the target person will not know about it. It can help you record SMS messages to your MobileSpy account. Additionally, the iPhone spyware has a special function called Live Control Panel which can help you get snapshoot of the phone's careen as well as accessing the real-time location of that person. All in all, it is a good spyware instead of its high cost of $100 annual subscription fee.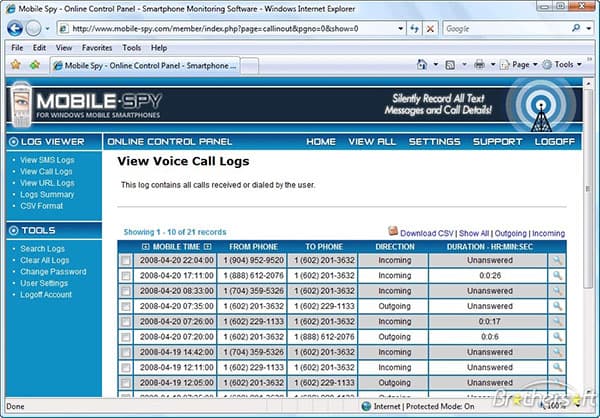 10. Tipard iOS Data Recovery
What should you do if you need to detect some files deleted on iPhone? Tipard iOS Data Recovery is the right spyware for iPhone. It is able to recover contacts, call histories, MMS, iMessage, picture, videos and other information. And more importantly, you can also get back the deleted files from some broken iPhone or iPad. It will always retrieve the important data you required from the iPhone according to your requirements.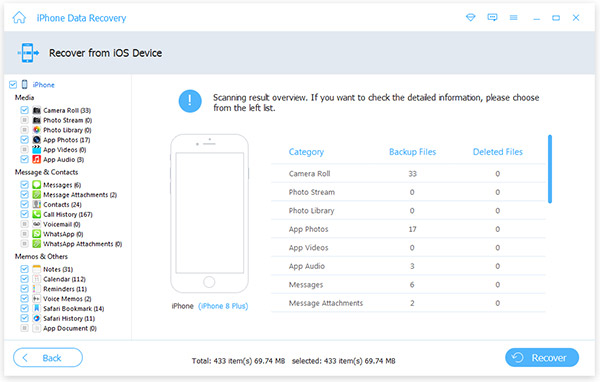 Part 2: How to detect spywares on your iPhone
In the last one, we have introduced many powerful features of spywares. But there have one common feature which I have mentioned is that you can detect them easily. Thus, before you want to know how to detect spy apps on your iPhone, you should bear in mind that it is not an easy task for spyware developers will do anything to make sure that the spyware they develop will not be found easily. But there are still many signs when you suspect that someone is snooping on you. And following are some of them.
1. Unaccountable Data Usage
When you notice that your iPhone overall data usage somehow increased, there may be a spyware on you iPhone. Why we identify it? We all know the function of spywares; it will record your data and send to the spy, and all this process will cause the usage of data.
2. Phone Getting Warm
If your iPhone get warm unreasonably even when you don't use it, you may need to be are of the spyware on your iPhone. Spywares always work in the background regardless of whether you are using your phone or not
3. Background Noises
If you hear some noises from your iPhone when you are answer your iPhone, it has large possibility that you have been monitored. Because some spy apps can interfere or record your phone.
4. The Cydia App
When you find this app on your iPhone, it means your iPhone has been jailbroken. If you don't have plan to jailbreak your iPhone, you should pay more attention on your iPhone for someone may be monitoring on you by some spywares.
5. Jailbroken iPhone
If you iPhone has been jailbroken, it may have a big risk of existing spy apps on your iPhone.
Conclusion
The article explains the top 10 spyware for iPhone that used to detect some important data you want. Just select the suitable application to install them on iPhone. But there is one major problem, the iPhone spyware might be found and deleted. In order to get the information data others deleted, Tipard iOS Data Recovery should always be the program to get some wanted data from other's iPhone.