Top 10 Apps to Record Sound for Android Tablet/Phone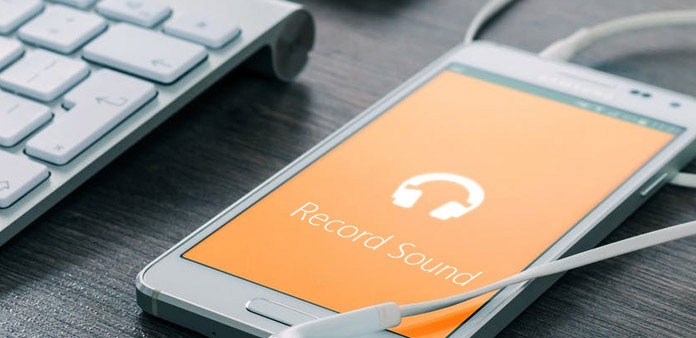 How to record sound with Android phone? You can't take a voice recorder on your hand all the time for you don't know when you need it. And then an Android sound recorder app is essential for you. Sound recorder is designed for the long-time HD (High Definition) sound recording such as when you are in a business meeting or when you want to record songs in a vocal concert. So in order to record high-quality sound on Android, you need to find best sound recorder for Android. And you will happy to find there are 10 best apps to record sound on Android. Read on to learn more details about these programs from the article.
Part 1: Top 10 Sound Recorders for Android Device
1. Audio Recorder
Price: Free
This voice recorder for Android is one of the most user-friendly applications for it has a well organized interface and highly running speed. Although it is a small voice recorder, it supports a couple of actual microphones which are capable of recording some excellent sound for Android. Recording with a high fidelity and 3D effect actually attracts many of you. Additionally, it allows you to share and upload them to some platforms including cloud storage.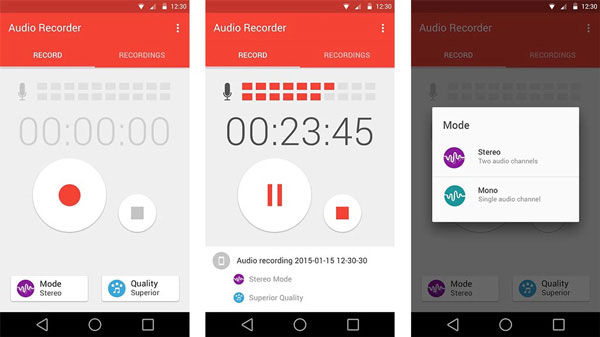 2. Easy Voice Recorder
Price: Free / $3.99
Easy Voice Recorder aims to perform as its name, and it does well. If you are a green hand in recording sound on Android, this Android voice recorder is your best choice. You can easily hit the mic button to start recording and then share or save as you needed. It has a status bar to assist you with controlling your recording with ease. Besides, it has some extra function like the ability to change the file type you record to. And apart from a free version, you can grab a paid version to get more features. It supports stereo recording, Bluetooth microphone, and more.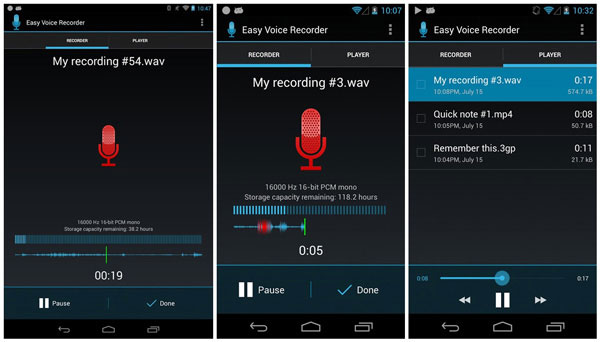 3. RecForge II
Price: Free / $3.49
If you are looking for a recorder to record longer time voice for music or some lecture recordings, RecForge II can greatly satisfies your need. It is a powerful sound recorder for Android, which has varieties of features including pitch control, gain control, tempo control, and so on. Otherwise, it also comes with a built-in editor to clip or edit your recordings. And it supports in-depth recording with some added features like scheduling of recordings, colorful and bright recording interface.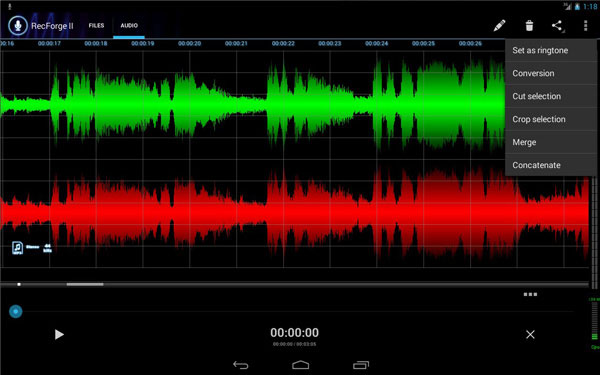 4. Evernote
Price: Free / $3.99 per month / $5.99 per month
You may be familiar with Evernote as a note taking app. But is has the feature of recording sound either. It is especially helpful for students who want to record voice on Android in class or some literatures and then take some notes around it. And you can easily save them to your Evernote account. Otherwise, you can access your recordings in other platforms quickly like PC, Mac, and Linux. And these features are all available on free version. It had another two versions which will offer you much features.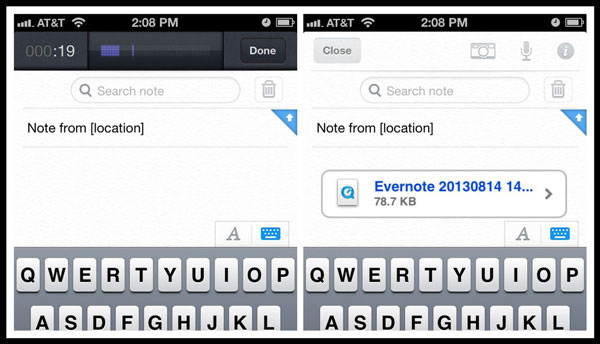 5. Google Keep
Price: Free
Google Keep is another note taking app, which also supports recording sound on Android. Although the voice recordings can't be too long and ornate, it is still a good option if you need some simple and easy-using. Like Evernote, Google Keep also features cross-platform support for PC/Linux/Mac using Google Drive. So you can easily access your sound recordings in any devices any time. Additionally, you can add some text notes, picture notes if you like. And it is totally free to download and use.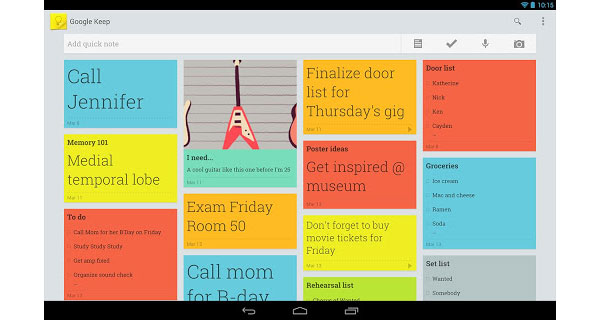 6. Smart Voice Recorder
Price: Free / $1.49
Smart Voice Recorder is an Android sound recorder which is specially designed for long-term recording. You can use it when you want to record sounds you sleeping or when you are in a lectures at school. Otherwise, it has an amazing ability to auto-skip long periods of silence so you can directly get the major part. Other features like setting recordings as a ringtone, a microphone calibration tool, and other more are also available in this program.
Apart the features mentioned for free version, you can also pay for 1.49$ to get more functions.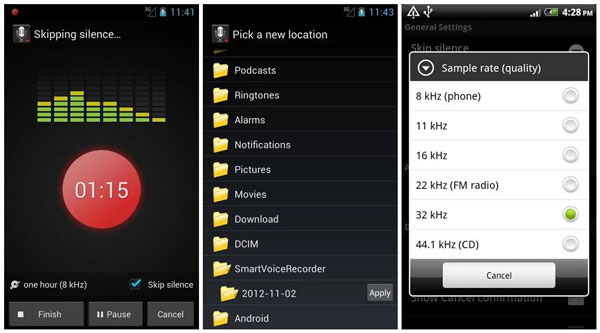 7. Snipback
Price: Free
This free Android sound recorder which offers you some basic functions. You can easily record the sound on Android you like and upload them if needed. Moreover, you are able to manage these files as you like. And it also offers you some other features including audio quality selections, recording duration selections, and a noise reduction filter. What makes it special is that Snipback can recapture up to 30 seconds of audio before you started recording. And you need to ensure the application is opening if you use it.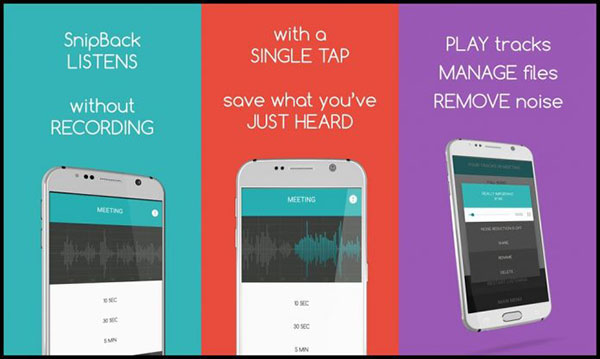 8. Voice Recorder
Price: Free
Unlike its simple name, Voice Recorder is a fully featured sound recorder for Android. It supports a variety of formats including PCM (Wave), AAC, and AMR when you record sound on Android. What's more, its user-friendly interface makes it easy to use and manage files. And it allows you to record phone calls if your devices supported.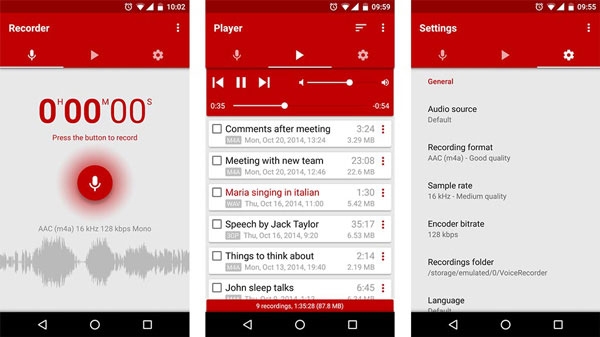 9. Hi-Q Recorder
Price: Free / $3.49
Hi-Q is a great choice among various Android voice recorder apps. It record in Mp3 so you are able to open it in almost all devices. What's more, it can help up you upload it to DropBox automatically once you have finished recording. And you can also choose which mic you want to use if you have more than one on your devices. Otherwise, it supports built-in WiFi transfer, gain control, and other more features. And you can purchase the paid version to enjoy more functions.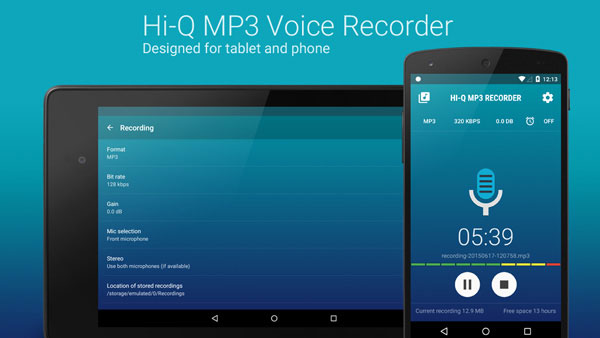 10. Tape-a-talk Sound Recorder
Price: Free
It has a modern, smart and simple interface making it incredibly easy to use. It helps you to record high-quality voice audios, voice notes, memos audios, voice notes, memos even when your screen is closed.
This voice recorder for Android offers more options like saving all your video files with various formats, sharing feature which you can mail your sound recorded on Android to Dropbox. And you will find it is easier to record and mange your voice files compared to other recorders.
Part 2: Record Sound for Android with Professional Method
All these 10 Android sound recorders above mentioned are similar with Tipard Screen Capture. Tipard Screen Capture is a recording tool to capture screen and video/audio on your PC. Apart from some applications recording sound on Android, it not only can catch the voice, but also the screen.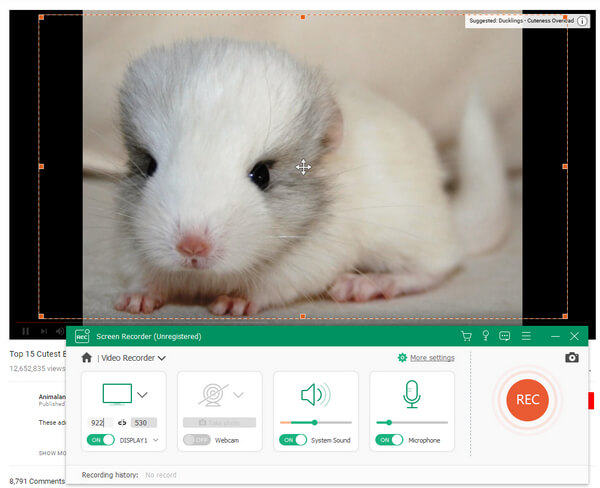 Step 1
Capture screen and record online video with the high quality
It allows you to choose the area size of video screen and you are able to save the video recordings as MP4 or WMV or other formats.
Step 2
Record audio files on your computer
It can record the audio files on computer and microphone voice. And the recording files will be saved as MP3, AAC, M4A or WMA formats as you like.
Step 3
Preview your capturing screen video
You are allowed to preview what you have captured immediately after the recording is finished. Additionally, you can adjust the volume when you preview it.
What is more, when you connect Android phone to Windows or Mac via QuickTine or other programs, you can also record sound on Android with Tipard Screen Capture together with the video files. It should be the versatile program to record Android sound or actions.

Click here to join the discussion and share your comments