What is Miracast for Android and How to Work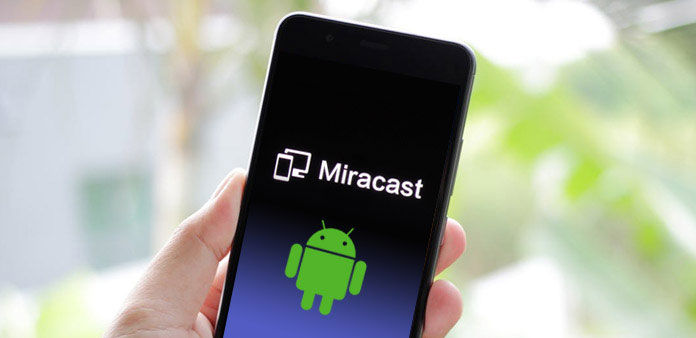 The screen of smart phone is much bigger than ever before. The big screen brings great using experience of playing games or watching movies. And on the way to design bigger screen, people has already created a tool that can mirror your smart phone's screen to TV, Projector, and so on. Miracast for Android is just like AirPlay for iPhone that mirrors your screen of Android phone to bigger screen. In order to let you know much about Miracast, this article will give you some specific guides on what is Miracast Android and how to use the function on Android.
Part 1: What is Miracast for Android
What is Miracast touted on Android devices? It is a killer feature poised to wipe out other video streaming standard in the Android market. If you are an iDevice user, you can find the similar service as AirPlay on iPhone. Miracast Android is built on Wi-Fi Direct technology first introduced for Android 4.0. And now Miracast employs the H.264 codec to mirror video files in 1080P and 5.1-surround sound audio.
When it comes to mirror your phone's screen to TV, there are two approaches to it. The first one is the traditional way that establishing a connection between your android devices to TV by using a HDMI cable physically. Or use a VGA cable if you are working with older machines. Miracast for Android the other new method, Miracast is one of the best ways to mirror your android to TV. Actually you don't need to make connection between two devices with cable, which relies on WIFI to wirelessly establish a direct, peer-to-peer connection.
Apart from mirroring your Android screen to TV, Miracast Android can also mirror the screen of tablets, laptops and desktop computers. Miracast is just acting like a wireless HDMI cable to link Android phone to different devices with high definition and with audio. You can use the Miracast Android App across multiple platforms for it is a non-internet protocol solution.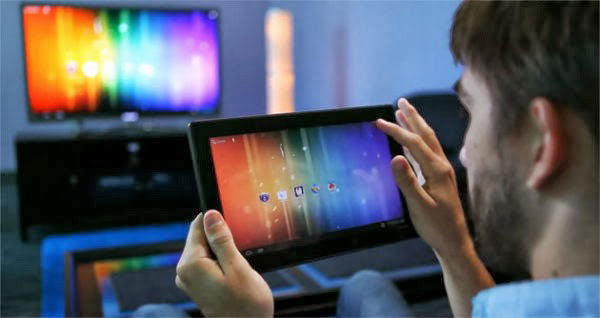 Part 2: Guidance before using Miracast
In order to make good use of Miracast, an Android phone and a TV might not be enough. Two things are essential for you, the first is Miracast-compatible Android device; another is a Miracast TV or dongle.
For Android device, its requirement is quiet easy. If the Android phone runs Android 4.2 or later, it probably has Miracast that is also known as the "Wireless display" feature. Next, you should check whether your TV is Miracast-compatible or not. With the rapid development of science and technology, most of the TVs now in the market like Sony, LG, and Panasonic, equip with the function of Miracast. Namely, if you purchased your TV recently, you can confirm that your TV is Miracast-compatible device. However, if you have bought TV for more than one year, you may need a dongle to help you. What is Miracast dongle? It is just as a USB to mirror Miracast Android to TV, which is wireless in nature. And you will see lots of Miracast dongle in Amazon. It approximately costs you $40-$60.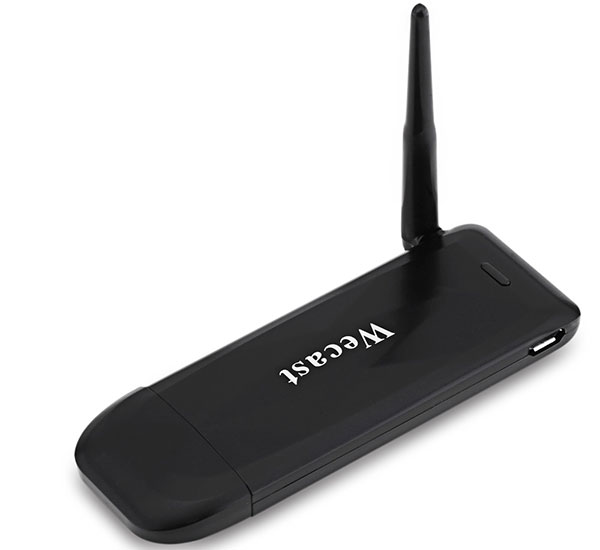 Part 3: How to use Miracast Android to TV
In order to provide more detail about the Miracast Android features, the section introduces how to use Miracast to mirror android screen in detail process. Just check out the steps as below.
Step 1: Launch Miracast app on TV
Before you do this, you need to check whether your TV supports Miracast before you enable Miracast. Then you need to ensure that your Miracast TV stick or TV box is plugged in properly into the HDMI port and your TV connects to a power source correctly. After that, you can go to the setting menu and set it up for wireless display. And in your TV, there is a pre-install Miracast Android app that you can directly launch it.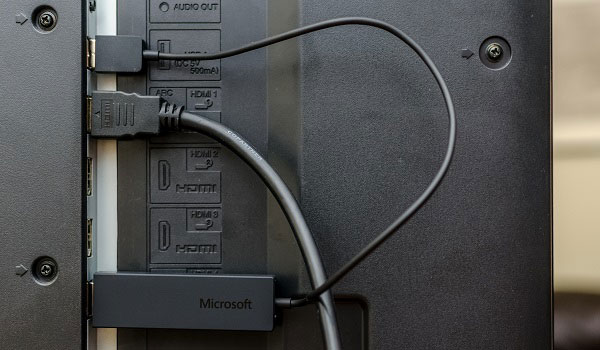 Step 2: Set up Wireless display on android device
On your android phone, launch Settings and then tap on Display icon. In the Display page, you need to click on Wireless display button. You need to switch Wireless display button to ON. With your Miracast dongle connected, switch your TV into its input. After that, you can grab Android device, access to Settings > Display > Wireless Display.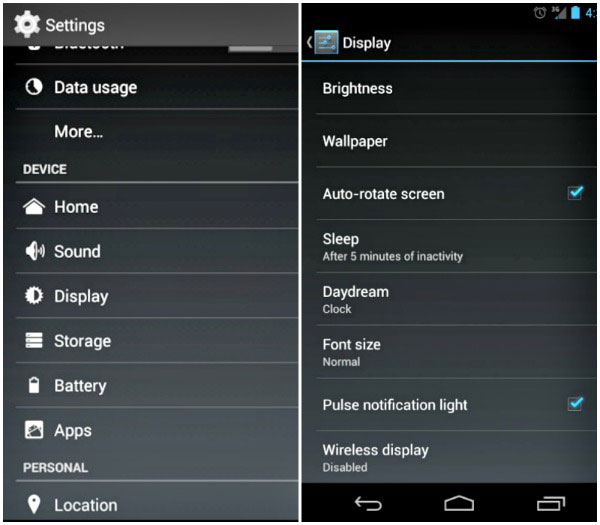 Step 3: Mirror Android screen to TV
After open Wireless display, your android device will automatically scan for nearby Miracast adapters. Find your Miracast adapters and tap on to establish connection to TV. Then you will find the screen of your android device is displayed on your TV. You can play game and broadcast videos, pictures, music or any other media from their Android device. But one thing you need remember is that when your phone's screen is black, the movie you are playing will also be stopped.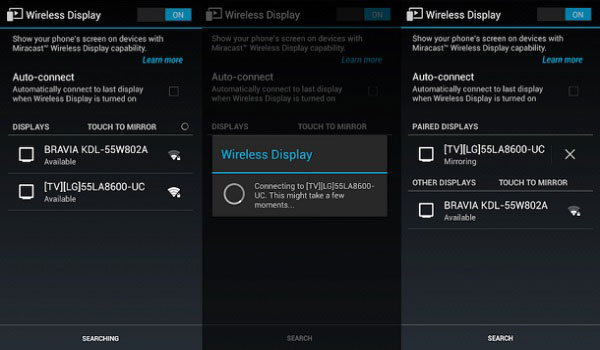 Conclusion
People really enjoy the feelings of broadcasting videos, pictures, music or any other media on bug screen. And people also have methods to get bigger and bigger screen. Mirroring android device to TV is one of the ways and it may be the much easiest way. With the guide of Miracast for Android, you can know much knowledge if you have a plan to use Miracst Android to mirror your small screen to bigger one.