The Reason of iPhone Frozen and How to Fix It Easily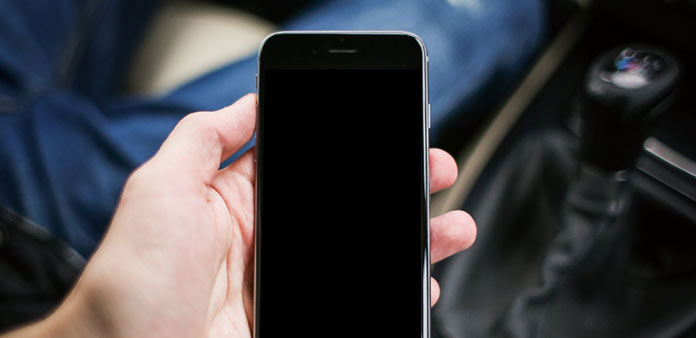 One reason that people prefer to iPhone is excellent performance. Whenever you access your iPhone, it is able to respond to each command quickly and exactly. However, as Apple integrated more and more features into iPhone, more and more users complaint that their iPhone frozen wont turn off or lagging frequently. It is annoying when you want to use iPhone but it ignores you directly. Don't worry! We are going to talk about cause of the problem and show you multiple solutions to make your iPhone back from dead easily and quickly. Moreover, you can follow our guides to prevent from iPhone freezing again effectively.
Section 1: The reason of iPhone frozen
There are various factors could lead to iPhone frozen during update, white screen, black screen or even wont shut off. Generally speaking, these factors could be divided into two categories, hardware and software.
1. Hardware causes
Overheating is a common problem faced by all smartphones, so is iPhone. If you play a video game on iPhone for a long time, it may die for extreme temperature.
Low space is another hardware limitation of smartphones. Although Apple improves internal storage, it cannot catch up users' demands. Moreover, iPhone does not support SD cards, so you have to store all apps and files on internal storage. Remember that iOS needs some space to run properly.
Battery power is too low to turn on iPhone that causes iPhone frozen and wont turn on. Each activity on iPhone needs battery power. If it is too low, iPhone won't turn on.
2. Software factors
Compared to hardware causes, software factors that could make iPhone frozen are more complicated. iOS version outdating, for example, is responsible for iPhone freezing.
Apps conflict is another common problem. If you install an iPad app on iPhone, it will produce unexpected problems, like iPhone crash. Moreover, some apps are conflicting to each other.
Jailbreak, virus and malware also could turn an iPhone to a brick too.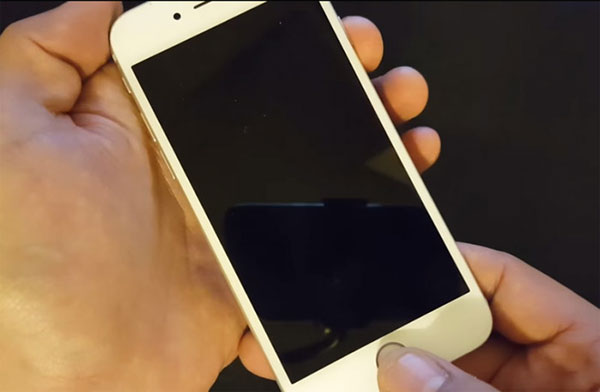 Section 2: The easiest way to fix iPhone frozen
As you can see, it is complicated to get rid of iPhone frozen targeting each reason. But Tipard iOS System Recovery could help you to solve this problem in one click. As a professional iOS system recovery tool, it lets iPhone fix freeze and won't damage all your data and files stored in iPhone.
How to fix iPhone frozen easily
Step 1
Download and install the software
Install the latest version of iOS System Recovery on your computer. Tip: It is available to both Windows and Mac computers. You can download the right one according to your operating system.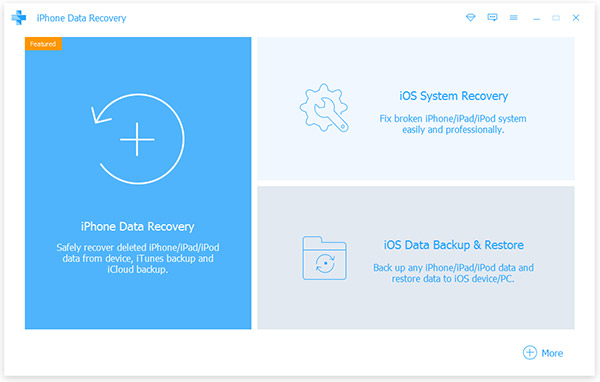 Step 2
Connect iPhone to computer
Hook up the iPhone to your computer using original USB cord. Run iOS System Recovery, it will recognize your iPhone spontaneously.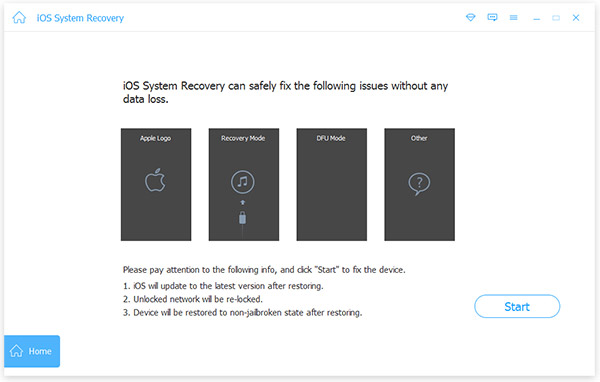 Step 3
Scan and diagnose iPhone
Click on the Start button to scan and diagnose what reasons make iPhone frozen. When scan is done, it will display the configurations of your iPhone. Check the parameters and correct it if there is something not right.
Step 4
Repair iOS System
Click on the Repair button, iOS System Recovery will do the rest work. A few seconds later, your iPhone will back from dead.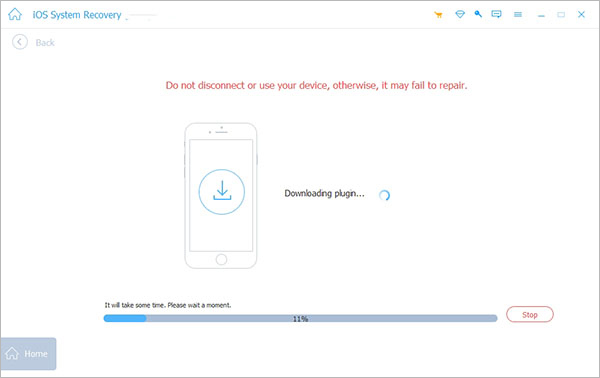 Section 3: Fix iPhone frozen with iTunes
When iPhone does not respond to you, iTunes is another way to access and fix iPhone frozen and hot.
Step 1: Link iPhone to iTunes
Plug your iPhone to the computer and Run iTunes. Wait for a while until iTunes detect your phone.
Step 2: Switch to Recovery mode
Hold down the Home and Sleep/Wake buttons at the same time until put your iPhone in Recovery Mode. Then click on OK on the pop-up window in iTunes. Tip: The buttons combination on iPhone 7 is Volume Down and Sleep/Wake.
Step 3: Backup iPhone
Click on the Device icon on top ribbon and then hit Summary on left side bar.
Click on the Back Up Now button on right panel to backup iPhone data immediately.
Step 4: Wipe iPhone
After backup, click on the Restore iPhone button and then hit the Restore button on pop-up dialog. Then iTunes will start wiping all your data and settings from your iPhone.
Step 5: Fix iPhone frozen issues
Finally, choose the Set up as a new iPhone option when reboot into your iPhone.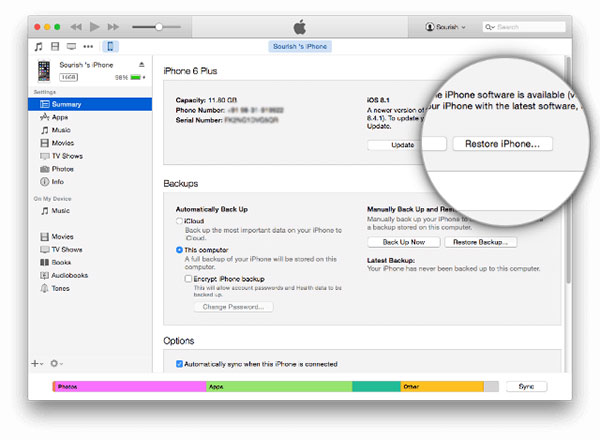 Section 4: Prevent from iPhone frozen
If you want to prevent from iPhone freezing again, you can follow the tips below.
1. You should use our iPhone in acceptable temperatures, between 0 and 30 degree Celsius. Remember that not play video games on iPhone when environment temperature is high.
2. Clean up junk files and app caches frequently. You can go to "Settings"-> "General"-> "Storage" & "iCloud Usage"-> "Manage Storage" to check out storage usage and discover storage eaters. Although you have to go to each app to clear caches, that could free up more space for operating system.
3. Manage your iPhone memory. The more apps running in background, the slower your iPhone responds your command. Releasing background apps is able to speed up your iPhone too.
4. Read the description of the app carefully before you install it on your iPhone. Do not download or run iPad apps on your iPhone.
5. If iPhone warns you that the app will make iPhone slow down, you'd batter uninstall this app.
6. Check iPhone battery power frequently and charge it when power is less than 20%. When the phone is in low power and you cannot charge it immediately, you can turn on the Low Power Mode in "Settings"-> "Battery". It could optimize battery use temporarily.
Conclusion
We can understand that it is not convenient if your iPhone frozen frequently. Of course, upgrading to smartphones with larger memory could solve this problem to some extent; however, mobile phone memory is limited compared to other digital devices. In this tutorial, we have discussed about principal reasons related to iPhone freezing. Furthermore, we offered two solutions to lessen and get rid of the problem. You can choose any one according to your situations. In the last part, we talked about tips to prevent iPhone from freezing again. In a word, you can learn all necessary knowledge about fixing iPhone freezing in this post.