How to Wipe iPhone with Top 4 Methods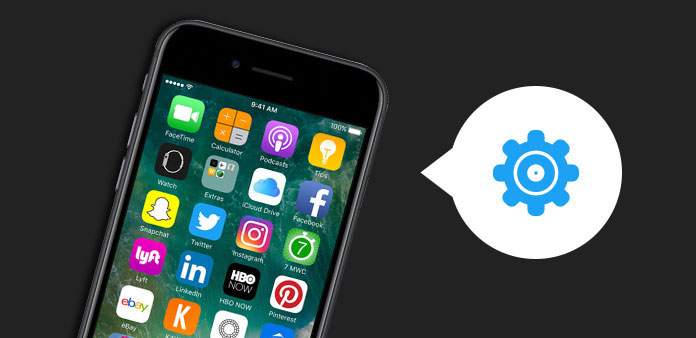 Wiping iPhone is a useful skill for all users. When you upgrade to the latest iPhone model, the destiny of old iPhone is usually the second hand market. In order to protect your privacy, you will need to wipe iPhone before put it to others' hand. Moreover, cleanup iPhone could optimize its performance and fix unexpected crash. But how to wipe iPhone effectively is still a challenge. So, we are going to talk about the best ways to erase data and junk files from iPhone. If you are still tap apps and delete them one by one, you will find our solutions and guides helpful.
Section 1: How to wipe iPhone data permanently
If you are looking for the best way to wipe an iPhone in one click, you should try Tipard iPhone Eraser. Its key features include:
1. It has the capacity to erase all personal data and settings permanently.
2. All deleted data is not recoverable.
3. You can clean up more than 1 iDevices at the same time using iPhone Eraser.
4. It works for all iPhone, iPad and iPod touch models.
5. Users could decide to clean up iPhone on Windows or Mac.
How to wipe iPhone with Tipard iPhone Eraser
Step 1
Install the software on computer program to wipe data from iPhone.
Step 2
Connect iPhone to the program
Plug your iPhone to the computer with original USB cord and launch iPhone Eraser. The program will detect the iPhone automatically.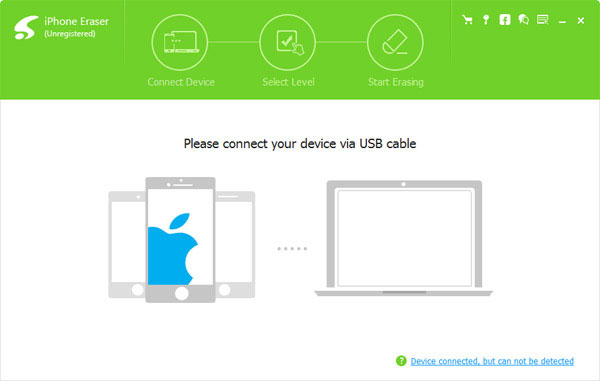 Step 3
Select erasing level for iPhone
Choose an erasing level according to your requirements. iPhone Eraser offers three erasing levels, Low level, Medium level and High level. The higher the level, the more times that iPhone data will be erased.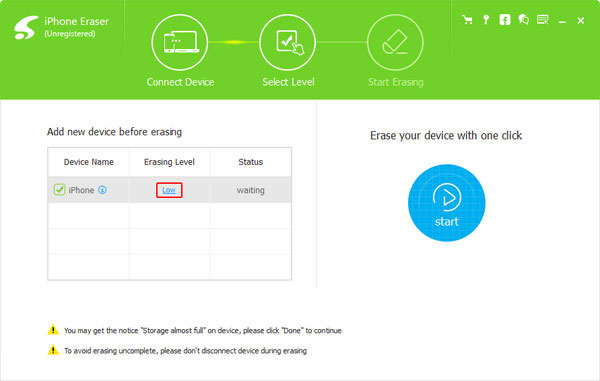 Step 4
Start wiping data on iPhone
Click on the "Start" button to let iPhone Eraser do its job. A few seconds later, your personal settings, apps and media files will be wiped from your iPhone.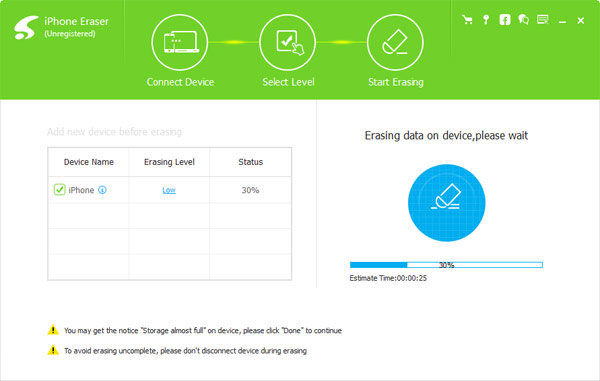 Section 2. How to wipe data of iPhone in Settings
If you just need to optimize the iPhone, you can wipe the data in Setting of iPhone. Just learn more detail about the method to erase all content and settings from iPhone directly.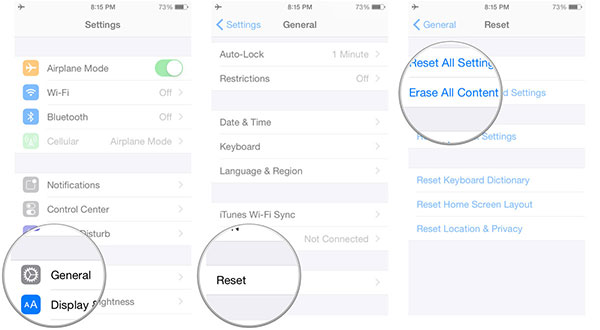 Step 1: Launch "Settings" app on iPhone home screen to start erasing iPhone process.
Step 2: Unfold "General" menu and find out the "Reset" option on General screen.
Step 3: Go to the "Erase All Content and Settings" and choose the "Erase iPhone" option.
Step 4: When the confirmation dialog pops up, press "Erase iPhone" again to confirm it.
Step 5: Then you need to input your iPhone PIN code to start erasing. iPhone may ask you to turn off "Activate Lock" and disable "Find My iPhone". You can follow the on screen instruction to complete it.
You should understand that the apps and files are just wiped from home screen. They are still recoverable using iOS data recovery software.
Section 3. How to use iTunes to wipe iPhone
iTunes allows you to select certain files and data to clean up from iPhone. If you just want to wipe a part of apps or files from iPhone, you can use iTunes.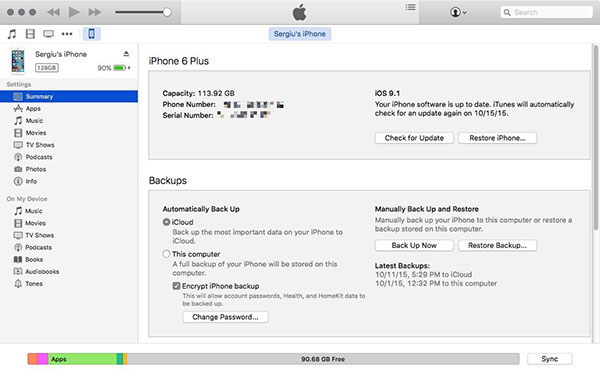 Step 1: Hook up your iPhone to the computer with a cord.
Step 2: Launch iTunes on your computer and wait for your iPhone's icon to appear on the interface. Click on the "Device" icon at top ribbon of iTunes to continue.
Step 3: Click on "Apps" under "Summary" section on left side bar. All apps on your iPhone will be listed in iTunes.
Step 4: Hit the app you want to wipe from iPhone and the press the "delete" icon.
Step 5: Repeat step 4 to delete other apps. Finally, click on the "Apply" button at bottom to confirm wipe iPhone apps.
Section 4: How to wipe iPhone remotely
Apple has integrated a feature to allow you wipe iPhone data remotely, called Find My iPhone. If you have turn on this feature on your iPhone, you can wipe an iPhone, even though it is not in your hand.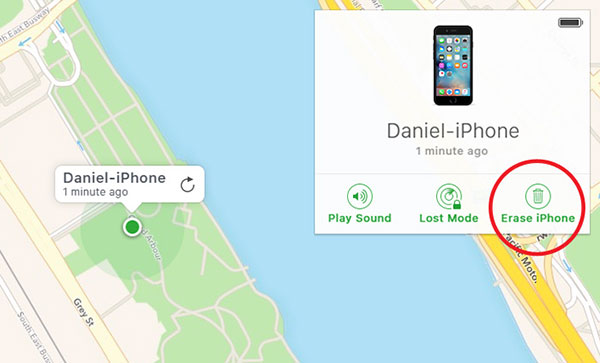 Step 1: Visit www.icloud.com in your browser. Log in iCloud with your Apple ID and password.
Step 2: Click on Find My iPhone on the home page and then press All Device at top ribbon. Choose your iPhone on the list.
Step 3: When a new dialog pops up, hit the "Erase iPhone" icon and the press "Erase" to confirm it.
Then all personal apps and settings will be wiped from your phone.
Conclusion
We are increasing relying on our smartphones to achieve every tasks related to daily life and work. Contacts, call history, SMS, personal pictures and videos, and other files record our privacy on iPhone. Actually, iPhone has the capacity to record more personal information. Where we have been, iPhone sensors will record our daily route and so on. Can you imagine your privacy goes to wrong people's hand? Wiping iPhone is the only solution to protect your personal data and files. We have introduced multiple ways to clean up iPhone. If you want to wipe iPhone permanently, you should try Tipard iPhone Eraser.