Best Ways on How to Remove Songs from iPhone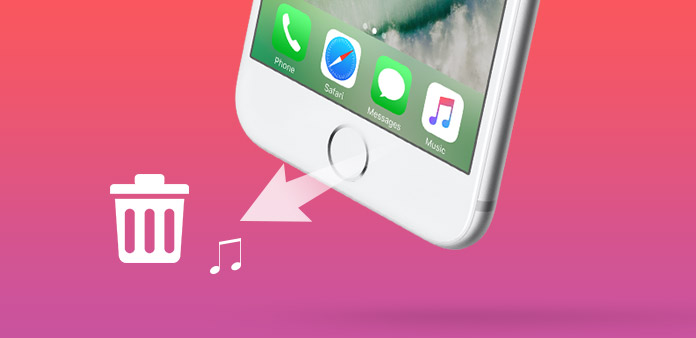 Delete music from iPhone regularly but fail to see the smaller storage day by day? Well, it is the common for every iPhone user actually. And someone just does not have the patient to delete every album or song by pressing Delete button singly. There is another annoying case that your deleted songs will be recovered even though you made the music deletion manually several days before. With the above three sad examples, you may get my point already. Yes, today, I will show you methods to remove songs from iPhone permanently, in quick and fast way. Or you can follow the following iTunes and iPhone music deletes guides to check whether your iPhone songs deletion to be correct or not.
Part 1: Remove All iPhone Songs Permanently with Tipard iPhone Eraser
Do you think your personal data will be removed totally by simply deletion on iPhone? Unless you factory reset it, or there will still be dangerous of divulgences. Moreover, for people whose iPhone storage may not be large enough, erasing data regularly is the mainly applied choice, to clear iPhone data without factory restore. If you have any trouble I have mentioned, then you are lucky to get the smart and powerful iPhone delete, which is Tipard iPhone Eraser.
Support all iOS devices to delete any iPhone files, iPhone Eraser can erase music, photos, messages, contacts, apps and etc. All your personal information will be removed permanently. Thus, once you delete the wrong iOS data, I'm sorry there is no data recovery software you can turn to. On the contrary, you can regard iPhone Eraser as the ultimate iPhone cleaner, to remove songs from iPhone without iTunes.
Step 1
Locate Tipard iPhone Eraser on your PC.
Note: highly compatible with iOS 9.3 and Windows 10.
After you download and install iPhone Eraser, open it and use USB cables to link your iPhone with the computer. Wait few seconds for automatic iPhone detection. For over 2 iOS device music deletion, just connect them with the computer as usual, and iPhone Eraser will show all iOS device names in the list for you to choose.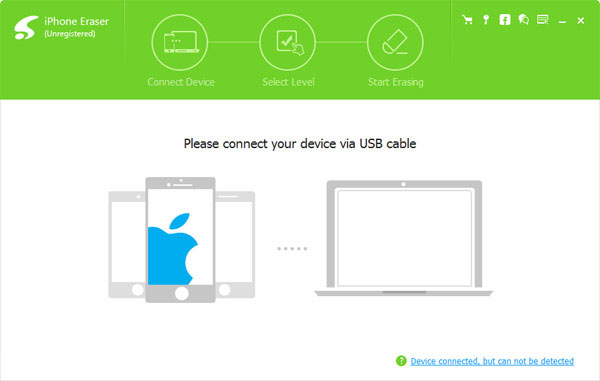 Step 2
Set erasing level.
Select songs to remove from iPhone and set the iPhone erase level.
Low level: Overwrite iPhone data once
Medium level: Overwrite iPhone data twice
High level: Overwrite iPhone data for three times.
If you just need to remove music and albums from iPhone, then choose Low level is enough for songs cleaning on iPhone.
Step 3
Delete songs from iPhone.
Choose Start option to remove all music from iPhone or iPad permanently.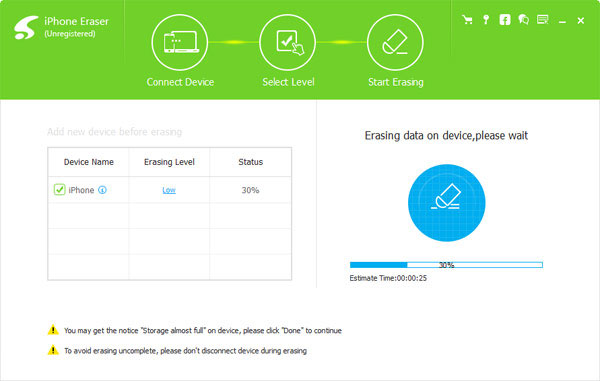 Quite easy to delete iPhone music, maybe within 5 minutes, and then all hide songs can be tracked in the corner, to make your old iPhone run like new. No additional smart phone to bought, with Tipard iPhone Eraser, you can own the new lightning iPhone all the way.
Part 2: Remove the Songs from Your iPhone Directly
You can check and correct your iPhone songs remove processes, of single iTunes song or to delete the entire album. There are relatively official methods to remove songs from iPhone in easy and fast way. Sometimes your iPhone storage space became narrow with nothing downloaded is because you do not delete music on iPhone correctly.
1. Delete all songs from iPhone:
Go Settings > General > Storage & iCloud Usage > Manage Storage > choose Apple Music application to get Edit and All Songs options, finally delete the whole iPhone music by tapping Delete option.
2. Remove an album from an iPhone:
Open Settings, General and Storage & iCloud Usage, to Manage Storage, to select the album to delete.
3. Delete the single song on Album with Apple Music Application:
Run the Music application on your iPhone, to open My Music menu, to choose which iPhone songs to delete. (You can swipe left or hit the three dots near your song's name.) Click Deletion button to delete the iPhone album from iPhone hard drives.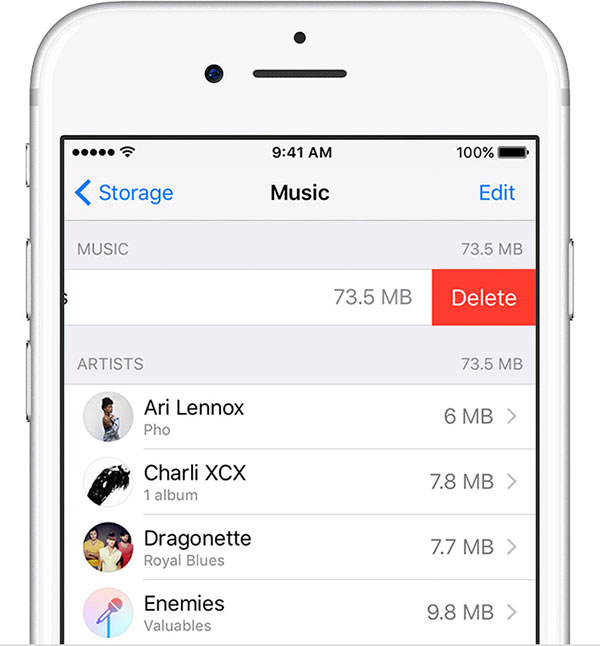 Part 3: Erase Songs from iPhone with iTunes
Or you can delete songs on Mac or PC after you connecting iPhone with them, to manage iTunes music library as well, especially for purchased music. So, let's start iPhone songs removing processes.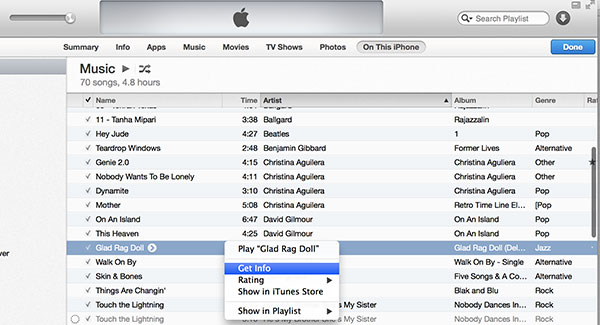 Step 1
Connect iPhone to PC, and launch iTunes on your computer.
Step 2
Locate the Music Library in iTunes.
Open Music option on the toolbar, and click My Music button.
Step 3
Select iPhone music you want to delete
All your songs will be displayed in a list, you can click the menu to switch into albums, artists and other more options. For people who have large amounts of music, use the search bar to find the certain song. And press Command and Ctrl together on the keyboard, to select multiple songs to delete together.
Step 4
Right click selected songs, to get Remove Download option.
It is the method to delete purchased songs from iPhone in iTunes. Your purchased song will only be removed from iTunes library, but it will still exist in iCloud Music Library and other connected devices, not in iPhone.
Step 5
Choose Delete option to remove songs from iPhone.
Later, sync the iPhone to check whether you have delete the song from iPhone already. These all the normal iPhone music remove processes, with which you can apply for daily data removal. But Tipard iPhone Eraser is still the ultimate iPhone data remover, to clean your old crowd iPhone with the new iOS device appeared, and upgraded from the original one.