Top 4 Methods on How to Merge Contacts on Android and iPhone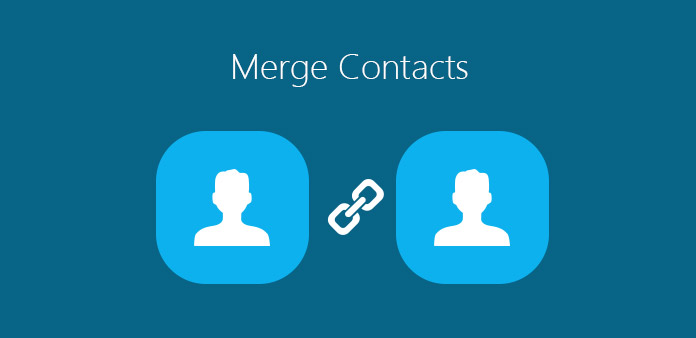 Many young people change phone numbers frequently to enjoy better data plans. So, you may discover that there are many duplicated contacts on your phone. That does not eat up more internal spaces, but also make contact searching more difficult. Don't worry! We are going to talk about the best ways to merge contacts on Android and iPhone in details. No matter you want to merge contacts from two smartphones or merge duplicated contacts, you will find what you need in this tutorial. In short, just follow our guides that you can manage your contacts on Android phone or iPhone easily.
Solution 1: How to merge contacts on Android phone
Unfortunately, Google did not embed contact merging feature in Android, so you will need a third part tool. Developers have released many contact manager apps for Android phone. And some apps have the capacity to merge duplicated contacts together. We use "Contacts Optimizer" as the example in this part.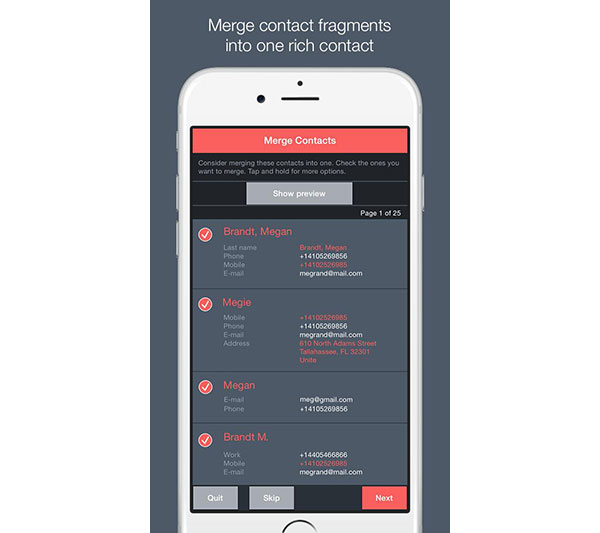 Step 1: Download Contacts Optimizer from Play Store and install it on your Android phone.
Step 2: Launch the contact manager app on home screen, tap on the "Toolbox" menu and then choose the "Merge Contacts" option. Then it will scan the duplicated contacts and merge them automatically.
Step 3: If you want to merge two contacts manually, you can choose the "Manual merging contacts" option in Toolbox. When the contacts list opened, select the two contacts and combine them together.
Step 4: After merging, you can use the "Duplicates found" or "Delete duplicates" feature to clean up the excess contacts.
Contacts Optimizer is a powerful tool to manage your contacts on Android phone, but some features need to upgrade to pro version, which needs to purchase in Play Store.
Solution 2: How to merge contacts on iPhone from iOS
iOS has integrated a feature called link contacts, which is able to merge duplicated contacts on iPhone. The advantage of this feature is that you do not need to install anything on your iPhone. And the disadvantage is you have to combine contacts one by one.
Step 1: When you discover two duplicated contacts on your iPhone, open one of them in Phone app or Contacts app.
Step 2: Tap on the "Edit" button at upper right corner to go to editing screen. Then locate to the "LINKED CONTACTS" section and tap on the "plus" icon button.
Step 3: The link contacts feature will take you to the contact list. Here you can search for the other contacts to combine with the original one.
Step 4: Tap on the contact on result page and then press the "Link" button at top of Info screen to open the merging contacts screen. If you want to combine more than two contacts, you can click on the "green plus" button to add another contact.
Step 5: Once your tap on the "Done" button on top ribbon, the two contacts will combine together and only one left.
Solution 3: Merge and remove duplicate contacts on iPhone
When you merge contacts from iPhone, Tipard iPhone Transfer would help you solve the problem. It has the function of removing duplicate contacts on iPhone and then backup on your computer. It is also able to transfer music, video, photos and other files from iPhone to PC or even sync to iTunes.
Step 1
Connect iPhone to PC with USB cable
When you download and install Tipard iPhone Transfer, you can launch the program and connect iPhone to computer.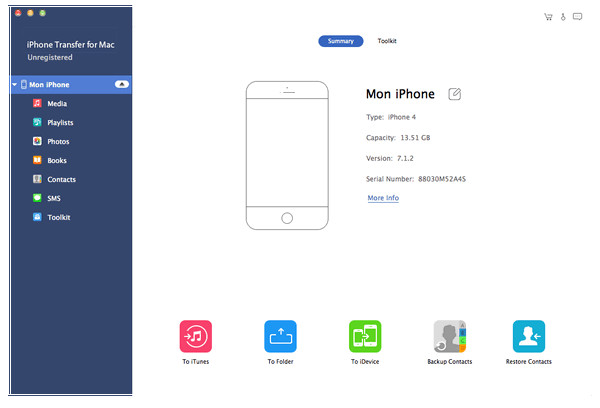 Step 2
Choose contact from the list
After you connecting iPhone and computer, you can find the type of Contact to on the left side menu.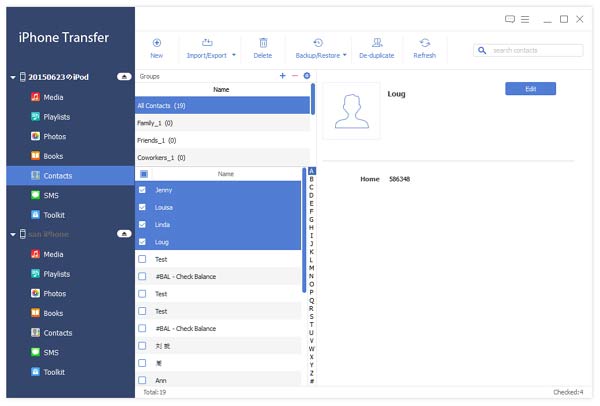 Step 3
Start to remove duplicate contacts
Click De-duplicate button on the top column, and start to remove duplicate contacts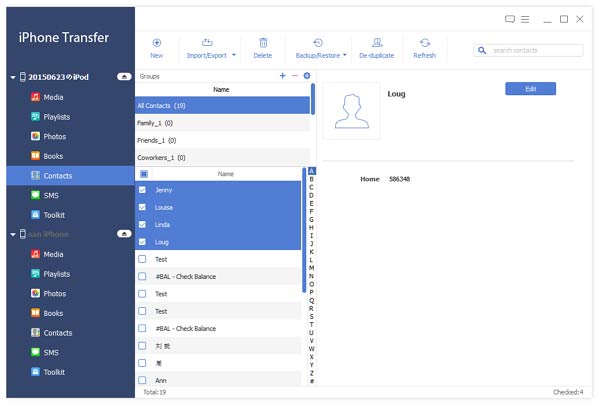 Solution 4: Merge contacts in Android phone/iPhone using Gmail
Gmail is compatible with both iPhone and Android phone. And many people prefer to backup and manage their contacts using Gmail. Actually, Gmail has the capacity of contacts merging as well. If you are using Gmail on your smartphone, you can achieve contacts merging with Google easily.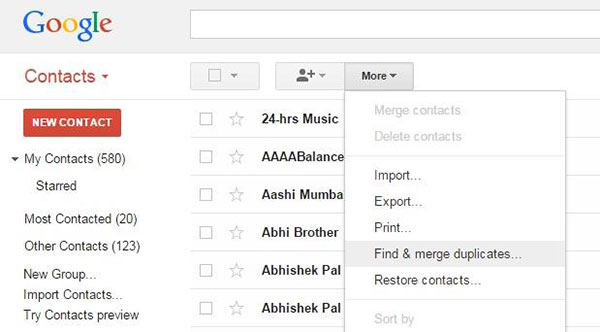 Step 1: Back iPhone contacts or Android phone contacts to Gmail.
Step 2: Access Gmail in your browser and sign in your Gmail account. If you use mobile browser, you have to switch to PC version. Unfold the "Gmail" menu at upper left corner and choose "Contacts" on the list.
Step 3: When Gmail take you to the contact page, click on the "More" menu and choose "Find & merge duplicates" option.
Step 4: Then Gmail will show you all contacts have duplicate data. If you find some contacts you do not want to merge, you can uncheck the boxes in front of them. When you are ready, click on the "Merge" button on bottom, Gmail will do the rest work immediately.
Of course, Gmail also has limitations. It only works for contacts have duplicate data. If you want to combine two irrelevant contacts, it does not work.
Conclusion
As you can see, merging contacts on iPhone and Android phone is not as difficult as you thought, if you browse our step-by-step guides. For iPhone users, the best way to merge contacts is the built-in link contacts feature. It allows you to combine any contacts, no matter they are duplicated or not. Moreover, you can combine more than two contacts using link contacts. For Android phone users, such features are only available in third party apps. Although there are many contact manager apps for Android phone, real freeware is limited. So, we suggest Android users use Gmail to merge contacts for free. To help you merge contacts from two mobile phones, we also recommended an excellent contact transfer, Tipard Phone Transfer. In a word, you can merge your contacts using our guides on iPhone or Android phone easily.

Click here to join the discussion and share your comments
Top 4 Methods on How to Merge Contacts on Android and iPhone