How to Free up Storage Space on iPhone with 11 Best Methods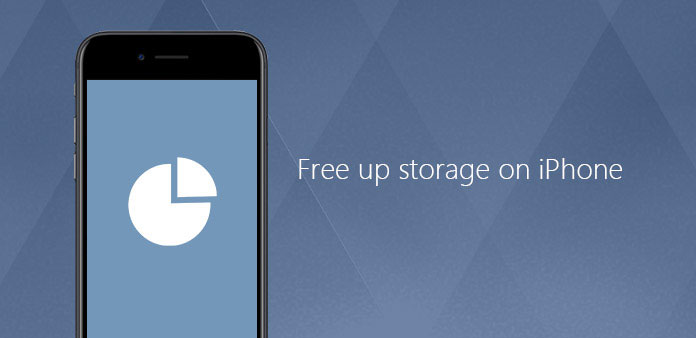 We are excited for getting a new iPhone, and then we will install all kinds of applications even these applications have no any need for. We also download various files or documents on iPhone, such as music, photos, and videos and so on. Too many files in the iPhone will affect the usage of phone. Free up storage on iPhone will make your iPhone running faster and safer. Therefore, how to clear up the useless files or apps on iPhone? There are many methods to solve the issue. We will introduce the most important and easiest ways to free up your storage of iPhone with this article.
Part 1: Ultimate solution to free up storage on iPhone
If you really want to free up storage on iPhone, Tipard iPhone Eraser should be the ultimate solution to remove all files. The program is the one of the most popular iOS files erasing tool because it can help iPhone user to erase all the files in the iDevice. The folders including photos, music, contacts, documents and applications you do not need or even the personal information. What will make you feel surprise is that you can finish the process just with one click with Tipard iPhone Eraser. We will perform the whole steps of how to free up storage on iPhone below.
Step 1
Download and install the Program
Download and install Tipard iPhone Eraser on your computer, then launch it. Then, connect your iPhone device with computer with a USB cable. They software will scan your iPhone and the files on your iPhone itself.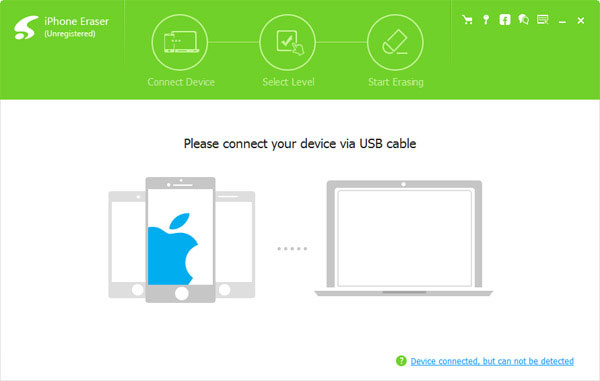 Step 2
Select the erasing level
You will see another interface once you download the program, and then click the "Erasing Level" icon. You can discovery three different erasing levels now. You can choose the suitable level you need.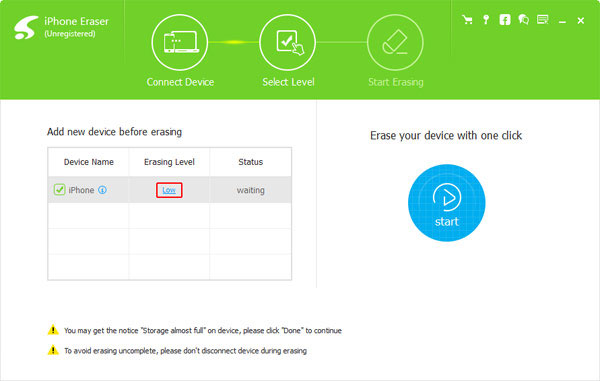 Step 3
Free up Storage space on iPhone
In the last step, you need to select the folders you desire to clear up and click the "Start" button to delete the files and folders on your iPhone. The whole process will just spend few seconds and you have free up your iPhone storage successfully.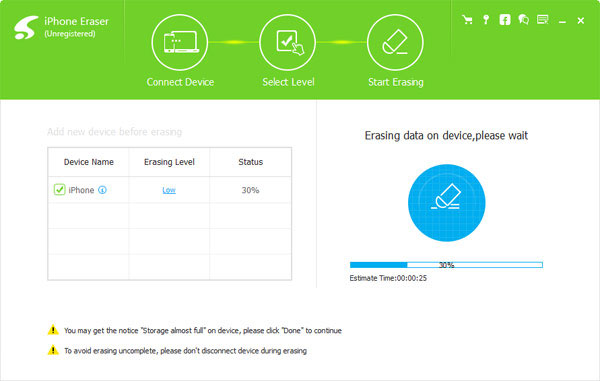 Part 2: Top 10 methods to free up storage on iPhone
Method 1: Free up space on iPhone with the "Setting" menu
Step 1: Open the Setting menu on your iPhone
First of all, you need to make sure you can operate your iPhone. Then, tap on the "Setting" button to open the setting menu. Tap on "General" icon and then select "Storage & iCloud Usage" button.
Step 2: Access to Manage Storage
Once you open the "Settings" on iPhone, tap on "Manage Storage" button. Then, you will view the interface shows the space storage you have took up on your iPhone device.
Step 3: Clear up files to free up storage on iPhone
Then, flow the buttons on the page to find the sorts of files you want to free up. Then, swipe the button from right to right and hit "Delete" icon to remove the all the music files.
Just take music for example, if you want clear up songs on your iPhone, you have to tap on "Music" button where you can see all the songs you had download on your phone. Therefore, if you desire to delete other files to release more iPhone storage space, just operate the steps we provide above.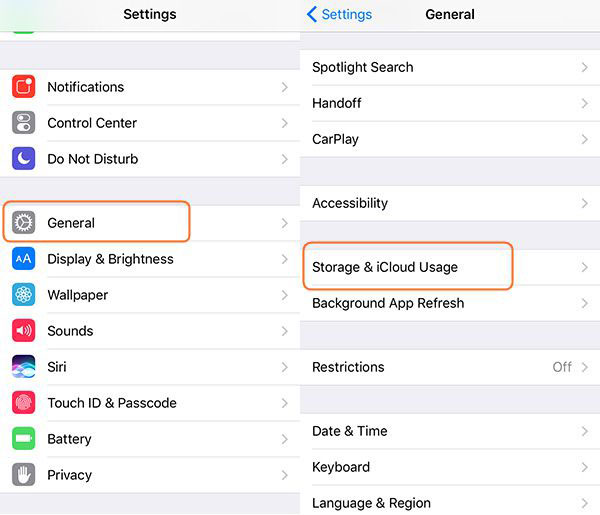 Method 2: Delete iPhone junk apps with Home Screen directly
Step 1: Boot your iPhone and get the Home Screen
Above all, you need to make sure you can open your iPhone. Then get to the home screen of your iPhone. In the home screen, you can view all the apps you downloaded before.
Step 2: Select and remove the applications you don't need
Tap on and hold the app icon you want to clear up and, then you will see an "X" icon on the top left of the app icon. Hit the "X" icon and you will see a pop-up window ask if you decide to remove the app, tap "Delete" to confirm the process.
It should be the easiest method to free up the storage on your iPhone. Once you remove the Apps, you will also remove the cache files within the applications.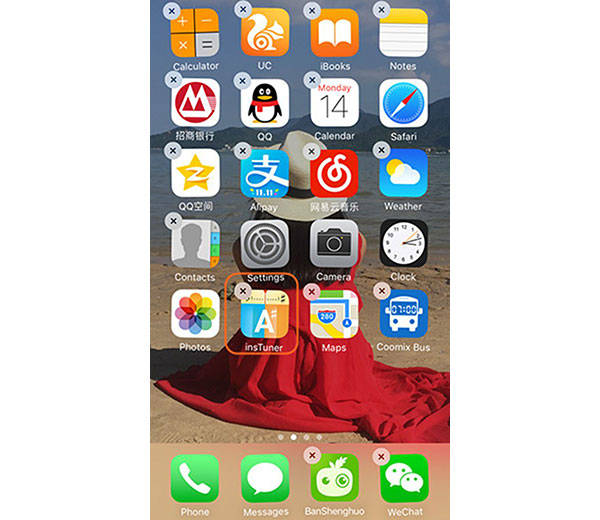 Method 3: Set your iPhone to free up messages automatically
Step 1: Turn on your iPhone and get into "Setting" page, and then you will enter another interface. Next, select hit on "Message" button.
Step 2: Tap on "Keep Message" button. Then you can choose the different times you want to keep.
1. Keep your messages in 30 days.
2. Keep your messages in 1 year.
3. Keep your messages forever.
Select the time you need and then your iPhone messages will free up automatically according to the time you set. Meanwhile, you also can set this function for other files.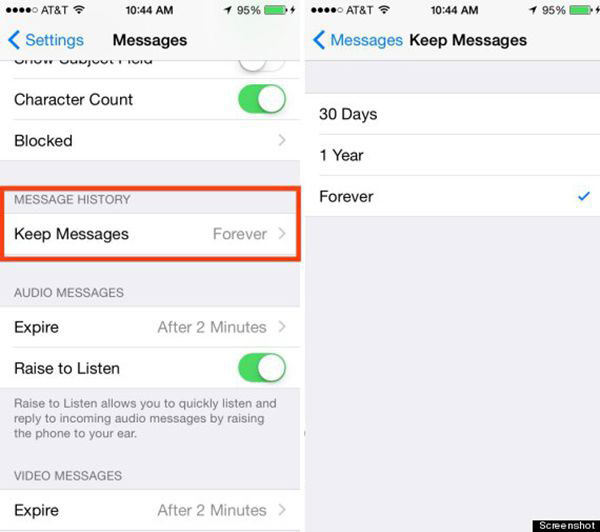 Method 4: Remove unnecessary songs to free up storage space
You will have a wonderful time listening music on your iPhone, but when it comes to playing music, many people may be worried about the storage space because some of them are music enthusiasts. So if you are one of the members of them, you are supposed to consider removing some unwanted songs to free up storage space on your iPhone.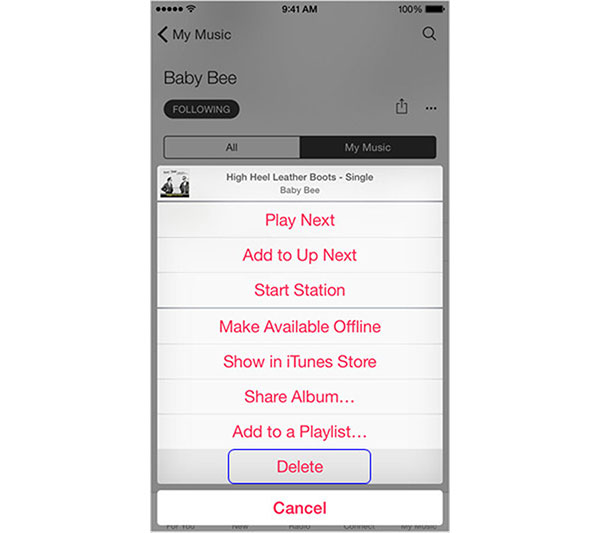 Method 5: Free up storage space by giving up old podcasts and voicemails
When you are listening to the podcasts or voicemails on your iPhone more than twice times, you may not realize that they take up 25MB space if you want to possess 30 minutes podcast. It is necessary for you to take it into consideration when you want to release your iPhone' storage space.
Method 6: Stop photo stream to release up iPhone storage space
Photo Stream can be a big problem for the reason that it will sync your previous 1,000 photos to your iCloud devices when your iPhone is connected to Wi-Fi. As you know, a large number of photos will occupy plenty of storage space in your iPhone. So it is high time that you should turn it off to release more space.
Method 7: Free up storage space simply by storing HDR photos on iPhone
Photos might occupy a lot of space on your phones. What you do not know is that the photos you have recently taken may be saved as two images. So when this phenomenon happens, your space storage will be full soon. So go to "Settings" and switch off the button "Keep Normal Photo".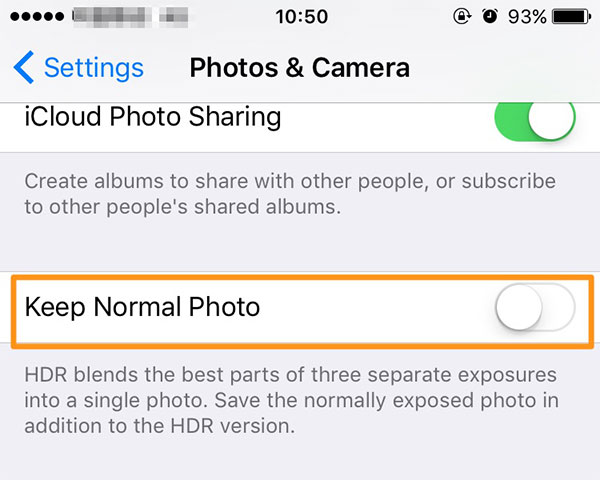 Method 8: Back up photos to Google+ to release iPhone storage space
Your photos or videos can definitely take up too much of your space on your iPhone, so there will be little room for you to save other data or files. Under this circumstance, you can utilize Google+ to help you store photos. It is a very popular way to free up storage space on your iPhone.
Method 9: Clear safari cookie and data to free up space on iPhone
You are used to using Safari to look through a variety of websites on you iPhone, as a result of which, the Safari histories or Cookies will gradually accumulate. However, you might not necessarily need them in the future but they will be stored in your iPhone. Simply clear them up free up more space of storage of your iPhone.
Method 10: Use PhoneClean to free up iPhone space
PhoneClean is a powerful app which helps you to sort out all your data and files, in addition to which, it can delete chaos and junk filed hiding in your iPhone, thus making it possible to release more storage space of your iPhone so as to run your iPhone more quickly. When you mistakenly delete something important, it can restore it as soon as possible because of its powerful function of backup.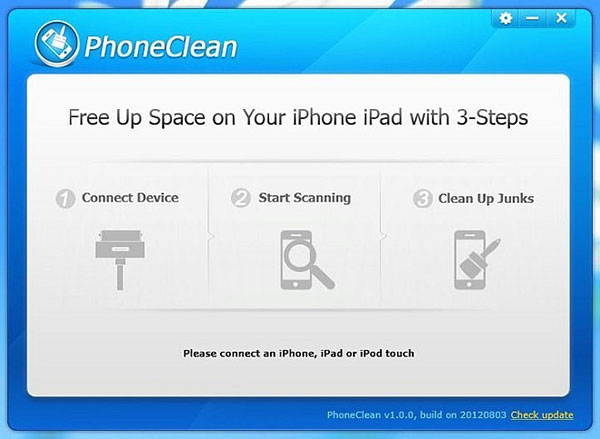 Conclusion
From this article, we have recommended 4 kinds of methods to free up the storage on your iPhone. The best choice of the four is use Tipard iPhone Eraser, which can remove your files or apps just with a click. Then, remove files from setting menu is another great solution, you can free up storages on iPhone totally. Of course, delete apps from home screen is the simplest way if your want to get rid of applications. At last, you also can set your iPhone to free up messages by itself by through the setting menu.