The Comprehensive Guide on How to Delete Albums from iPhone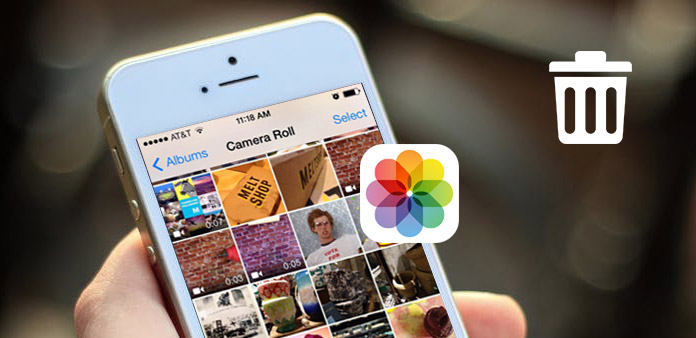 Get too much photo albums on iPhone, and cannot find out the photo you truly want to get? It is time for you to clean your iPhone! As you know, too much mistitled albums is useless, which will even misleading you to cost more time on finding images long times ago. And not only you manual created photo albums will exist in the iPhone, the applications you installed will also create new albums. If you fail to delete albums from iPhone or get confusions to manage photo albums, you may find the best solutions here, to delete iPhone albums easily
Part 1: Delete All Albums with Tipard iPhone Eraser
You can get the main information from the above headings that there is one versatile Tipard iPhone Eraser, to delete iPhone data permanently. Once you erase iOS files from certain genre, like music, albums, videos, contacts, call history, messages and much other privacy settings, they will be wiped permanently. None iPhone recovery software can retrieve iPhone files deleted from iPhone Eraser software. Therefore, using Tipard iPhone Eraser to wipe all data and clean your iPhone before resale is the better choice than factory resetting.
As a result, deleting photo albums from iPhone by the iPhone Eraser software is just a piece of cake. If your Apple devices all need to be data wiped, then connect them simultaneously, to bulk erase iOS data. So you can batch delete albums from iPhone as well, and to make your old iPhone stuck with all kinds of files to be new again. Moreover, with all iOS devices and versions supported, it is available to remove photo albums from iPhone 7 or later released versions.
Delete Photo Albums from iPhone by One Click
Step 1
Launch Tipard iPhone Eraser and connect iPhone to PC.
Download and install the iPhone Eraser, to run on PC first. Later, use USB cable to connect iDevice with your computer together. It will be detected automatically.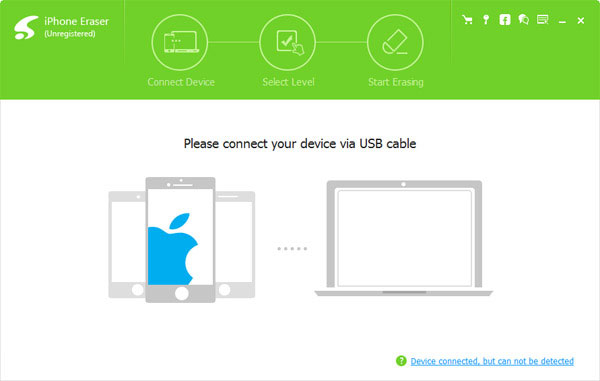 Step 2
Set data erasing level, Low level is enough for iPhone album deleting.
There will be three different levels to overwrite your iPhone, which are low level, medium level and high level. Deleting a photo album from iPhone is enough for overwriting once.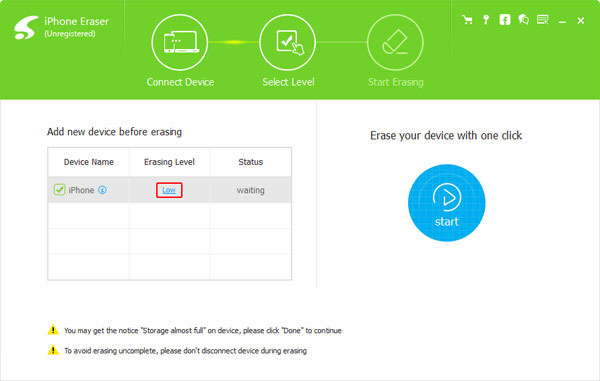 Step 3
Erase contents and settings from iPhone.
Hit the Start blue icon on the right part, to delete iPhone files with the progress bar shown the estimate time.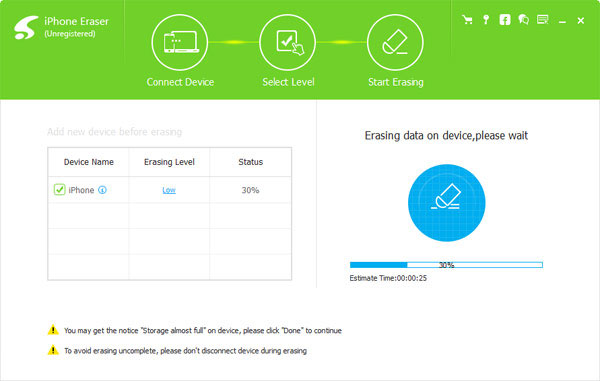 Now, your unnecessary iPhone albums will be removed, as well as other need to be cleaned iPhone data.
Part 2: Methods to Delete An Album from iPhone Created in Different Preconditions (4 Ways)
It is the large topic that your iPhone photo albums fail to be deleted. There are many factors to cause why your iPhone photo album to be so stubborn. The best solution is to figure out which type your photo album is, to figure out relative album deleting solution.
1. The Photo Album Created in iOS Manually: In another word, it means the iPhone image album you create by tapping the plus sign and name customizable. You can add new pictures and edit the entire album whenever you like. Thus, you can choose Delete option to remove this iPhone album, with contained pictures exist in other albums and cloud storage programs.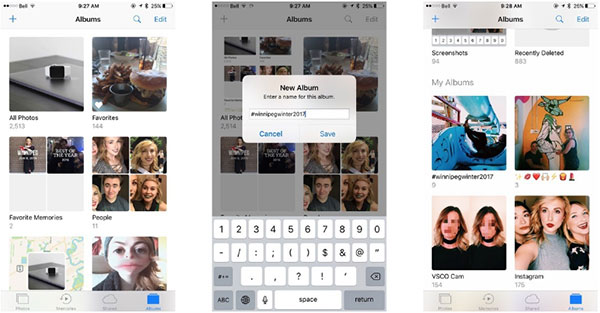 2. Photo albums generated in iPhone automatically: For new released iOS versions, there will be the new features offered from iPhone, which is sort out some similar types of images into iPhone photo albums. Unfortunately, you will fail to delete albums from iPhone about these types.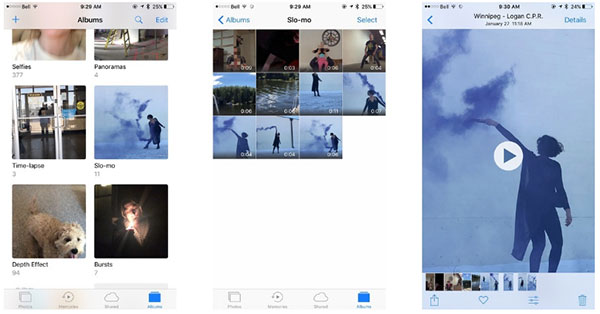 3. Synced Photo Albums from Your Mac or Windows Computer: If you have transferred photos through iTunes with your iPhone to PC connected, then you cannot delete albums from iPhone that were synced directly. Turn to iTunes to find your original photo album exist on your computer. Later, delete the entire album and sync iTunes to remove synced iPhone photo album.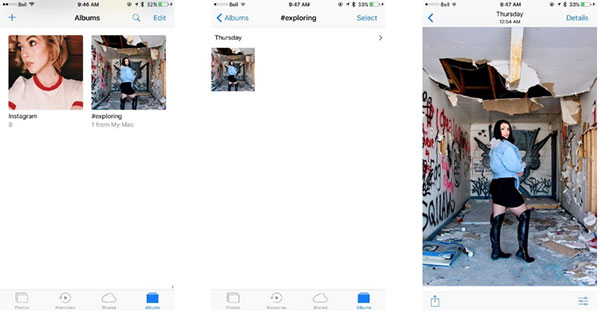 4. The Photo Album Created by Installed Applications: The moment you install the third party on iDevice, there will be one album created automatically, to store all your downloaded pictures. For photo albums deletion, you just need to locate Photos app to find those albums, most of them will be named as the original application do. Find Edit on the top and delete the photo album from iPhone directly.
The above albums deletions will only remove your stored photo collections, no videos and photos will be influenced. In another word, your albums disappear while the pictures still remain.
Part 3: Remove iPhone Albums with iTunes
For people who have synced albums from iPhone to computer by iTunes, iTunes is the essential tool to remove synced photo albums as well. Check and copy the following operations, to get rid of photo albums on iPhone with iTunes.
Step 1
Locate Photos under your iPhone Settings.
Use USB cable to connect iPhone to computer, open iTunes to detect your iOS device automatically.
Step 2
Choose synced iPhone album.
Tick Selected albums option, and to find the specific iTunes synced album to delete. Remember to uncheck All albums selection before choosing.
Step 3
Delete albums from iPhone using iTunes.
When you get photos, click Sync Photos from option, and uncheck the synced iTunes album. Finally hit Apply to start iTunes syncing in iPhone.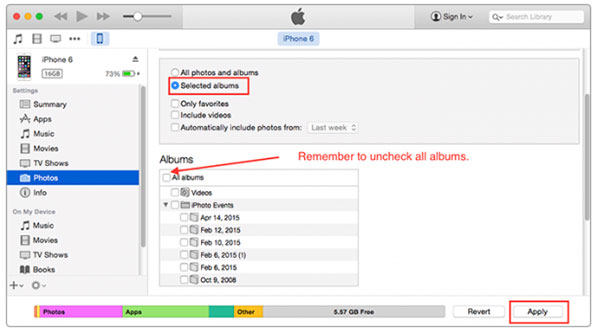 It takes benefit from iTunes specific character, which is iOS file deleting after every iPhone syncing with iTunes. And every backup files with accurate data listed under each genre, for people to check easily.
Conclusion
Most iPhone photo album deletions are mentioned, with relative solutions attached. Learn ad organize your iPhone Photos in order, to remove unnecessary albums, and sort out all your pictures. If there is anything hard to understand, feel free to contact us, to get the detail guide to delete albums from iPhone on computer or elsewhere.

Click here to join the discussion and share your comments