Top 10 Free Fax Apps for Android Phone or Tablet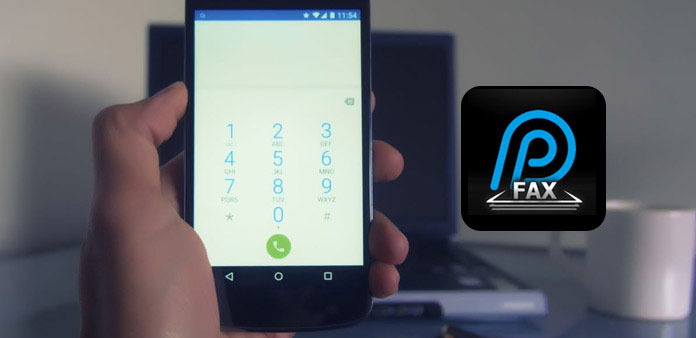 When you need to send faxes in emergency, you can use some free fax app for Android instead of scanner. For some business occasions, you might need to save the scanned files as PDF, add some comments to the faxes, or even use the OCR technology to extract text. What should be the best Android fax apps as for these requirements? Just learn more detail about the best apps to turn Android phone into a mini scanner. And then you can send the files to fax number in many other locations with ease.
Top 1: CamScanner
CamScanner is the free fax app for Android that enables you to use the phone camera to record the paper document and turn it into fax machine that you can fax with Android.
1. Search for the information in the fax by words.
2. Wireless printing to print files for the fax files online.
3. Supports 16 languages including Chinese, English, Japanese and Korean.
4. Convert images to text files with advanced ORC algorithm.
5. Share fax in free fax app with your friends through collaborating, via email, app and other social media.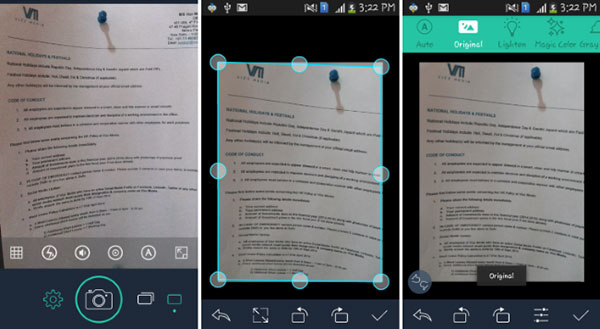 Top 2: FaxFile
FaxFile is the free Android fax app that sends files to any fax number in the United States, Canada and other International locations. You can send faxes PDF, JPG and other formats.
1. Fax documents easily and directly from your phone or laptop with the Fax app for Android.
2. Just need to select a file, and then enter the fax number to send files to others.
3. Send fax PDF, Microsoft Office Word documents, images PNG and JPG formats.
4. Fax to any fax number in the Unites States, Canada and many other international locations.
5. Purchase fax credits through the Google play store (in-app purchase) to send a fax.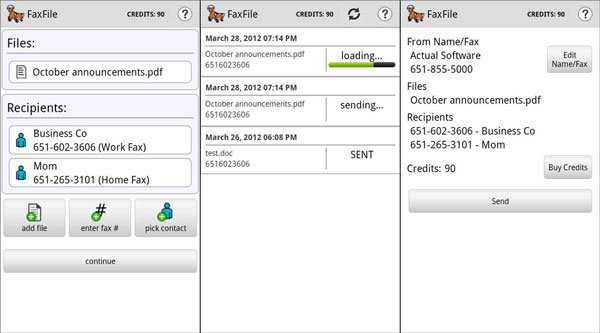 Top 3: FreeFax
FreeFax is an easy Fax App by PC-FAX.com that fax and receives text, images, PDFs, just like a mini fax machine. And you can send the faxes to more than 50 countries worldwide.
1. Take photos, texts, photos, documents and other files as faxes.
2. Send Email attachments from your Android phone via fax.
3. Acts like a local web-server with some uploading functions.
4. Fax to 50 counties around the world for free and without any registration for the free Android fax app.
5. Provides one page paper to send for free each day, for more than one page, you can top up with the app at a bargain price.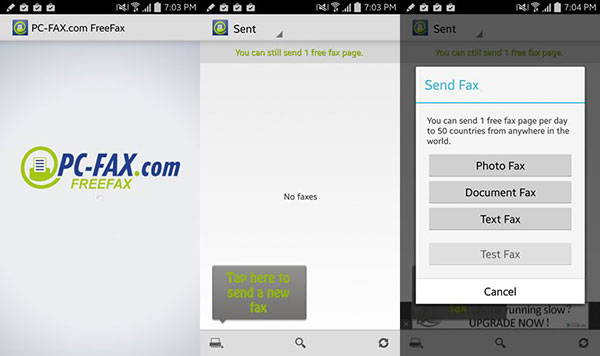 Top 4: Tiny Fax
Tiny Fax is a virtual fax machine that turns photos, document, receipts and other files into faxes. And then you can use the free fax app for Android to send faxes on the go.
1. Fax photos from Gallery or take a photo as fax.
2. Provides International fax number and list of countries that you can send faxes.
3. Backup the faxes by status and easy to manage the files on the application.
4. Capture faxes from mail, social media website and other application to the free Android fax app.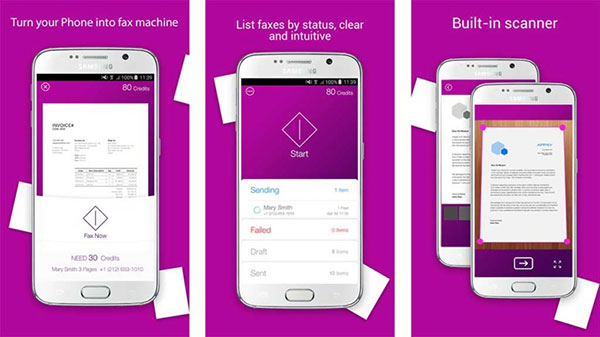 Top 5: eFax
eFax lets you send and receive faxes over the Internet, from any device with email server, such as Android phone. It is the Android free fax app without paper jams or signals.
1. Personalize cover page for the Android free fax app.
2. Transfer PDF documents to cloud storage and download files.
3. Send and receive faxes and emails from your others immediately.
4. Searching function of the Free Android fax app to enable you find the information you need quickly.
5. Provides you a free personal (just for you) Fax Number and enable you print them through your phone and laptop.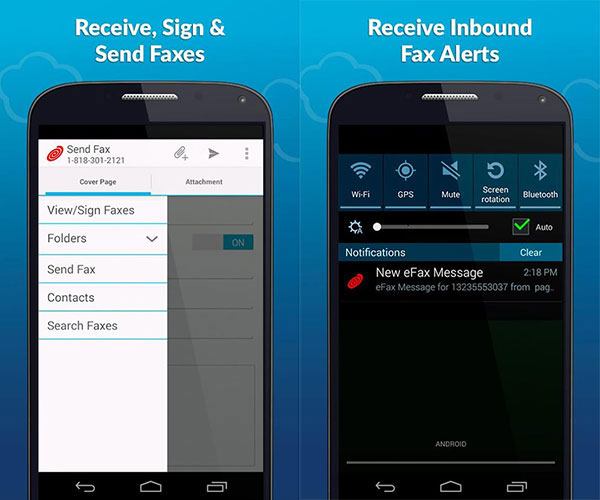 Top 6: iFax
iFax is fax application provides a fax number for receiving faxes, it is also wholly integrated with Dropbox to a transfer documents to and pro for photos, emails and PDF documents.
1. Sign documents, fill forms, scan documents and send digital faxes.
2. HIPAA-compliance ensures security of your data.
3. Upload files from mail, desktop computer, Dropbox and other cloud service.
4. Set the cover page for the free Android fax app, like insert a company logo, add some notes and your electronic signature.
5. 7 day free trial version available for US member only, toll-free inbound fax number in the US, Canada, UK and many other countries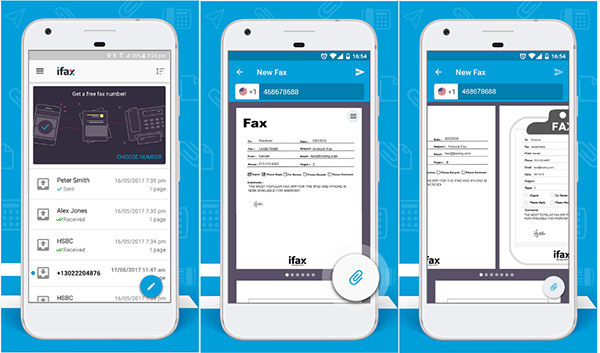 Top 7: Genius Fax
Genius Fax is available on the web, Android and iOS. It is a user-friendly Android free fax app that you can send fax from anywhere according to your requirements.
1. Send faxes from all the international destinations at the same cost.
2. Receive notifications for delivery or reception for the fax services within the fax app.
3. Genius Scan that digital documents and fax them to anywhere you want.
4. Get a US or Canada fax number with low price to receive fax with the free fax app on Android.
5. Provides bank-graded security that no one can pick up the classified document from the fax machine.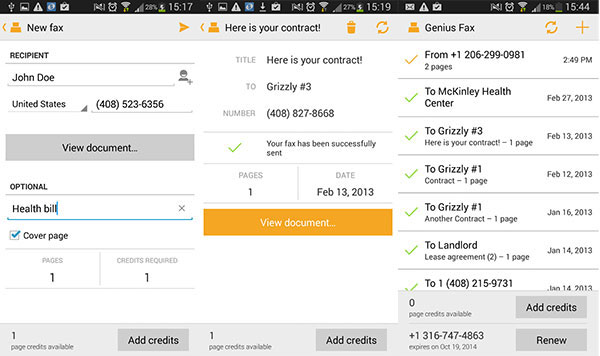 Top 8: MobiFax
MobiFax is one of Android free fax app with most affordable price to the fax receiver. Just take a picture and faxes it to anywhere within your Android phone.
1. And the size of it is the smallest free fax Android APK, just occupy a little memory and battery.
2. Enter the app to send the faxes from phone without registration to send faxes.
3. You can send and receive the fax to and from a lot of countries.
4. Crop the photos or the scanned files and more other editing functions.
5. Send faxes to 33 countries, one page is less than 27 cents, and in different country the fee is different as well.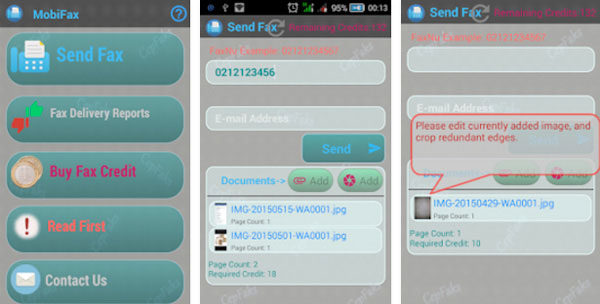 Top 9: Fax Burner
Fax Burner is a fax machine Android app sends and receives free faxes to your email inbox, iPhone and Android phone. It should be a versatile application to send faxes.
1. Get a free fax number that you can use it for 24 hours.
2. Faxes from email inbox, iPhone, iPad or Android phone from free fax app for Android.
3. Fax and receive for free and you will get a conformation fax to email.
4. You will get the notification once you get a new fax.
5. Archive faxes, sign in a fax without pricing it and create multiple page faxes with photos and more.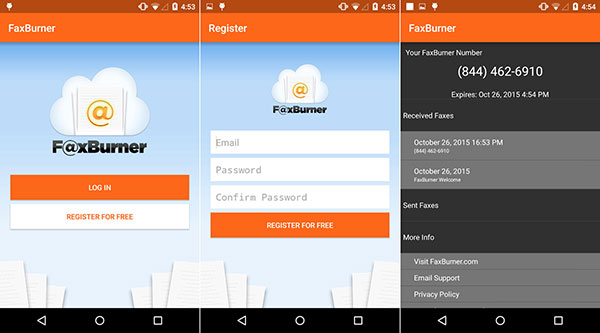 Top 10: FilesAnywhere
FilesAnywhere is the free fax app for Android that sends and receives faxes at anywhere and anytime. It is to view, share and manage remote files directly from Android phone.
1. Fax or receive faxes to or from anywhere in the world through one clicks action.
2. Send faxes directly from Android phone to any fax number worldwide.
3. Manage the faxes directly from Android phone wherever you go.
4. Enables you add a cover page and save copies with the Android free fax app.
5. Sign up to gain more than 1000 MB account directly from the application.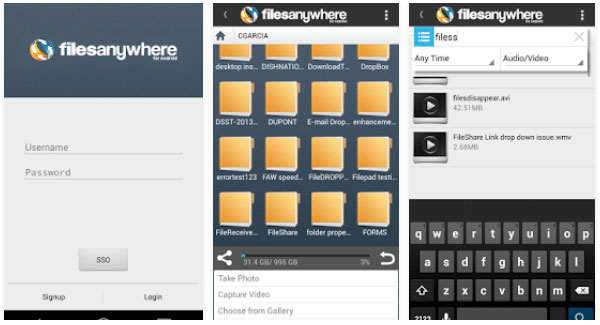 Conclusion
The article introduces 10 free fax apps for Android. You can choose anyone suits you most according to your requirements. These apps can bring you a lot of convenience, you do not worry about so send or receive a fax when you are not in the office. You don't need to stay next to the fax machine anymore. Just download the free Android fax apps to learn more detail about the programs.