Top 10 Printer Apps for Android to Print Android Photos in High Quality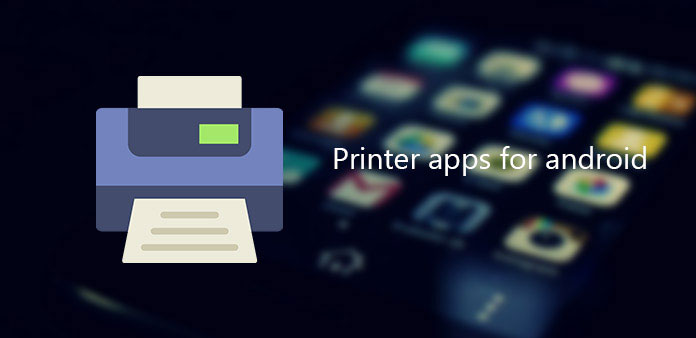 If you want to print high-quality documents and graphics from Android device, you must need an excellent printer. Many people may forget that a good printer app plays a significant amount. And why do we need a printer app for Android tablet? Because the printing app can help you to print pictures you want directly from your Android phone instead of connecting to your computer and printing from computer, which will be a waste of time. Otherwise, now smart phone almost replace the function of computer in some occasions. And if you can print your pictures, contracts or other information directly from Android phone, it can convenience you much in your daily life. Aware of the importance of printer app, many printer manufacturers have designed various kinds of printing app in the market. So, which are the best printer apps for Android? The article introduces 5 most popular and easy-to-use printer apps that you shouldn't miss.
Top 1. Epson Print
Epson is one of the most famous and biggest printer manufacturers. There is no doubt that Epson designs some good Android printer apps, Epson Print is one of them. And due to it is the products of Epson, this app only supports Epson printer. Except this point, Epson Print is pretty an excellent free printer apps for android.
1. It allows you to print, view, and share your files on android with only one swipe. Additionally, you are able to access documents and graphics from cloud services like Evernote, Google Docs, Dropbox, and Box. And apart from PDF documents, it lets you to print Word, Excel, PowerPoint files, and so on.
2. You can view and print any documents and graphics from your android. No matter the entire website or the camera capture, it can meet all you need. Besides, it enables you to set printer options on your android devices, including the number of copies, page range, page size and type. Otherwise, it offers you the services of Automatic backlight and colorcast correction.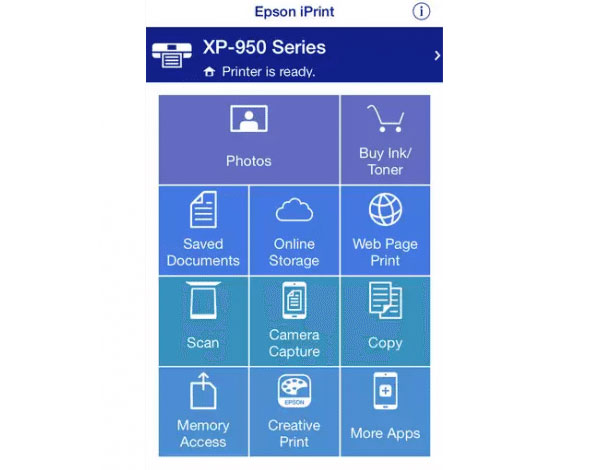 How to use Epson Print
Step 1: Download this android printing app on your android
After downloading, launch it on your android device. And make sure your android phone and the Epson printer has print to the some network.
Step 2: Choose printer
Tap on the blue box on the top of the screen to select a printer. Then tap on Printer icon to find your Epson printer to add to it.
Step 3: Start to print
Back to the home page, click on Photos and you will see a box to ask you if you would like Epson iPrint to access your photos. Tap on OK and keep on going. Then choose photos you want to print and click on Next. At last, tap Print to start printing.
Top 2. PrintJinni
Different from the other Android printer apps, PrintJinni works with more than 1,000 models of laser and inkjet printers and supports devices from almost all companies including Samsung, HP, Xerox, Dell, Epson, and much more. Namely, you don't need to buy a new printer. This app is free to use with some excellent services. And with the update of the system, this android printing app has much more new functions such as My Documents, My Photos, and so on.
1. In the home page, it has an option if Social Networks that lets you to print photos and images from social platforms like Facebook, Instagram, Flickr, etc. Otherwise, you are allowed to print your email content form android devices. It also supports the service of printing from cloud storage.
2. It supports many printing options like black and white printing, color printing, duplex printing, selected pages printing, etc.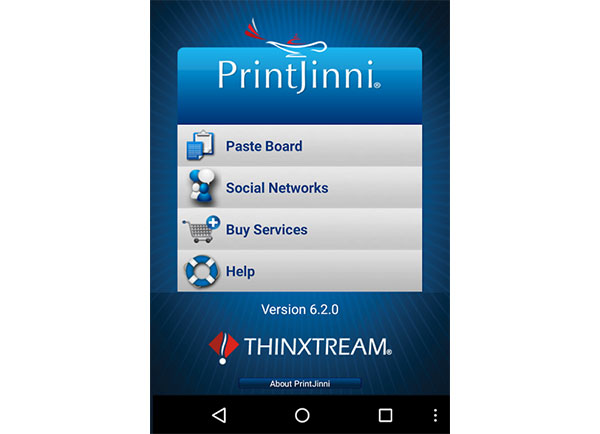 How to use PrintJinni
Step 1: Download PrintJinni on android device
Launch it and make sure your printer app for Android and your phone have connected to the same network.
Step 2: Select what to print
Open it and you will find some options. As printing photos for example, click on "My Photos". And then choose photos from your local album.
Step 3: Start to Print
After finishing selection, you need to find your printer by tap on Find Printers. Then click Print to start work.
Top 3. PrinterShare
Why introduce this printer app for android to you? Because PrinterShare is quiet different from other android printing apps in the process of installation. It requires special drivers installed on your computer. But after you have done this thing, PrinterShare can help you to print files to a vast majority of Wi-Fi printers from different manufacturers. Namely, you don't need to worry about changing your printer.
1.

PrinterShare

supports more than 8 file formats including .doc, .docx, xls, .xlsx, and so on. Additionally, it allows you to print txt files from your SD card, imagines from your album, text messages and your contracts.
2. This android printing app lets you print from Google Docs. So you don't need to download documents to your android phone.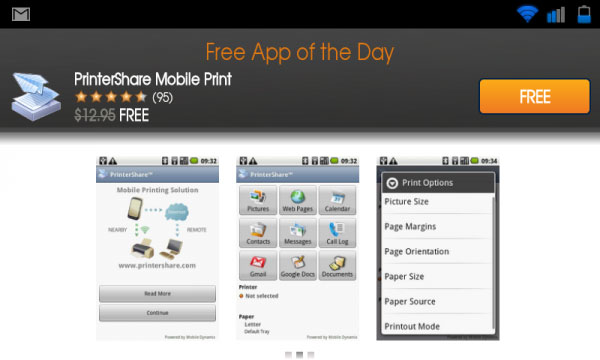 How to use PrinterShare
Step 1: Download PrinterShare on your android
After installation, make your phone and your printer connect to the same network.
Step 2: Add your printer
Launch printer app for Android, and click on NO printer selected button. Then in the Manage Printers page, click on the printer type you have and add it.
Step 3: Choose what to print
Back to the home page, take printing photos for example. Click on Photos, and then you are allowed to choose photos you want to print. After that, tap on Print.
Top 4. HP All-in-One
If you have a HP printer, you must eager to get a remote HP printer app for android. Fortunately, there just exactly one for you. It is HP All-in-One. Let's take a look on it. This all-in-one printing app for android is highly compatible with all HP printers. And it can assist you to print, and share your documents and photos.
1. It supports cloud services to share documents from cloud storage and print imagines from your social media apps. Additionally, it lets you to create high-quality PDF files using the scanner on the printer or your android phone.
2. You can setup your new HP printer on this android printer app. Besides you can change the settings of printing options on this app directly.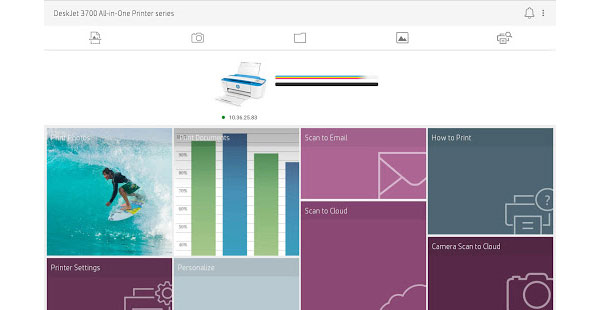 How to use HP All-in-One
Step 1: Download HP All-in-One on android device
After installation, connect your android phone to the WiFi.
Step 2: Add a printer
Open this program and confirm the Terms and Conditions. Then click on Continue button. Tap on the add icon on the top of the screen to add a printer.
Step 3: Choose what to print
View the options on the home screen to find what you want. If you want to print photos, click on Print Photos. And choose photos you want and click on the Print button to start print.
Top 5. Canon Print
The last printer app for android is Cannon Print. It is one of the most popular printing apps for android in the market. And the same as other apps of famous brands, Canon Print only supports Canon printer. But it can print PDFs and pictures made by Canon equipment. One different thing is that you need to activate the Canon Print Service. Once you install this app on android, you need to activate the service in the displayed settings screen. The specific details will be introduces in the following content.
1. It allows you to switch between color and B&W printing. Moreover, it has other printing types like 2 on 1 printing, 2 sided printing, Borderless printing, etc.
2. It supports to print from cloud storage. Otherwise, you are able to change the paper type and size.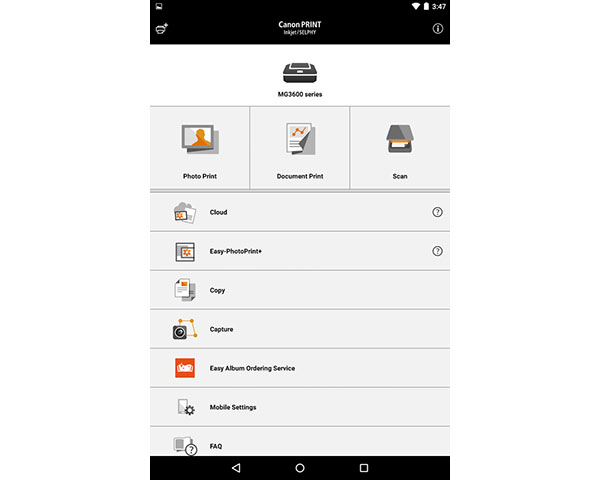 How to use Canon Print
Step 1: Download this android printing app
After installation, make sure that your printer and android phone have connected to WIFI. Then launch this app. You will be asked to agree the Extended Survey.
Step 2: Add your printer
Tap the button at the left top corner to register your printer and follow its guide to add it to your device.
Step 3: Choose files and print them
Click on Photo Print to do the photo printing. Choose a photo from your local album and tap on Next button. Then tap on Print icon to start printing.
Top 6. Happy2Print
Happy2Print is another printer App from HP, which also works with other printer types. There are 3 different link modes, USB cable, Bluetooth, and Wi-Fi. And some printers also support direct mobile scanning. You can also print documents, images, photos, calendars, text message or even call logs from Android phone. The printer app for Android supports both Mac and Windows printers and the printer wizard detects your printer automatically. You can also get documents and other files for printing from cloud service, such as Box, Drive and Dropbox.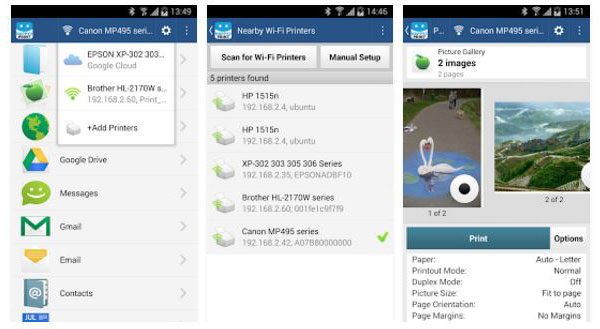 Top 7. StarPrint
StarPrint is a highly recommended printer app for Android tablets. You can use Wi-Fi, Bluetooth and USB to print the files, web pages, maps, emails, and pictures from camera roll. Of course, you can also print pictures from Instagram or other social media. What is the most important, the Android printer App supports HP, Canon, Epson, Brothers, Samsung, Kodak and more devices. StarPrint also support a wide range of print media options, it handles anything from Letter to Legal to Executive to Postcard to a 3-inch CD. The only annoying thing should be the Ads within the program.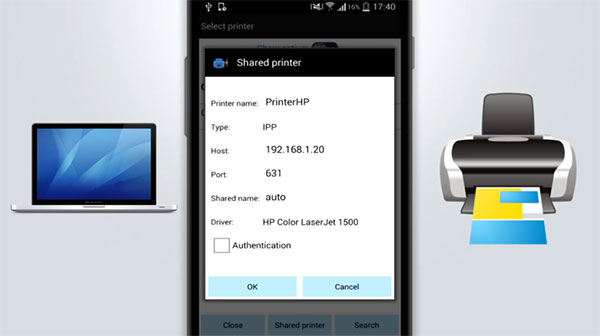 Top 8. CloudPrint
CloudPrint is a simple service from Google to print anything from Google Cloud connected printer from anywhere in the world. What you have to do is pulling from some files and documents you saved in Gallery, and deliver them directly to Google Cloud printer. You can also track for the jobs, print, and connect to other printers with the printer app for Android. Whatever you want to print, CloudPrint just link Android phones, tablets, Chrome book, and computer to the cloud service for a great printing experience.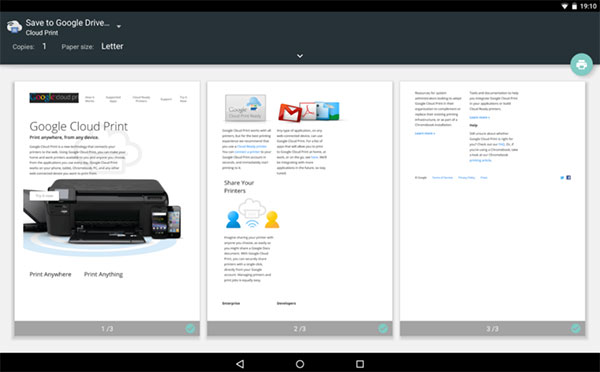 Top 9. Samsung Mobile Print
In order to print for images and documents in different sizes, Samsung Mobile Phone should be the Android printer application you should install. With the application, you can print, fax or scan documents with easy steps. You can also download from cloud-based service, such as Dropbox, OneDrive, and Evernote. Another special feature of Samsung Mobile Print is Secure release for corporate users. Just as the other Printer Apps for Android devices, the APK only works for some selected printers, especially for Samsung printers, check out the model list at the bottom of its Google Play store.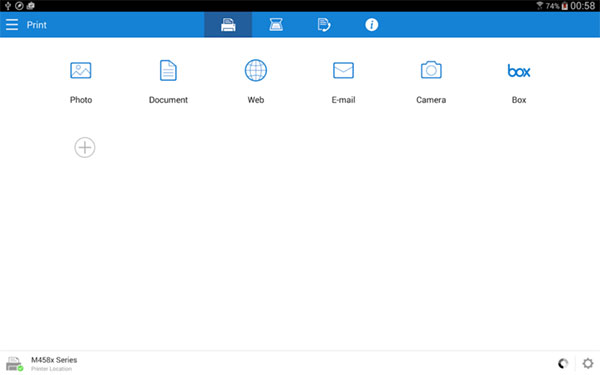 Top 10. Brother iPrint and Scan
Brother is another big brand for printers. If you are using any smart printer from Brother, Brother iPrint and Scan should be the right printer app that you need for Android tablet. Whether you need to print the desired file with Android phone, or scan files with Brother printers send the file to your Android devices, you can use the All-in-one printer app without problem. And then you can also send scanned images to other device with Email. The Printer app for Android also supports NFC print function, which enable you print files remotely.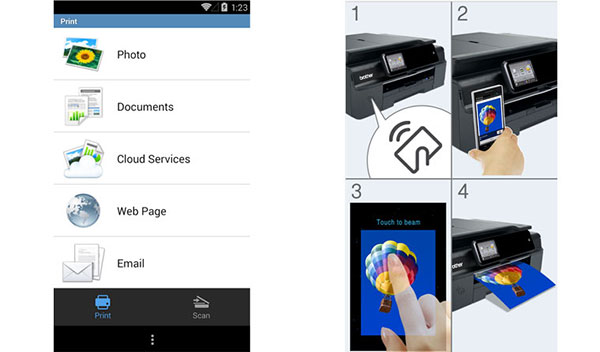 Conclusion
The 10 printer apps for android can cover your needs. No matter you want to find an android printing app which is highly compatible with your printer or a printer app that is compatible with almost all printers, you can find a one your want here. More detail about the printer Apps for Android, you can share more detail in the comments.