How to Fix FaceTime Not Working on iPhone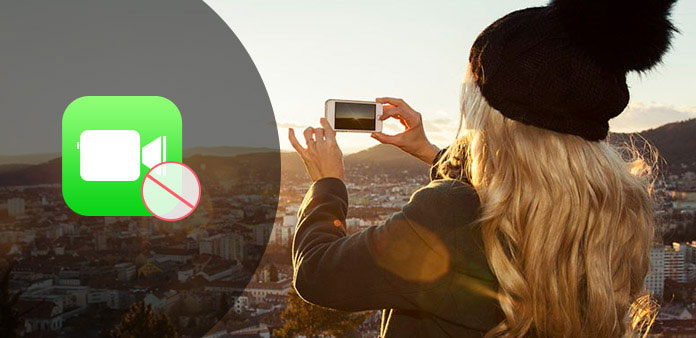 "The FaceTime stays 'connecting' for a long time, and after a while it says FaceTime failed."
"I am trying to use FaceTime and it just won't connect."
"My FaceTime just stuck at connecting screen."
If you are suffered from FaceTime not working issues, you can read following methods to solve the problem.
Solution 1: Restart your iPhone
Restart iPhone is the first you need to do when there is something hassle occurs. And it usually fixes most problems of digital devices with the magic power. Thus, if you have no idea how to fix FaceTime not working on iPhone, you can try to force restart it. Since the iPhone X, iPhone 8 and iPhone 8 Plus have been released, you can force restart iOS devices to fix the problem first too.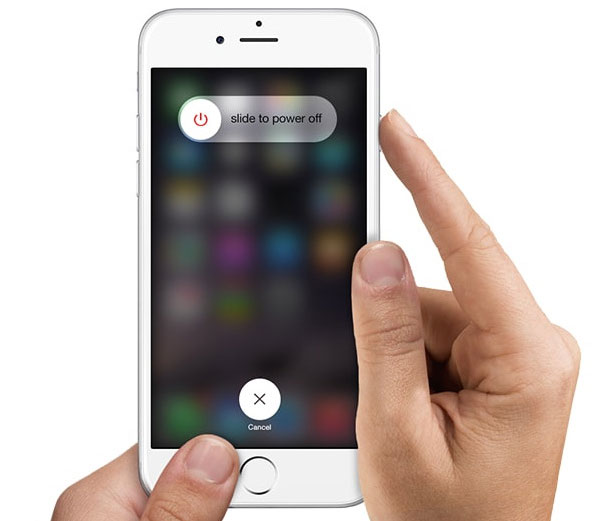 Solution 2: Update Your iOS to The Latest Version
If you do not update your iPhone, iPad or Mac for a long time, then it may be the right cause. You can update your iPhone or Mac devices to the latest version. And do not forget to update FaceTime app. Go to "Settings", choose "FaceTime" and then enable FaceTime app to test whether it is inability to work.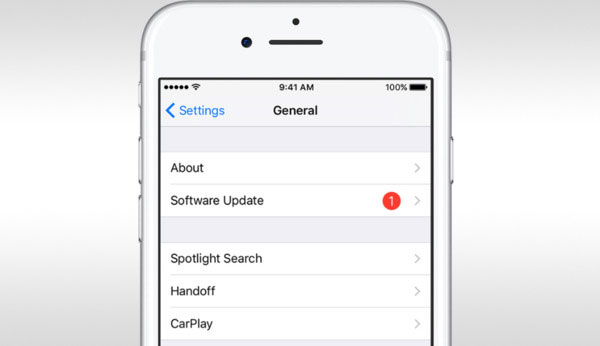 Solution 3: Check your Wi-Fi and mobile cellular connection
Your internet may be working ok, but there may be an issue with the way your device is set up which is stopping it from connecting. You can go to "Settings", hit "Cellular", choose "Use Cellular Data For" to turn on FaceTime option. It is the method to make sure you use the correct Cellular data.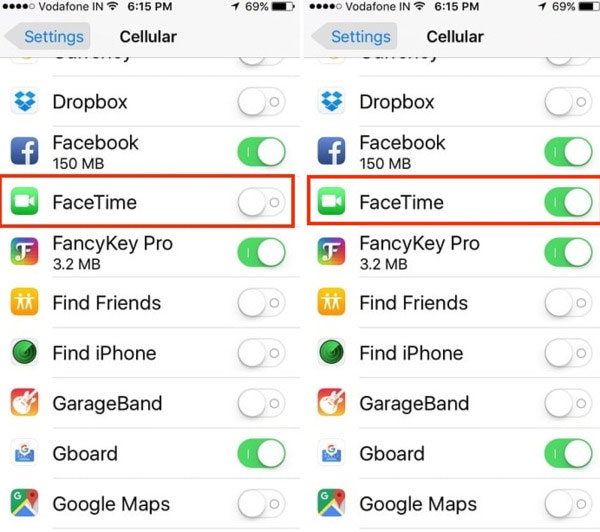 Solution 4: Check Whether FaceTime is caused by the different data plan
Sometimes FaceTime not working on Mac or iPhone is caused by the different data plan. You should consult the service provider you take. For instance, if you are using the data plan from Verizon and Sprint, then you can set your mind at rest. But for AT&T users, only new users with the shared data plans are supported to use FaceTime over Cellular data.
Solution 5: Reactivate FaceTime on iOS Device
If your FaceTime not work on iPhone, open "Settings" and access "FaceTime". Switch the FaceTime button to the OFF position first, and then turn it on. There will be "waiting for activation" message appears.
Then if your FaceTime disabled on Mac computer, find FaceTime on the top menu. Choose "Preferences" to move FaceTime to OFF. Later,you can reactive FaceTime to make a FaceTime call on Mac.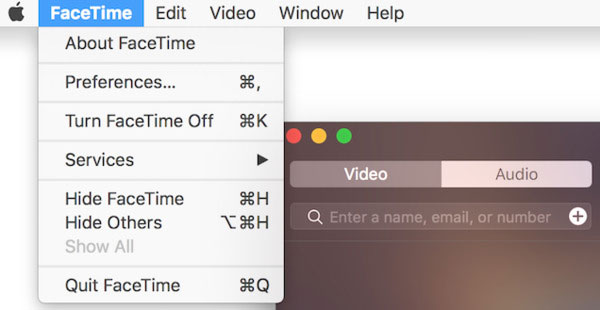 Solution 6: Make Sure The FaceTime APP Is Available
Though FaceTime is the renown online communicate tool, it is not available in every country. For example, if you wanna have FaceTime call with the person from Dubai, United Arab Emirates, Pakistan, Saudi Arabia and more, it is definitely the FaceTime not working between countries.
Moreover, you need to make sure your digital device is compatible to FaceTime. FaceTime is now available with iPod touch of 4th generation or later, iPhone 4 or later, iPad 2 or later and Mac OS X10.6.6 or later.
Solution 7: Turn on and off Airplane Mode
Some people announce that FaceTime still not working on iPhone 6. Then you may take the following operations. Turn off FaceTime app first. Switch to Airplane mode. Wait few seconds, and then turn on Wi-Fi connection and open FaceTime app again. Disable Airplane mode. You may be asked to enter Apple ID, sign in FaceTime. The FaceTime program will begin on your iPhone 6 soon.

Solution 8: Reset Network Settings
Once you reset network settings, all your previous Wi-Fi networks will be erased, as well as Bluetooth pairing records, VPN or APN settings. This method will not erase other iOS data and settings. Open "Settings" to click "General" and "Reset" buttons. Choose "Reset Network Settings" to operate. You may need to wait few minutes. It is also available to fix iMessages not working on iPhone.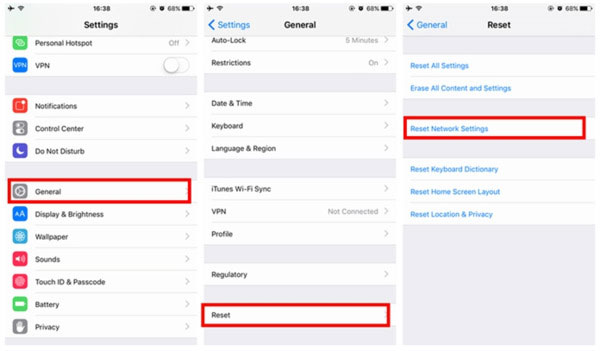 Solution 9: Reset All Settings
Or you can remove all your previous app settings to get FaceTime to work. For iPhone users, go to "Settings" to choose "General" and "Reset". Hit "Reset All Settings" button. Make sure you have backed up important data through iTunes or iCloud in advance. Or you may face the new data recovery problem after fixing FaceTime not working error.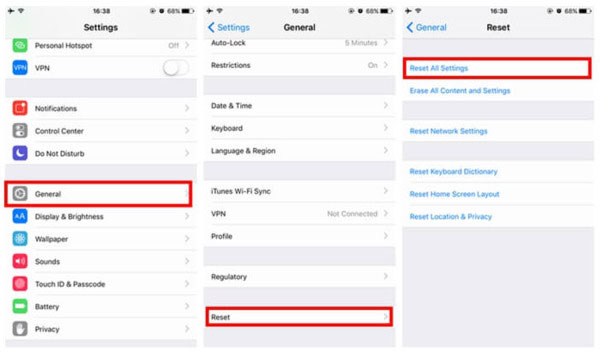 Solution 10: Check Whether The Phone Number Is Right
It is not kidding to check the phone number you have signed. Maybe someone is trying to make FaceTime call over and over again. But you just wait and troubleshoot FaceTime app all the time. Open "Settings" to find FaceTime app. Check the phone number and Apple ID listed under "You can be reached by FaceTime at" menu. If it is not your phone number, tap on Add Another Email to fix non-working FaceTime. Or you can also check whether the person has called the wrong people.
Solution 11: Check The Blocked List
Maybe you added somebody to the blacklist by accident before. Or you just blacklist the person trying to call you before and forget to unlock it. Tap "Settings" and choose "FaceTime". Select "Blocked" to have a look. If so choose "Edit" and tap "Remove" button in red to unblock the contact.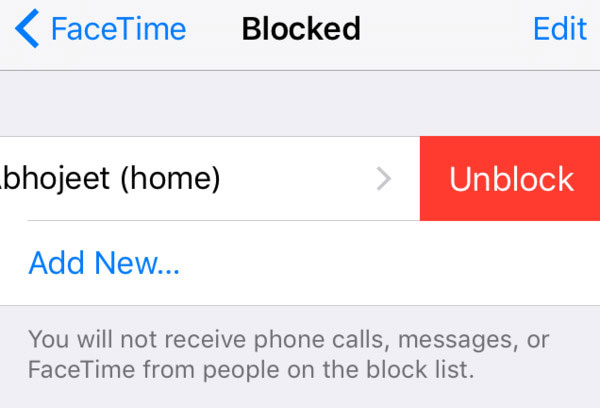 Solution 12: Check Your Apple ID
It is also necessary to check whether you have signed into your FaceTime accounts with the same Apple ID. For iOS users, tap "Settings" to find FaceTime app. Check the Apple ID below. To fix FaceTime not working on Mac, tap "FaceTime" and then choose "Preferences" to check your Apple ID on iPhone.
Solution 13: Fix iOS System
If the above FaceTime not working solutions are useless, then you need to check your iOS system. Is there any system error occurs without notice, including system file loss, system file damage and etc. The related solution is to fix the operating system.
These are solutions to fix common FaceTime not working issues. It is easy to trouble shoot not activating FaceTime app on iPhone, iPad, iPod and Mac devices. If you fail to connect FaceTime with new errors, feel free to contact us.