Top 3 Methods to Sync Facebook Contact with Android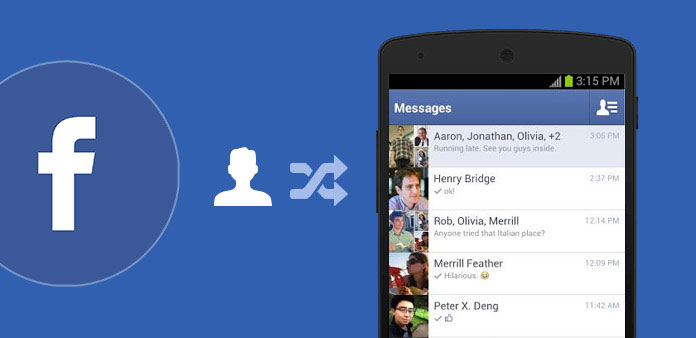 What should you do if you want to contact Facebook friends with Android phone? As for the case, you need to sync Facebook contact with Android first. Facebook, no doubt, becomes one of the most popular social platforms in the world. You can meet different kinds of people from all around the world and make friends with them. And most of them don't exist in your address book. So you must be eager to sync your Facebook contacts on your Android phone. And then you can contact Facebook friends with Android phone directly. If you have the similar requirement, you can read more detail about the solutions from the article.
Part 1: Sync contacts of Facebook with Android phone manually
When it comes to the way to sync Facebook contacts with Android, the first choice should manually save the Facebook contacts in your phone. And what you need is only your Android phone and an activate Wi-Fi or data connection. Then follow the steps below to sync contacts from Facebook to Android phone.
Step 1: Click "Account & Sync option" in Settings app.
Open "Settings" on your Android phone. Then scroll down the screen to find Account & Sync option and click on it.
Step 2: Choose "Facebook" option.
In the Account & Sync page, click on the Facebook option. However, if you have not added your Facebook account, you can't see the Facebook option on the list. So you need to tap on the option at the bottom of the screen to add it.
Step 3: Start Facebook contacts syncing.
Choose the "Sync contacts", and then click on "Sync Now" button to sync contacts of Facebook to Android.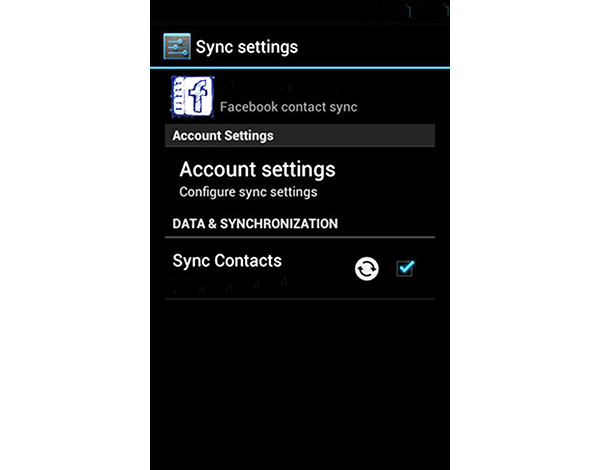 After following these steps, you can transfer contacts from Facebook to Android phone, and then you can call the Facebook friends directly on Android now.
Part 2: Sync Facebook contacts using contacts app in Android
Does contacts app help you sync Facebook contacts in Android phone? You get a clear answer when you come to this part. And there actually some contacts apps that able to sync Facebook contact with Android. And with help of it, the process of sync will become much easier. You can quickly find some apps suck as Sync.me, Contacts +, and other more apps. Now, in what follows, there are specific introductions about top 3 app for Facebook contact sync .And read on to find the detailed steps of Facebook contacts sync.
Top 1: HaxSync
As a free app, HaxSync is aimed at offering an Account Authenticator to solve problems. You are able to create an account for each of your contacts and connect them to your phone's contact. It is helpful to sync Facebook contact. Next are some steps to download and install
Step 1: Find HaxSync on Google Play and install it.
You can also open App Drawer to finish installation.
Step 2: Open the app and create a Haxsync account.
This tool can help you connect each contact to the one in your phone Address book.
Step 3: Transfer Facebook profile pictures, birthday information, events reminder, etc.
You are allowed to customize Facebook contact and calendar depending on your preferences.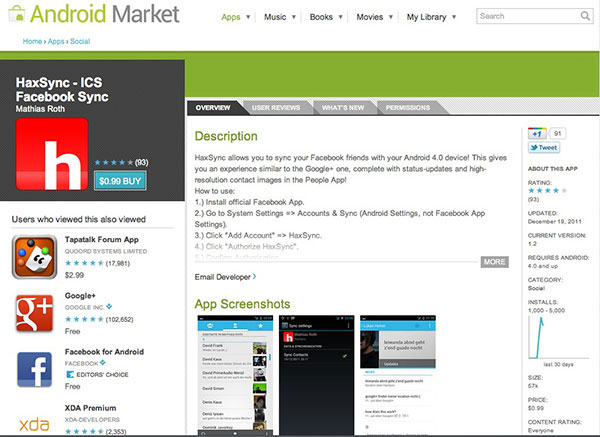 Top 2: Sync.ME
Sync.ME is a very convenient and easy tool for Facebook contact syn. Having a clear and non-ads interface, it is attractive to users. If you are concerned about the loss of your friends' contacts, this application can greatly remove your worries. Here come its introductions.
Step 1: Install Sync.me on your Android
Download Sync.me from Google Play shop and install the program on your Android. Then launch the application on your Android phone.
Step 2: Sync Facebook contacts to Android phone
When you enter the Facebook contacts syncing program, tap on the "Sync button" at the bottom of the screen. And you will find three options on the middle of the screen. Choose Facebook to sync by tapping the adding icon. And you also have other options like Twitter and Google. After that, this app will sync Facebook contacts automatically to your phone.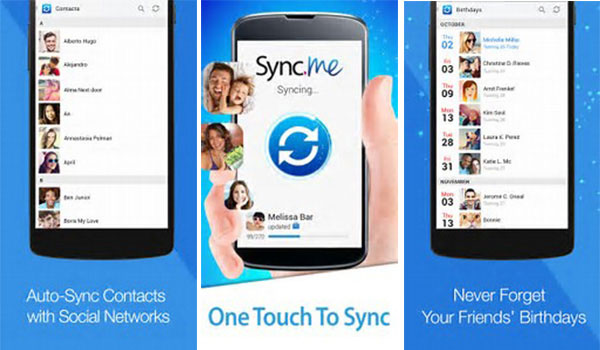 Top 3: UberSync
If you want to look for another simple tool to sync Facebook contact, UberSync may satisfy your desperate need. The primary function of it is that it can synchronize profile pictures for Facebook friends on Android. When first used, it may take some time, so you had better be patient.
Step 1: Open Google Play, search and download Ubersync.
Step 2: After installation, open it.
Step 3: Select a "Sync type" and ensure the "Sync frequency".
It is the first choice to sync your Facebook contact. Choose options based on your like. And you are able to choose whether you would like to sync all contacts or not.
Step 4: Choose whether you wish to run full sync.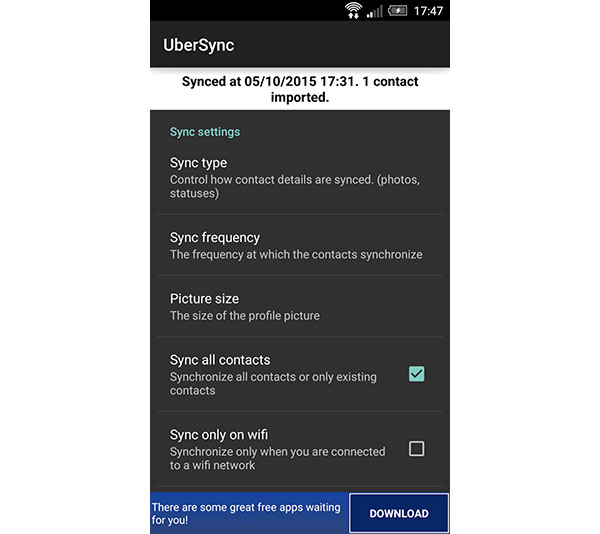 Part 3: How to sync Android phone contacts in Facebook
Apart from syncing the Facebook contacts to your phone, you can also sync contacts from Android phone to Facebook for backup. And please read on to find more details.
Step 1: Open Facebook and log in
Open Facebook app on your Android phone and register your Facebook if you don't have an account. If you have, just log in your account.
Step 2: Click on setting menu
After you have entering Facebook, tap on the three bars at the right top corner. This will help you to open "setting menu"..
Step 3: Upload phone contacts to your Facebook account
After you open the setting menu, scroll down the list to view all options. Then click on "Continuous Upload" to upload all your contacts on Android phone to your Facebook account. After that, you have successfully sync contacts to Facebook, and you will find the profile pictures, birthday information and other details of your friends. And if you registered the account just now, you will see the option to "Invite to Facebook" or you can skip this process to the next.
Step 4: Sync contacts to Facebook
Facebook will show you a list of people from your phone contacts. And you can invite them just by clicking on the Invite button. Additionally, you can click on Invite All to add all your friends in contacts. After that, tap Done icon at the right top corner.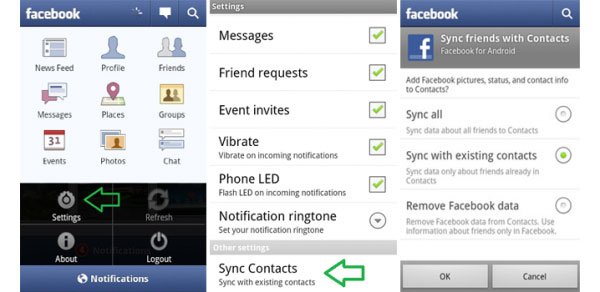 Conclusion
No matter you want to achieve Facebook contacts sync on your Android phone contacts, or sync contacts from Android to Facebook, you both can find the best solution from the article. And the first two methods are prepared for Facebook contacts sync to phone address book. And you can choose one according to your requirement. Thus, hope these methods can help you. If you have more queries about the case, you can feel free to share more detail about the problem in the comments.