10 Best Android Cleaner Apps to Clean up Android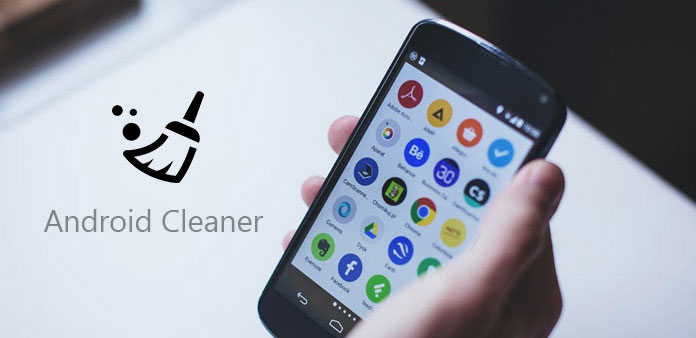 As we know, our Android device has a number of hidden unnecessary apps, folders as well as files secretly running in the background, which may make your Android process slowly. Therefore, it is a must for you to get the best Android cleaner to optimize Android devices. To help you better remove meaningless processes and release your memory space, here are the top 10 Android cleaner applications for your Android device.
Part 1: Top 10 Best Android Cleaner Apps
Top 1: Clean Master
Clean Master is one of the most popular Android cleaners in play store for Android users. It can keep your Android device clean and safe from being attacked by viruses. Possessing a wonderful and interactive interface, it is easy and comfortable to use to help you clear the cache history as well as junk files that accumulate over time. Luckily, the dominant feature does not lead to battery drainage.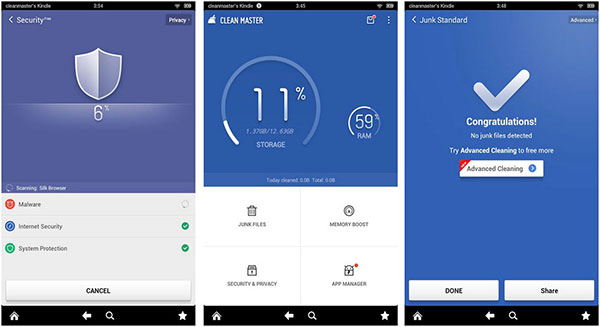 Top 2: App Cache Cleaner
As another basic and best Android Cleaner for Android device, App Cache Cleaner can let Android users have easy access to scan apps, which occupy space within devices based. Apps and filed as well as other things are listed based on their size. The salient function of the application lies in that it can remind you of the specific time when you are supposed to delete cache files by the App Cache Cleaner.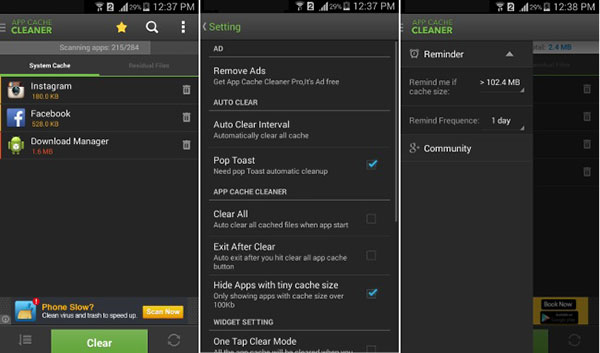 Top 3: DU Speed Booster
As its name suggests, this app is mainly made to accelerate your Android phones. DU Speed Booster can not only clean up room in your Android but also provide a Trash Cleaner which includes app manager, antivirus, and a one-touch accelerator and so on. With lots of functionalities, it is a very fabulous Android cleaner APK for you.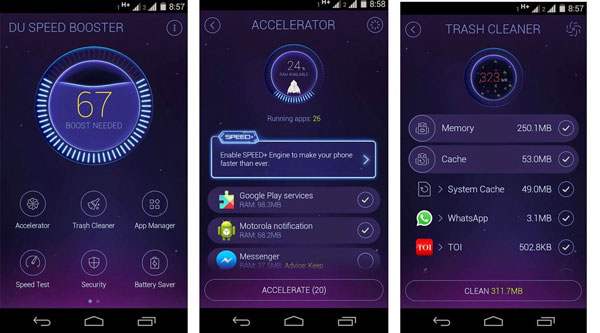 Top 4: CCleaner Android
CCleaner Android mainly focus on clearing up the folders, clipboard content and application cache like most Android cleaners, but it can also clean your SMS log and call. Having the ability to uninstall unnecessary apps easily, it does not contain ads in its interface as well, so it is very user-friendly and might be the best Android Cleaner for phones and tablets. What is more, it has additional functions just like CPU, battery and temperature tools, etc.
Top 5: SD Maid
Offering a series of tools to help you manage your Android better, SD Maid is considered not only as a file maintenance app but also a file manager. It allows users to remove superfluous files and manage installed user and system applications by detecting files from the memory. In order to offer users greater experience, this Android cleaner has two versions. The free one can be used as an efficient systematic maintenance application while the better one adds some other functions.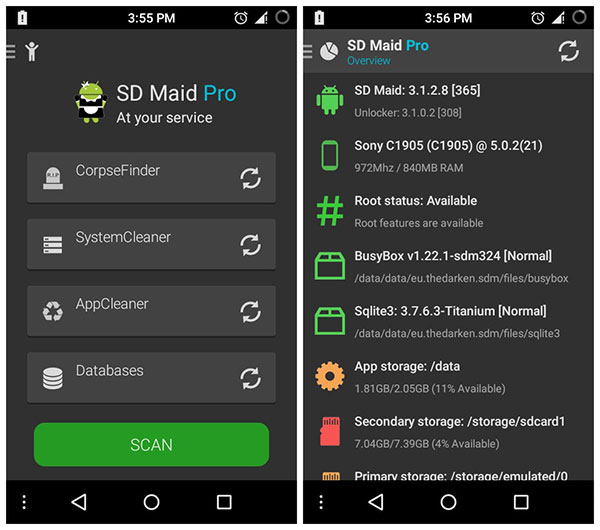 Top 6: Root Cleaner
The main purpose of Root Cleaner is to detect files and folders you do not want and manage to clean it. What we need to pay attention is that the Android cleaner will ask for the root permission. You are able to erase chaos in your system and clear up your storage by using this kind of Android Cleaner APK, thus letting your Android phone perform better. It possesses two working modes that are quick clean and full clean. Nevertheless, this app requires extra money.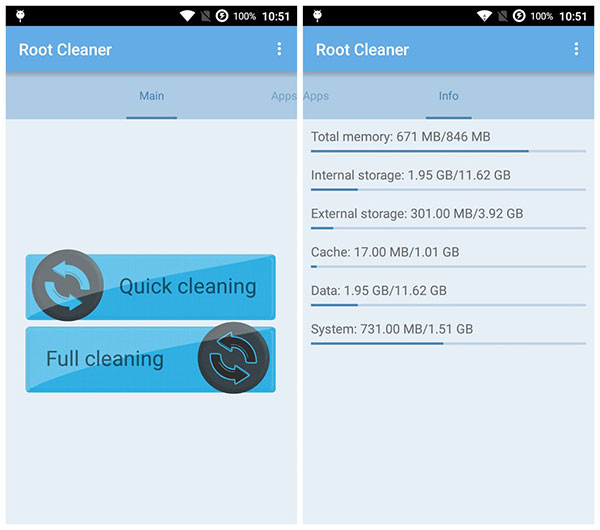 Top 7: Systweak Android Cleaner
Systweak Android Cleaner is aimed at helping to optimize your Android device's performance by cleaning the cache of apps and junk files to regain space. Besides, it can be a useful and effective to clean Android files to save battery. For example, its best feature is scheduled cleaning which facilitate your Android's running speed automatically. It also has duplicate files remover that can delete duplicate files to retrieve space. You can speed up any game after using it.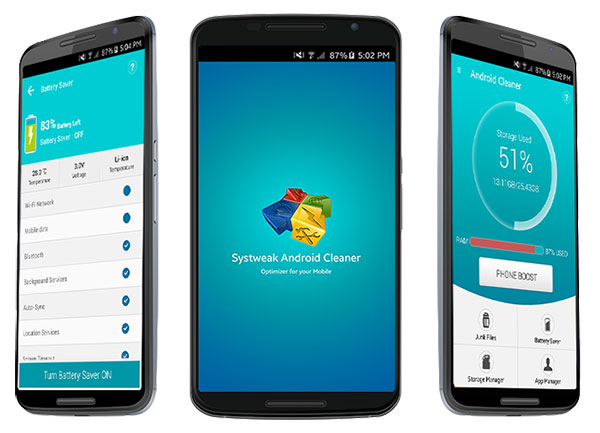 Top 8: Cleaner eXtreme
It is said to be the fastest and best Android cleaner apps in Google Play. With only one click, you can achieve dealing with and deleting junk files with no hurt to system data. The best feature of Cleaner eXtreme is that it will not affect any of your system settings. The only thing that you need to do is to select what you want to clear up and what you want to take care of. It is especially suitable for those people who are afraid of losing data.
Top 9: CPU tuner
CPU tuner is a free Android cleaner application that allows you take control of the CPU Settings of your Android phones. Managing to save battery as much as possible, it makes your Android either overclock or under-clock to boost the performance of your device. CPU tuner needs your root permission, and it can be somewhat dangerous under the circumstance that you have no knowledge pertinent to the Android hardware's tolerance.
Top 10: Device Control
It is another Android cleaning software that requires a rooted device similarly. Without warranty, it is also regarded as one of the best Android cleaners for your device. You can tweak and edit specific features of the device, CPU or GPU frequencies together with kernel specific extras. Device Control owns the ability of monitoring your CPU and battery temperature. But what you must pay attention is that improper use will make the system of your Android device unstable, so you should be aware of every feature.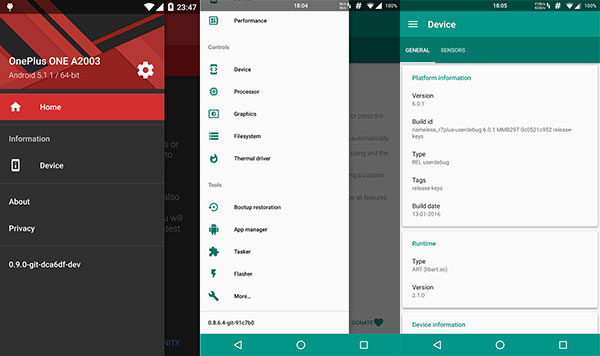 Part 2: Best Cleaning App for Android on desktop
Tipard Phone Transfer is also a terrific Android cleaner for your Android device that can transfer your files and apps from one Android to another device. Easily transfer contacts, music, videos, photos, PDF documents and other data with one click; you can easily clean your Android.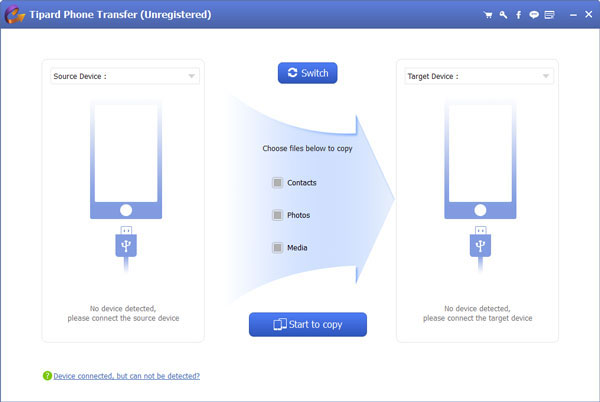 Also, it has no limits to the target device, that is to say, you are able to move your staff from your Android to IOS devices. Syncing your Android without erasing, you are not allowed to worry about the loss of significant data. Last but not in the least, Tipard Phone Transfer can detect more than 2 devices at the same time. You will fall in love with it after you download and install the Android cleaner.
Conclusion
As the article mentioned above, they are all perfect Android cleaners for Android users who wants to clean up their phones easily and safely. By adopting one of the Android cleaners suitable to you, you will find your Android run faster than before and the space of your Android devices will be released greatly.

Click here to join the discussion and share your comments