What is AppCake and How to Use on iPhone and Android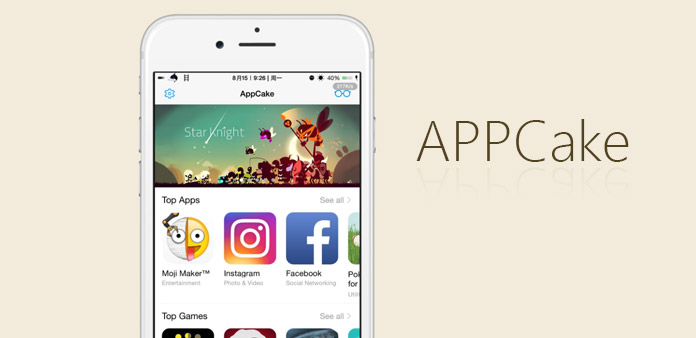 If you are a game enthusiast, you may have heard of AppCake. Many game players use this utility to share or download IPA files. But to most smartphone users, AppCake is an unfamiliar name. If you want to learn this useful tool and how to use it, you will find our introduction and guides are helpful. Do you want to get thousands of grate game and apps for free? Are you searching for a method to play awesome games without opening your wallet? You are lucky, because we are going to introduce one of the best ways to get apps for free in this article.
Part 1. What is AppCake?
Generally speaking, AppCake is an application that makes cracked IPA installation easily. This app was released in 2008 for the first generation iPhone. It was the first tool that has the capacity to download and install IPA files on iOS.
To smartphone users, App Store and Play Store are well-known places to search and download apps and utilities. AppCake, also called iPhoneCake, is the best alternative of official app stores, because it has more benefits and advantages.
1. It includes thousands of games and apps. All of them are free to download.
2. The apps for iOS and Android are separated to avoid confusion.
3. AppCake is not only a IPA collection, but also a forum that allows you to submit and request IPAs.
4. You can search for games or apps by key words or categories, such as books, business, education and more.
5. All apps in AppCake have descriptions. You can learn it before installing an app on your smartphone.
In short, it could help you find out whatever apps you are looking for and install them on your smartphone for free.>
Part 2. Install and use AppCake on iPhone and iPad
The only shortcoming of AppCake is that it is only available to jailbroken iPhones. So you have to jailbreak your iPhone firstly.
1. jailbreak iOS device before install AppCake
Step 1: Use cable to link your iPhone to the computer. Run iTunes and wait for it recognize your iPhone.
Step 2: Double click on your iPhone in iTunes, unfold "File" menu on top ribbon and choose "Devices". Then press the "Back Up" option to save your data to iTunes. After backup, close iTunes to continue.
Step 3: Install the iOS jailbreaking app on your computer and jailbreak your handset immediately.
Step 4: Open iTunes after jailbreaking is done. Unfold "File" menu and choose "Devices". Restore data to iPhone by hitting the "Restore from Backup" option.
Step 5: Reboot your iPhone. If Cydia is not installed automatically after jailbreaking, you have to install it manually.
2. How to install AppCake on iPhone/iPad
Step 1: Launch Cydia on home screen and tap on the "Manage" button.
Step 2: Press the "Sources" option and the hit "Edit" at upper right corner of screen.
Step 3: Tap on "Add" button, enter http://cydia.iphonecake.com/ in the field and hit the "Add Source" button on pop-up dialog to add iPhoneCake repo. If the source warning shows up, you should choose Add Anyway to continue.
Step 4: Search for AppCake in Cydia. Tap on Sources option again and input cyndia.iphonecake.com, you will get two versions of AppCake, AppCake+ and AppCake 4.
Step 5: Choose an appropriate one and install it on your iPhone.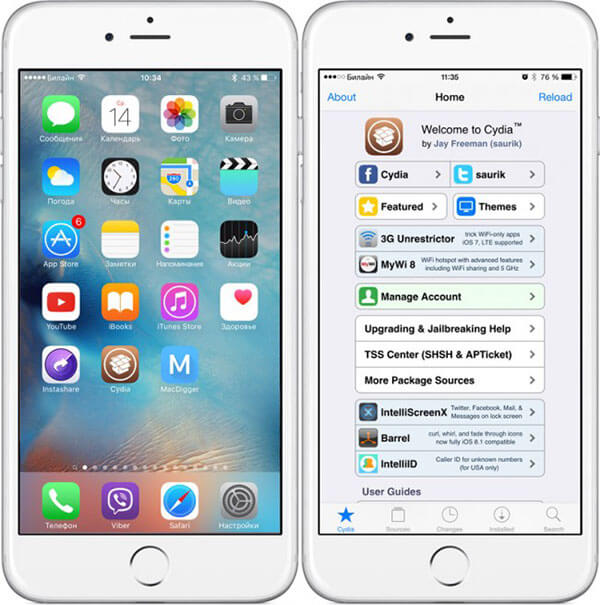 3. How to use AppCake on iPhone/iPad
Step 1: Go to home screen and open AppCake app. Tap on Settings menu at bottom of screen.
Step 2: Turn on "Install After Download" if you want to install apps automatically after download. If you prefer to install IPA manually, you should disable this option.
Step 3: Back to interface and press the "Popular" tab at bottom. Then AppCake will display the most popular apps currently. You can discover the prevalent games or utilities here.
Step 4: If you cannot find whatever you want in Popular screen, you can tap on the "search" icon at bottom and search for apps by key words.
Step 5: Press the app you want to use to download and install it to your smartphone.
As you can see, AppCake is really easy to use once you install it on your iPhone or iPad.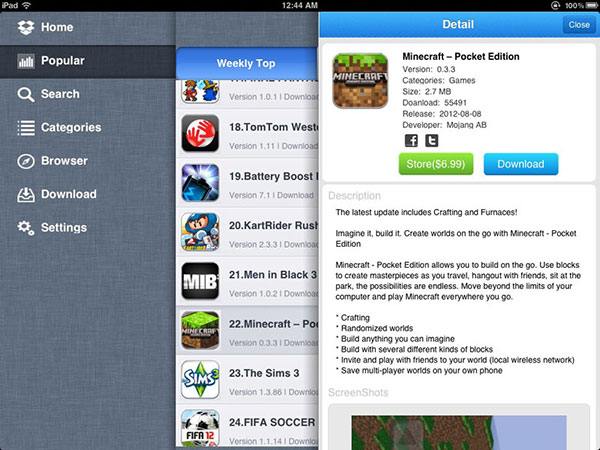 Part 3. Download AppCake to use on Android device
Android is an open source platform, so you can get cracked apps and games on web. But AppCake is also popular among Android users, because you do not need to search for cracked sources in Google. And all apps in the store are safe and secure. Unlike iOS, AppCake works well on unrooted Android devices.
1. How to download AppCake for Android
Step 1: Unlock your Android phone and go to "Settings" app.
Step 2: Trick the checkbox of "Unknown Sources" in "Security" screen.
Step 3: Access AppCake official website and download the APK file to your smartphone.
Step 4: Tap the APK file and follow the instruction to install AppCake for Android.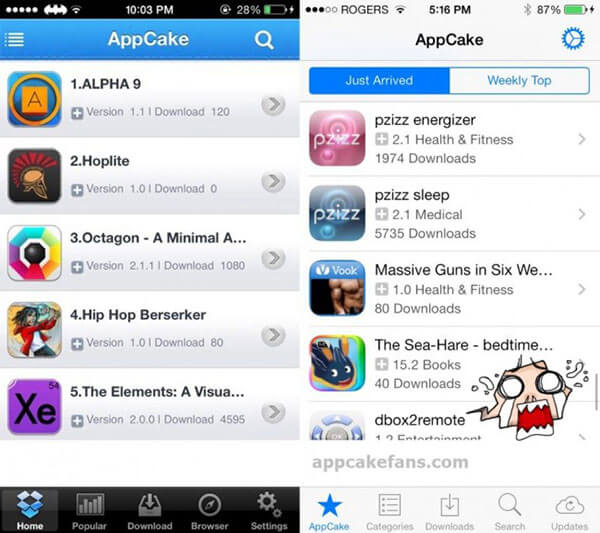 2. How to download apps from AppCake for Android
Step 1: Run AppCake for Android on your smartphone. The interface is similar to the screen on iOS.
Step 2: Go to the Settings screen and enable "Install After Download" option. Make sure the "Unknown Sources" is enabled on your phone.
Step 3: If you do not have ideas, you can go to the "Popular" screen and discover something prevalent. Or you can tap on the "Search" icon and use keywords to find out the app or game you want to install.
Step 4: Tap on the app to open the detail screen. Then you can read the description and install it immediately by hitting the "Download" button.
Conclusion
To be honest, we encourage you to purchase and download games and utilities from official app stores, because that is the only source that developers get income. But if you really want to play a game, which is unaffordable, you can install cracked app on your smartphones. There are many cracked apps on web; however, they might contain malware or virus. AppCake is a famous crack app store contains both Android apps and iOS apps. You can follow our step-by-step guides to install it on your smartphone and get crack apps easily and safely.