Top 10 Backup Apps for Android You Should Know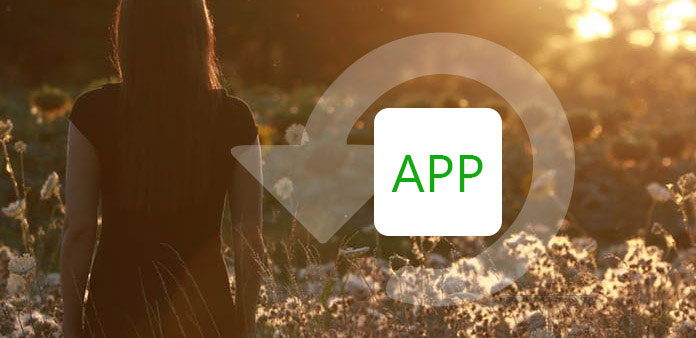 When it comes to backing up your Android, you might be worried and even do not know how to choose the best and suitable backup app for Android phone or tablet, thus making things worse. Actually, you never know when your Android device gets into trouble. However, if you have backed up your Android apps previously, you will not suffer the big data loss. The article recommends the top 10 best Android application that easy access to backing up. Start now to learn more detail!
Top 1: CM Backup
CM Backup is a Safe, Simple and FREE cloud backup & restore tool developed by Clean Master's sister team: Cheetah Mobile, which can Free Up your phone by archiving your stuff on Cloud. Download today for an instant 5GB of your own personal cloud storage.
Features:
Contacts backup & restore (Avatars, birthdays etc.)
Messages backup & restore (SMS, MMS, text messages and Hangouts)
Call logs backup & restore (Phone only)
Intelligent file transfer: super-fast backup and restore speed!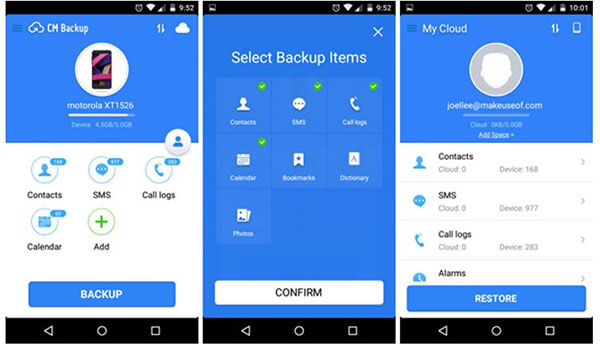 Top 2: Titanium Backup
Titanium Backup is a crucial application for users with rooted Android only. Making you backup and restore all protected and system apps within your Android phone at any time, it is also considered a fabulous alternative to backup app for Android users. The pro version contains much more features, giving you more privilege to backup data on your Android.
Features:
Backup text messages, MMS, bookmarks and so on
Exclusively for root users
No need to close any app when backing up apps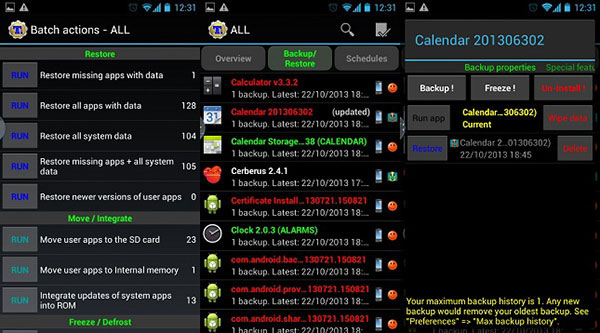 Top 3: App Backup & Restore
App Backup & Restore is another practical application that is regarded as one of the best options to backup apps for Android. You own the ability to back up your apps to the cloud or to your SD card resting with your preferences, in addition to which, you can also back up contacts.
Features:
Show a bunch of system stats
Backup and restore APKs
Categorize apps by name, size and installation data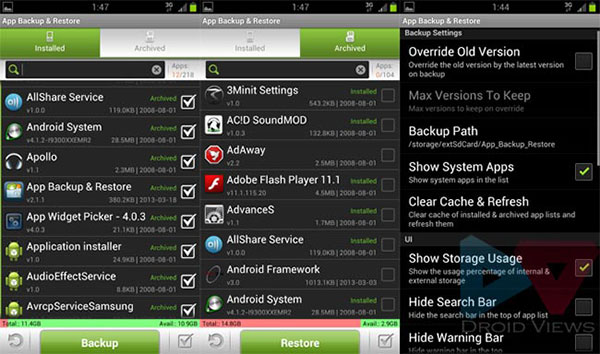 Top 4: App Backup Restore
App Backup Restore helps you backup & restore apk files of apps that are not frequently used to save storage of phone. Easiest Backup & Restore multi versions to avoid unnecessary updates.Backup & Restore Personal data for safety. iCloud Backup & Restore for data security. Transfer & Share APK files between Android devices.
Features:
Batch backup, restore, transfer, share
Batch Backup & Restore to internal storage of phone by default
Batch Backup & Restore to SD card or USB
Upload & Download to/from Google Drive, Dropbox, etc.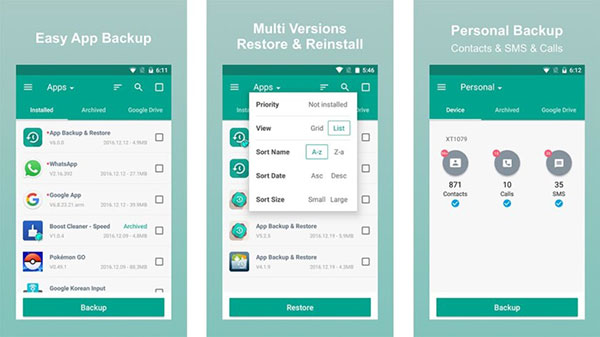 Top 5: Helium
Helium is a useful app without requirement of your Android device needing rooted. It is possibly the best choice as a backup app for Android device. Possessing Helium, you can backup Android apps and data to computer, SD card or cloud storage. You can also seek for better experience by paying extra $4.99. With Helium (Premium), you are allowed to back apps from Android to Box, Dropbox as well as Google Drive.
Features:
No ads
Android to android sync
Automatic Backup schedules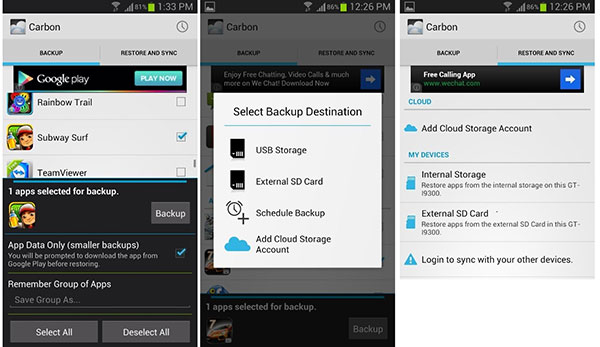 Top 6: Easy Backup & Restore
Just as the name suggests, Easy Backup & Restore targets at operating more easily and simply. It is completely free for Android users so it can be a good alternative for Android users who want to get free service. If you hope to back up Android files directly to your device or to cloud storage, it can satisfy your need, such as MMS, calendar, call log and so on.
Features:
Create backup manually or schedule automatic backups.
Transfer data between Android phones.
Export and email backup contents as HTML file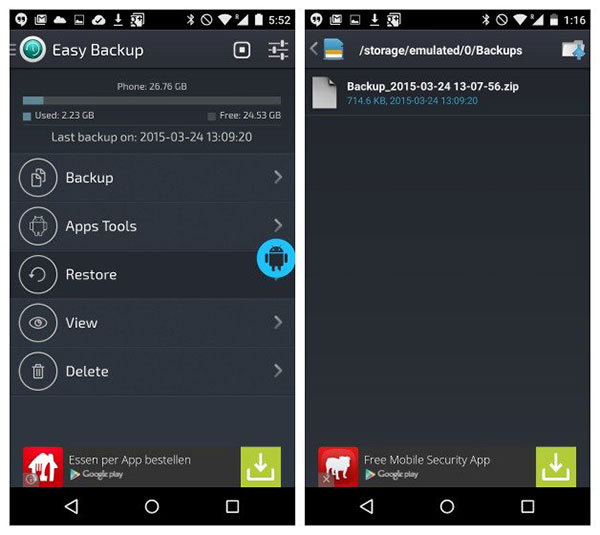 Top 7: My Backup Pro
My Backup Pro is a commonly accepted as a very easy app to backup for Android. Back in the good old days, My Backup Pro was the best alternative to Backup app for root Android users. Luckily, it is still pertinent. It can save backup files on the SD card or the cloud. With the pro version, you are offered a lot more options to choose where to backup and restore from.
Features:
Schedule diverse different kinds of backups to diverse locations
Available in 16 languages
Launch a backup to start on your Android device remotely from website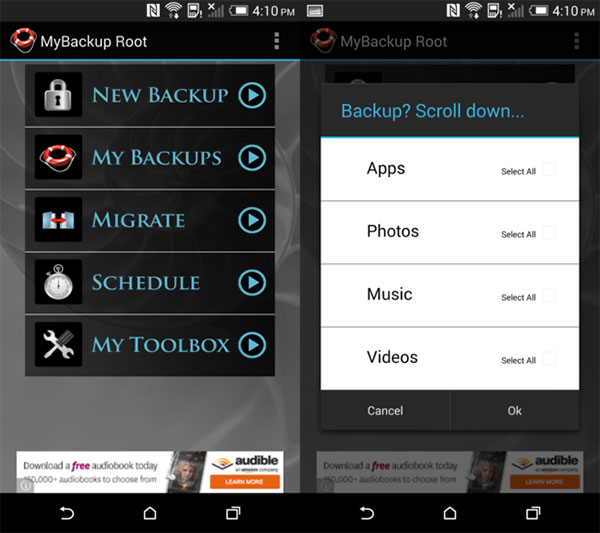 Top 8: Super Backup & Restore
Super Backup & Restore is the fastest data backup and restore tool on Android phones! You can backup applications, contacts, text messages, call history, bookmarks, calendars to your SD card, Gmail, or Google Drive. You can share installation APK file to your friends by one tap.
You will never lose your data again!
Features:
Backup apps to SD card
Backup Google Play download link for installed apps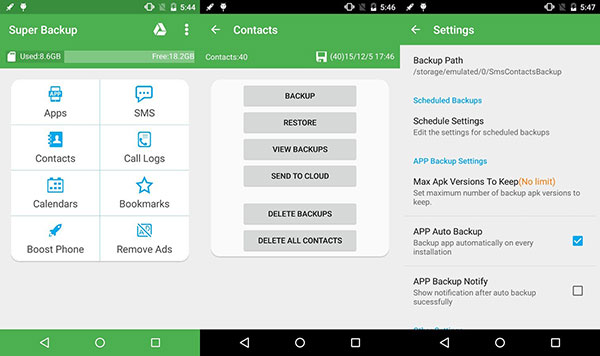 Top 9: Ultimate Backup
Ultimate Backup is not only a backup utility but also an ultimate app management tool. Aiming to be a fierce rival to Titanium Backup, it possesses the ability to freeze and kill tasks as well as sync to cloud. Among best backup apps for Android, it has some dominant features. You should always download Ultimate backup to have a try.
Features:
Removal of advertising
Create app groups and multi-select apps
Explore an app's data and APK file
Secure and safe for not losing apps and app data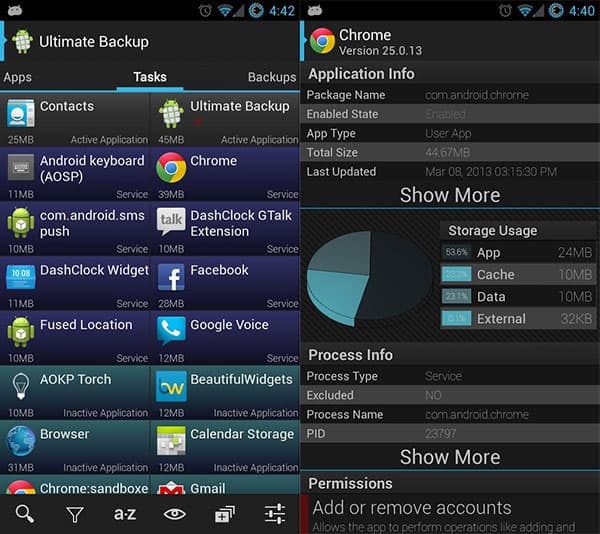 Top 10: List my Apps
Different from the most backup apps, List my Apps creates a new form of referring to you easily. Without using cloud storage or having plenty of internal storage for backups, it is a terrific alternative of backup tool for your Android with limited space left.
Features:
Creates lists in XML, plain text, Markdown, market URLs
Create your own lists using a template
Totally free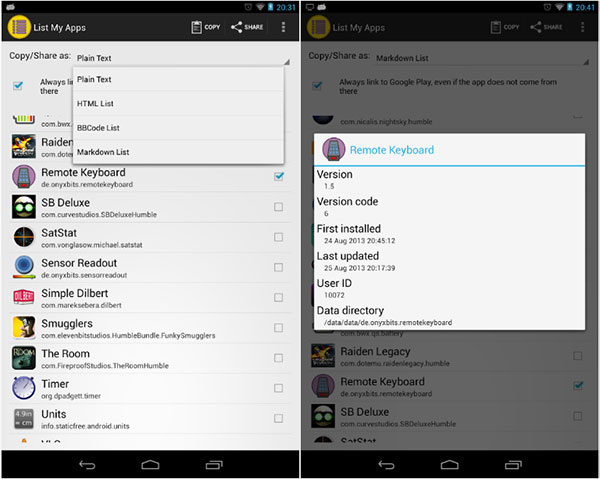 Conclusion
Top 10 best Backup Apps for Android are proved to be efficient and useful. What is more, paying extra money can provide you with more comfortable and convenient service. You can alter one your prefer to and suitable to your Android device. So it is time to download and install the best backup apps for Android to learn more detail.