How to Edit Videos with AVS Video Editor
AVS Video Editor is a professional video-editing software for all key video formats. It is a professional video editor of AVS4YOU. If you are satisfied with the software, you can download the latest version of AVS Video Editor 7.5 from the official website now. The article provides the brief instructions, analysis and the detail method to use it. Just learn more detail from the section now.
1. AVS Video Editor Review
AVS Video Editor is able to edit and save video files in AVI, VOB, MP4, DVD and other formats using popular codec H.264, MPEG-4 and others. The software has an easy-to-use interface, which you are able to import media to add transitions, effects, text and audio. The AVS Video Editing software supports both timeline and storyboard workflow with editing space. Here are the other excellent features that you would like to know.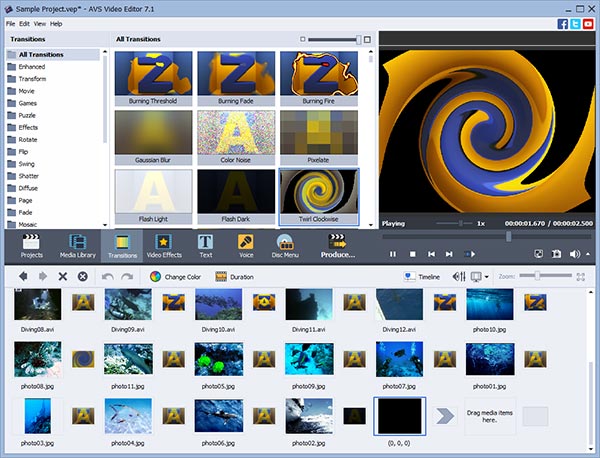 1. Process multiple video formats with different frame sizes.
2. More than 300 innovation video effects and transitions.
3. Integrated video cache technology to speed up video editing.
4. Making stunning slideshow with image, audio, captions and video effects and transitions.
5. Save videos to any device or share your creative work in social media.
The video-editing software provides you the ability to add as many video or audio tracks according to your requirements. It also enables you fix audio tracks and adjust video stabilization for shaky footage. Because of the poor quality of the video files, AVS Video Editor should fit the needs of most beginner, novice and casual video editors.
Pros

1. The software provides tutorials that walk you through a series of prompts that shows you exactly how to use each module of the software.
2. It is an All-in-One video-editing software with multiple transitions, effects, DVD menu styles and different other elements to make an excellent video.
3. There are different settings for the audio files, which enables you to amplify, equalize, normalize, remove noise, compress and adjust pitch.
4. AVS Video Editor has some excellent movie editing features, which are easily marked so you can swiftly get the ones you need that also make editing videos quick and easy.

Cons

1. When you have to export the output video of AVS Video Editor, you might be frustrated about the quality, which is spotty and pixelated.
2. Another headache problem should be using screen cast of AVS Video Editor, the video tend to go faster than speech and make a really bad effect for the video.
3. The software is only available in Windows. When you need to use the software on Mac or Linux, you have to choose some alternative solutions accordingly.
4. avs
2. How to Use AVS Video Editor
For the software supports most of the video format, you can use any video with ease. In order to make video or even DVD, you can just pick up the desired video clips and create DVD with AVS Video Editor as the following steps.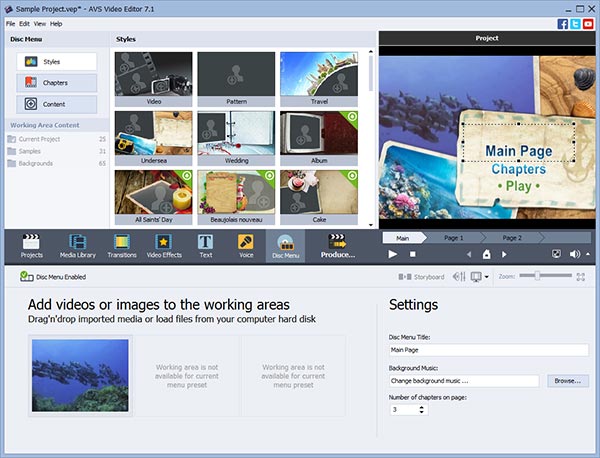 1.

Select source for a new project

. Whether you import media files from computer, capture from camera or capture screen, you can load multiple resource for the new project accordingly.
2.

Add transitions between different clips

. Once you import media files for the new project, you can add transitions between different sources in order to make a great effect.
3.

Apply video effects to videos

. After that you can choose the dozens of video effects for your video files. Besides the video effects, you can also add text or voice into the files.
4.

Create Disc Menu for DVD

. In order make the disc menu to the DVD disc, you can select from a large range of styles from the Disc Menu option.
Of course, you are also able to add chapters, contents and other elements to the DVD. What is more, AVS Video Editor also helps you protect the copyright of the material. And you can access to software with the following languages, English, French, German, Spanish, Italian, Japanese, Dutch, Polish, Danish and Russian.
3. AVS Video Editor Alternative for Capture Video with Great Quality
What should be the alternative solution for AVS Video Editor in order to get a nice quality file for your video files? It is highly recommended that you can use Tipard Screen Recorder. It is the easiest tool to capture screen, video and audio files. What is more, the software is able to capture screen and record online video with the best quality.
1. Tipard Screen Recorder provides different solutions for you to record your video. Whether a custom area, a fixed match like 1280*720, or evn drag your mouse to determine the video frame.
2. Besides the video recording, you can also record audio files on PC with system audio or microphone audio. And the recorded audio file will be saved as MP3, AAC, M4A or WMA as you wish.
3. As for recording video for a long time, you can also set capture time, which is able to stop capturing the screen content automatically up to the limited time.
4. What is more important, you are able to preview the video after finishing capture. As for the case, you can always export the desired video accordingly.
And you can also save the high quality video to it for further editing. When you take advantage for both AVS Video Editor and Tipard Screen Recorder, you can always achieve the desired files with ease.
FAQ about AVS Video Editor
Is AVS Video Editor free?
Online Media Technologies' AVS Video Editor is a free video editing suite developed for Microsoft Windows. AVS Video Editor is a remarkably simple and easy-to-use timeline-based editor.
How do I edit a video in AVS?
Run AVS Video Editor and load a desired video file. Place the movie to the Timeline area, then you can proceed to add transitions, apply different effects, lay text and other videos over the main ones, dub episodes and create DVDs with menus.
What is The Best Video Editor for Beginners?
It must be Tipard Video Converter Ultimate. It can clip, merge, rotate and add watermark into videos with an easy-to-use interface. Furthermore, it can also help you decrease the file size to save your drive space with its inside video-compressing function.
Conclusion
When you want some video editors for your computer, It is one of the most popular solutions for you. It has most of the editing and enhancement tools that you are looking for, such as healthy library of transitions, effects and titles. And it is easy to be familiar with AVS Video Editor with the easy interface. But if you are looking for exporting video with high quality, you can use Tipard Screen Recorder as the alternative solution, especially when you need to record the screen of your computer. If you have any query about AVS Video Editor, you can feel free to let me know.