How to Transfer Video to DVD Effectively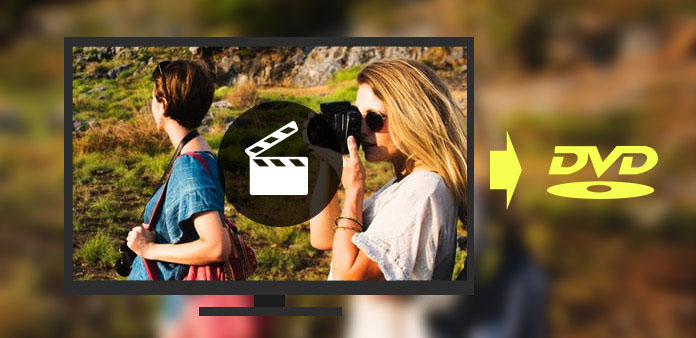 Today, video has become a significant entertainment. People record wonderful moment by videos; share their personality through videos; and fill their leisure time with videos. According to a recent survey, people average costume more than 3 hours to view videos every day. When it comes to audiovisual experiences, there is a principle: the bigger the screen, the better the experience. That may be the reason that so many people search video to DVD transfer online. Actually, transferring video to DVD from various sources is not as complicated as you thought. In this tutorial, we will talk about the best ways for you.
1. Tipard DVD Creator to transfer videos to DVD
YouTube is the largest video sharing platform around the world. To get better video experience on big screen, watch videos with friends, or back up videos and movies, you need to transfer video to DVD with a professional tool, such as Tipard DVD Creator. The built-in advanced algorithm is able to transfer videos to DVD without quality loss. Moreover, with DVD Creator, you can achieve video to DVD transferring easily.
How to transfer video to DVD
Step 1
Download the correct version of DVD Creator from official website and follow the on-screen instruction to install it on your computer. After installation, insert a blank DVD into optical drive and run DVD Creator.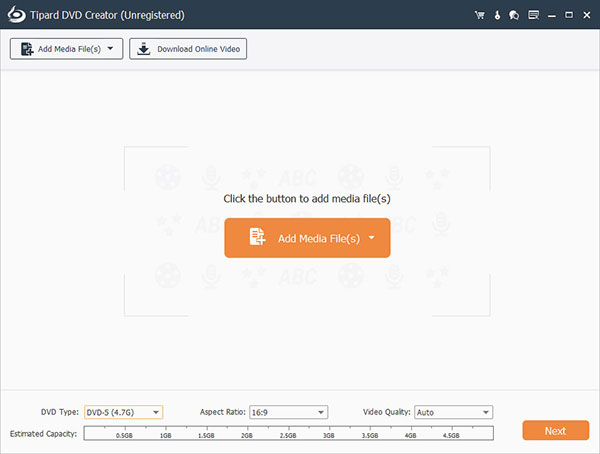 Step 2
Click on the Download Online Video button on top of DVD Creator. Then you can input the URL contains the videos you want to transfer to DVD into the field. DVD Creator will grasp the videos for DVD transferring.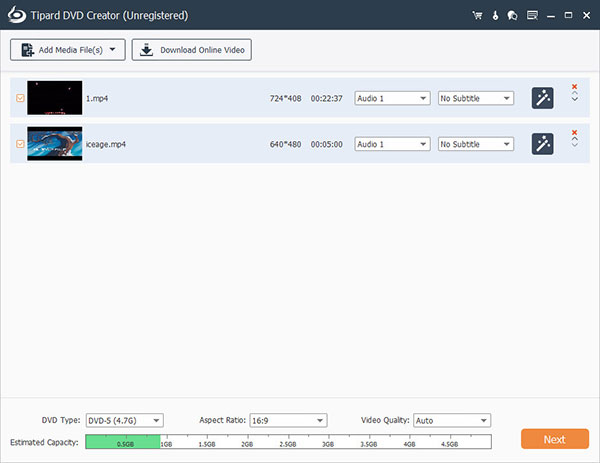 Step 3
After downloading, click on the Edit Video menu to go to video editing screen and edit the videos as you wish. You can also add audio tracts and subtitles on the video by the Edit Audio menu and Add Subtitles menu.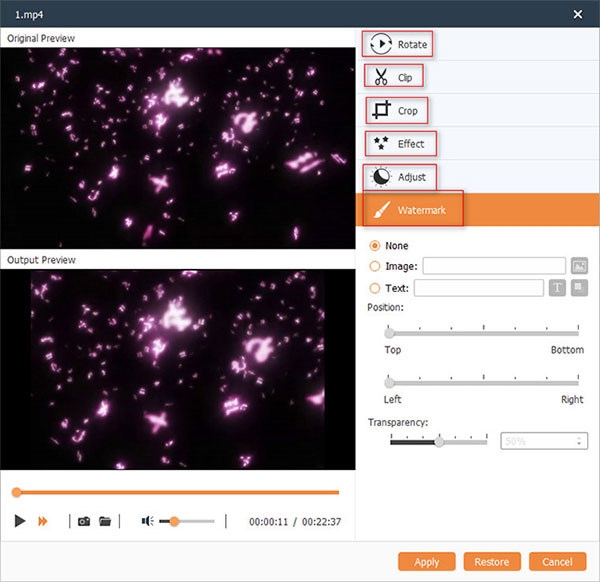 Step 4
Back to main interface and locate to DVD menu penal on the right side. Press the Edit icon and go to menu editing screen; choose your favorite menu template and customize with buttons, text and other elements; click on the Save button to save the DVD menu.
Step 5
Finally, choose your optical drive from the Destination list and pick a name in the Volume Label field, click on the big Burn button to complete video to DVD transfer.
After a few minutes, you can enjoy the highest quality videos on larger screen with your friends.
2. Create DVD with videos by DVD Flick
If you simply transfer a video to DVD, your DVD player will get nothing playable. The first thing you need to do is to encode the digital video for DVD transfer. A good DVD creator is able to encode digital videos for playback on any DVD payers, such as DVD Flick. But unlike Tipard DVD Creator, which is able to detect and encode digital videos automatically, you have to set video encode within DVD Flick manually.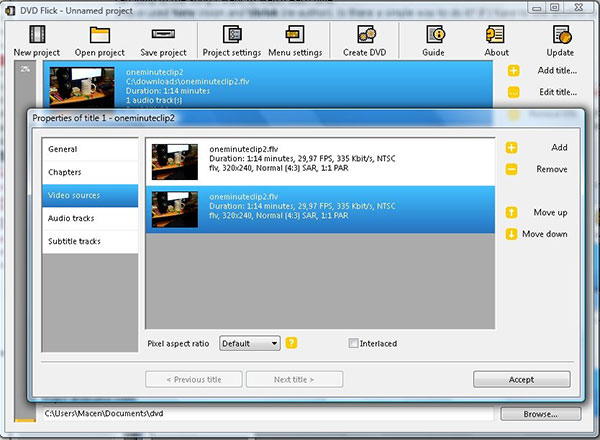 How to transfer video to DVD free
Step 1
Put a blank disc into your DVD drive and open DVD Flick on your computer.
Step 2
Click on the Project settings button to open the settings window.
Go to the General tab and reset the Target size according to the storage capacity of the blank disc for video to DVD transfer.
Then navigate to the Video tab and choose NTSC or PAL from Target format list based on your DVD player playable format, customize the encoding quality in the Encoding profile drop-down list.
And go to the Burn tab and check the box of Burn project to disc.
Step 3
Back to main interface, drag and drop all home videos you'd like to transfer to DVD into DVD Flick. Or you can hit the Plus icon on the right side bar to add video files. Then adjust the order of the video clips by the upward button and the downward button.
Step 4
If you are ready, click on the Create DVD button on top of the interface to finish.
DVD Flick is freeware, so you can use it without paying a penny.
3. Transfer digital videos to DVD on Mac
If you have a MacBook Pro or other Mac computer, it may be simpler to transfer digital videos to DVD. After download online videos or import videos from smartphone, you can transfer videos to DVD with Burn. It is a free Utility that supports to create DVD videos. Plus, Burn also has the ability to encode digital videos for DVD burning.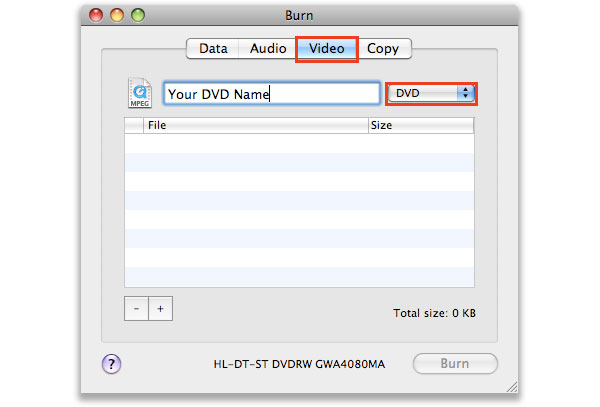 How to transfer videos to DVD on Mac
Step 1
Launch Burn on your Mac computer. Click on the Video tab on the top ribbon to go to video to DVD transfer screen.
Step 2
Pick a name in the DVD label field. And then unfold the drop-down menu next to the DVD label field and choose DVD-Video from the list.
Step 3
Press the plus button and import the digital video files into Burn for video to DVD transfer, such as MP4 and AVI. Or you can drag and drop the video files into Burn directly. This utility will show you Total size of the videos imported in real time.
Step 4
If prompted to convert added files, you should click on the Convert button and select a destination to save the converted files.
Step 5
Click on the Burn button on the bottom of the screen to complete video to DVD transfer.
Burn does not have DVD menu editing feature; but if you want to create menu for DVD video, you can go to its official website and download the MenuEdit extra. It is the dedicated DVD menu editor working with Burn application.
Conclusion
In this tutorial, we have shared multiple ways to transfer videos to DVD. Video to DVD transfer is different with creating data disc. If you just simple write video files to discs, your DVD player will tell you it cannot read the videos. So, you need a powerful tool to help you encode the video files and then transfer to DVD. DVD Flick is popular DVD authoring application available to Windows. It has the capacity to encode digital videos for DVD burning. On the other hand, Burn is a free-of-charge utility on Mac supports to create DVD video. Freeware always has some limitations. DVD Flick, for example, only could produce poor quality output. Burn lacks some necessary features, such as video editing and DVD menu template. If you are looking for a great video to DVD transfer tool, you should try Tipard DVD Creator.

Click here to join the discussion and share your comments