Top 5 DVD Authoring Software

Although more and more customers watch digital videos online, movie enthusiasts and other people still prefer to enjoy excellent images and audio experience produced by DVDs. Moreover, new technologies make DVDs irreplaceable, like Blu-ray DVDs, Ultra Blu-ray DVDs and more. These DVDs are made by DVD authoring software. With a DVD maker, we can create, transform or store our favorite videos and movies on discs and enjoy them on larger screen, like HDTV. On the other hand, as a trustable storage, DVD is a good choice to store sensitive data forever. If you are looking for an appropriate DVD maker, you can learn the best DVD author software in this post and make a decision.
Recommend: Tipard DVD Authoring software (DVD Creator)
When you want to find a perfect solution with a competitive price, Tipard DVD Authoring software is a highly recommended one.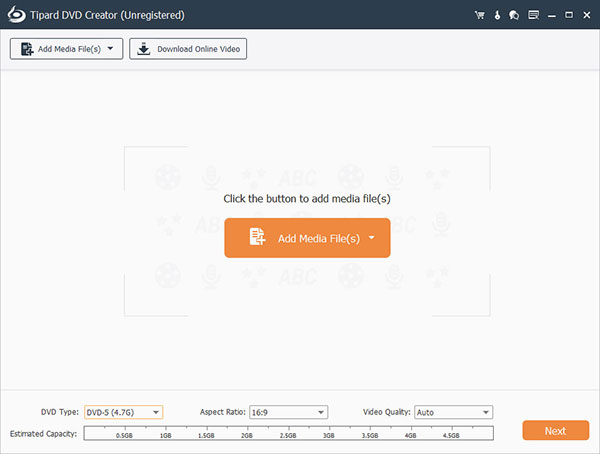 The advantages of Tipard DVD Authoring software include:
1. You can easily author DVD with different video formats, audio track and subtitles.
2. What is more, you can customize the menu, frame, button, text, background music and picture. Edit the video file with multiple tools.
3. This DVD authoring application could help you import high quality file and create a DVD in higher speed among the best DVD authoring software.
4. It is a high quality DVD authoring program for converting VHS to DVD or converting 8mm to DVD. When you need to convert multiple videos, the batch conversion function is helpful.
5. The program is user friendly and easy to use, you do not have to be a tech savvy; and whenever you have a query, you can also find support easily.
Just download the trial version to learn more about the program.
Top 1: Windows Movie Maker
Windows Movie Maker is not only a DVD authoring tool, but also a video editor developed by Microsoft. By default, Windows XP and Vista have pre-installed Windows Movie Maker. For Windows 7, 8/8.1, this DVD authoring tool becomes a separate product of Windows Live Essentials suite.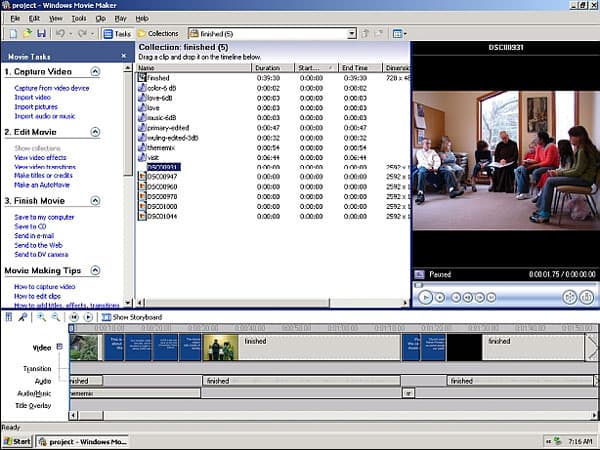 1. Although it is not available to Windows 10, Windows Movie Maker's compatibility with Windows operating systems is better than other DVD authoring software.
2. Movie Maker has a rather straightforward interface and standard video editor timeline. Everyone could learn its usage in a few minutes without any instruction.
3. Before create DVDs, users could edit video clips and movies within Windows Movie Maker, like add audios, split, trim and more. Windows Movie Maker also provides several AutoMovie Themes.
4. When making a DVD, Windows Movie Maker spends shorter time than other DVD authoring programs.
Top 2: DVD Flick
DVD Flick is the best open source DVD authoring program. Unlike other open source software, DVD Flick is only available to Windows operating systems. If you are looking for a simple tool to compose a DVD or ISO file with audio tracks, videos and subtitles, DVD Flick seems to be a good choice.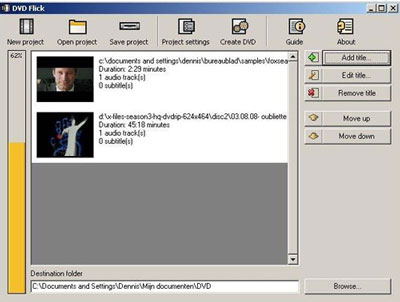 1. Support almost all video and audio formats, including 72 different types of video codecs and 42 different types of audio codecs.
2. It is a simple and powerful DVD authoring tool.
3. You can add custom audio tracks, subtitles and menu.
4. Automatically calculate the bitrate to the project file.
5. The DVD created by DVD Flick is playable on any DVD player, Media Center or Home Cinema Set.
Top 3: DVD Styler
DVD Styler is one of the best DVD authoring applications that support multiple operating systems. This DVD authoring tool allows users to make DVDs with personal video clips and audio tracks. No matter your computer runs Windows or Mac OS, you will discover DVD Styler is a useful tool.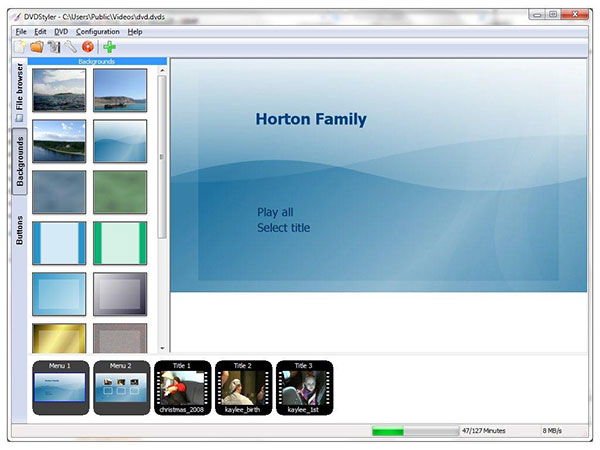 1. DVD Styler simplifies the process to make a DVD out of personal videos. Everyone could handle DVD authoring within this program.
2. DVD Styler is compatible with Windows, Mac OS and Linux.
3. This DVD authoring tool supports most video and audio formats, so you do not need to worry about what format your files are in.
4. Users could utilize the extensive templates to create stylish menu.
5. DVD Styler is able to produce the output in highest quality.
Top 4: Bombono DVD
Bombono DVD is another easy-to-use DVD authoring program. It is available to Windows and Linux. The interesting thing is the Linux version is totally free; while the Windows version is priced at $24.95. Actually, based on our testing, these two versions are not much different.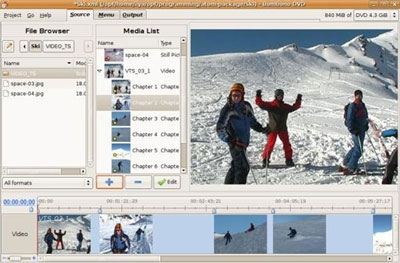 1. Its name may sound odd; but Bombono DVD is an easy tool for authoring DVD with plenty of editing tools.
2. Bombono DVD is able to create DVDs with professional-level quality in a short time.
3. With Bombono DVD, users could preview videos, customize WYSIWYG menu and subtitles, transform videos and more.
4. Besides DVDs, Bombono DVD also could author media folders and ISO files.
5. And Bombono DVD has the ability to re-author DVD by importing videos from discs.
Top 5: DVD Author Plus
DVD Author Plus is a paid DVD authoring application. The latest version of DVD Author Plus is available for most Windows operating systems from Windows 2008 to Windows 10. This program is rather easy to use. You do not need to be an expert to create home movies with DVD Author Plus and playback it on your TV.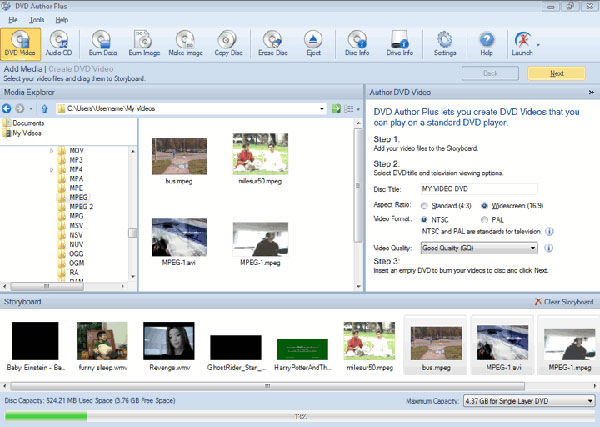 1. DVD Author Plus supports the drag-and-drop command and could import multiple video clips in batch.
2. The output DVD video disks are compatible with most standard DVD players and Home cinema suites.
3. DVD Author Plus also supports to create data CDs and DVDs.
4. Users could back up their DVDs to ISO files and create a new DVD with ISO files when the original disc damaged.
FAQ about DVD Authoring
What does DVD authoring mean?
DVD authoring is the process of creating a DVD video capable of playing on a DVD player. It is the process of taking videos and combining them with images, artwork, user menus, chapter points, text, music, repeat settings, and more. DVD authoring software must conform to the specifications set by the DVD Forum.
How do I create a custom DVD menu?
It is easy for Tipard DVD Creator. After adding videos and clicking Next, you can see the editing menu interface. In this window, you can free customize menu template including frame, button and text. It also enables users to add audio track and subtitle. You can adjust the volume, audio delay, Encoder, Bitrate and Channels with multiple audio tracks.
How do I make a DVD from MP4 files?
To convert MP4 to DVD, you need to follow the following steps. Download and install DVD Creator on your computer. Insert an empty disc into your optical drive and run the software. Choose the Add Video to import the MP4 files you want to convert to disc. Click on the Next icon to open menu editing window. Choose a menu template and customize with personal pictures and other factors. Then press the Save button to back to main interface. Finally, click Burn button.
Conclusion
In this post, we introduced the top 5 DVD authoring software. These tools are used to create digital video discs for playing on DVD players or backup. Today, people already have been accustomed to using videos to record moments. After authoring the video clips and your favorite movies with DVD, you can enjoy them on larger screen, like HDTV. A powerful DVD authoring tool could help you a lot and provide better audiovisual experience. When you need to author DVDs, you can choose one from the top 5 list.
On the other hand, Tipard DVD Authoring software seems to be a smart choice. This program could help you simplify the process of DVD authoring. Moreover, it is the most cost-effective DVD authoring tool among DVD authoring software.

Click here to join the discussion and share your comments