Download DVD Flicks and 6 Alternative Software

DVD Flick should be one of the most popular DVD creators around the world. Most of you must have a lot of different videos and films on your computer. But if you want to play these videos on you home DVD player, you should download DVD Flick instead. Here, the article also introduces 6 alternatives for downloading DVD Flick. They can convert videos, films, images, music, menus, subtitles and other important files to DVD. Just choose the suitable DVD creator according to your requirements after reading the article.
Part 1: Download DVD Flick and Review
DVD Flick is a kind of DVD authoring tool that allows you to store your video files on your computer and convert them into DVDs. Those DVDs can be played back on your DVD player, Media Center or Home Cinema Set. What's more, it doesn't need complicated ways to operate. It is acknowledged to be easy to use. And you can add your favorite audio tracks, subtitles or a menu to decorate your video clips, making your DVD files livelier. Just download DVD Flick for free to learn more detail about the program.
Main features:
• Support for over 45 file formats, over 40 audio codecs, over 40 audio codecs.
• Add a menu, subtitles and audio tracks easily.
• Download DVD Flick free.
• Burn near any formats of video clips with DVD Flick.
Websites to Download DVD Flick
Download DVD Flick from official Website: http://www.dvdflick.net/download.php
DVD Flick Download from Cnet: http://download.cnet.com/DVD-Flick/3000-7970_4-10972785.html
DVD Flick Download from Sourceforge: https://sourceforge.net/projects/dvdflick/
Free Download DVD Flick from Softonic: https://dvd-flick.en.softonic.com/
Top 6 Download DVD Flick Alternative Solutions
NO.1 DVDStyler – Download DVD Flickr Alternative
Instead of downloading DVD Flick from Cnet or other websites for free, DVDStyler is a cross-platform DVD authoring app. Its basic function is to help users burn video files on DVD, which can be played back on your DVD player. Apart from that, you can also design your own unique menu when you use DVDStyler to create and photo slideshows, because it provides over 20 DVD menu templates. Most importantly, you can free download DVDStyler to make your DVD discs.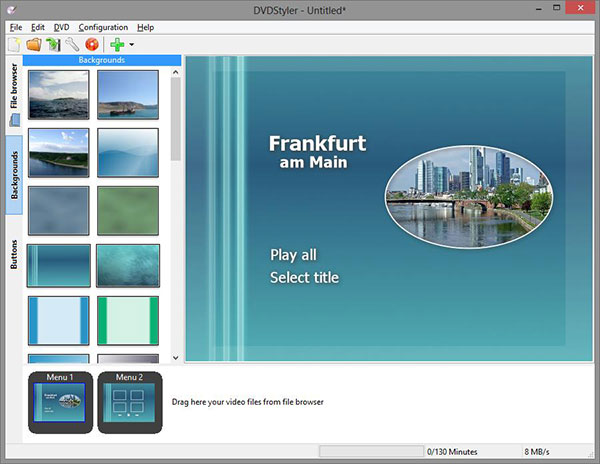 Main features:
• Create slideshow.
• Support for AVI, MOV, MP4, WMV and other file formats.
• Support for MPEG-2, MPEG-4, MP4 and other audio and video formats.
• Clear interface with support of drag-and-drop.
• Create DVD files with creative and interactive menus.
• Customize navigations using DVD scripting.
• Handle multiple audio and subtitles at the same time.
NO.2 Bombono DVD – Download DVD Flick Alternative
Bombono DVD is another DVD authoring software that allows you to make your own DVD disc instead of download DVD Flick. It provides professional service and you can design your products with high quality for your business in a short time. If you think this professional program may be difficult to use, you are wrong. It is made easy to use and it has its clean GUI. In addition, it is special that Bombono DVD offers re-authoring function by importing from DVD disks. Finally, I will note that the Linux version is free while the Windows version will cost money.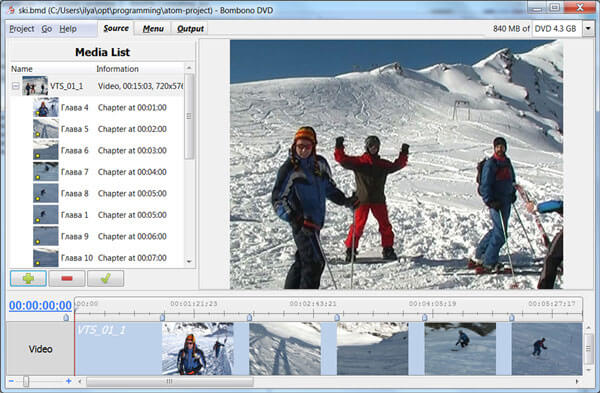 Main features:
• Provide drag-and-drop to use.
• Offer built-in transcoding.
• Motion menus.
• Subtitles support.
• Timeline and monitor to assist in editing.
NO.3 DeVeDe – Download DVD Flick Alternative
DeVeDe is free program which can converts your video files into DVD discs and it is widely used in many countries like United States, Saudi Arabia and India. It can convert different kinds of videos to DVD authoring easily. Also, you can add audio, images, and subtitles as you like. In a word, DeVeDe serves as a video editing. And it just requires a little space to store in, which seems good news to those who have lots of files and programs in their computers. It should be a good alternative if you need to free download DVD Flick.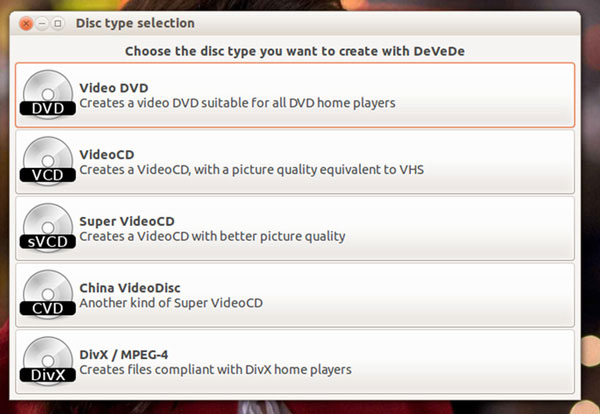 Main features:
• Create DVD, VCD, SVCD, China Video Disks, MPEG-4 ASP
• Automatically convert source material into DVD-compatible formats
• Freely available.
NO.4 Imgburn – Download DVD Flick Alternative
Imgburn is a wonderful burning application that can burn disks with photos and videos. Some operation system just preinstalls the program, which means you do not have to download the DVD Flick alternative. You can burn your own DVD discs free. It supports a wide range of formats of images. And it has been specifically developed to burn images onto discs.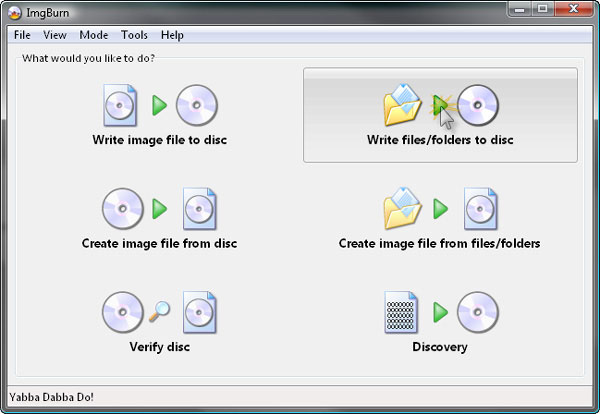 Main features:
• Easy to use.
• Operate with quick speed.
• Very lightweight.
• Provide drive analysis.
NO.5 Wondershare DVD Creator – Download DVD Flick Alternative
Wondershare DVD creator is another DVD Flick alternative to download that can easily help you to import your videos or other media files from your computer into this software and burn a unique DVD by yourself. You can also burn your videos, audio, and images to create DVD files with this powerful DVD creator.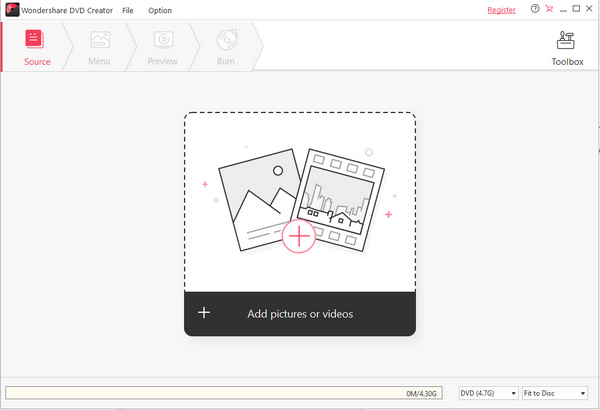 Main features:
• Burn videos, photos and audio almost in any format you want.
• Create photo DVD slideshows from JPEG, GIF, etc. and combine images and video files together
• Provide 40 free DVD menu templates
• Customize the DVD menu, background, music and images with your favorite one.
• Burn DVD files at top speed
NO.6 Tipard DVD Creator – Download DVD Flick Alternative
Tipard DVD Creator is an excellent DVD author as DVD Flickr you should download. It can convert various formats of videos onto DVDs for watching or other purpose. Like other programs, this application also provides services to make your DVD files lively. First, you can customize your own DVD menu with unique additional music, images and texts or choose a favorite one among different menu templates. And what you should do is to click the "Start" button. And then, it supports more than 50 video formats and burn video formats like MP4, MOV, MKV and so on without worries about destroying any quality.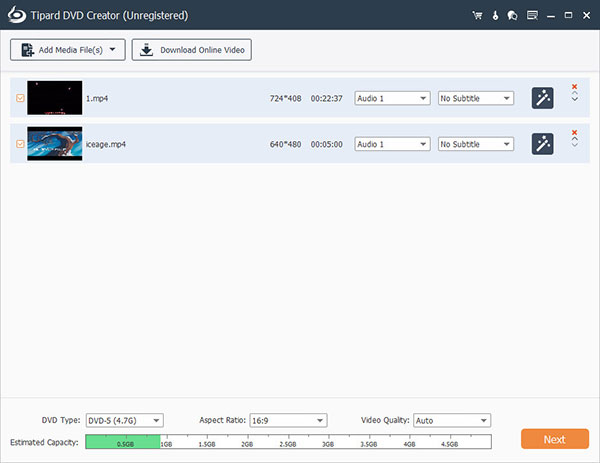 Main features:
• Convert any formats of videos onto DVDs.
• Add audio track, subtitles and menus to DVDs.
• Easy to use with clear and instructive interface.
• More flexible to make DVD menus.

Click here to join the discussion and share your comments