How to Get Rid of Cinavia Protection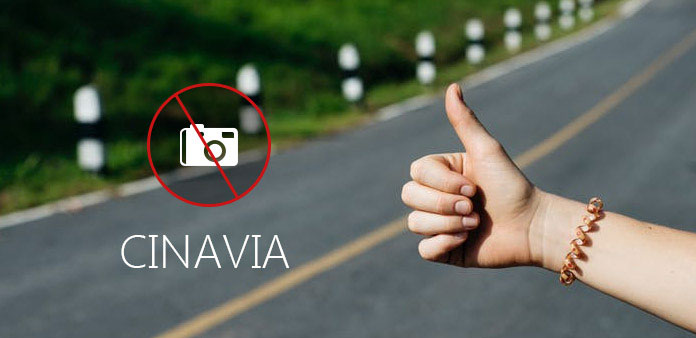 When you playback the latest DVD movie on your DVD player, the error message may appears instead of the movie, which said Audio outputs temporarily muted or The content being played is protected by Cinavia and is not authorized for playback on this device. So, what is it? And more important is how to get rid of the protection. If you are a movie enthusiast, you may have heard of AACS and DRM, which are traditional DVD encryptions. Cinavia is a kind of new protection for DVD movies released in 2010.
Cinavia protection is an analog watermarking and steganography system. If the DVD movie has embedded the new type of protection, the audio will be muted when you play the disc on unauthorized DVD players. DVD movies cannot easily get rid of Cinavia protection. Even if you make a copy of protected DVD movies, the protection will hold you back and the copy will end up with muted audio or half-way crash. And the alternative solution is to rip the encrypted DVDs to PCs and playback the movies on digital devices.
Part 1. Cinavia Removal via Tipard DVD Ripper
When you want to rip a DVD movie to computer, you must want to keep the movie with original quality. That is the reason we recommend Tipard DVD Ripper for Cinavia Removal. This DVD ripper is going to generate the highest output quality. So, you can watch the protected movie on your computer without any loss.
How to rip cinavia protected DVD with Tipard DVD Ripper
Step 1
Download the right version of DVD Ripper according to your operating system and follow the on-screen instruction to install it on your computer. Put the DVD into the optical drive and run DVD Ripper.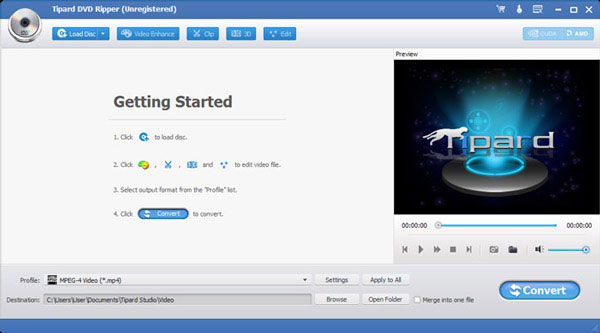 Step 2
Click on the Load disc button to load the disc you want to rip. Or you can rip movies from disc image or DVD folder by click on the DVD IFO Files or DVD Folder under Load disc menu.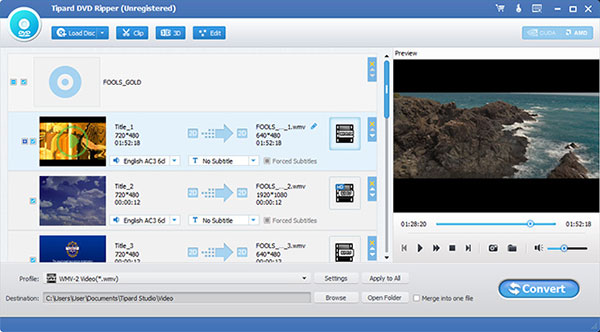 Step 3
Press the Settings button to go to profile settings window.
Locate to Video Settings section; choose a video format, such as MP4, from the drop-down list of Encoder. You can customize other parameters, like resolution, aspect ratio, video bitrate and more; or you can leave the parameters default.
The 3D settings allow you to convert a 2D movie to 3D one.
After settings; click on the OK button to confirm it and back to main interface.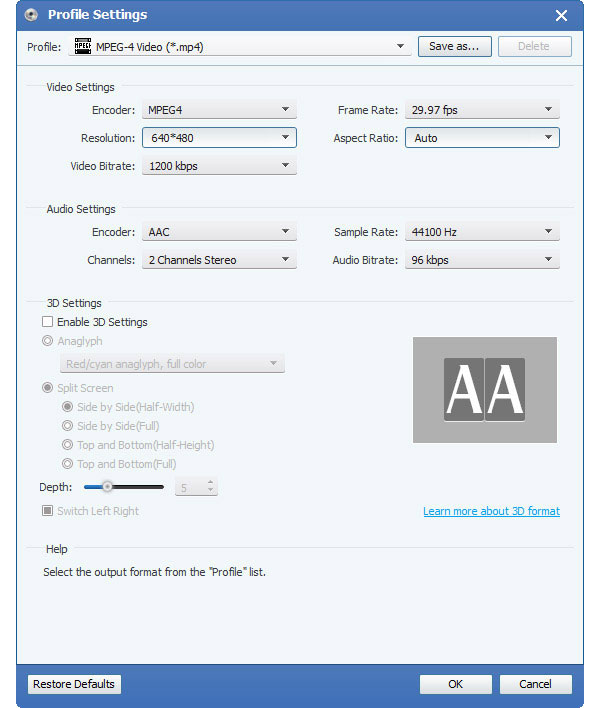 Step 4
Pick a location to save the output by clicking on the Browse button next to Destination field.
Step 5
If you are ready, press the Convert button to start cinavia protected removal disc to hard drive.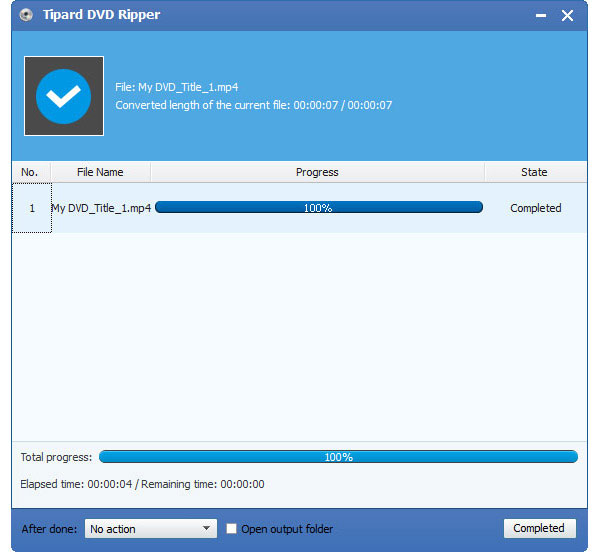 A few minutes later, you can watch the movie with original quality on your computer.
Part 2. Bypass Cinavia protection free
MakeMKV is an easy-to-use DVD ripping tool for Windows and Mac. You can use this application to rip cinavia protected disc for free. As its name said, MakeMKV only supports converting DVD to MKV files. So, you also need VLC Media Player to play the converted MKV files. Fortunately, VLC Media Player is compatible with both Windows and Mac.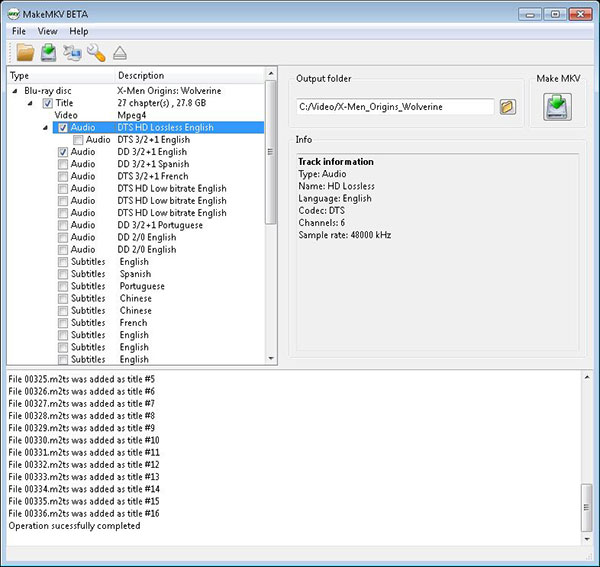 1. How to rip DVD with MakeMKV
Step 1
Insert the DVD disc into your optical drive and open MakeMKV.
Step 2
Click on the big disc icon, this DVD ripper will read the disc and display the files automatically. Check all the files you want to rip on left side panel.
Step 3
Locate to Output folder section and hit the browse button with a folder icon to choose a destination for saving outputs.
Step 4
Finally, click on the Make MKV button next to Output folder section to rip the Cinavia protected DVD to MKV files.
MakeMKV is a simple DVD ripper without extensive features, but for beginners, it is a good start.
2. How to play converted MKV with VLC Media Player
Step 1
Download VLC Media Player from trustable source and install it on your computer.
Step 2
Open VLC Media Player after you convert DVD to MKV files with MakeMKV. Unfold the Media menu on top ribbon and choose the Open File option.
Step 3
When the Windows Explorer evoke, you can navigate to the folder contains the converted MKV files. Choose the MKV files you want to play and click on the Open button, VLC Media Player will start playback the movie on your computer.
Part 3. Cinavia protected movies
The good news is Cinavia is expensive, so only Sony and some distributors have used this protection technology on part of DVD movies. In this part, we will share the recent DVD movies.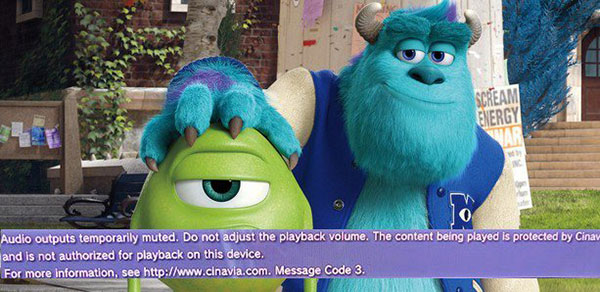 • Life was produced by Sony and released in June 20, 2017.
• John Wick 2 was made by LIONSGATE and launched in June 13, 2017.
• T2 Trainspotting was released in June 5, 2017 by Sony.
• Rock Dog was released in May 23, 2017 by LIONSGATE.
• Fifty Shades Darker was distributed by Universal Pictures in May 9, 2017.
• Resident Evil: The Final Chapter was rolled out by Sony in May 16, 2017.
• The Red Turtle was released in May 2, 2017 by Sony.
• La La Land was launched by LIONSGATE in April 25, 2017.
• Underworld: Blood Wars was released in April 25, 2017 by Sony.
• A Kind Of Murder was distributed by Sony in April 05, 2017.
As you can see most DVD movies released by Sony have been encrypted with Cinavia. But other movie studios and most publishers do not use Cinavia at all.
Conclusion
In this article, we have introduced what Cinavia is. As a new DVD movie encryption, it is difficult to remove. Although several DVD rippers announced they could remove Cinavia protection from DVD and Blu-ray discs, these applications do not honor their promises based on our testing. Fortunately, it is not prevalent and only parts of the DVD movies are encrypted with this new protection. Plus, the protection only works on the latest DVD players and Blu-ray players. So, if you want to watch protected DVD, you can rip the disc to PCs and watch it without any limitations. You can use Tipard DVD Ripper to help you, because this application could generate the highest output quality.

Click here to join the discussion and share your comments