Top 5 CD Ripper Software For You to Rip CDs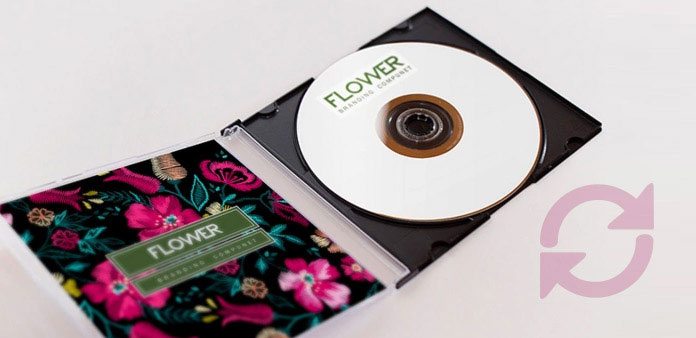 An excellent CD ripper is useful for different purposes. Some people, for example, want to back up their favorite audio CD to hard drive and protect the original disc. Music enthusiasts prefer to archive CD collection or create a personalized music CD using audio tracks from multiple CDs. Moreover, people are more likely to listen to music on mobile devices. That also needs a CD ripper to MP3. No matter you want to back up, copy, encode or remove restrictions from your favorite music, a useful tool is necessary. Thankfully, there are many CD ripping programs on market. And we are going to identify and share the best ones in this article.
Part 1. 5 Best DVD Converter Programs for Ripping DVD to video
1. ImTOO CD Ripper
ImTOO CD Ripper is one of best commercial CD rippers available on markets. Its key features include:
1. Convert and encode CD to popular audio formats, such as MP3, WMA, WAV, AAC, OGG and more.
2. It could detect the gap and split the audio tracks automatically.
3. It has the capacity to extract audio segments from a CD.
4. Variety of built-in audio effects could be used to personalize audio tracks, like fade-in, fade-out, chorus, echo, flanger and more.
Pros

1. The CD ripping program supports a wider range of audio formats.
2. The multiple treads feature is able to accelerate CD converting speed.
3. It also could run in the background and spare CPU resources during CD ripping.
Cons

1. There are too many custom options that beginners may feel confused.
2. The audio quality is poor compared to its price.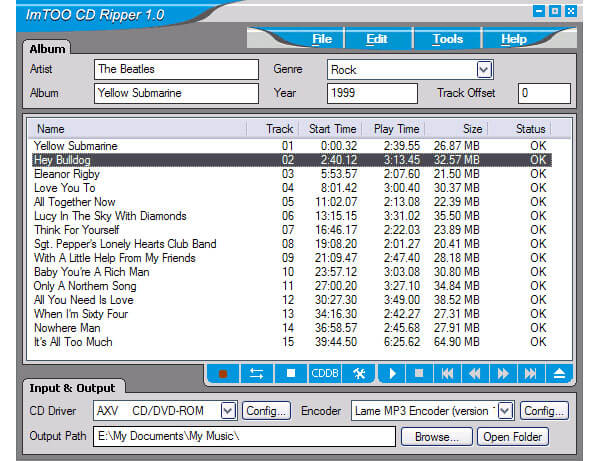 2. Xilisoft CD Ripper
Xilisoft CD Ripper is another high-end CD ripper embedded many professional features.
1. Rip and encode CD to various audio formats, such as MP3, WMA, WAV, AAC, FLAC, and so on.
2. Convert and transcode CD to audio tracks compatible with iPhone, iPod and PSP.
3. Scan gaps and split audio tracks spontaneously.
4. Offers diverse audio effects, including volume normalize, fade-in, fade-out, band pass, chorus, flanger, echo and speed effects.
Pros

1. This best CD ripper provides plentiful custom parameters.
2. It supports convert multiple CD audios in batch.
3. The CD ripping speed is rather high.
4. Xilisoft CD Ripper has the capacity to rip CD to high quality audio files, such as 320kbps MP3.
Cons

1. This CD ripper is not suitable for average people, because custom settings are complicated.
2. It cannot rip a CD as a single image file.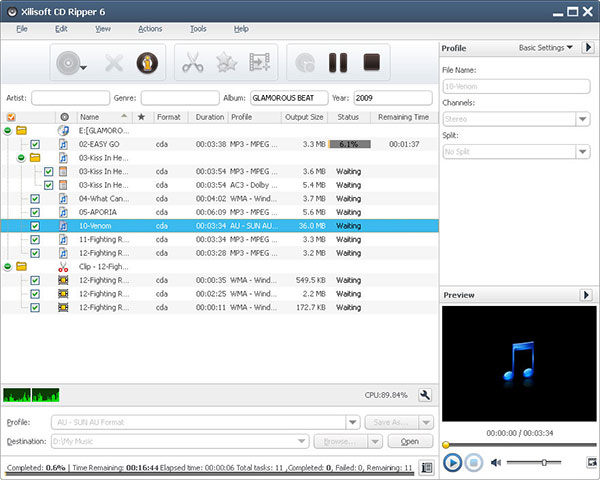 3. Exact Audio Copy
Exact Audio Copy is a free CD ripper for personal use. It also has a paid version for professionals or commercial use. Its basic features include:
1. It could detect the gap and rip one audio track per file.
2. Or users could rip an entire CD and back up as a single image file on PCs.
3. This program will create CUE sheets automatically.
4. The built-in CD player and audio editor offers extensive useful features.
Pros

1. This best CD ripper to MP3 is totally free of charge.
2. The output quality is as great as paid ones.
3. It has integrated almost all necessary features you need about CD playback, ripping and editing.
Cons

1. It may take a while to learn its usage for beginners.
2. The interface is chaos.
4. CUERipper
CUERipper is another CD ripper free that supports lossless audio and CUE sheet conversion. Its key features include:
1. It could extract digital songs from CDs or copy a CD as an image.
2. It supports multiple databases, such as AccurateRip, MusicBrainz, CTDB and freeDB.
3. The lossless feature is able to rip an audio CD without quality loss.
4. CUERipper will save the metadata and album art automatically.
Pros

1. The interface is concise and easy to navigate.
2. The output quality is good.
3. It is an open-source CD ripper, so everyone could use it for free.
Cons

1. The custom options are limited
2. Ripping speed is slower than other ones.
5. XLD
XLD is a dedicated CD ripper and decoder for Mac computers. Its principal features include:
1. Read and split audio tracks from CD.
2. Add album artwork to audio files manually.
3. Preview the songs and audio tracks with built-in audio player.
4. Copy the whole CD to Mac as an image file.
Pros

1. It supports all popular audio formats, except WMV.
2. The interface is straightforward and simple to navigate.
3. XLD has the capacity to lossless CD ripping.
Cons

1. The program only can decode one file at a time.
2. The custom parameters are limited.
The Best DVD Ripper
As you can see, there are many excellent CD rippers available on market. If you want to rip audio tracks from DVDs, you will need an excellent DVD ripping application, such as Tipard DVD Ripper. It is a cross-platform DVD ripping application. It could meet all your needs about DVD ripping, converting and transcoding.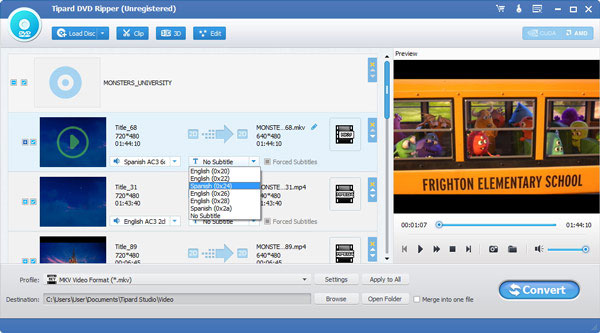 1. This DVD ripper is able to remove any restrictions from commercial DVDs, including the latest encryption systems and copy protections.
2. You can use DVD Ripper to convert DVD content to hundreds of video and audio formats.
3. It supports extract audio tracts from any DVD in highest quality as possible.
4. DVD Ripper also could transcode videos and audios from DVD for playback on portable devices, like iPhone, iPad, iPod, Android phones and game consoles.
5. The built-in editor could crop and trim videos, add watermark or effect on ripped videos.
6. With this DVD ripping application, you can enjoy batch converting features and higher speed.
In a word, Tipard DVD Ripper is worth everyone to use, no matter your computer runs Windows or Mac.
Conclusion
Extract songs from audio CD may be not as complicated as ripping DVDs, but you still need a powerful DVD ripper to make the process smooth. We identified and share top five CD ripping programs in this post, including the best free and the best commercial ones. ImTOO CD Ripper and Xilisoft CD Ripper are the best paid on market. They could provide higher output quality and more powerful features. If you need a free CD ripper, you can choose from Exact Audio Copy, CUERipper and XLD. Exact Audio Copy is more suitable for advanced users. CUERipper and XLD are good choices for beginners ripping CD on Windows and Mac. If you want to extract audio tracks from DVD, we recommend Tipard DVD Ripper.

Click here to join the discussion and share your comments